Bursting with juicy blueberries, buttery cakey topping, and a touch of sweet magic, Blueberry Cobbler is the ultimate summer dessert that will make your heart sing and your belly dance with delight.
These plump and luscious little blue gems bring a burst of vibrant flavor to every bite. Blueberries are not only delicious but also packed with antioxidants, making them the ideal guilt-free indulgence. Whether you pick them fresh from the farm or snag them from the grocery store, make sure to load up on these tiny powerhouses of goodness.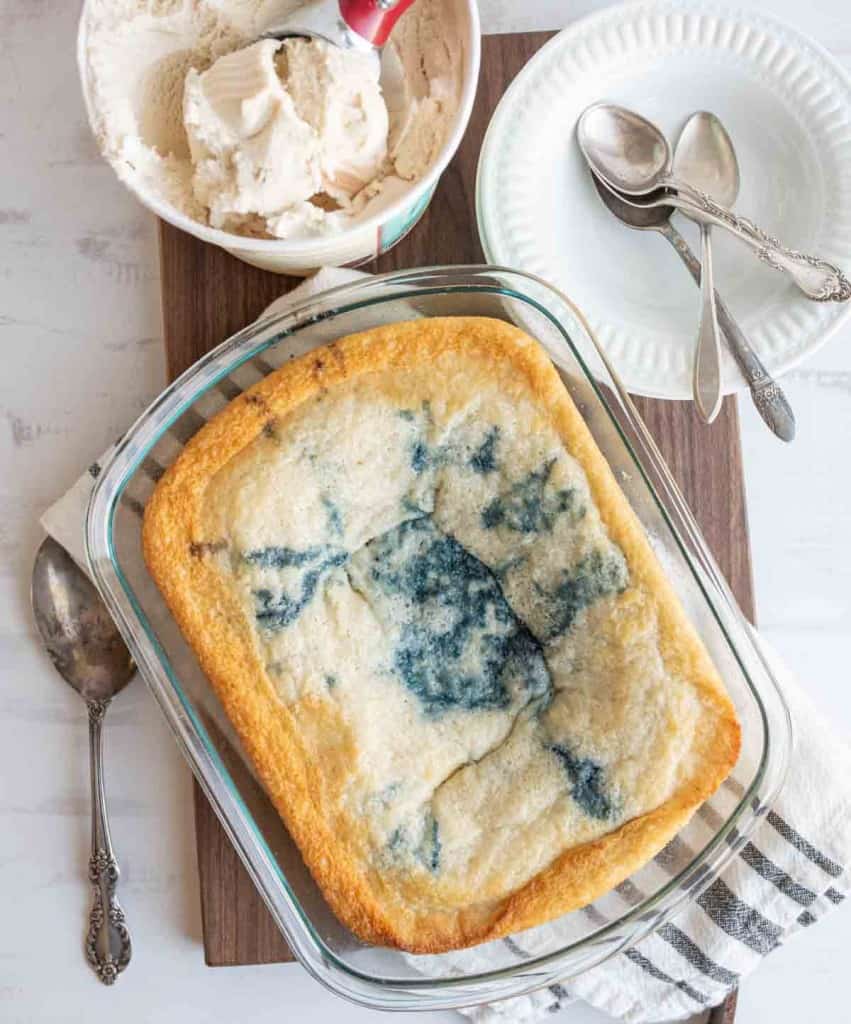 Blueberry Cobbler
Now, let's dive into the world of cobblers. Picture a warm, bubbling sea of blueberries, nestled beneath a golden-brown blanket of cakey perfection. Cobbler crusts come in many forms, from cakey to flaky, but they all have one thing in common—they're downright irresistible.
Blueberry cobbler is not just a dessert—it's a magical experience meant to be shared with loved ones. Imagine gathering around a table with family and friends, laughter filling the air as you dig into a piping hot serving of cobbler. Whether it's a cozy summer picnic or a lively backyard barbecue, blueberry cobbler has the power to bring people together and create cherished memories. So, spread the love and share the sweetness!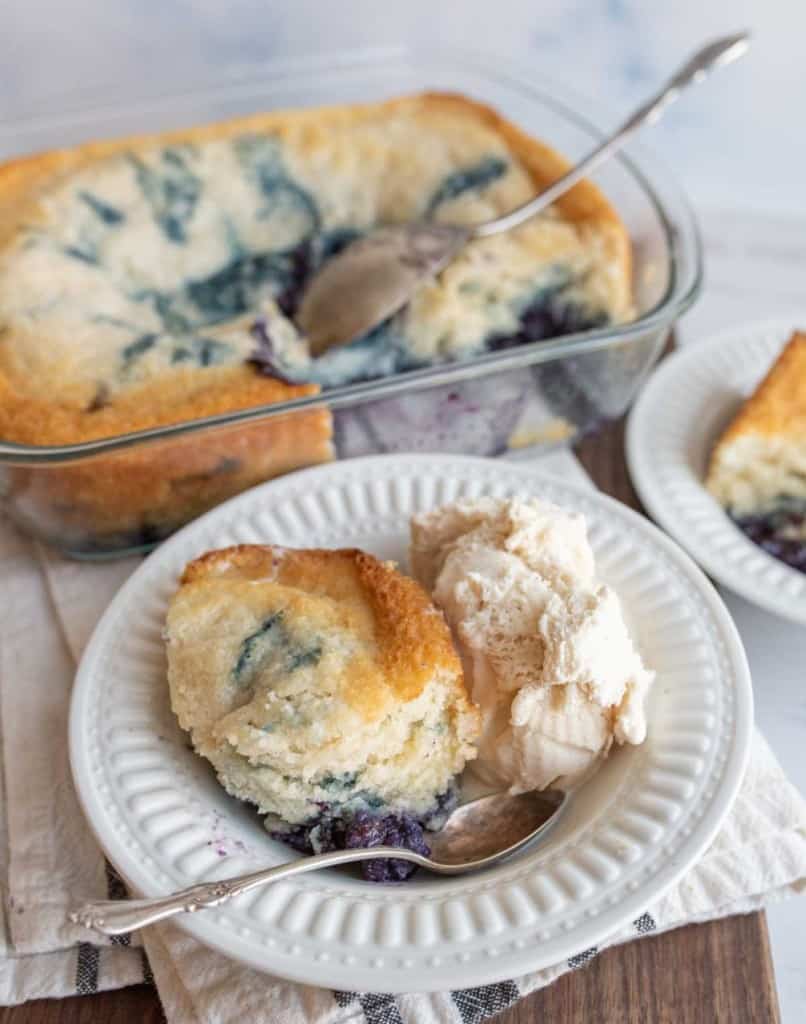 Ingredients
Butter
Flour
Baking powder
Sugar
Milk
Blueberries
Lemon juice
Keep scrolling to find a full, printable recipe with a detailed ingredient list.
Recipe Instructions
Preheat the oven to 350°F (175°C), melt ½ cup butter in a 13x9 inch baking pan in the oven, then set aside.
Mix 4 cups blueberries, 1 cup sugar, 1 tablespoon lemon juice, and ¼ cup water in a saucepan, and heat until boiling.
Combine 2 cups flour, 4 teaspoons baking powder, 1 teaspoon salt, and 1 ½ cups sugar in a large bowl, then add 2 cups milk to form a batter.
Pour the batter into the pan with melted butter, add the blueberries on top, and bake for 30-35 minutes until golden brown.
Let the cake cool before serving, optionally with ice cream or whipped cream.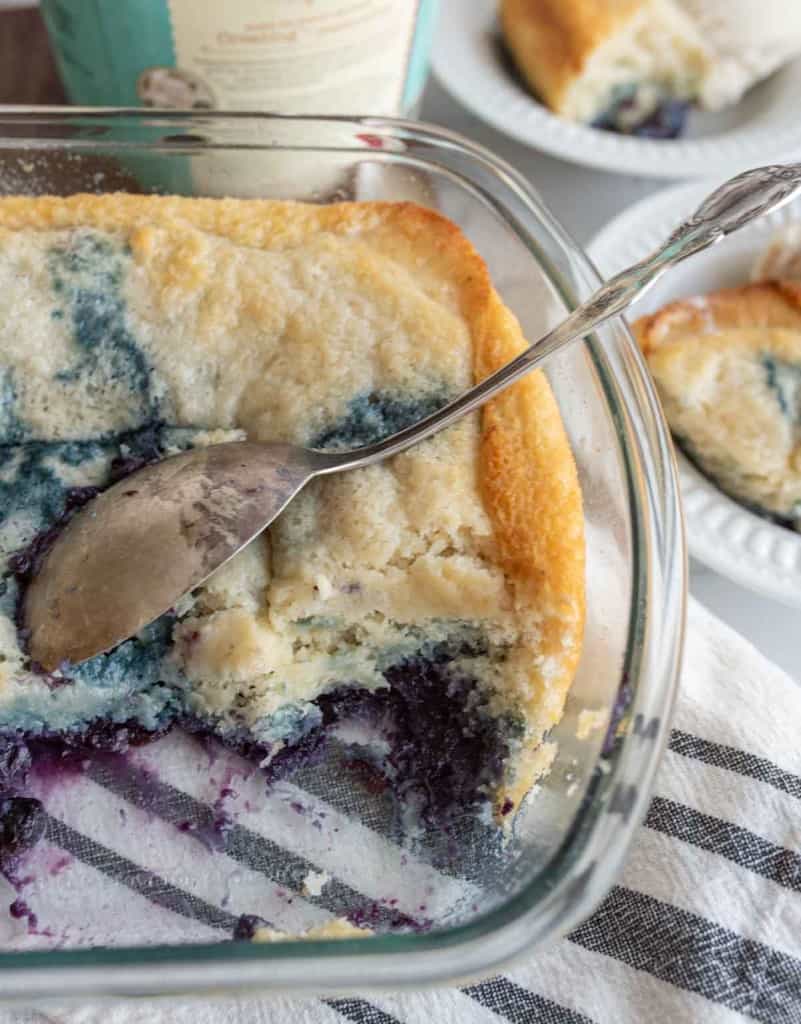 Frequently Asked Questions
How do I achieve a crispy crust on my blueberry cobbler?
You could always bake this a little longer to crisp it up a bit but this is more a cake like cobbler and not like pie crust.
Can I substitute other fruits for blueberries in a cobbler?
Yes, you can! Cobbler recipes are versatile, and you can use a variety of fruits such as strawberries, peaches, blackberries, or a mix of different fruits to create your own unique cobbler.
What can I serve with blueberry cobbler?
Blueberry cobbler is delicious on its own, but you can take it up a notch by serving it with a scoop of vanilla ice cream, a dollop of whipped cream, or a drizzle of warm caramel sauce. The creamy and cold elements complement the warm cobbler perfectly.
Can I freeze blueberry cobbler?
Yes, you can freeze blueberry cobbler for later enjoyment. After baking and cooling the cobbler, wrap it tightly with plastic wrap or foil, and place it in a freezer-safe container. It can be stored in the freezer for up to 3 months. When ready to serve, thaw it in the refrigerator overnight and reheat it in the oven until warmed through.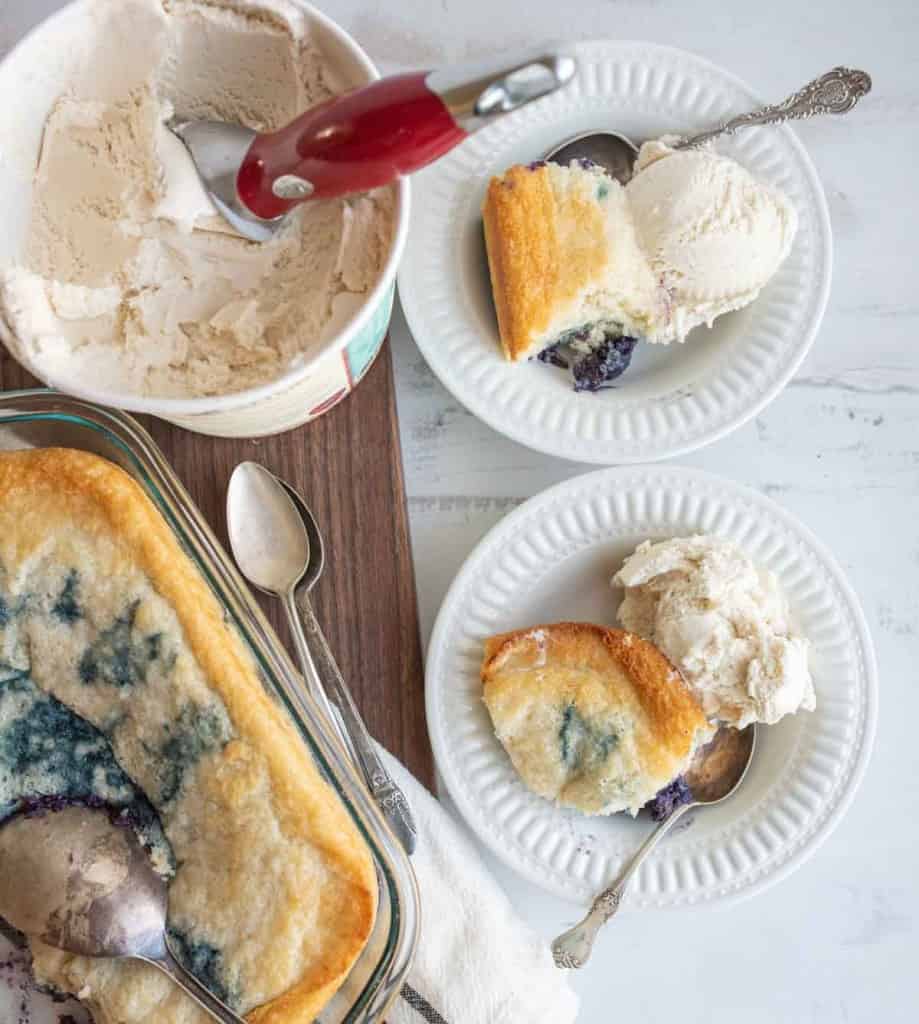 More Recipes
If you've tried this Blueberry Cobbler recipe or any other recipe on Bless This Mess, then don't forget to rate the recipe and leave me a comment below! I would love to hear about your experience making it. And if you snapped some pictures of it, share it with me on Instagram so I can repost on my stories.
📖 Recipe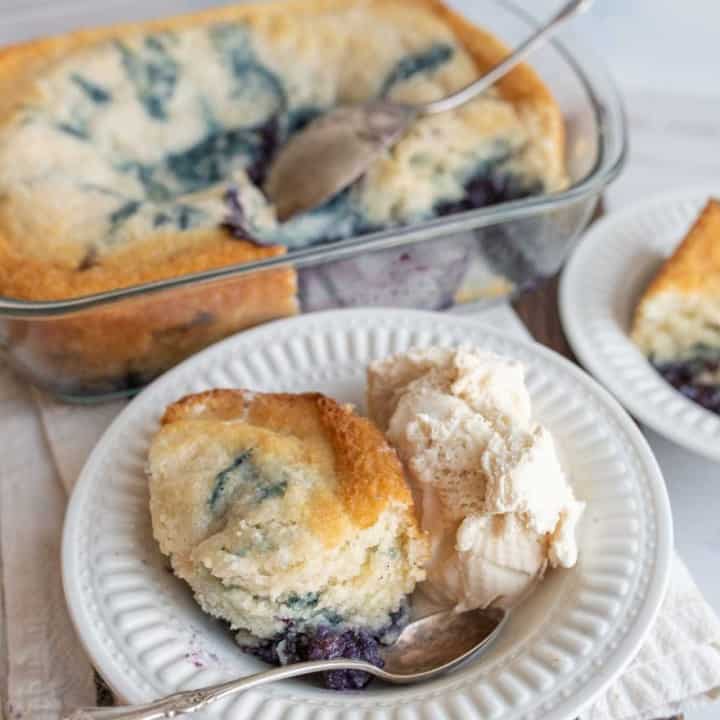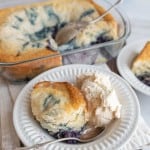 Print Recipe
Blueberry Cobbler
Bursting with juicy blueberries, buttery cake like crust, and a touch of sweet magic, Blueberry Cobbler is the ultimate summer dessert that will make your heart sing.
Ingredients
For the Cobbler
½

cup

butter

unsalted

2

cups

all-purpose flour

4

teaspoons

baking powder

1

teaspoon

salt

1 ½

cups

granulated sugar

for batter

2

cups

milk
For the Filling
4

cups

fresh blueberries

or frozen

1

cup

granulated sugar

for blueberry mixture

1

tablespoon

freshly squeezed lemon juice

¼

cup

water
Instructions
Start by preheating your oven to 350°F (175°C), ensuring that the oven rack is positioned in the center for even baking.

Place the ½ cup of unsalted butter into a 13x9 inch baking pan. Put the pan into the preheating oven to melt the butter. This should take about 5-7 minutes. Carefully remove the pan once the butter is melted, set aside.

Meanwhile, prepare the blueberry mixture. In a medium saucepan, combine 4 cups of fresh blueberries, 1 cup of sugar, 1 tablespoon of freshly squeezed lemon juice, and ¼ cup of water. Stir this mixture together to ensure the blueberries are well coated with sugar.

Place the saucepan on the stove over medium-high heat. Allow the mixture to come to a gentle boil, stirring occasionally to prevent the sugar from burning.

Once the mixture has reached a boil, remove the saucepan from the heat and set it aside for later.

In a large mixing bowl, combine 2 cups of all-purpose flour, 4 teaspoons of baking powder, 1 teaspoon of salt, and 1 ½ cups of sugar. Mix these dry ingredients together until they're evenly distributed.

Pour 2 cups of milk into the bowl with your dry ingredients. Stir this mixture together until it forms a smooth batter. Be careful not to overmix as it can make your final product tough.

Pour the batter directly into the pan containing the melted butter. Do not stir the batter and butter together. The butter will rise to the top during baking, creating a lovely, golden crust.

Use a slotted spoon to scoop out the blueberries from your saucepan. Distribute the blueberries evenly over the top of the batter. The reason we use a slotted spoon is to leave behind most of the liquid in the pan, to prevent the batter from becoming overly moist.

Bake in the preheated oven for 30-35 minutes, or until the top is golden brown and a toothpick inserted into the center of the cake comes out clean.

Let the blueberry cake cool for a bit before serving. Enjoy it warm, maybe with a scoop of vanilla ice cream or a dollop of whipped cream. Enjoy!
Notes
You can use frozen blueberries for this recipe, they work great!
The cake will spring back when lightly touched when it's done. If when you touch it, it stays indented, it needs a few more minutes of cooking time.
You can add a tablespoon of lemon zest to the batter if you want to add a lemony twist to this recipe.
Nutrition
Calories:
535
kcal
|
Carbohydrates:
100
g
|
Protein:
6
g
|
Fat:
14
g
|
Saturated Fat:
8
g
|
Polyunsaturated Fat:
1
g
|
Monounsaturated Fat:
3
g
|
Trans Fat:
0.5
g
|
Cholesterol:
38
mg
|
Sodium:
116
mg
|
Potassium:
187
mg
|
Fiber:
3
g
|
Sugar:
73
g
|
Vitamin A:
493
IU
|
Vitamin C:
7
mg
|
Calcium:
88
mg
|
Iron:
2
mg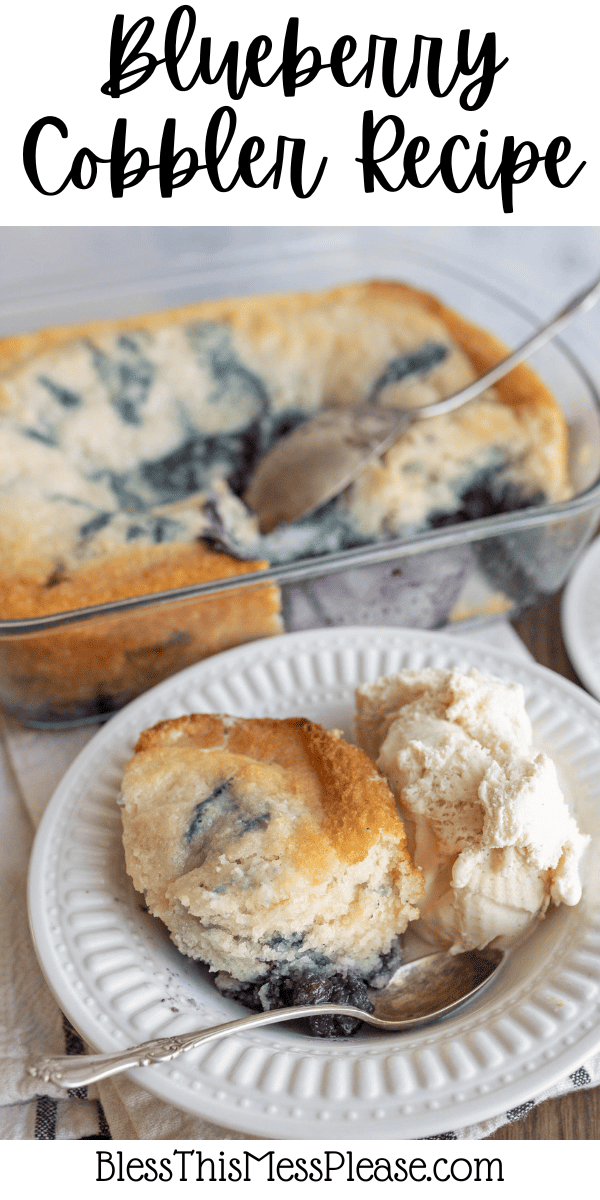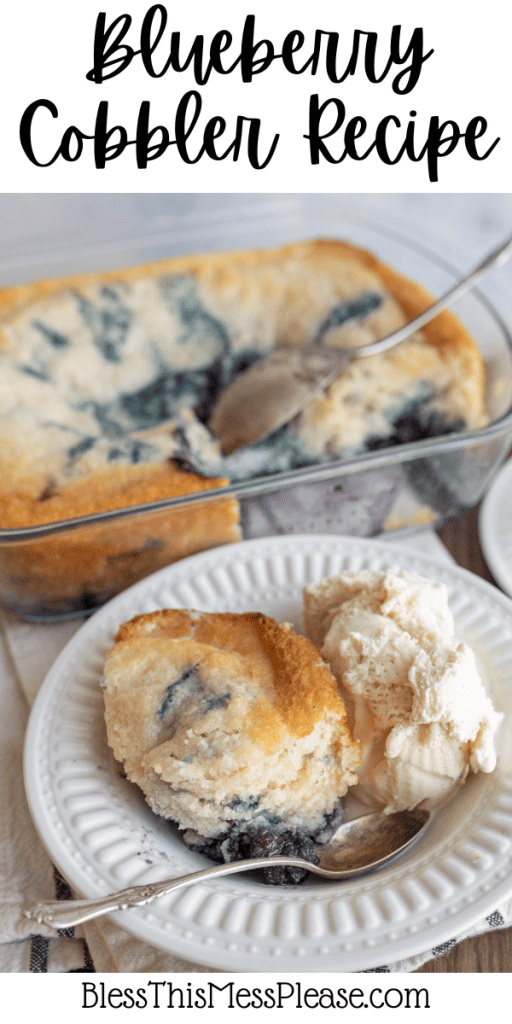 Blueberry cobbler is a dessert that encapsulates the essence of summer—fresh, fruity, and full of joy. Enjoy the sweetness, savor the moments, and embrace the blissful experience of blueberry cobbler!