Looking for the perfect gift to give someone who loves to cook? These are my favorite gift ideas for your favorite food lover who enjoys spending time in the kitchen!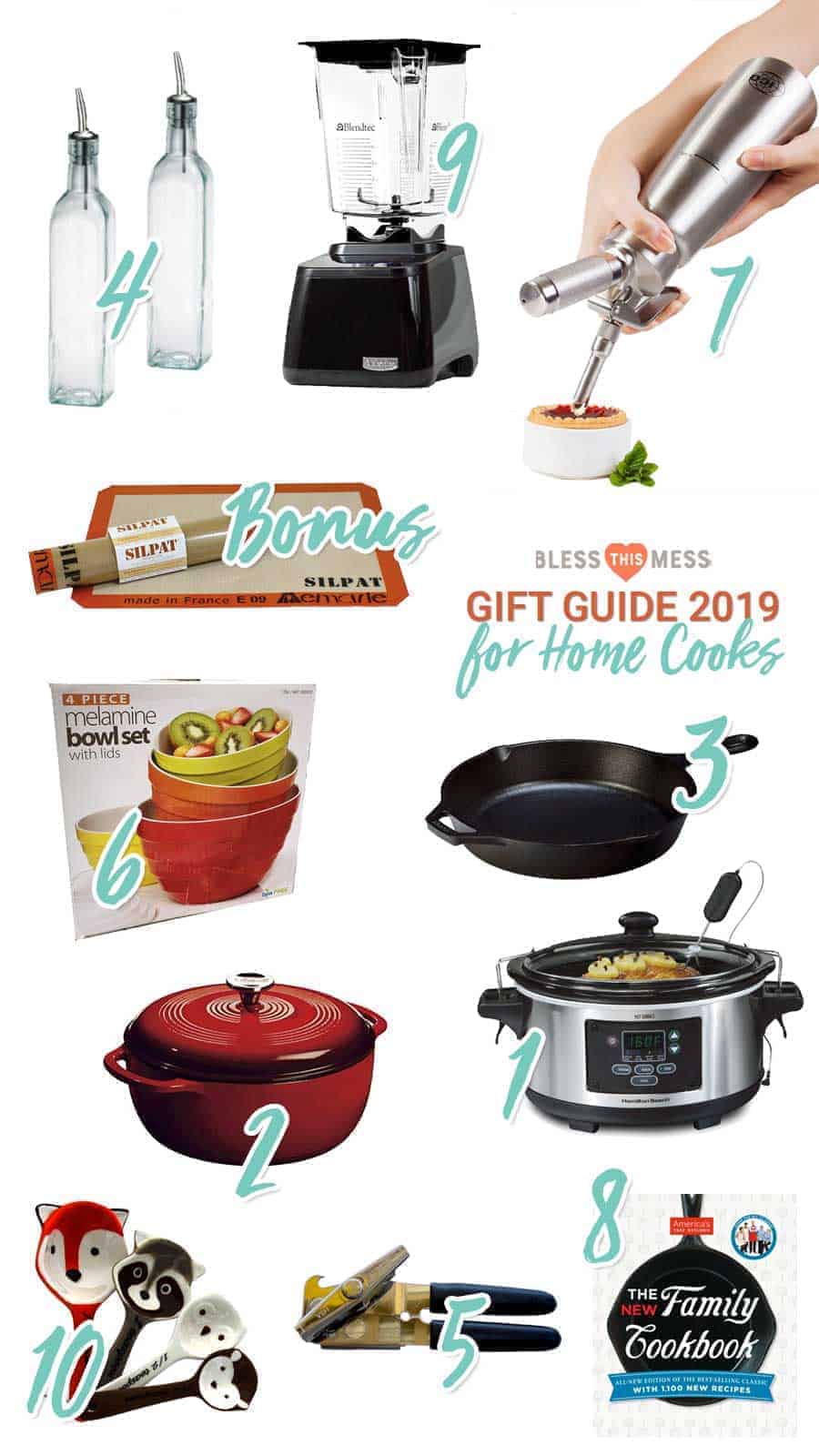 Gift Ideas for People Who Love to Cook!
These are some of my favorite kitchen supplies that I love, use, and can't imagine my kitchen without. Perfect for you and your favorite fellow foodie, and they also make great wedding gifts.
1. Hamilton Beach Set 'n Forget Programmable Slow Cooker, 6-Quart
This is the one that I've been using for just over a year now, and I love it. The clamp-on lid is the best; after losing a slow cooker full of meatballs in the back of our Suburban on the way to a party, I'll never get one without the clamp-on lid again.
2. Cast Iron Dutch Oven
I have a green one of these, and it stays on my stove all of the time. I use it for just about everything from chili and soups to no-knead bread. I adore this Dutch oven!
3. Lodge Pre-Seasoned Cast-Iron Skillet
Must-have in every kitchen, in my opinion. All you need to know is the key to using cast iron is to heat it up, add some oil, and get cooking. Those three things are what make them very nonstick. They aren't nearly as fussy as they seem. I like my 10-inch and my 14-inch cast iron skillets the best. I bake a lot in the 10-inch and I cook everything from donuts to french toast in the 14-inch.
4. Oil Dispenser
This is a must-have, especially if you are buying bulk oil from Costco or the like. This particular dispenser is great because it doesn't leak, looks nice on the counter, and performs well all around. I'm so glad that I got this and I use it all of the time. It comes in a two pack so you can give one as a gift!
5. Made in the USA Can Opener
I went through at least 6 other non-electric can openers before I bought this one. It actually works! I broke all of my other ones within a month, but I've had this one for almost 3 years. Practical but it works so well.
6. 4 Piece Melamine Bowl Set With Lids – 4 Sizes
I love this set! They are a great size, and they come with lids! I take them to all kinds of get togethers and use them daily in my kitchen. These are another must-have and make a great gift.
7. Cream Whipper
Thomas bought me this a few years ago for Mother's Day, and it's just so much fun. It's a refillable stainless steel cream whipper so that you can have "RediWhip" any time you want. We love getting this out for parties and for special occasions, including our ever-popular birthday breakfast. This is a splurge, but one we use lots and lots.
8. America's Test Kitchen's The New Family Cookbook
I love this book and it's my go-to for all things I don't already have a set recipe on (and the recipes replace a lot of my constants, too). I love reading this book because it's full of great info, and you learn all kinds of things about cooking techniques. You'll be a better cook if you get and read this book.
9. Blendtec Blender
I'm not sure how I ever lived without a high-powered blender before. For someone who makes and drinks multiple smoothies a week, this is a must.
10. Woodland Creature Measuring Spoons
Because sometimes you just need some cute kitchen gear.
Bonus: Non-Stick Silicone Baking Mat
I was converted to these a few years ago and haven't gone back. Ninety percent of everything that gets baked in my oven goes on one of these. Nothing sticks and they make clean up a breeze.
I hope this home cook gift guide helps you find everything you need to gift the foodies and chefs in your life well!