This article is a weekly recap of some of the things happening in our lives, on our new farm, and is a behind-the-recipe look at the day to day of raising a family in Southern Utah. Enjoy!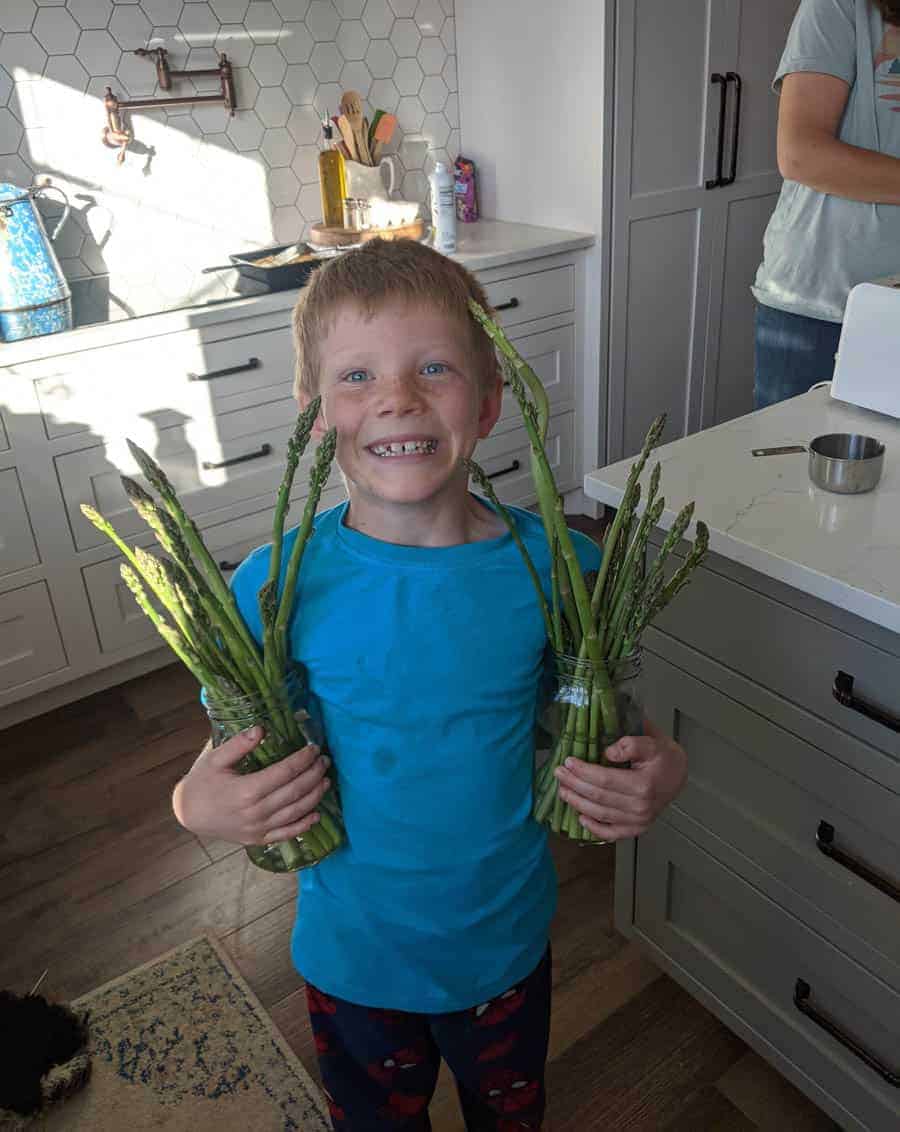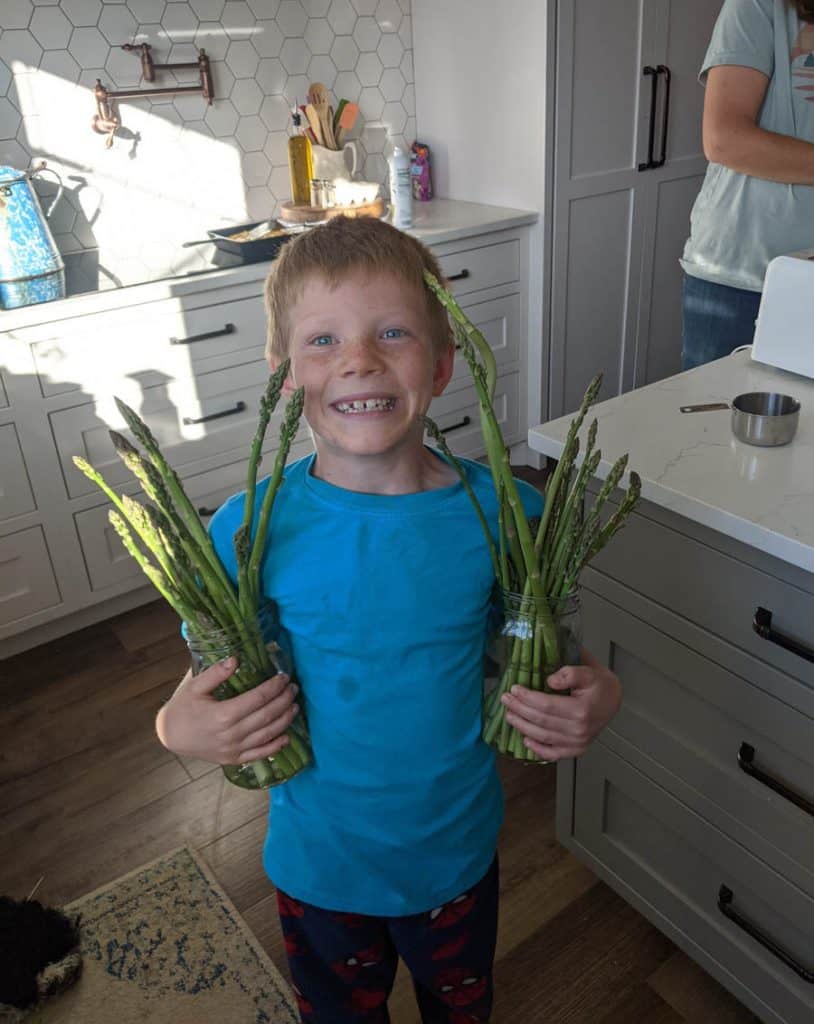 I thought a few times this week that I wouldn't have much to say in this post, but the week ended with some fun things. This was one of those weeks where kids had lots of activities, I spent a whole day on the computer catching up on work stuff, I spent a whole day in town trying to figure out some of my healthy issues, we finished up school, and we had family stay the night. It was a great week, but I didn't think I'd have much progress to show.
That being said I have things to talk about 🙂
The asparagus on the fence rows popped up and when Paul was out with the puppies he picked me a whole bouquet!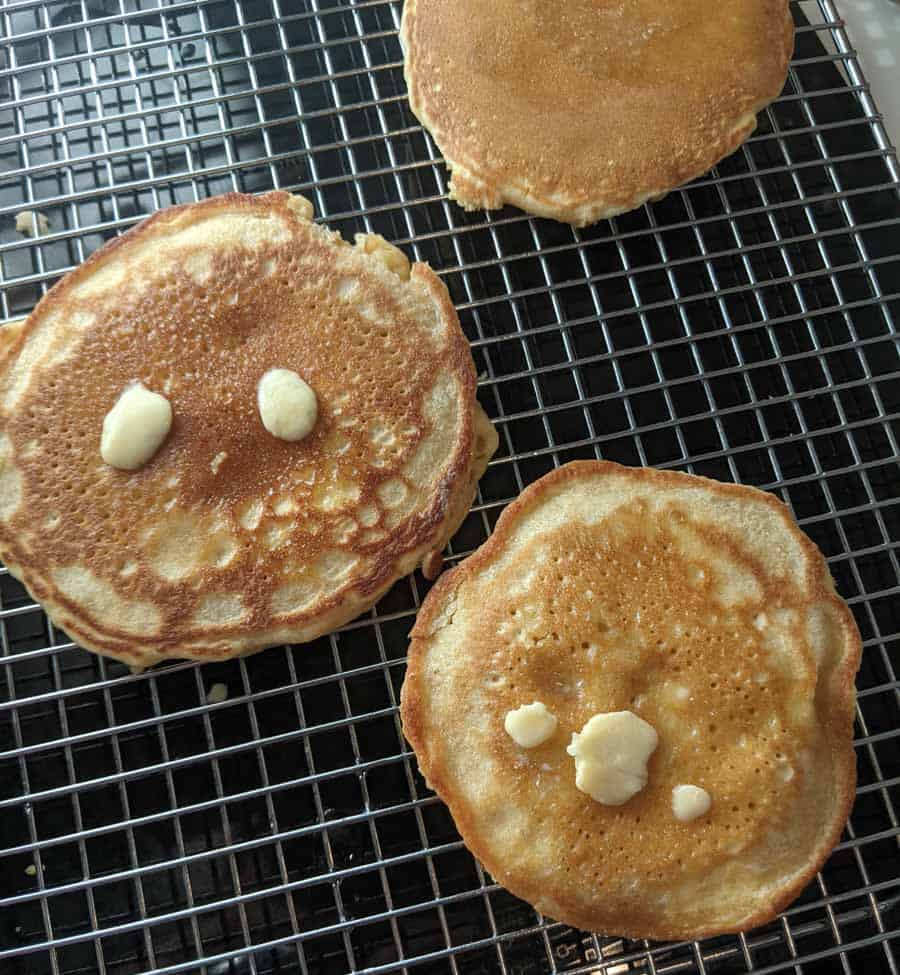 One morning this week I made pancakes with wheat I had freshly ground, our own milk, eggs, and butter we had made. I don't know why but meals like that just make my soul happy. I love being a part of our food so so much.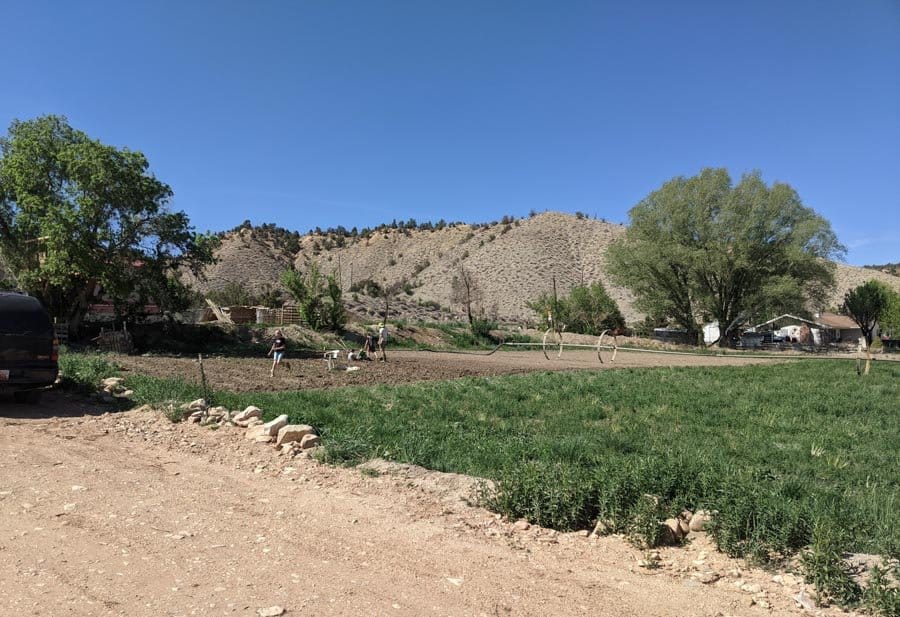 I think the biggest thing that happened was just on Saturday. We decided that the raised beds were going to take too long for this growing season so we made a giant garden at the top of our field. We are calling this our market garden and planning on getting our little farm/veggie stand built this summer to sell things at the top of our road.
The new garden is HUGE! The rows are 50 feet long and there's about 30 rows. My previous garden had about 30 foot long rows and I had about 15. I'm planning on lots and lots of veggies but also lots and lots of flowers. I'm going to try to sell cut flowers and bouquets.
I bought a bunch of bareroot strawberries for my raised bed but they've been in my fridge for over a month and needed planted. So we planted 3 rows of strawberries, 2 rows of tomatoes, 1 row of onions, 1 row of cabbage and bell peppers, and 2 rows of potatoes. Basically we got all of the plants that I bought in the ground and I'll work on direct sowing seeds later this week.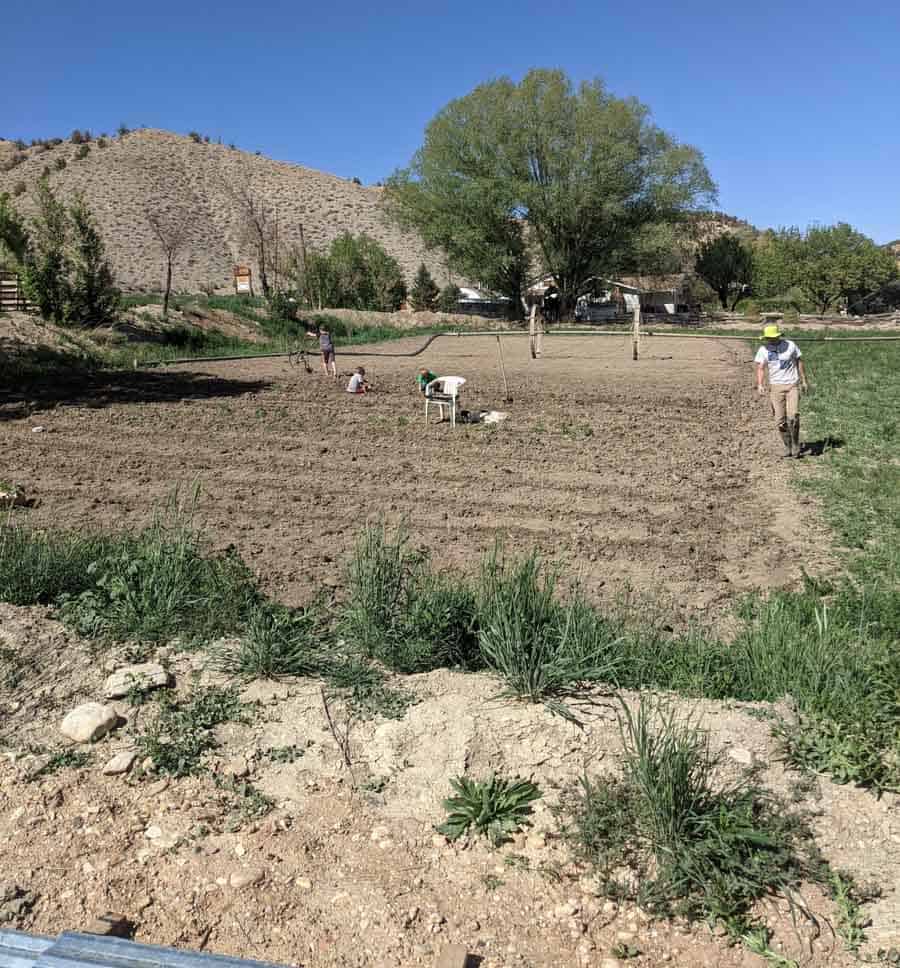 In the past I've dedicated a lot of garden space to pumpkins, gourds, and hard winter squash because I love them but I don't think that I will this year. I might do some but I think for a market garden sweet corn and flowers will be more profitable and easier to work with. I bought a seed planter from Earthway and I'm excited to try it.
The thing with gardening in Southern Utah is we have to be really conscious about water usage. We go on water turns and you can water your garden once every 5 days during the summer (and rain is basically nonexistent, so irrigation is a must). We run the water down furrows or little ditches and you plant your seeds/plants on both sides of the little ditch. I'm afraid that's going to make using something like a seeder hard but we'll see.
I'm just so excited to have a garden in. Starting in a new spot is generally a lot of work. I'm not sure how aggressively the alfalfa that we plowed up will come back, first years are generally really weedy, but I'm happy to give it a go and see what we get!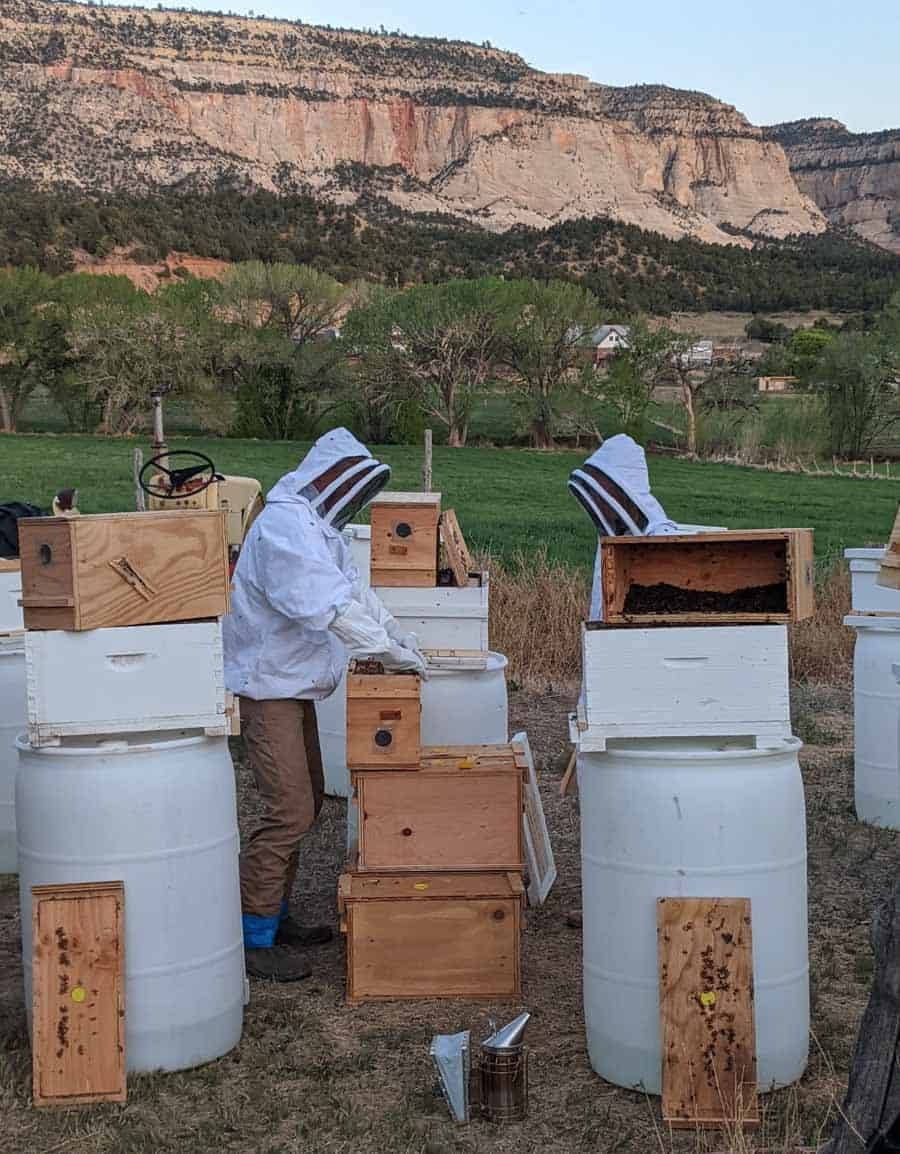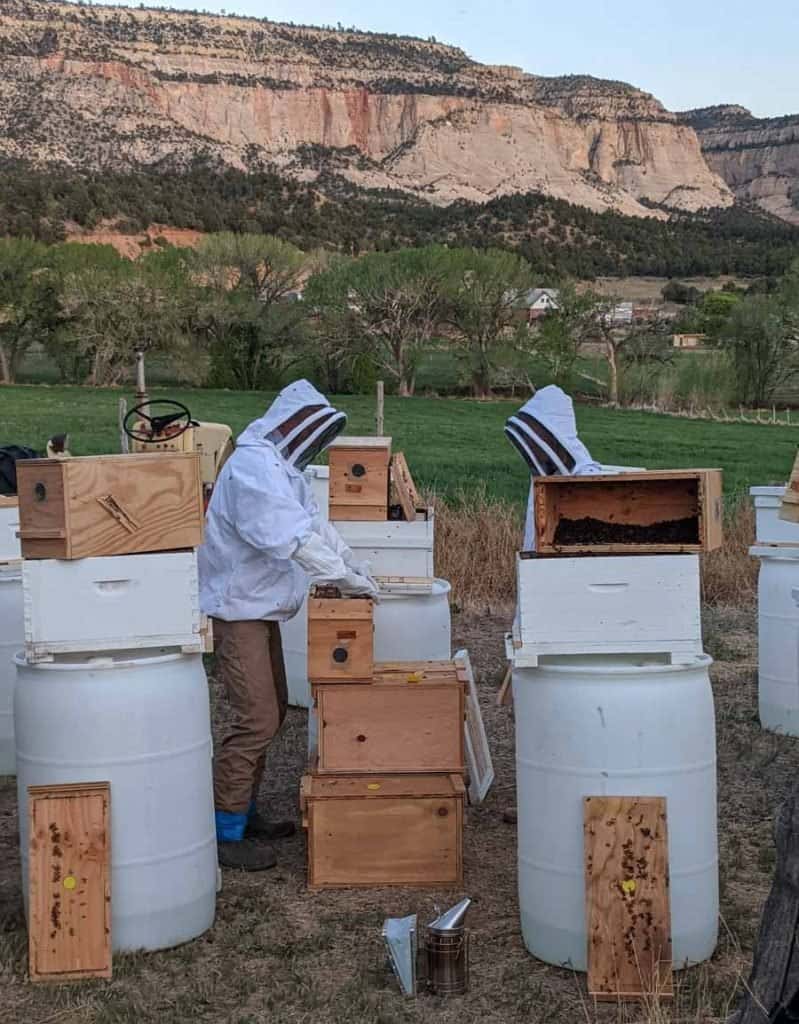 Thomas's 10 hives of bees came right at dinner time last night. I was busy making sugar water for them (10 whole gallons!) because they need food while they are working on getting established. The very first box he opened was full of dead bees and so he was a bit worried. The next 7 were in great shape. The weather was a little chilly and they were calm while he put them into the hives. He didn't use the smoker at all. The last 2 boxes were more agitated then the first and he got stung a few times while finishing up.
In all honesty, I'm a little bee apprehensive. I think I'll go out and look at them and enjoy them but actually working with them and moving that many bees into hives isn't something I really wanted to do. My daughter though was a champ and helped until she got stung on the lip through her veil at the end. Bees feel a bit over whelming, there's just so much to learn and so many things to look out for, but we also decided that this is a learn through experience thing.
There have been very few bees on our fruit tree blossoms this year and last so we are excited to have these amazing little pollinators on the farm. Another reason I'm planning lots of flowers and sweet corn - bee food! The water barrels are a temporary things to help keep the ants out while we get other things set up, but I thought they were a clever use of something we already had (they'll be passive heat in our greenhouse one day).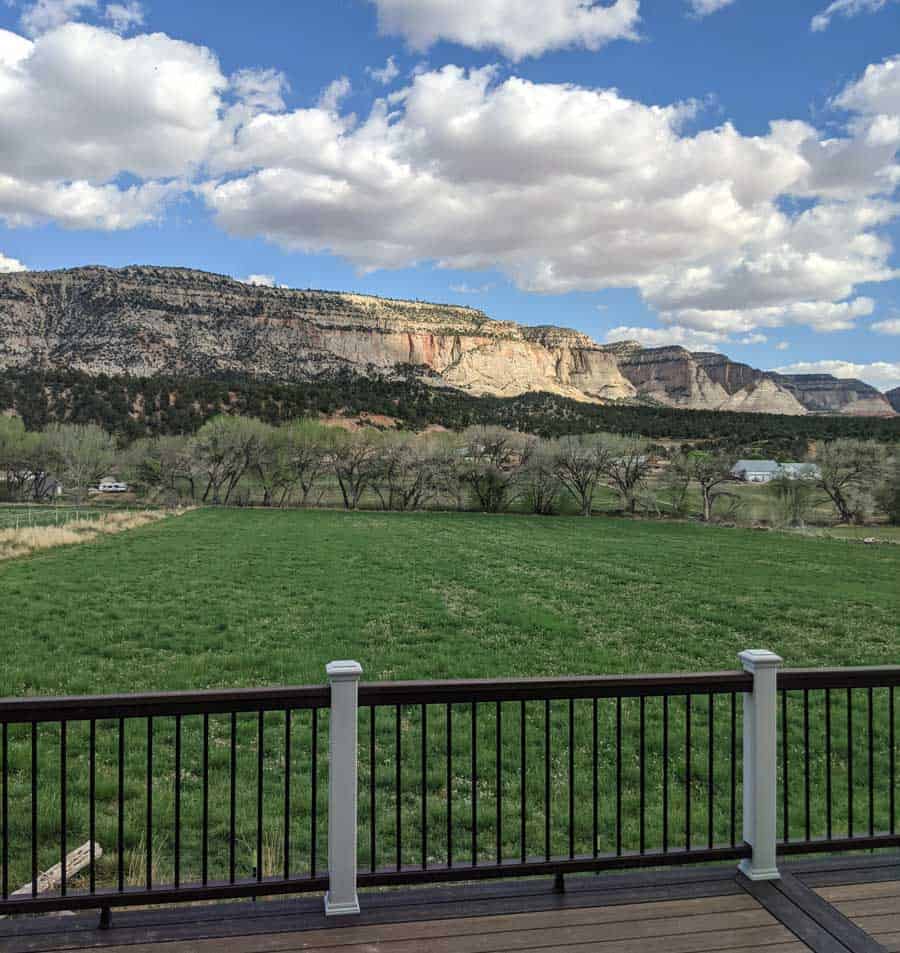 So Saturday turned into quite the day. We plowed that whole section and planted and we installed 9 new beehives. Thomas went to bed exhausted and now it's almost 9am on Mother's Day and no one is out of bed. Except for me and the puppies, it's like they forgot it was Mother's Day and got me out of bed at 6:30 am. Silly dogs.