Banana Pudding with Nilla wafers is a heavenly dessert uniting creamy vanilla pudding with sweet bananas and crunchy wafers.
Banana Pudding with Nilla wafers is a heavenly dessert that combines the rich creaminess of vanilla pudding with the natural sweetness of ripe bananas and the satisfying crunch of Nilla wafers.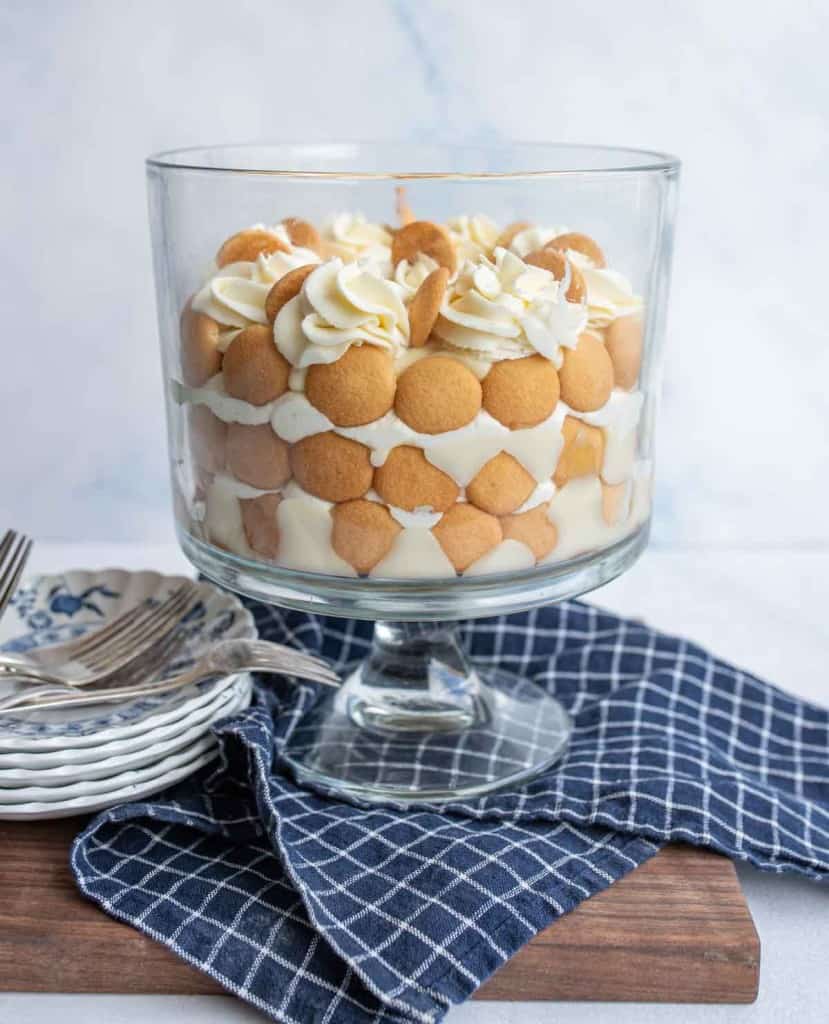 Each bite is a delightful medley of flavors and textures, with the smooth, velvety pudding serving as a backdrop to the tender slices of banana and the slightly softened, vanilla-infused wafers.
Banana Pudding is a timeless classic in the world of desserts, cherished for its creamy texture and comforting flavors. It's a dessert that transcends generations, and stirs memories of picnics, family gatherings, and potlucks.
Table Of Contents
Why You'll Love This Recipe
Creamy and Dreamy Texture: This banana pudding is the epitome of creaminess. Layers of luscious vanilla pudding, ripe banana slices, and silky whipped cream create a heavenly texture that will make your taste buds dance with joy.
Nostalgic Comfort: Banana pudding has a unique ability to transport you back to simpler times. Whether you grew up enjoying it or are discovering it for the first time, the familiar taste of ripe bananas and creamy pudding is a heartwarming experience.
Quick and Easy: Unlike some elaborate desserts, this banana pudding is incredibly easy to make. You can whip it up in no time, making it perfect for impromptu gatherings or satisfying sudden sweet cravings.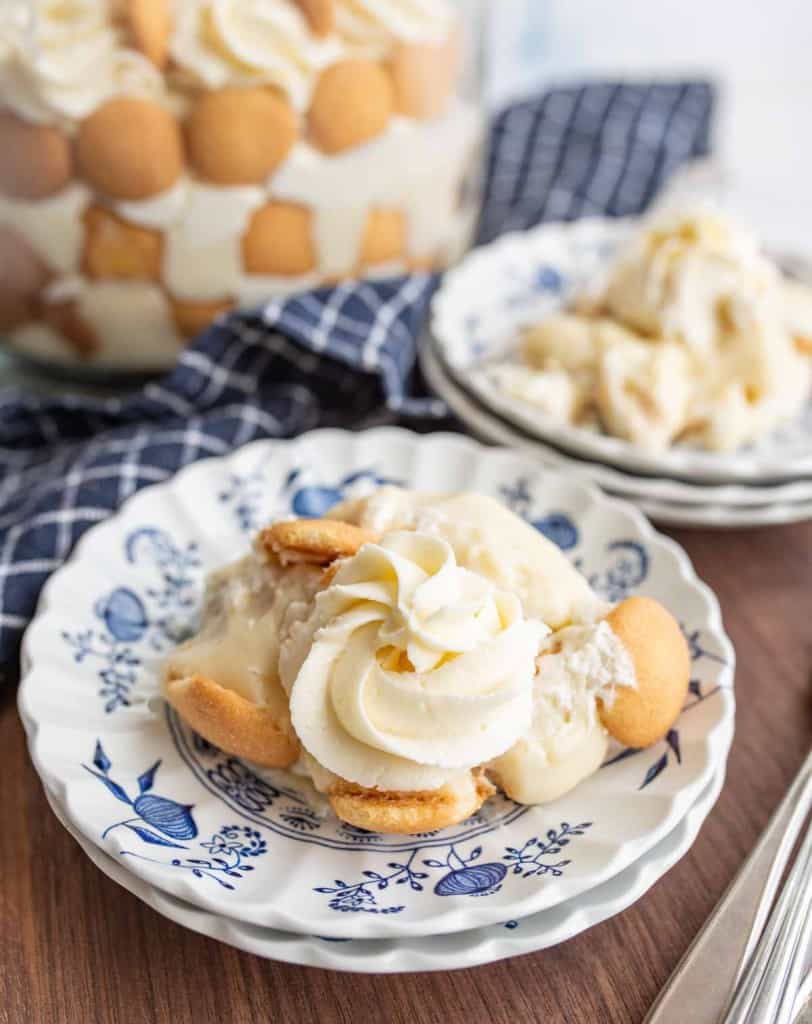 Recipe Ingredients
Mini Nilla Wafer Cookies: These adorable miniature vanilla wafer cookies will provide a delightful crunch and a subtle vanilla flavor to your banana pudding.
Ripe Bananas (3-4 thinly sliced): Choose ripe bananas with brown speckles for the best flavor. Slicing them thinly ensures that each bite of your pudding is infused with sweet banana goodness.
Chantilly Cream (prepared or store-bought): Chantilly cream, with its airy and sweet profile, is the perfect companion to banana pudding. You can either prepare it from scratch or opt for the convenience of a store-bought version.
Sugar : Sugar is the key to sweetening the vanilla pudding and balancing the natural tartness of the bananas.
Cornstarch : Cornstarch plays a crucial role in thickening the pudding, giving it that creamy, luscious texture.
Salt : A pinch of salt enhances the overall flavor of the pudding, balancing the sweetness and providing depth.
Whole Milk : Whole milk is essential for creating a rich and creamy base for your pudding.
Egg Yolks : The egg yolks help thicken the pudding and provide a velvety consistency.
Unsalted Butter : Butter adds a luxurious richness to the pudding, contributing to its creamy texture and delightful taste.
Pure Vanilla Extract : Vanilla extract infuses the pudding with a warm and aromatic flavor that complements the bananas and Nilla wafers beautifully, making it a key ingredient in this classic dessert.
Popular Substitutions and Variations
1. Gluten-Free Option: If you're on a gluten-free diet, don't fret. Simply substitute regular vanilla wafers with gluten-free alternatives, and ensure that your vanilla pudding mix is also gluten-free.
2. Vegan Banana Pudding: For a dairy-free and vegan-friendly version, swap out dairy milk and whipped cream with almond milk and coconut whipped cream. You can also use a plant-based vanilla pudding mix.
3. Chocolate Banana Pudding: Add a decadent twist by incorporating chocolate into your banana pudding. You can layer it with chocolate chips, drizzle it with chocolate sauce, or mix cocoa powder into your pudding for a delightful chocolate-banana fusion.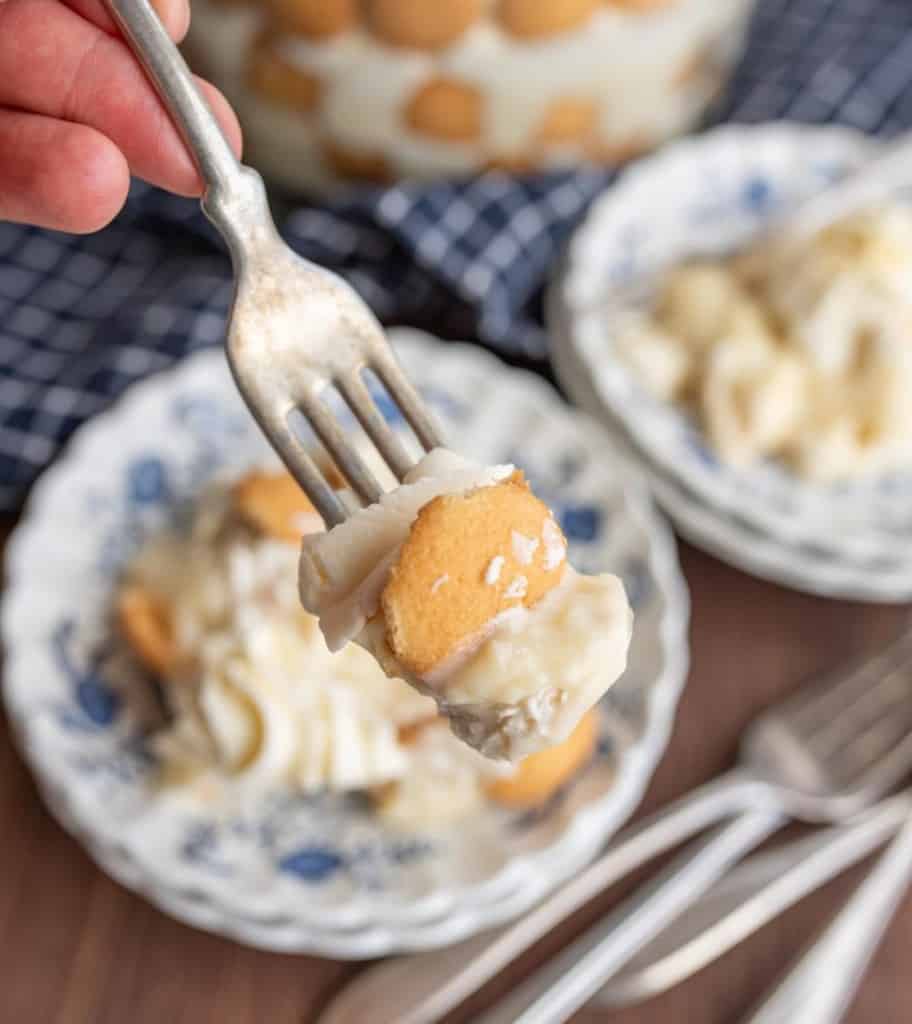 How To Make Banana Pudding
Mix sugar, cornstarch, salt, and milk in a saucepan, bring to a boil, and cook for 1 minute.
In a separate bowl, whisk egg yolks and gradually add a cup of the hot mixture.
Combine egg mixture with the rest in the saucepan, bring to a boil for 1 more minute, and stir in butter and vanilla.
Let the pudding cool to room temperature.
Layer Nilla wafers, banana slices, pudding, and Chantilly cream in a serving bowl.
Cover and refrigerate for a few hours or overnight to set and meld flavors.
Frequently Asked Questions
Can I make banana pudding in advance?
Yes, you can prepare banana pudding ahead of time. In fact, it often tastes even better after a few hours or overnight in the refrigerator. This allows the flavors to meld together, creating a richer taste.
Can I use overripe bananas for banana pudding?
Absolutely! Overripe bananas are perfect for banana pudding. They have a sweeter, more intense banana flavor, which enhances the dessert's overall taste.
How do I prevent my banana pudding from turning brown?
To keep your banana slices from browning, toss them in a bit of lemon juice before layering them in the pudding. The citric acid in the lemon juice helps prevent oxidation.
Expert Tips
Use Ripe Bananas: The key to excellent banana pudding is using ripe, even slightly overripe, bananas. They'll provide a naturally sweet and intense banana flavor.
Layer Carefully: Take your time when layering the pudding, bananas, and vanilla wafers. Neat layers not only look appealing but also ensure each bite is perfectly balanced.
Chill Before Serving: While it might be tempting to dig in right away, banana pudding benefits from some time in the refrigerator. Chilling it for a few hours or overnight allows the flavors to meld together.
Fresh Whipped Cream: If possible, make your whipped cream from scratch. It's incredibly easy and adds a heavenly, fresh taste to your dessert.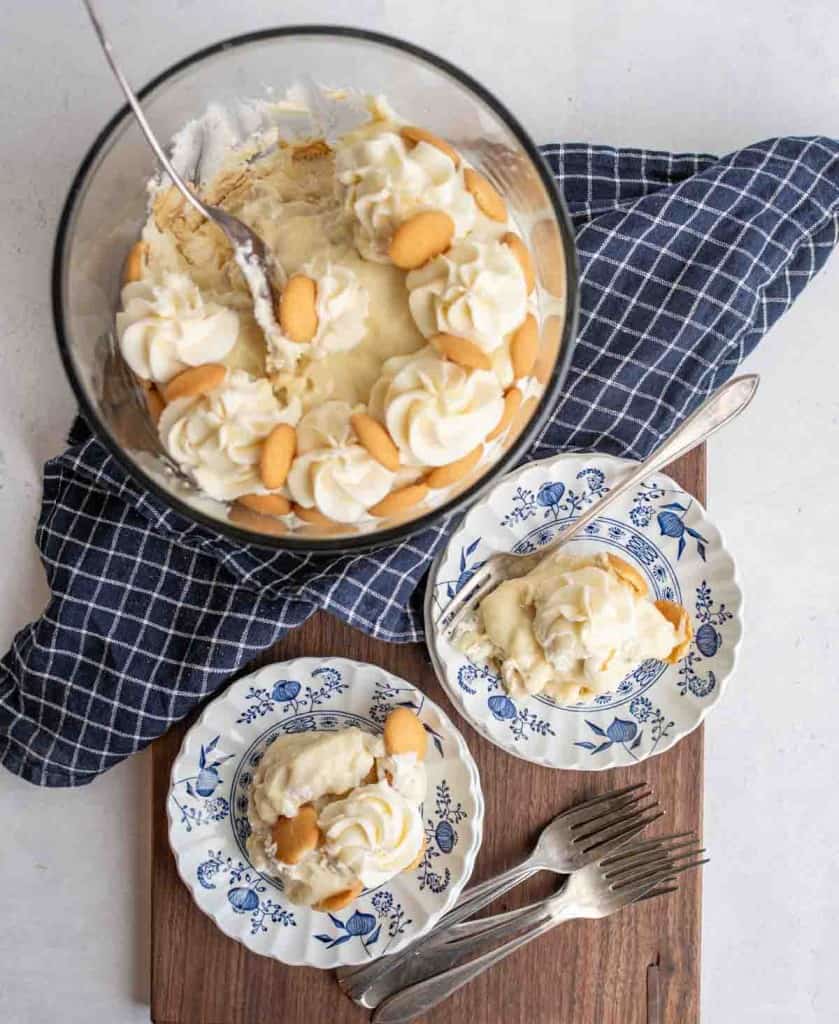 Did you try this recipe? Leave a ⭐️ rating below and share it on Instagram, Facebook, and Pinterest!
📖 Recipe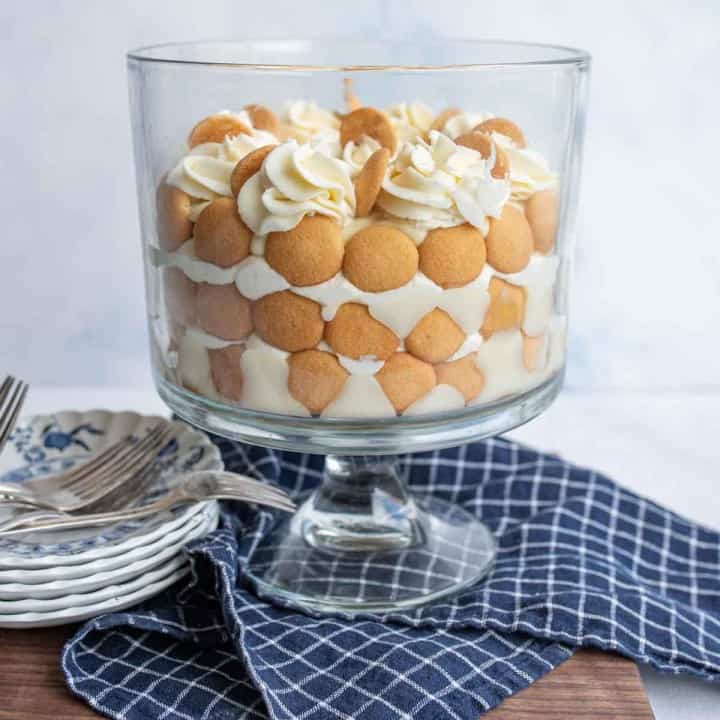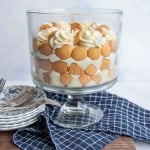 Print Recipe
Banana Pudding
Banana Pudding with Nilla wafers is a heavenly dessert uniting creamy vanilla pudding with sweet bananas and crunchy wafers.
Ingredients
1

box

Mini Nilla wafer cookies

3-4

ripe bananas

thinly sliced

Chantilly cream

prepared or store-bought

⅔

cup

granulated sugar

4

tablespoons

cornstarch

¼

teaspoon

salt

4

cups

whole milk

4

large egg yolks

4

tablespoons

unsalted butter

softened

4

teaspoons

pure vanilla extract
Instructions
Begin by organizing all ingredients on your kitchen countertop. This mise-en-place method helps in the smooth execution of the recipe.

In a 2-quart saucepan, combine the sugar, cornstarch, and salt. Ensure they are thoroughly mixed together.

Gradually stir in the milk, ensuring it integrates well with the dry mixture to avoid lumps.

Place the saucepan over medium heat. Keep stirring the mixture continuously until it begins to boil. Once it starts boiling, allow it to boil for 1 minute, ensuring the milk thickens as expected.

In a separate, medium-sized bowl, whisk the egg yolks until smooth. Gradually (and slowly) add a cup of the hot milk mixture to the egg yolks, whisking vigorously. This process is called tempering and ensures the eggs don't scramble from the heat.

Pour the egg yolk mixture back into the saucepan with the rest of the milk mixture. Place it back over medium heat, bringing it up to a boil. Allow it to boil for another 1 minute.

Remove the saucepan from the heat. Stir in the butter and vanilla extract, mixing until the butter is completely melted and the mixture is smooth.

Allow the pudding mixture to cool down to room temperature. This might take an hour or so.

In a large serving bowl or individual dessert dishes, start with a layer of mini nilla wafer cookies, followed by a layer of banana slices, then a generous layer of the pudding, and finally, a dollop of Chantilly cream. Repeat layers until all ingredients are used up.

Cover the serving bowl(s) with plastic wrap and place them in the refrigerator for a few hours, preferably overnight, to allow the flavors to meld and the pudding to set.
Notes
It's best to use ripe but firm bananas. Overripe bananas might get too mushy, while green ones won't have the desired sweetness.
Before serving, you can crumble a few extra nilla wafers on top for added crunch.
The pudding tastes best when consumed within 1-2 days, but it can last in the refrigerator for up to 3-4 days.
If you fancy some added texture, consider sprinkling some toasted coconut flakes or chopped nuts between layers.
Nutrition
Calories:
222
kcal
|
Carbohydrates:
29
g
|
Protein:
5
g
|
Fat:
10
g
|
Saturated Fat:
5
g
|
Polyunsaturated Fat:
1
g
|
Monounsaturated Fat:
3
g
|
Trans Fat:
0.2
g
|
Cholesterol:
102
mg
|
Sodium:
101
mg
|
Potassium:
285
mg
|
Fiber:
1
g
|
Sugar:
23
g
|
Vitamin A:
425
IU
|
Vitamin C:
3
mg
|
Calcium:
133
mg
|
Iron:
0.3
mg