Meal planning doesn't require blood, sweat, and tears -- with my guide and free printable calendars, you can experience my busy-proof, tried-and-true 3 steps to EASY meal planning ASAP!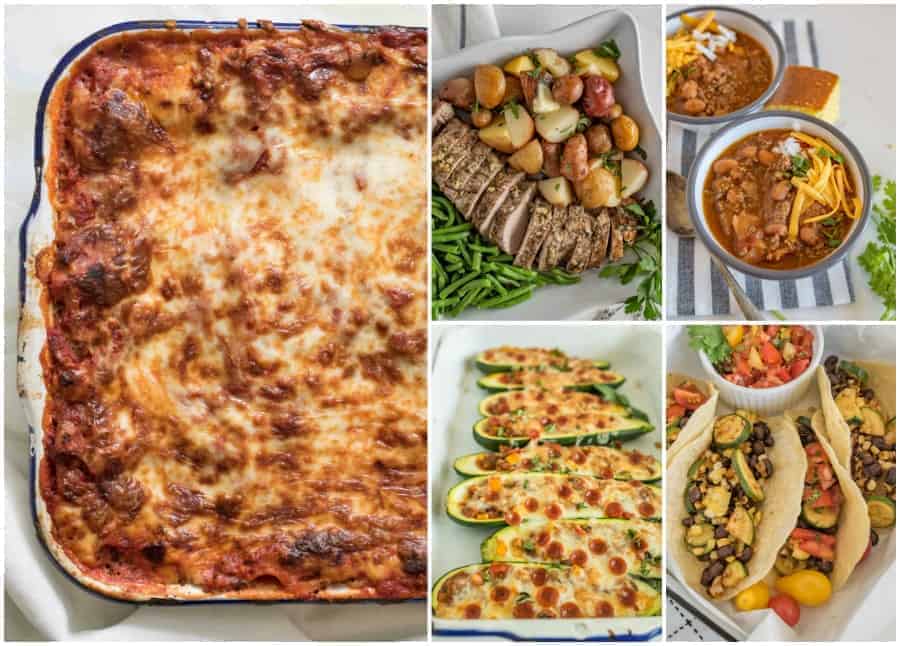 3 Steps to EASY Meal Planning
Meal planning and prep can be incredibly simple and straightforward -- IF you have an easy-to-follow system in place. That's why I shared my guide for meal planning that takes the stress out of getting dinner (or any other meal) on the table and takes the thought out of picking meals to make every single day.
Today, I'm taking that process one step further with one of the greatest tools for meal prep ever: FREE printable calendars! In less than an hour, you'll be able to plan a year's worth of daily meals. This is not a drill. I repeat: ONE year of home-cooked, no-stress meals! Keep reading to find out exactly how!
Have you made your master list yet? Here's how!
1. Print Off a Free Calendar
Luckily for you, I have a free monthly calendar for you to download! Yay! It even has a space under each day of the week for you to write in the category that you are going to use. I also have free weekly calendars, in addition to my monthly plan, to have more room to write. This is a great tool for writing your shopping list. Sign up below to download both files and print them out!
Sign up to receive emails from Bless This Mess and get your FREE Monthly & Weekly Printable Calendars!
2. Fill Out Your Monthly Calendar
Put one genre at the top of each day of the week. This might vary from month to month depending on your schedule and the season. I tend to do my "Quick and Easy" list more during baseball season, and I like to swap out something in the summer to plan for a grilling night (normally Saturday).
Now, use the lists you just brainstormed for each category, and fill in the calendar with what sounds good and what you want to make. Incorporate any date nights, eating out, family events, and designated leftover nights (I use my leftovers for Sundays so I don't have to cook one day a week).
I'm also mindful of the day of the week and how busy it is. Tuesdays are always really busy with music lessons and Scouts, so I plan on really easy, fast, or slow cooker meals for that night. This is also a great way to specify trying a new recipe. One of your categories can be "new recipes," or you can just stick a few in with whatever category they fit. I normally only plan for one or two new recipes a week (or none depending on how busy life feels), but I'll rarely try more than that in a week.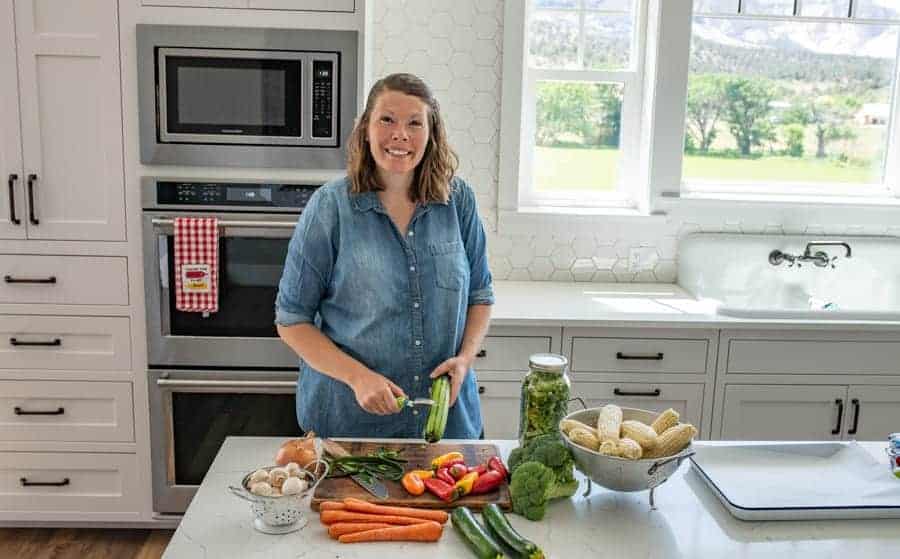 3. Fill Out Your Weekly Calendar
One day a week (I like to do this on Saturday or Sunday), sit down with your filled-out monthly meal plan and a blank weekly meal plan. Fill in your week, and make note of any sides you might want to add or plan on making. This is a great time to "shop the sale," and plan on sides based on what is on sale.
I'll also make a note if I'm making something in addition to the main dish, like breadsticks or rice. Make a shopping list for the week, and plan your shopping day. When you get home from your shopping trip (I shop Monday mornings), you can plan to do a bit of meal prep to make your nights even easier.
PRO TIP: Fill out a few monthly calendars and KEEP them all! If you do this 3 months in a row, you can reuse your calendars 4 times in the year. Just like that, you have a YEAR worth of dinners planned in as little as an hour!
Then, all that is left is to use your plan and love it! No more guessing what's for dinner. No more digging around the cupboards trying to put dinner together. You can make a few months worth of monthly meal plans and then just cycle through them again and again. Now that's a miracle.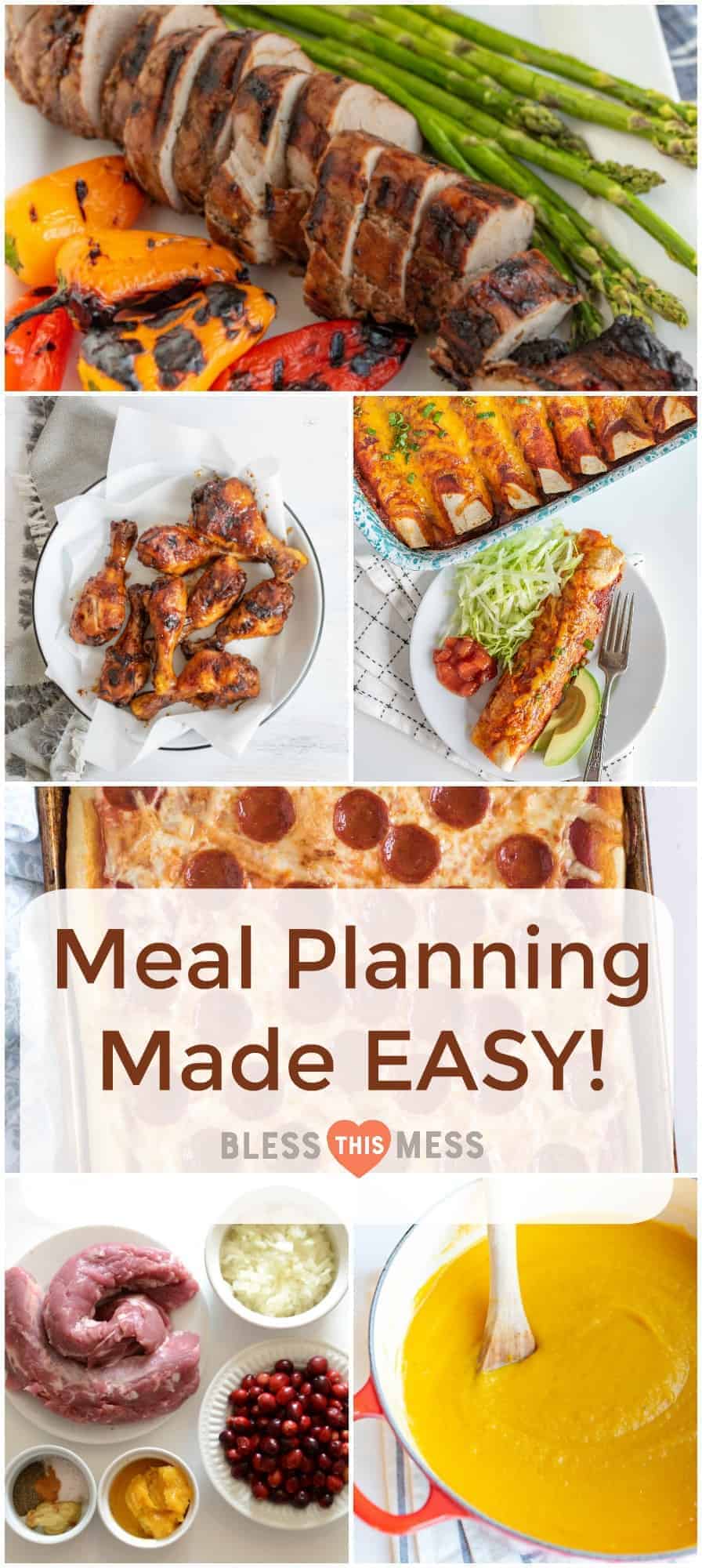 Meal planning doesn't require blood, sweat, and tears -- with my guide and free printable calendars, you can experience my busy-proof, tried-and-true 3 steps to EASY meal planning ASAP!