Five Ingredient Sides will save you time on Thanksgiving – and there are 8 easy recipes for them here! Bonus: everything is easily made vegan/gluten-free.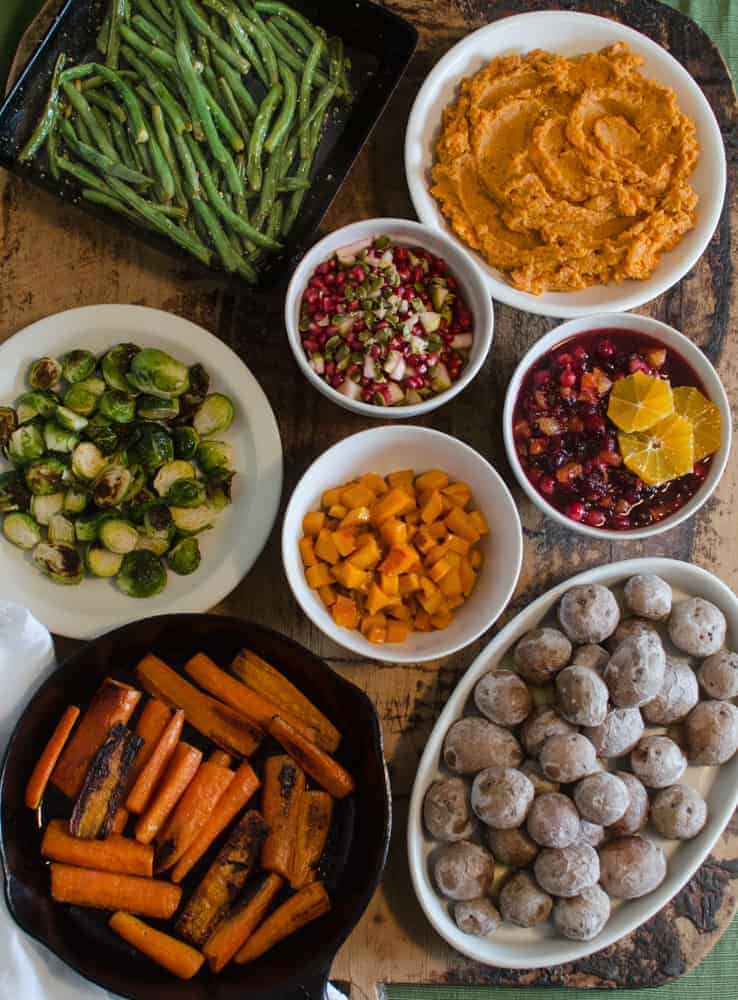 So I know that I set you up with all kinds of pie recipes this week, and I had so much fun making them, but I didn't forget about the rest of the holiday dinner! I feel like we need something healthy after all that dessert, don't you? I have created 8 different healthy side dish recipes for you today, and all of the recipes have FIVE ingredients or less. How's that for awesome!?
The beauty of these five ingredient sides is that you can serve them all fall and winter long. You could pick one or two to try for dinner this week. With less than 5 ingredients each, these are recipes that you are going to come back to again and again. I like to make a few of these for dinner when I have a whole chicken or a pork roast in the slow cooker. You could also make some or all of them for your family for a holiday meal. I can't wait for you to try these healthy simple dishes. You are going to love them!
Bonus points for these recipes: all of these healthy side dish recipes can be made gluten-free, vegan, egg-free, nut- and peanut-free, and just about all the other things free. This is great because I know lots of us, even if we don't eat that way all of the time, like to have some good gluten-free and vegan options for guests coming to our home. These recipes are super allergen friendly, which is nice.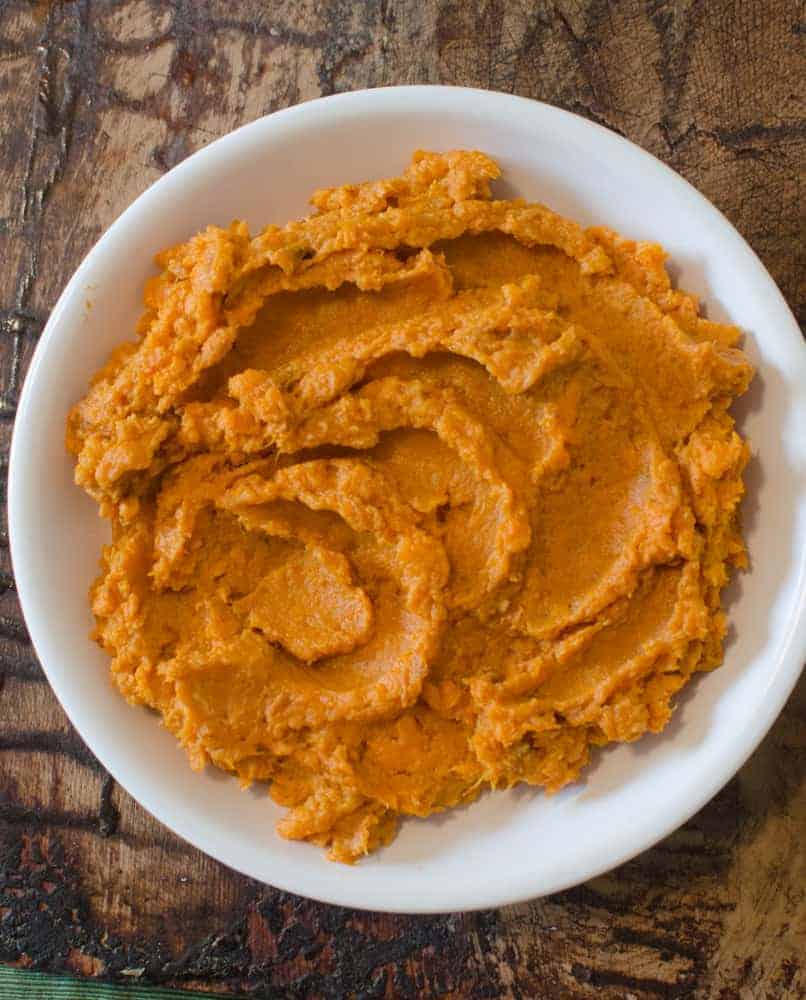 Mashed Roasted Sweet Potatoes
Why I love this recipe:
Mashed potatoes are awesome, sweet potatoes are even better, but roasted and then mashed sweet potatoes are my all-time favorite! When you roast the sweet potatoes, it makes them extra sweet (roasting things is magic like that) and it doesn't add any extra moisture to the potatoes (like boiling does). You simply cut the potatoes in half, give them a good coat of olive oil and stick them in the oven. Scoop out the soft cooked flesh when done, and then mash with a little salt, cinnamon, and some butter or coconut oil, and you are in business! These are sweet and salty and oh-so-simple. I love this recipe and make it often. It makes a great top for shepherd's pie too, if you want to make a double batch.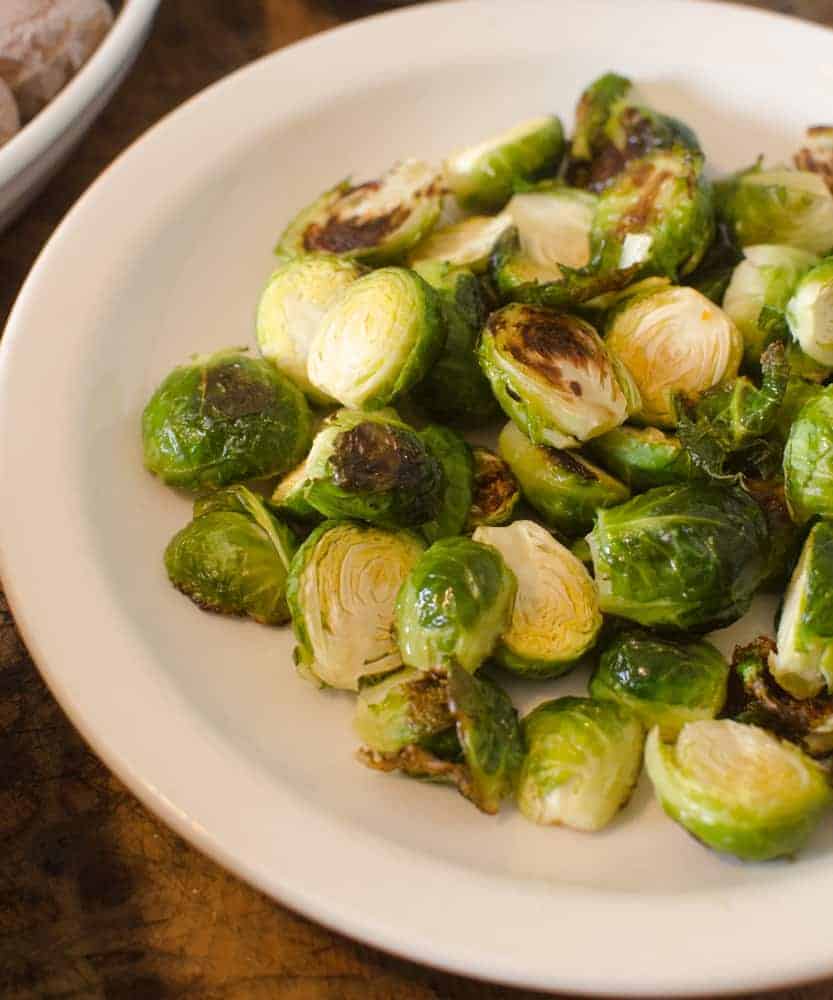 Simple Roasted Brussels Sprouts
Why I love this recipe:
I know that Brussels Sprouts get a bad wrap, but that's because you've been cooking them all wrong. Don't boil them; roast them! Something magical happens when you roast them and they char a little on one side. These are simple to make and fun to eat. You don't need much more than a little olive oil and some salt and pepper for this recipe – just be sure to not crowd the pan. These don't reheat great but that's ok, because we hardly ever have leftovers.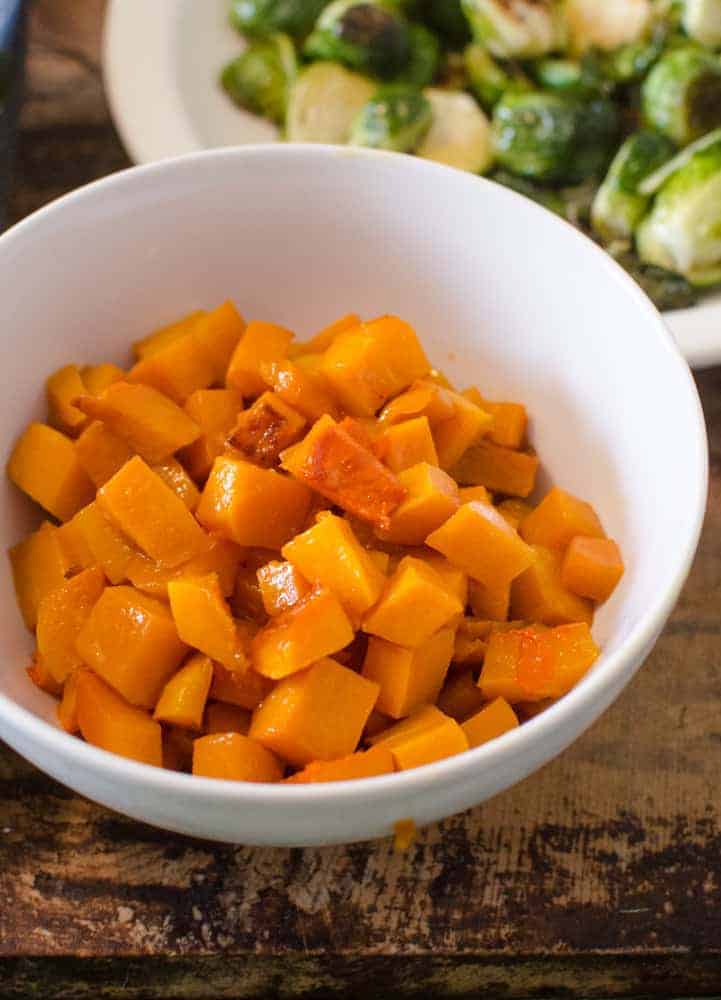 Caramelized Butternut Squash
Why I love this recipe:
Long live the butternut squash. This is such a simple way to enjoy it, and if you have leftovers, you can throw them on all the things. I love butternut squash in quesadillas, chili, and eggs. Make a double batch, because the leftovers are so good. I like to add a little maple syrup to the squash halfway through cooking so that it can caramelize on it a bit. Don't put maple syrup on in the beginning though, because it will burn in the oven before the squash is done cooking. This is so good with a heavy hand of kosher salt on top, too. That sweet and salty combination is my favorite. Easy real food at it's best!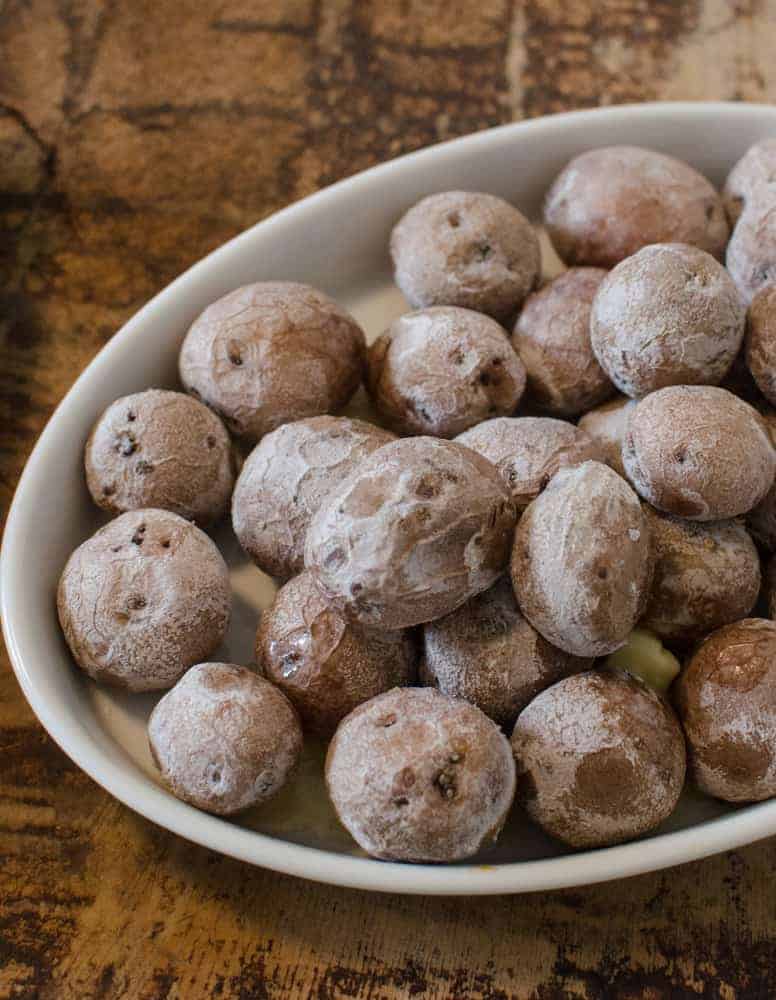 Salt Potatoes
Why I love this recipe:
I had never even heard of salt potatoes before this summer, when I got to spend a fun few days with Rebecca (Foodie with Family). She's raising her five boys in upstate New York, and these are one of her favorite regional dishes. She made them for us one night and I have never gone back! The idea is that you boil little bite-sized potatoes in super salty water (3 quarts of water with 1 1/2 cups of salt in it). You dot the hot potatoes with a little butter and you eat them hot in a bite or two, dipping them in extra butter as needed. This is now my one of my all-time favorite ways to eat potatoes, and it's so simple. Can you see the dusty film on the outside of the potatoes in the picture? That's some of the salt. Something magical happens to the inside of the little potatoes too. I've never had a potato that is so fluffy and creamy. You must try these salt potatoes as soon as possible; they are going to change your potato world. You can find her whole post about salt potatoes here if you'd like a little more information. I probably wouldn't have tried these on my own, but I'm so glad she made them for me. I'm a salt potato convert and I'm here to get you hooked, too.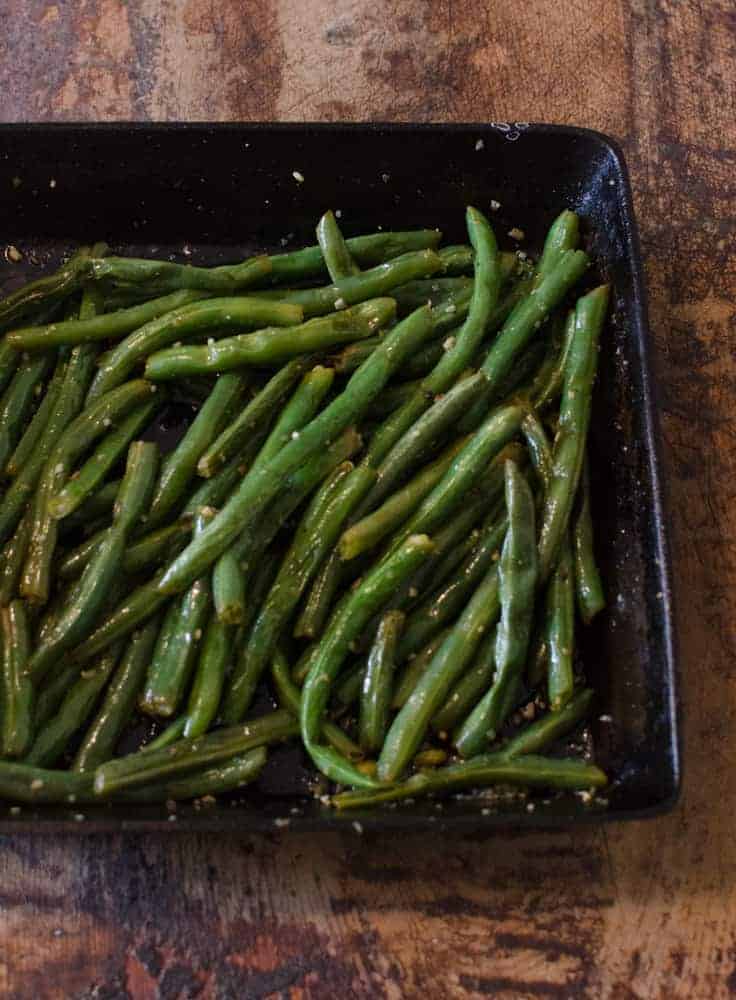 Buttery Garlic Green Beans
What I love about this recipe:
Butter and green beans, enough said. Make sure you get some good quality green beans for this. I bought mine a few days before I planned on using them, and that was a mistake this time of year; lots went bad in the fridge. Look for young tender beans that are no thicker than a pencil and are bright green with no blemishes. I like this recipe because you boil the green beans and then you sauté them. Not only do I love the flavor of the beans sautéed in butter and garlic, but you also get a properly cooked bean with a great texture by boiling them first. It might feel like an extra step, but it's worth it and really only takes a few extra minutes. Long live garlic and butter together. These are so good and you'll be making them again and again. This recipe comes from my friend Mary's cookbook (that I love!), The Weeknight Dinner Cookbook, which is full of simple quick meals my whole family loves.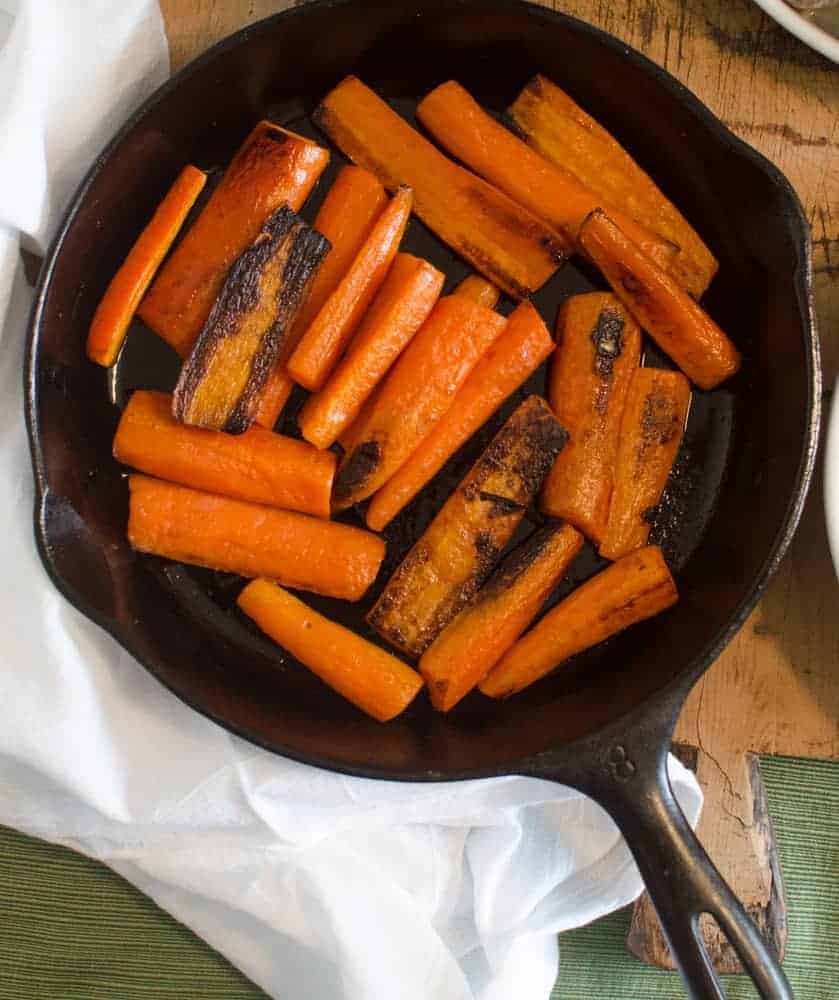 Pan-Seared Carrots
Why I love this recipe:
These simple carrots have a lot of flavor and are just plain pretty on the table. You are going to want to use large whole carrots and just do the cutting and peeling yourself (no baby carrots here) to ensure even cooking. You simply sear the carrots in a little olive oil and then turn them over and pop the whole pan in the oven. The sear makes them pretty and makes them taste so good, and a little time in the oven helps them to finish cooking all the way though. They are bright, a little crunchy, and perfectly sweet. I love carrots and this is a fun way to eat them without turning them into the ever-popular candied carrot. A little bit of good quality hard cheese grated right on top before serving was amazing on these (delicious, but not necessary or pictured).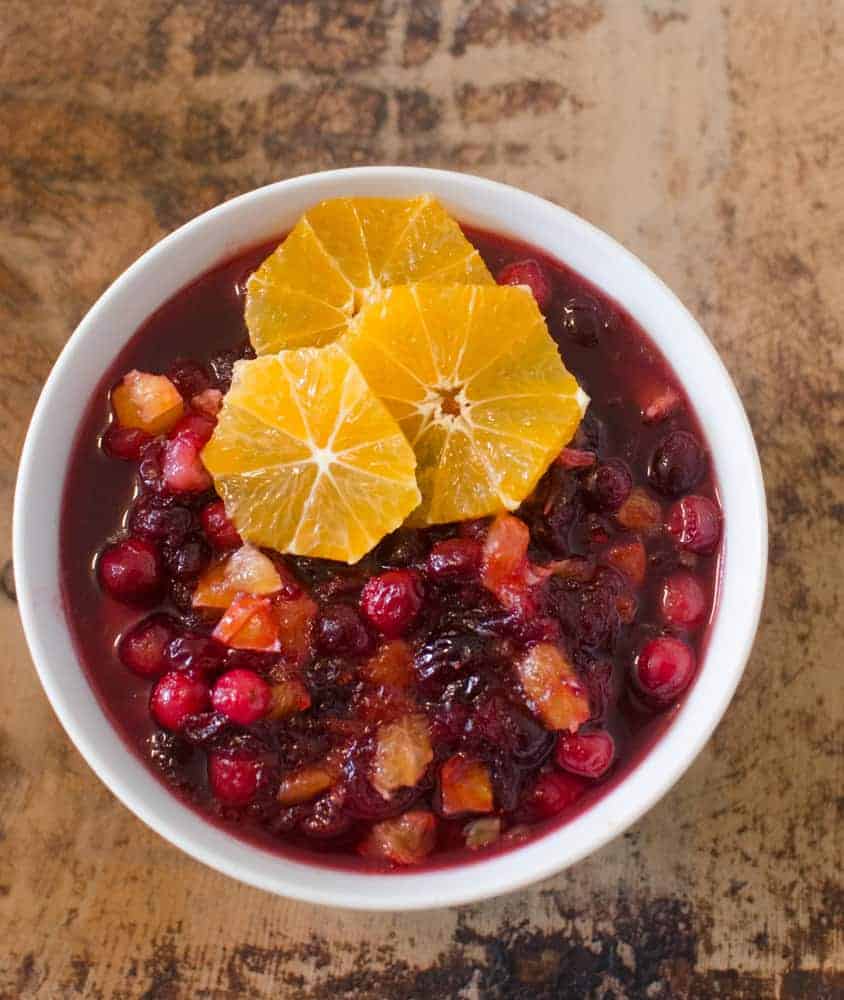 Easy Cranberry Orange Sauce
Why I love this recipe:
This simple cranberry sauce is full of color and flavor and it's naturally sweetened. I used both maple syrup and orange juice/whole oranges to sweeten the fresh cranberries, and it's such a great combination. Orange and cranberry are just meant to go together. I love cooking fresh cranberries because as they cook and boil, they pop and burst open. It's such a pleasant sound and the house smells amazing. This is a great addition to enjoy on top of your favorite turkey, chicken, or pork dishes. It keeps well too, so you can make it a few days in advance, which is always nice. If you like your cranberry sauce spiced, feel free to add spices like cinnamon, ginger, nutmeg, or cloves to your liking. I really like ginger in this dish, but only a little.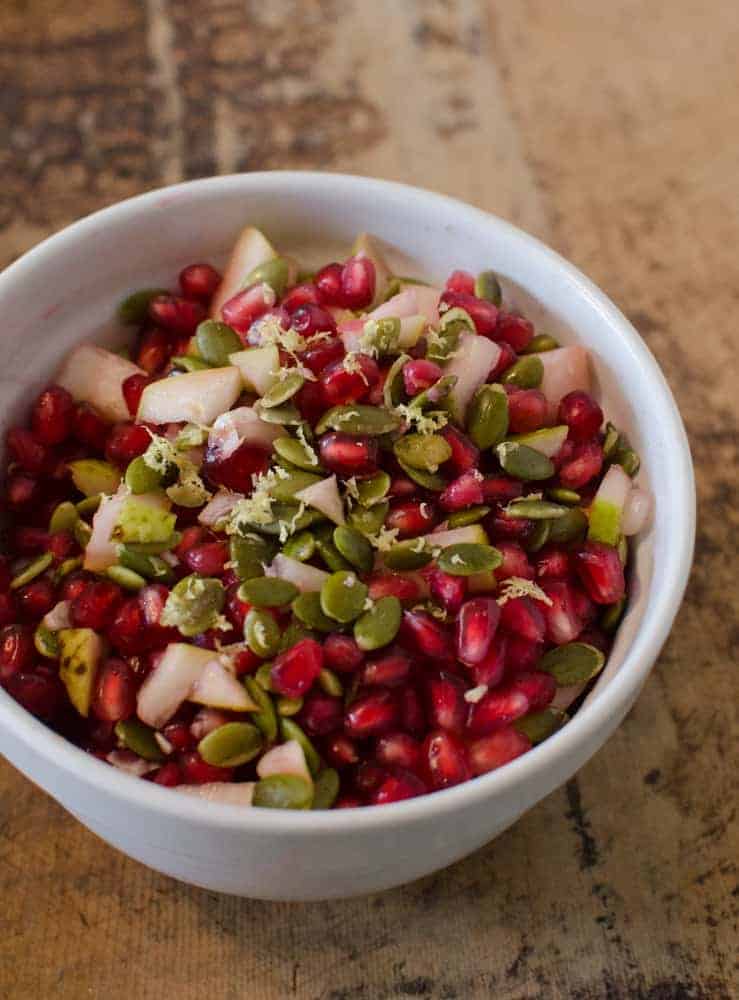 Pomegranate and Pear Salad
What I love about this recipe:
Easy, seasonal, and so pretty! You don't need to do a lot to make this salad shine. I just get a pomegranate all ready to go (I do the cut it in half and hit the back with a spoon method) and then add some pear and pepitas. I make a super simple dressing with a citrus fruit juice (like lemon, lime, orange, or grapefruit), zest, and some honey or maple syrup. It's simple but so fun to eat. This is the easy healthy version of my very favorite Dixie Salad, which you might also want to put on your Thanksgiving table this year (It is pomegranate, apple, and pecans mixed in sweetened whipped cream; it's a local favorite!). I love the pepitas (hulled pumpkin seeds) because they add some nice color and texture. They are so fun to have on hand.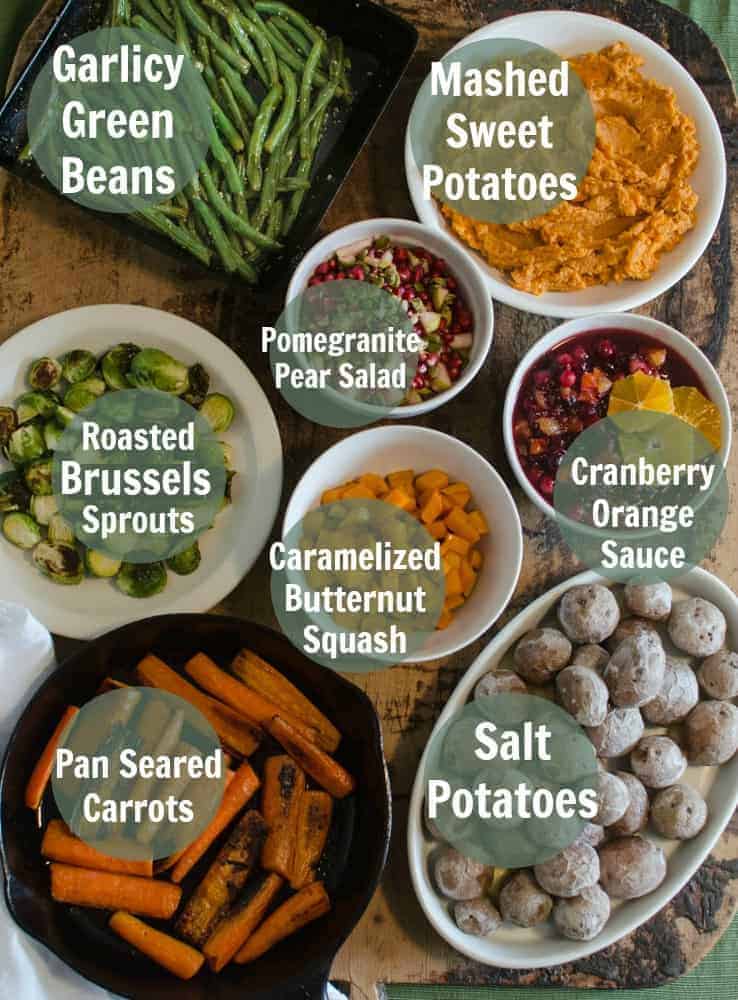 And there you have a great collection of simple healthy five ingredient sides for all of your holiday parties/dinners/winter meals/weeknights. I hope that you come back to this post again and again and again!
If this post speaks to you, you think someone else might like it, or you want to save it for later, by all means, share it on your social media platforms. Pin it, Facebook it, throw a picture up on Instagram and tag me (#blessthismesseats). All of those things are incredibly helpful to me, and the more sharing that happens, the more I'm able to turn this hobby into a job that helps my family (and my house building project). There is so much power in your sharing – thank you for all you do. Now EAT!