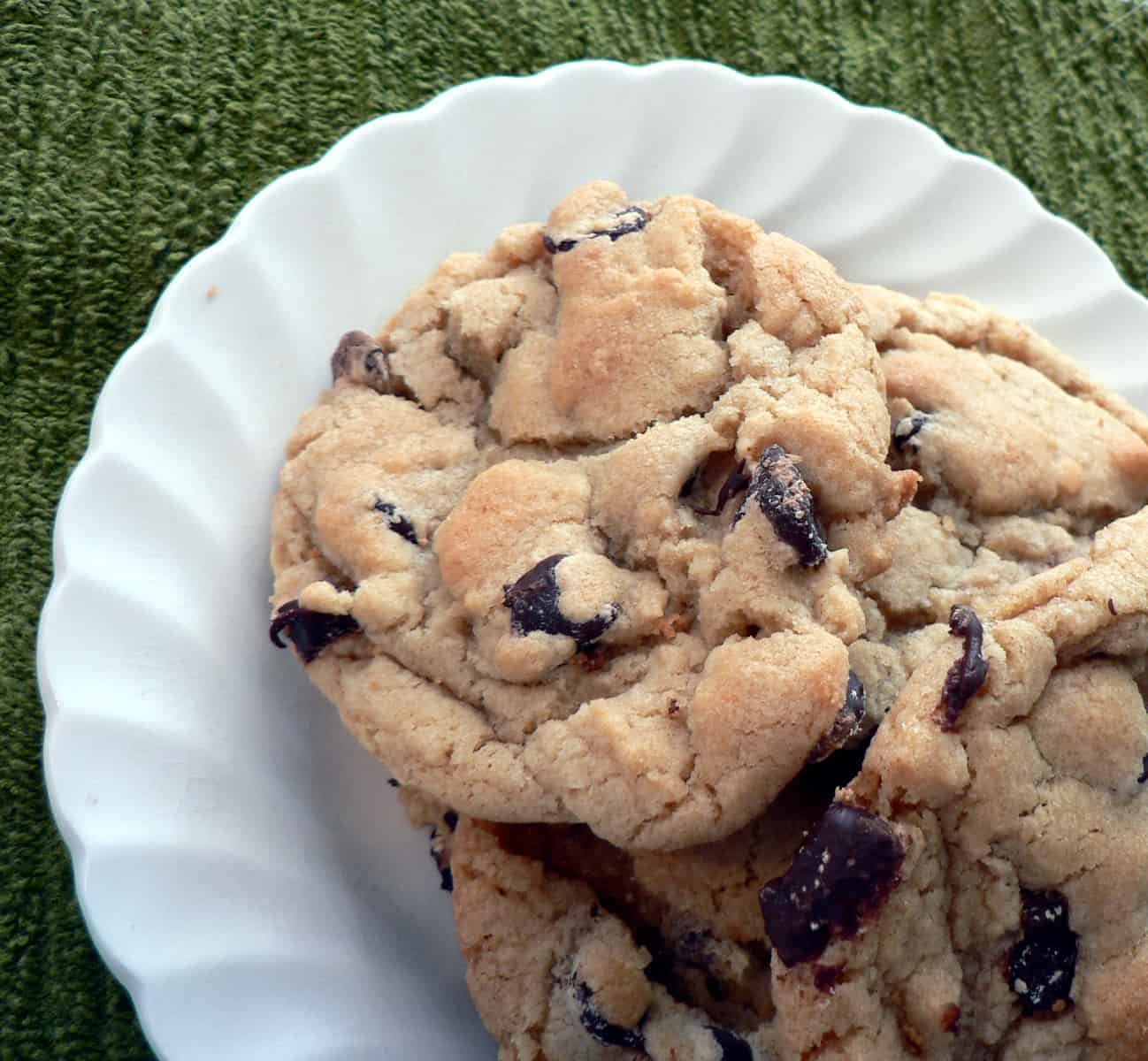 Well Chocolate Week is coming to a close. I've saved the very best for last. Plan on making these tomorrow after church!
Chocolate chip cookies are little morsels of memories. I'm sure you too have more than one memory that has a chocolate chip cookie wrapped up in it.
Chocolate chip cookies remind me of my sister. We call her Tia at our house. Tia has perfected her chocolate chip cookie. They are divine. Instead of asking her to whip up a batch of chocolate chip cookies, we simple ask her to make "Tia Cookies"; she knows exactly what we mean. "I could go for some Tia Cookies right about now" is a phrase uttered nearly every Sunday night.
Tia no longer lives 7 blocks from me; she's actually half way across the world serving the Lord and teaching people His gospel. I miss her every day even though I know she's doing a great work.
Since Tia isn't around to make me cookies anymore, I've had to find a recipe that would rival hers in greatness. Well folks, after multiple recipes, we have a winner. This recipe is even better than a Tia Cookie! I can't wait for her to come visit when she gets home so I can whip up a batch of these for her.
Look no more. This is the last chocolate chip cookie recipe you will ever try. If you don't love them at first time, make them again; you made a mistake somewhere :)
Here's what I love about this recipe. It is made with 100% butter, no margarine here. Not only is it all butter, but it's all melted butter. No waiting for a stick to soften or trying to "soften" via the microwave. The melted butter gives it a yummy almost caramelish undertone. You'll understand when you get there.
I always double the recipe, bake one dozen, and form and freeze the rest. Just bake the frozen dough for a few minutes longer at 350 degrees (instead of 325). They turn out perfect every time. Now I always have cookies in the freezer ready to pop in the oven on a whim. I haven't said no to a request for cookies in months!

The Last Chocolate Chip Cookie Recipe You'll Ever Try
Literally the best chocolate chip cookie recipe ever. The secret is using melted butter!
Ingredients
2 cups plus 2 tablespoons flour
½ teaspoon baking soda
½ teaspoon salt
12 tablespoons (1½ sticks) butter, melted and cooled for 5 minutes
1 cup brown sugar
½ cup granulated sugar
1 large egg
1 egg yolk (when I double the recipe I do 3 eggs instead of 2 and 2 yolks... it's up to you)
2 teaspoons vanilla
1½ cups semisweet chocolate chips
Instructions
Preheat oven to 325 degrees.  In a large bowl, beat the melted butter and sugars together with an electric mixer (or stand mixer) on medium speed until smooth and light and fluffy in color, around 2 minutes.  Beat in the egg, yolk, and vanilla until combined.
Reduce the speed to low and slowly add half the flour, the salt and baking soda, and then the second half of the flour.  Mix in the chips until incorporated.  Working with 2 tablespoons of dough at a time, roll them into a ball and place them on a cookie sheet about 2 inches apart.  Bake the cookies until the edges are set and beginning to brown but the middles are still soft and puffy, around 15 minutes.
Let the cookies cool on the baking sheet for 10 minutes and then transfer to a wire rack to let cool completely.
(This is for extra large cookies. If you are making a more traditional size cookie, use 1 tablespoon of dough and bake for 9 to 10 minutes.)
From
America's Test Kitchen
 Family Baking Book
There was an issue loading your exit LeadBox™. Please check plugin settings.