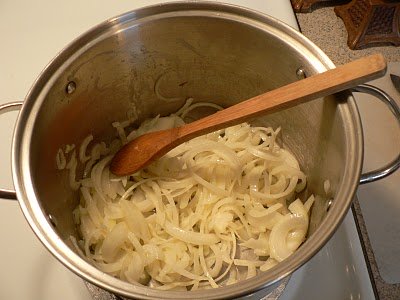 Caramelized onions are divine.  They are sweet, creamy, and luxurious to the palate! Add these to your favorite burger, pizza, burrito, enchilada, soup… just about anything can be improved by these onions.  The key is slow and low though.  Caramelized onions and sauteed onions are very different things.
Plan ahead, these take some time.
Caramelized Onions
2 medium onions
1/4 cup butter
Cut onion in half and slice onions to create half circles.  Place onions and butter in a medium pot or skillet and cook over medium low heat until onion become golden and sweet.  Stir occasionally. 
The time it takes to caramelize depends on the onion your start with.  Vadalia and Red onions caramelize faster than white and yellow because they start out sweeter.  The white onions above were cooked for 50 minutes.
The 2 onions produced about 1 cup of caramelized onions.