Quick healthy pumpkin oatmeal energy bites that taste like cookies but are good for you!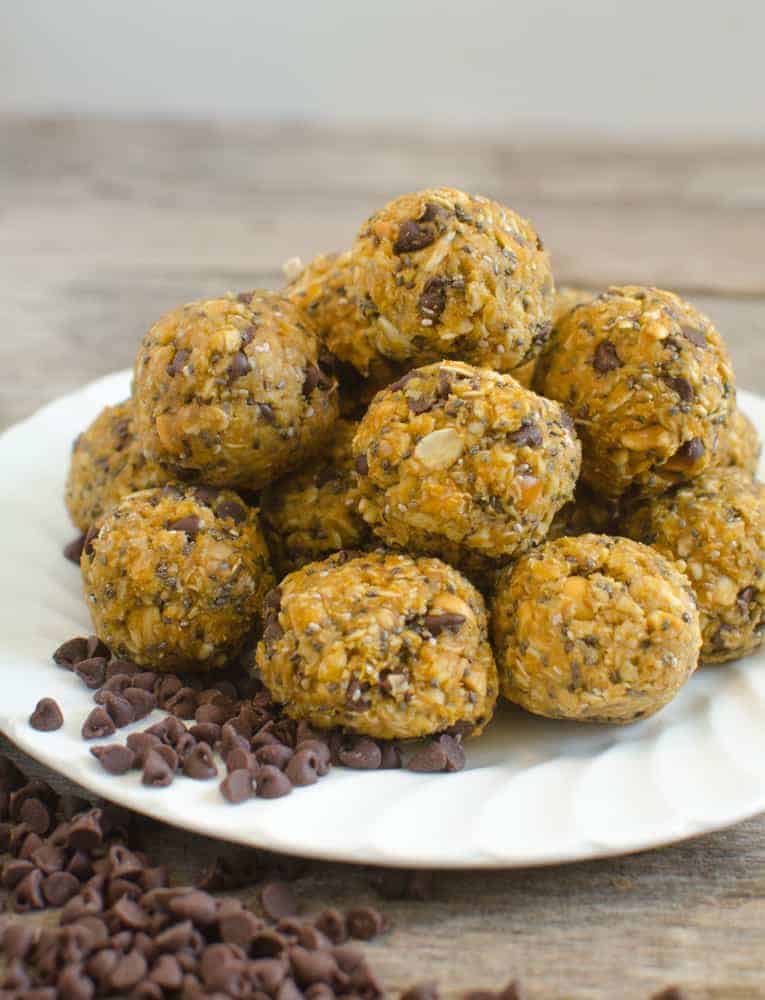 No Bake Pumpkin Oatmeal Energy Bites are going to be your go-to healthy snack all fall long. I tell my kids these are no-bake cookie balls because they taste so great.
Here's what I love about No-Bake Pumpkin Oatmeal Energy Bites:
Chances are you have everything on hand to make these. Always a win. Don't have chia seeds on hand? Leave them out or sub them for something else like hemp seed hearts, chopped nuts, or some coconut flakes (and you can go up to a 1/2 cup of those things if you like).
You can use old-fashioned or quick oats or a combo of the two, depending on the texture you are going for. Quick oats will yield a softer energy bite and the old-fashioned oats will make them chewier. I used half and half and was really pleased with how they turned out.
They are no-bake and store super well. They have been great in lunch boxes, for after-school snacks, as a pre-workout snack at 5 am before weight lifting, and at bedtime when I'm ready for the kids to be in bed but they are suddenly starving. I love having little healthy snacks on hand.
I can't wait for you to try them and enjoy the convenience of having them on hand at your house. These are a great thing to make on a meal prep or food prep day and then enjoy all week long.
This recipe is part of the Pumpkin Week that Cassie from Wholefully and I are working on together. We are sharing a full 7 days of pumpkin recipes, and then ending with a giant roundup of all the pumpkin posts we have on our sites. Today Cassie is sharing a Vegan Pumpkin Black Bean Chili recipe and I'm so excited about it. Meatless Monday is just around the corner and I know what I'm making! Bring on the pumpkin cornbread muffins to go with it. We would love for you to stay tuned for pumpkin goodness all week long! Feel free to share the recipes on Pinterest, Facebook, and Instagram too, because there's no such thing as too many pumpkin recipes. You owe it to all your friends. 🙂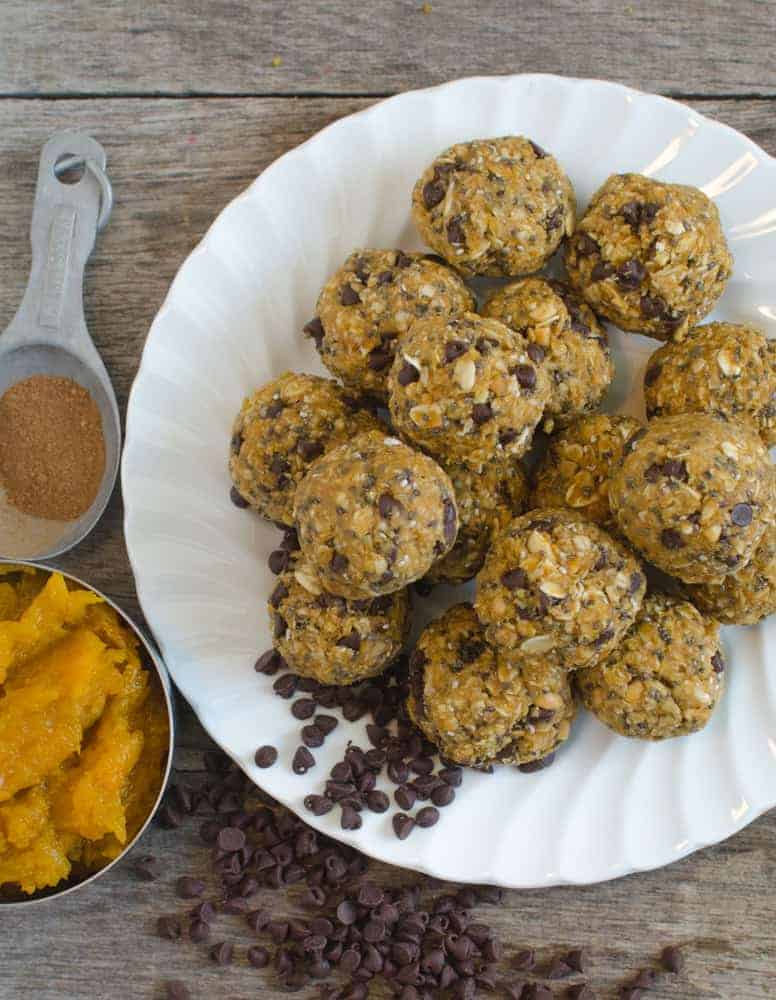 Craving more? Subscribe to Bless this Mess to get new recipes, meal plans, and a newsletter delivered straight to your inbox! If you try this recipe, let me know what you think! Leave a comment, pin it, and don't forget to tag a picture #blessthismesseat on Instagram. I love to see your kitchen skills in action!
Print
No Bake Pumpkin Oatmeal Energy Bites
Quick healthy pumpkin oatmeal energy bites that taste like cookies but are good for you!
Author:

Melissa Griffiths

Prep Time:

5 mins

Total Time:

5 mins

Yield:

20
Ingredients
1 1/2 to 2 cups dry, uncooked oatmeal
1/2 cup all-natural peanut butter or other nut or sun butter
1/2 cup pumpkin puree
1/4 cup chia seeds
1/4 cup quality honey
1 teaspoon vanilla extract
1/2 teaspoon cinnamon or pumpkin pie spice
1/2 cup mini dark chocolate chips
Instructions
In a medium bowl add 1 and 1/2 cups oats, peanut butter, pumpkin, chia seeds, honey, vanilla, and cinnamon. Stir to combine well. You want the mixture to be soft but not too sticky. If you pick up a generous spoonful, you should be able to roll it into a ball and only make a minimal mess (it should stick together when rolled but still feel tacky on your hands). Depending on the type of oats you used (old-fashioned or quick oats), you made need to add up to a half cup more oats and stir until you reach the desired consistency. Again, it's ok if it's a little sticky because the oats will absorb some of the moisture after a little time passes, but unworkable sticky isn't the goal.
When the mixture is workable, add the chocolate chips and stir to combine. Scoop a large spoonful into your hand and roll into balls. Repeat with remaining dough. Keep these in the fridge for up to a week, or in the freezer for much longer.
This recipe is adapted from and inspired by Clean Eats Crush.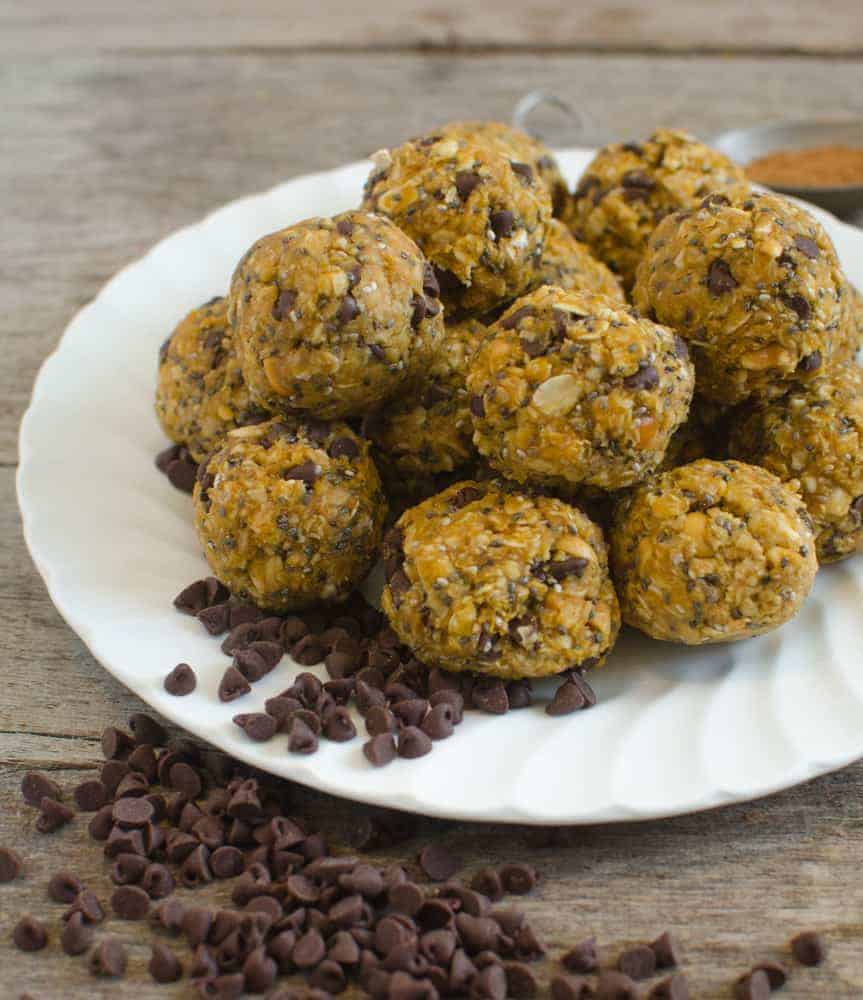 Having these hanging out in your fridge or freezer is going to make you super happy, and I can't wait to hear how much you like them. Enjoy, from my kitchen to yours!