Having a huge garden is awesome when the tilling, planting, weeding, watering, weeding, and more weeding start to mean gobs of fresh vegetables for me to use. It seems like such a labor of love for months and then all of the sudden you are rewarded for your hard work. That reward is beginning for me and I couldn't be more excited. I'm currently harvesting green beans by the gallon, basil, zucchini, yellow summer squash, and cucumbers. I'm just chomping at the bit for tomatoes, peppers, and sweet corn to ripen.
Here's what we had for dinner last night: sautéed yellow squash, green beans, corn on the cob, cantaloupe, quick pickled cucumbers, homemade whole wheat clover rolls, and smoked sausage. It was heaven I tell you. Heaven! Summer on a plate indeed. I was looking at the meal and thinking that my grandma would have been proud; it looked like a meal she would have served this time of year to her big family of boys from her gigantic garden.
Thinking about my grandma makes me happy. She is a wonderful woman who raised 13 kids (11 of whom were boys!) and I grew up just down the road from her farm in Southern Indiana. This recipe for quick pickled cucumbers, or refrigerator pickles as we call them, is from her. It's super easy and tastes just like summer should. Have you ever had this kind of thing? You basically make a quick brine and add what you want to it. My mom always just did cucumber but grandma would add just about anything from the garden – onions, bell peppers, whole cherry tomatoes. Add what you think you'd like pickled. Easy and delicious. Sometimes I think there's no need to dress up garden veggies with more than a bit of vinegar and water. Enjoy!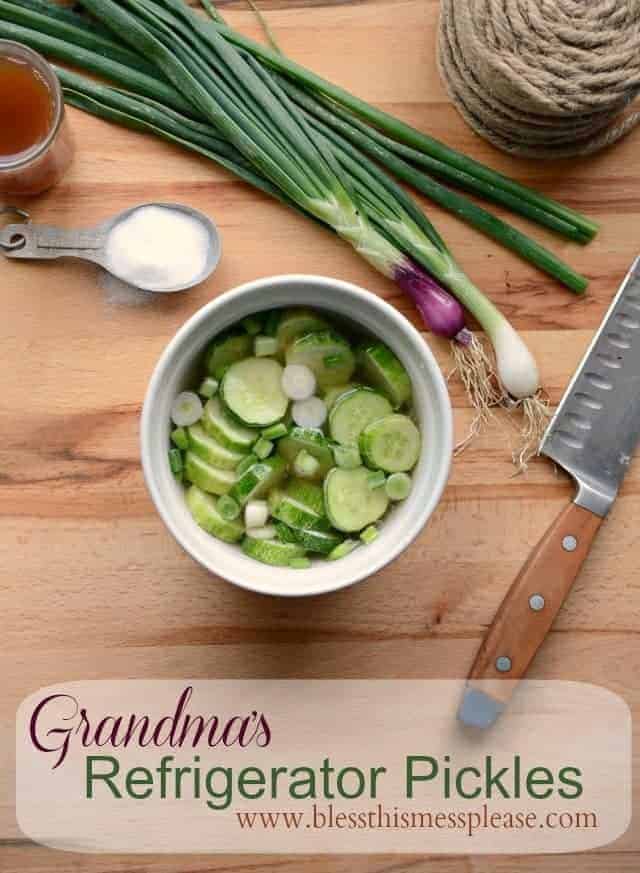 Aren't my baby onions cute?! They were the first I pulled and they are tiny… I think I'll wait another month or two before I pick any more so they aren't quiet so itty-bitty.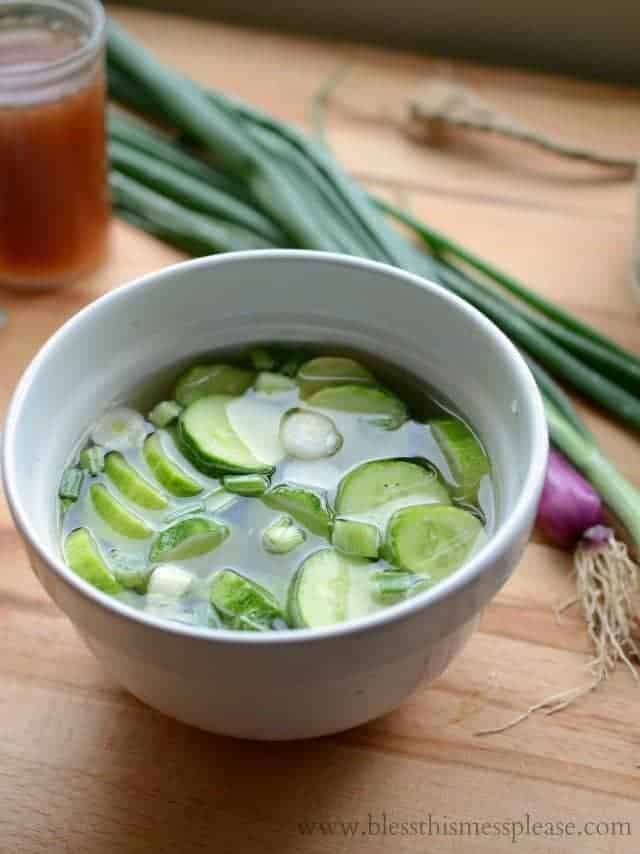 Print
Quick Pickled Cucumbers – Refrigerator Pickles
Ingredients
1 cup water
1/3 cup vinegar (apple cider, white, and rice wine are all good)
1/3 cup sugar (optional)
1 to 2 tsp. salt
sliced garden cucumbers
sliced onion or green onion
additional vegetables as you like (bell pepper, whole cherry tomatoes, etc.)
Instructions
In a small bowl add the water, vinegar, sugar, and salt. Stir to combine and until the sugar and salt have dissolved. Add the cucumber and onion. Taste and adjust the ingredients to your liking.
All the cucumbers should be covered in the brine, if you have lots of cucumber or are making a big batch, make more brine.
Let the mixture rest in the fridge until you are ready to eat. The flavors develop over time, so an overnight soak is great but mine are normally gone by dinner.
Notes
I love adding the sugar and my mom does too, but my grandma doesn't add that much. I say try it and see what you like.
White vinegar is the traditional vinegar for this recipe and a great place to start. If you know that you like apple cider or rice wine vinegar they are also good.
You really can't mess this up. Just adjust to taste and enjoy!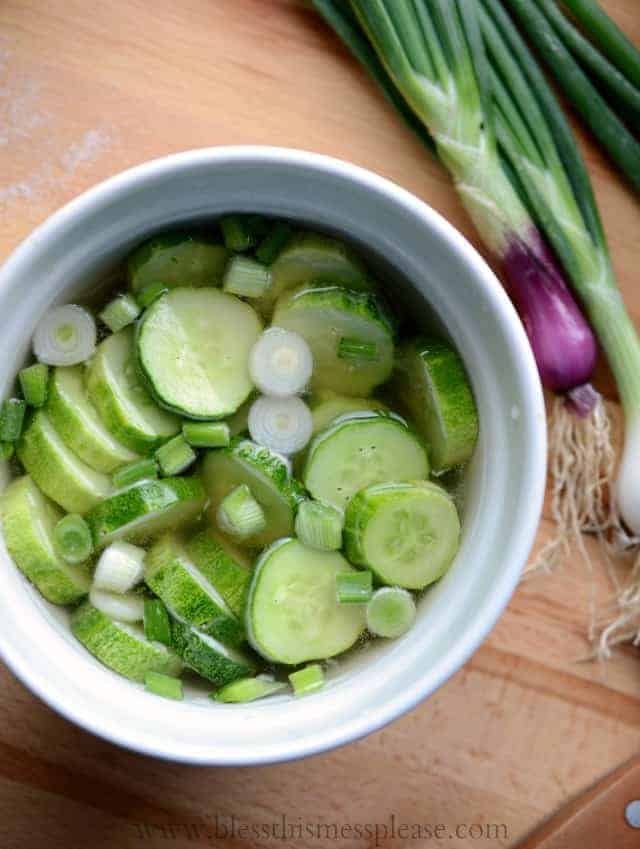 And if you have too many cucumbers in the garden here are some tasty recipes highlighting them that looked delicious!
Shaved Radish, Carrot, Cucumber Salad with Tangerines and Microgreens from Cafe Johnsonia
Herbed Cucumber and Tomato Salad from Wholefully
Dilly Cucumber Dip from Bakeaholic Mama
Greek Tortellini Salad from Two Peas and their Pod
Enjoy the bounty of the summer and thanks for reading.