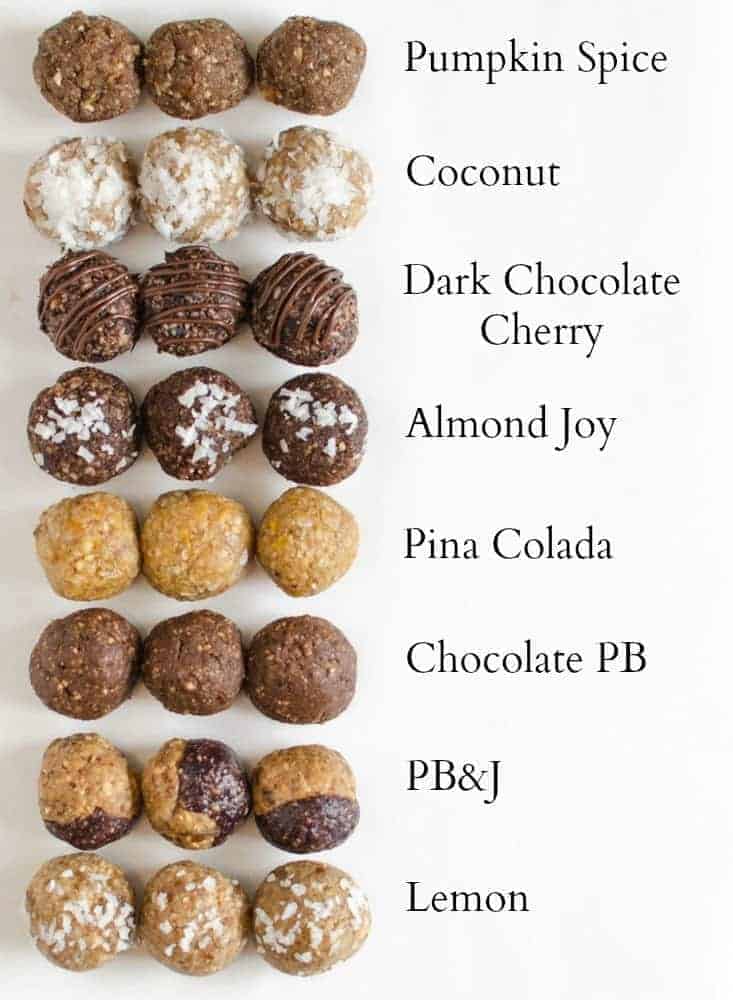 Energy bites! Also know as date bites, date balls, or little bits of healthy heaven. Have you tried them? It took me a while to put them on my list and now I'm kicking myself for taking so long! These simple treats are healthy eating/snacking/dessert perfection, and I have a batch in my freezer at all times now.
The basic idea is that you throw dates + nuts + extras in the food processor, and process until it's all broken down into a cookie dough-like mixture. You then roll them into balls, pop them in the freezer, and eat them all day, every day. There's something magical about the combination of the healthy fat and protein from the nuts, and the natural sweetness and carbs from the dates. This is the ultimate whole food pick-me-up. These are perfect for snacks-on-the-go, great for getting through the afternoon slump, my favorite sugar-buster when I just need something sweet, and amazing right before bed when you need a little something.  I promise, if you get on the energy bites wagon, you won't be getting off anytime soon. I love these, and you will too.
In order to really win you over, I thought I would make a giant post with all my energy bites tips and tricks, 9 varied but simple recipes, and all the tools you need to win. This post is going to be your go-to date ball guide! I hope you use it over and over again. If this post speaks to you, you think someone else might like it, or you want to save it for later, by all means share it on your social media platforms. Pin it, Facebook it, throw a picture up on Instagram and tag me (#blessthismesseats). All of those things are incredibly helpful to me and the more sharing that happens the more I'm able to turn this hobby into a job that helps my family (and my house building project). There is so much power in your sharing, you literally have no idea how important that is for me.
Thank you! Now enjoy some delicious and healthy date balls from my kitchen to yours.
Tips and Tricks for Making Energy Bites
You are going to need a big food processor for this. I'd use at least an 8-cup food processor. I have this 13-cup Kitchen Aid Food Processor and it's awesome. If you have a smaller food processor or one that might have a weaker motor, you'll want to make smaller batches (maybe half the recipe or so) so that you don't burn up your motor. I have not tried these with anything other than a food processor. In my mind a high power blender might work, but I haven't tried.
Tips for buying dates: Buying dates intimidated me a little the first time I went looking for them. You can get them at Costco in the unrefrigerated produce section. This kind had the pits in them still (I didn't realize that the first time I used them. So I tossed them in my food processor, turned it on, and almost broke the thing. Date pits are hard as rocks. The pit come out very easily, just don't forget that step!) I have also bought whole pitted dates at my little grocery store near the raisins and other dried fruit. They came in a bag that looked like a "craisin" bag. I couldn't tell a difference between the ones from Costco and the ones from our store, and I had good luck making date balls with both. I'm not sure what a fresh date looks like, but the ones you are going to use are dried dates.
The date sugar crystallizes and turns a little white when the dates start to age. This is ok. The dates also dry out a little bit as they age. You might get dates that are very squishy and sticky, or you might get ones that feel a little more leathery and dried out. Both are fine to use.
You will need to add a little water to your mixture if your dates are older and more dry. When you are making the date balls, the mixture will start to stick together and form a ball that starts to go round and round in the food processor. If everything is chopped but it's not starting to form that ball, then you know you need to add a little water. I normally start with adding about a teaspoon at a time and processing the mixture for about 15 seconds to see if it starts to come together or not. I've had to add anywhere between 1 teaspoon and 2 tablespoons of water before. I assume the amount you have to add will vary each time you make it too depending on the dates, the extras you add, and other factors like that.
The nuts that you use don't really matter; use what you like. I normally do half almonds because they are a nice "neutral" nut with a firm texture (I like the little chunks left!). The other half I'll use what I have and it'll end up being pecans, peanuts, walnuts, cashews, or a combo of any of those. I like to use raw unsalted nuts for these, but I have tried them with roasted and/or salted nuts too and they were great. If you are using salted nuts, omit the salt in the recipe.
There's a magical time when it comes to processing nuts when they are chopped but haven't started turning into nut butter. If you over process nuts, the oil is going to come out. It still tastes fine but it's a little odd to roll a greasy oily ball. Pecans and walnuts tend to turn into nut butter or have the oil separate the fastest, so use a little more care to not over process them.
When it comes to dried fruit, I like to find dried fruit with no added sugar. I can't always find that, but it's worth mentioning. Trader Joe's has lots of great dried fruit. Bob's Red Mill online has great dried fruit, and Costco has delicious dried blueberries and sour cherries (but both from Costco have added sugar…).
I'm obsessed with making these a little salty, so I add a nice big pinch of salt when I make mine. Add at least some salt (it really heightens the sweet), and if you like a sweet and salty treat, go heavy on your pinch. If you are using salted nuts, you'll want to omit additional salt until you can taste the processed mixture and see if you'd like a little more salt or not.
If you aren't in the mood to roll these into balls, you can press the mixture into a square baking dish lined with parchment paper. Chill for at least two hours, remove the paper, cut into bars, and store.
Balls can be stored in an airtight container (I love this container!) in the fridge for about a month, and in the freezer for much longer. I love to eat mine cold out of the freezer best.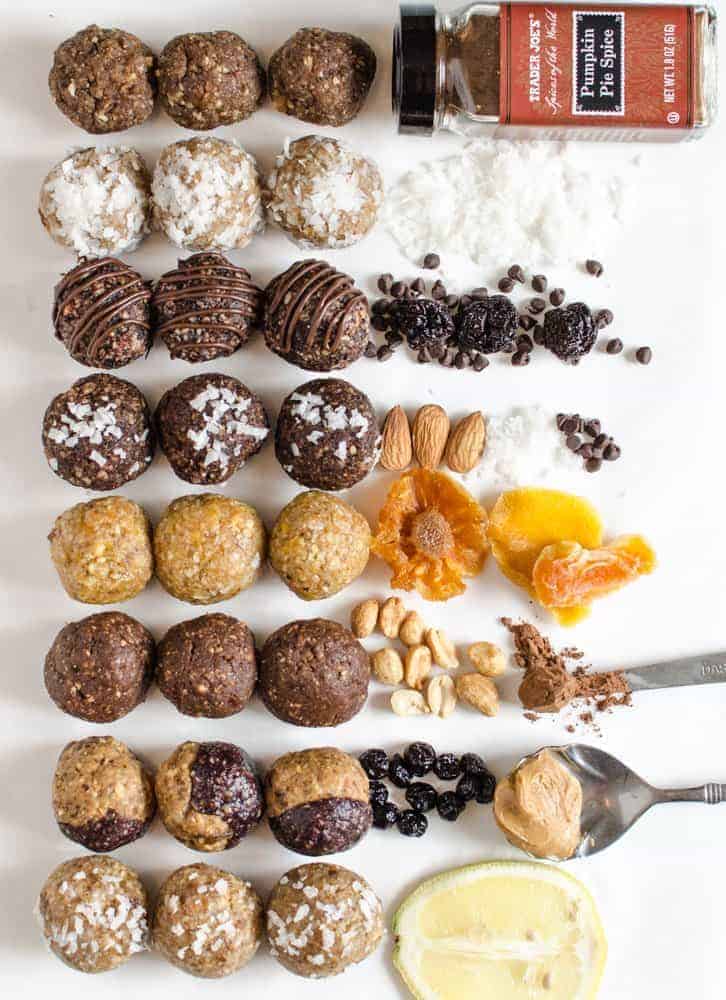 9 Simple Energy Bites Recipe for You to Try

Chocolate Peanut Butter Energy Bites
These are forever a favorite because you just can't go wrong with chocolate + peanut butter. Seriously, it's a combination that's never going to get old. If you are new to date balls and chocolate + peanut butter is your jam, I'd start with this recipe.


Lemon Date Energy Bites
Light lemony balls of heaven! This is the recipes for citrus lovers, though it's not so lemony that those who aren't crazy about citrus will be turned off. You can sub lime for the lemon in this recipe for lime balls (so does that make 9 recipes in this post? Boom!)


Almond Joy Energy Bites
Again, this is a well loved classic flavor combo that is always a safe bet. I love the coconut in this because, coconut. Coconut, almonds, and a bit of chocolate? I'm sold. Maybe next time I'll dunk the whole thing in melted dark chocolate. That doesn't sound bad.


Pumpkin Pie Spice Date Balls
Pumpkin Pie Spice rules the world, and this is a really fun flavor of treat to make, especially in the fall when all things pumpkin, pumpkin pie, and pumpkin pie spice reign supreme. This is also reminiscent of pecan pie, which isn't a bad thing either.


Pina Colada Date Balls
This is one of my favorites due to the variety of fruit and bright flavors. It is a little bite of sunshine that is packed with flavor. I used dried mango, mandarin oranges, and pineapple, and the combination was a keeper.


Coconut Energy Bites
This is a sweet and simple flavor combo that is a favorite of everyone. The coconut flavor is pretty mild ,and you enjoy the nuts and sweetness without being overpowered by a strong fruit/nut/chocolate flavor. This is a great basic recipe for folks who might be nervous about more exotic flavors.


Dark Chocolate and Cherry Date Balls
This date ball totally eats like dessert. Since it's round and covered with chocolate, you kind of feel like you are eating a bonbon, and that's ok by me. This cherry + dark chocolate combo is always a hit in my book, and the chocolate drizzle looks so pretty. Take these to your next book club and they'll be a hit.


Peanut Butter and Jelly Date Balls
I saved the best for last. I saw a shirt once that said "Peanut Butter is My Spirit Animal" and I laughed and laughed because it's so true for me. Peanut butter is always something that I love. A classic peanut butter and jelly sandwich is still one of my favorite lunches, and that combo has come together perfectly in the form of a date ball. Now I can get my PB&J fix in a nice portable healthy version. I love this recipe!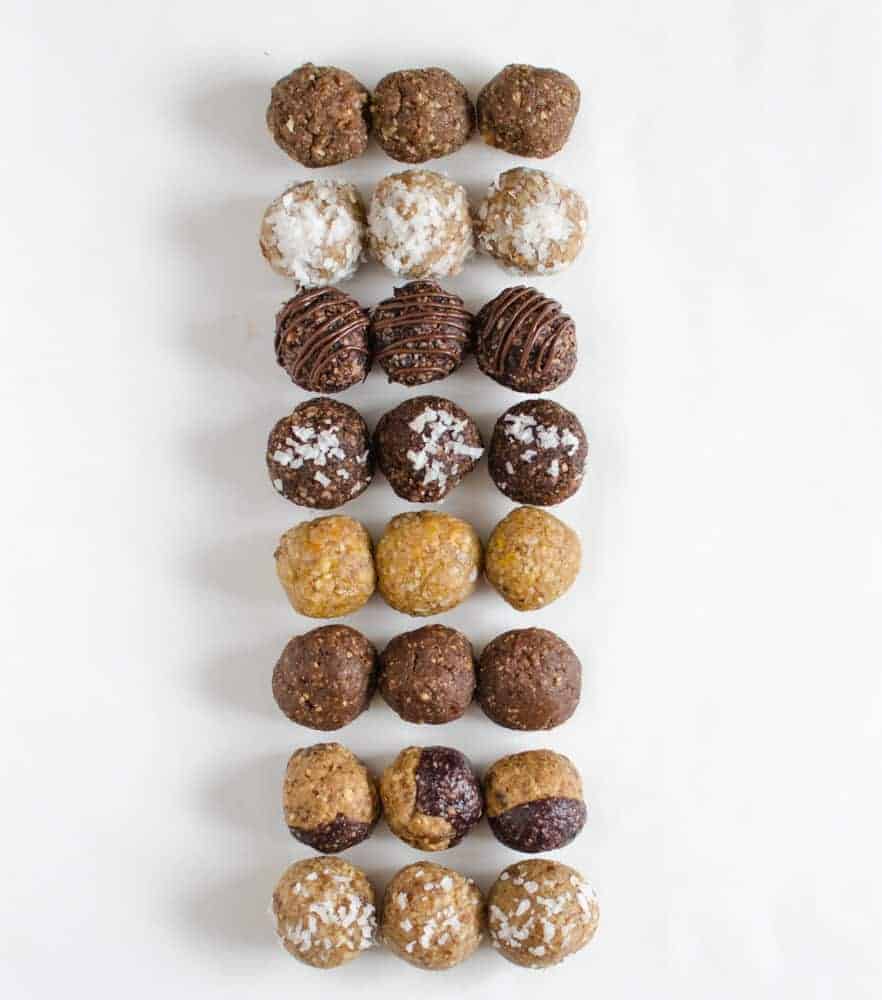 And there you have not eight, but nine, awesome recipes to get you started on your energy bites journey! Once you get the feel for them, you'll just start throwing all kinds of things in your food processor. It's fun to try different nuts and dried fruit. Then you have all the options with citrus, cocoa powder, coconut, and more. You are going to find your favorite combos in no time.
Happy healthy snacking, and don't forget to share this with a friend. Everyone needs easy, healthy, make-ahead snacks and treats in their life.
Enjoy!
PS. If make ahead things you keep in your freezer make your heart happy you are going to LOVE my freezer to slow cooker eBook – healthy dinner done!