This Asian Chicken Salad with Peanut Lime Dressing is a healthy and colorful way to eat the rainbow.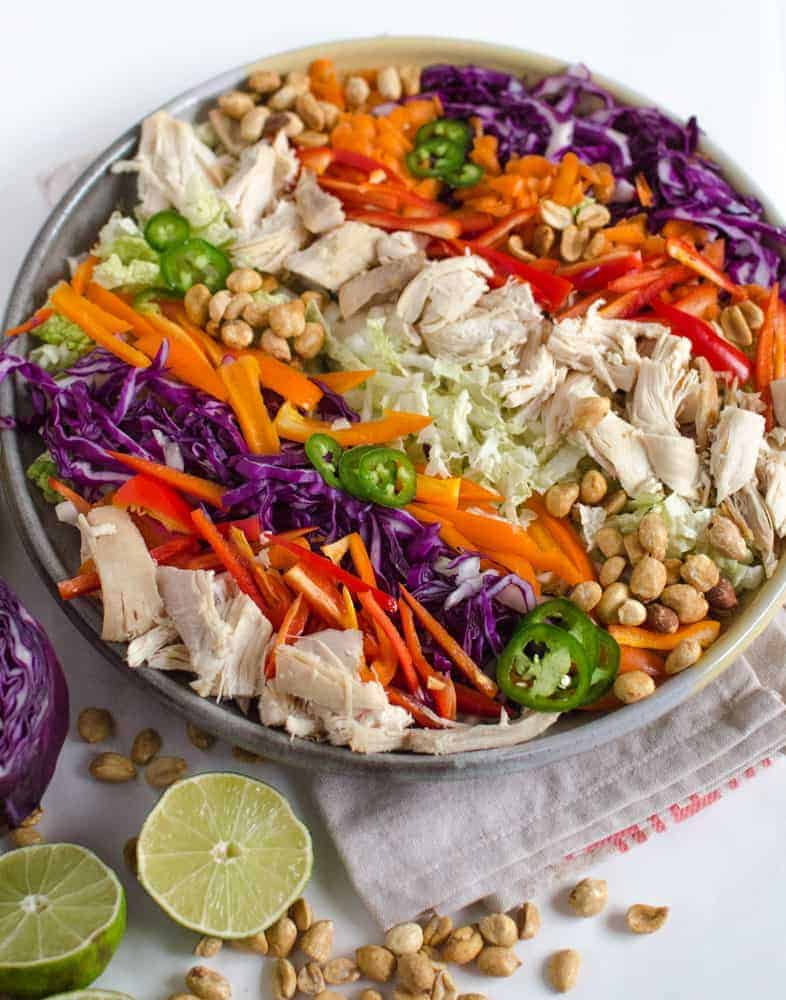 Few things are more exciting to me than a meal that is healthy, quick, and so colorful! This Asian Chicken Salad with Peanut Lime Dressing is going to become a quick favorite in your house because it fits the bill for all of those things. This would be a perfect main dish salad for any busy weekend. You could also serve it as a side if main dish salads aren't your jam. I made a big pot of simple fried rice (with lots of eggs) to go on the side of this, and everyone at my table was super pleased with the meal.
Have you ever tried savoy, Chinese, or Napa cabbage? It has really crinkly leaves and is very light green in color most of the time. It's delicious! I really like to use it as the base for this salad because it is nice and crunchy, but it's not as tough or as strong in flavor as traditional green cabbage. It's also delicious in egg roll or dumpling fillings. Magic happens when you add sweet bell peppers and carrots and more crunch from the pretty purple cabbage. Some little bits of salty peanuts really finish this salad nicely. I like to use precooked chicken (great use for part of a rotisserie chicken or something you've prepped ahead of time) to make this salad more filling. This isn't fussy, but it sure it delicious.
The dressing is really awesome too, so even if you don't get the whole salad made, I'd plan on making the dressing sometime soon. I love to put this peanut lime dressing on thing like quinoa bowls with roasted vegetables or use it as a marinade for chicken. It's delicious, and I know you are going to love it.