These healthy pumpkin muffins are naturally sweet and made with whole grains, and are perfect for breakfast, snacks, or a dinner side!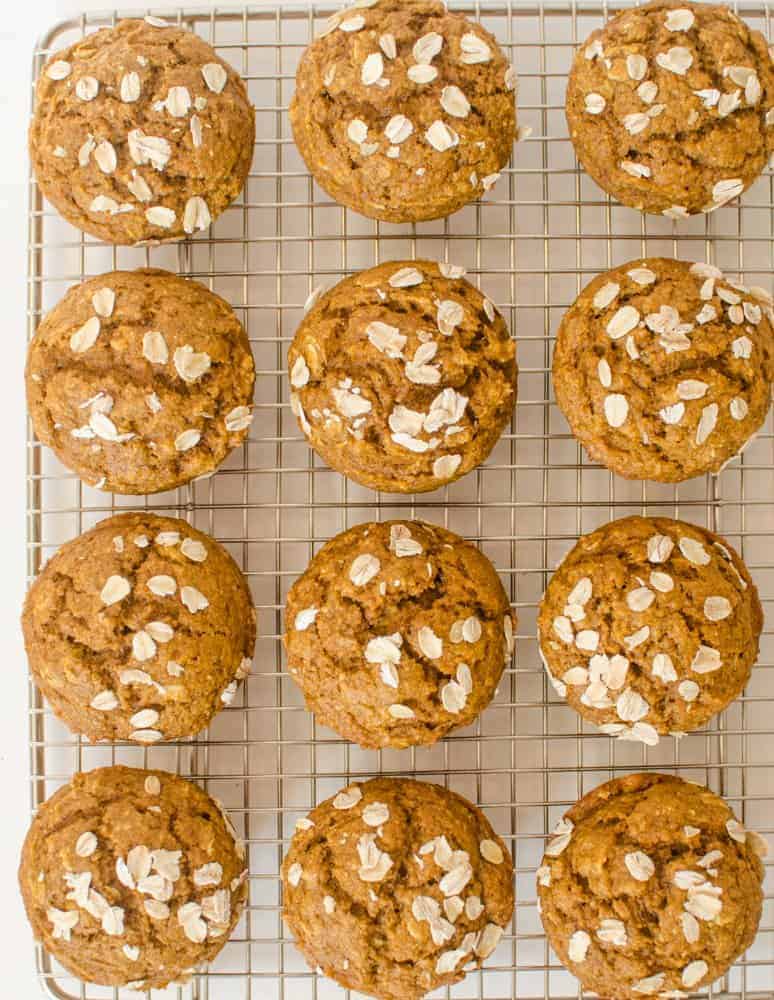 I love muffins. The evidence is in my recipe archives. And what really gets me excited is when the muffins are healthy and my kids don't even know it. These healthy pumpkin muffins are one of my favorite recipes. I make them often to accompany soups and stews, to serve with smoothies for breakfast, or for a simple snack after school. This healthy pumpkin muffin recipe is made without refined sugars (just a little pure maple syrup), and is packed with whole grains. The color is warm and beautiful, they are tender and light, they are just sweet enough, and the recipe makes a perfect dozen.
Healthy Pumpkin Muffins are made with:
Oats
One of my favorite whole grains. They are cheap, easy to find, and easy to use. I like that the oats add a little bit of texture to the muffins (and make a pretty garnish for the tops), but they don't add any kind of strong flavor that might turn off my kids. Oats are awesome.
Real Maple Syrup
Maple syrup is one of my favorite natural sweeteners because when it is baked along with everything else, it doesn't leave much flavor behind. It's sweet but not overpowering. I like honey in some things, but when it comes to baking muffins, I almost always choose to use maple syrup. I normally get mind at Costco. If you don't live in the desert like I do, chances are good you'll be able to find someone local who sell maple syrup at the farmer's market. I hear that Trader Joe's has some good quality syrup for a good price too.
These aren't as sweet as most commercial cake-like muffins. If you are feeling like you want dessert-like muffins, I highly recommend adding a cup of good quality chocolate chips (I like this brand). The chocolate is magic and makes these feel much more like a treat. It's up to you; they are delicious both ways.
Coconut Oil
The nectar of the gods, right?! I use coconut oil because it stores well and it's a great plant-based oil for cooking. Healthy fats are great for kids too.
Whole Wheat Flour
When it comes to using 100% whole wheat flour, I highly recommend buying whole wheat pastry flour. This flour is very finely ground from soft white wheat berries, unlike traditional whole wheat flour, which is ground from hard red wheat berries. The whole wheat pastry flour yields better results in baking than traditional whole wheat flour, though either can be used. Whole wheat flour has all kinds of fiber and nutrients that will keep your kids full and happy. I know grains aren't always popular, but I think of them as a perfect whole food and we enjoy them!