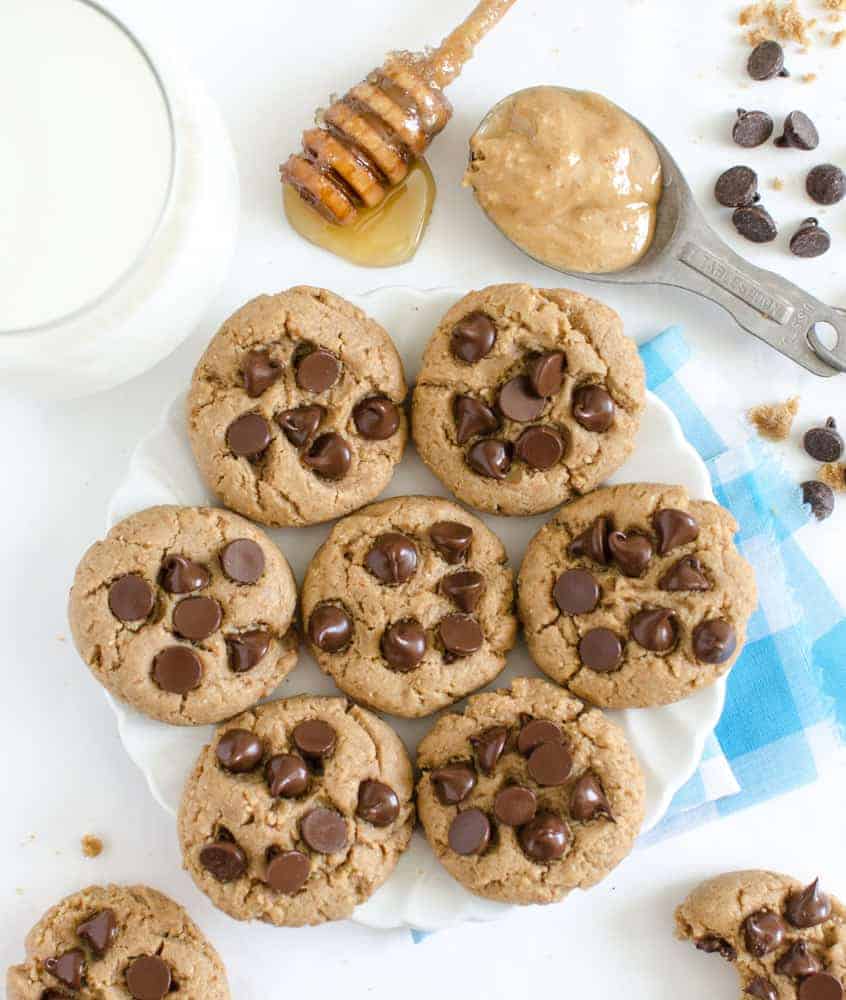 Whole Wheat Peanut Butter Cookies with Chocolate Chips are sweetened with honey, and are a healthier version of the classic favorite.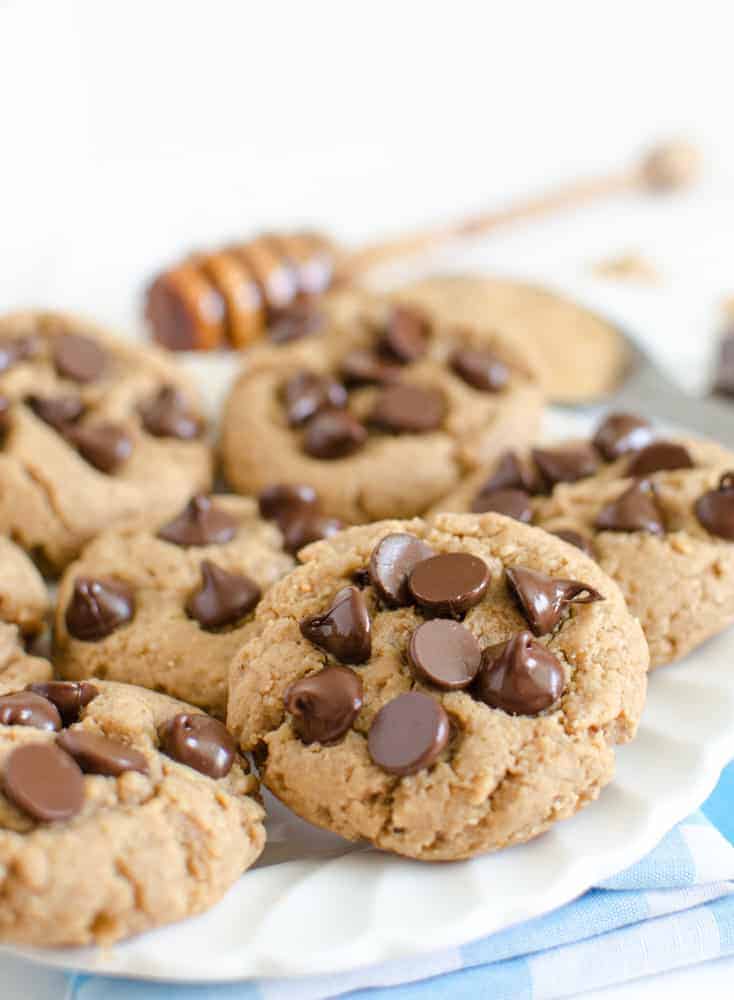 Now, I am a big believer in balance, and my 80/20 approach when it comes to food is alive and well. Normally I enjoy a nice sugary sweet when I have a treat, but that being said, I also wanted to start making some "better for you" treats because I love to bake. I find myself finding plenty of excuses to eat sweets throughout the week and eat sweets we do. I'm trying to rein in our processed sugar consumption a bit and this Whole Wheat Peanut Butter Cookies (sweetened with honey) with Chocolate Chips recipe is a great way for me to do that. My kids had no idea that these cookies were "healthy" – they loved them.
These cookies aren't low in calories and they still have some sugar – I used high quality dark chocolate chips, but they still have sugar, and honey is a sugar even though it's more natural. That being said, I think these totally count as healthy! They do have whole grains, fiber, healthy fats, and when it comes to the ingredients in them, I know what they are, how they are made, and have a good idea of where they came from. I love that! These are still a treat and you should approach them as such, but also applaud yourself for going with a healthier version of a traditional classic.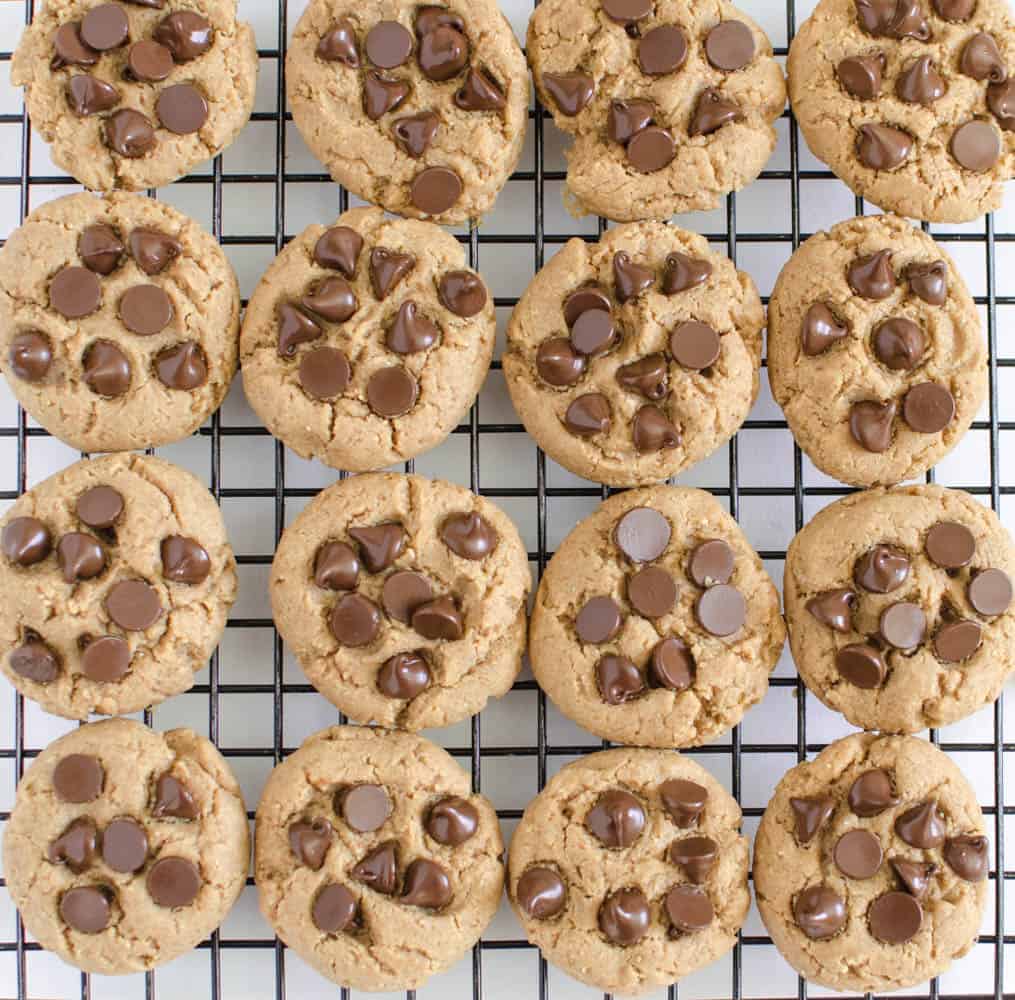 Print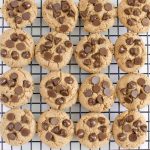 Whole Wheat Peanut Butter Cookies with Chocolate Chips
---
Author:

Prep Time:

10 minutes

Cook Time:

15 minutes

Total Time:

25 minutes

Yield:

2 1/2 dozen cookies
Description
Whole Wheat Peanut Butter Cookies with Chocolate Chips are sweetened with honey, and are a healthier version of the classic favorite.
---
Ingredients
1 cup peanut butter (natural and normal will both work, smooth or creamy)
1 cup honey (I like to buy local, it seems less bitter than cheap store honey)
1 large egg
1½ teaspoon vanilla extract
½ teaspoon salt
½ teaspoon baking soda
2 cups whole wheat flour
½ to 1 cup good quality dark chocolate chips
---
Instructions
Preheat oven to 350 degrees and line a baking sheet with parchment or a baking mat. In a large bowl or the bowl of your stand mixer, combine the peanut butter and honey and beat until totally incorporated. Stir in egg and vanilla. Add the salt, soda, and flour, and mix until it comes together to form a dough. Shape dough into small balls (about 1 tablespoon of dough each) and place on the prepared sheet. Use fork to lightly press each dough ball down. Press a few chocolate chips on the top of each dough ball.
Bake for 10-12 minutes, until cookies become slightly golden brown. (Note: Be careful to not overbake! Honey burns much more easily than sugar). Remove from the oven and place the cookies on a wire rack to cool.
Notes
You can stir the chocolate chips into the dough like traditional chocolate chip cookies, but I always think they look extra pretty when I press them on the top.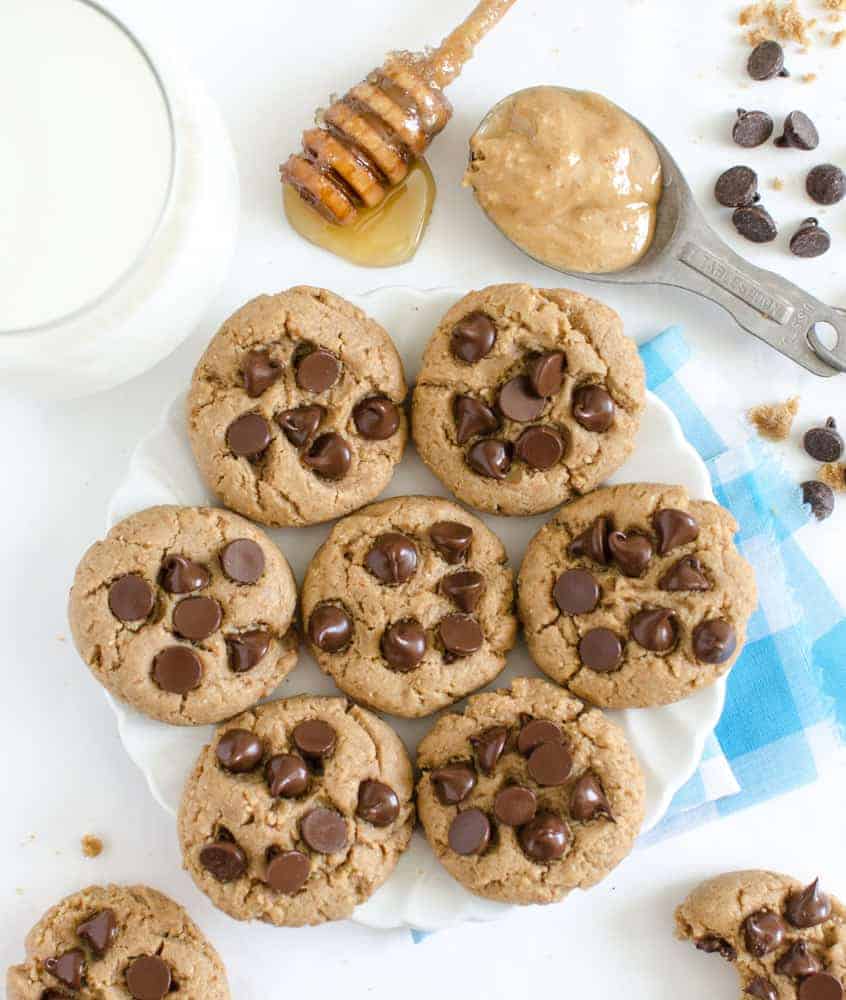 Craving more? Subscribe to Bless this Mess to get new recipes, meal plans, and a newsletter delivered straight to your inbox! If you try these whole wheat peanut butter cookies, let me know what you think! Leave a comment, pin it, and don't forget to tag a picture #blessthismesseat on Instagram. I love to see your kitchen skills in action!