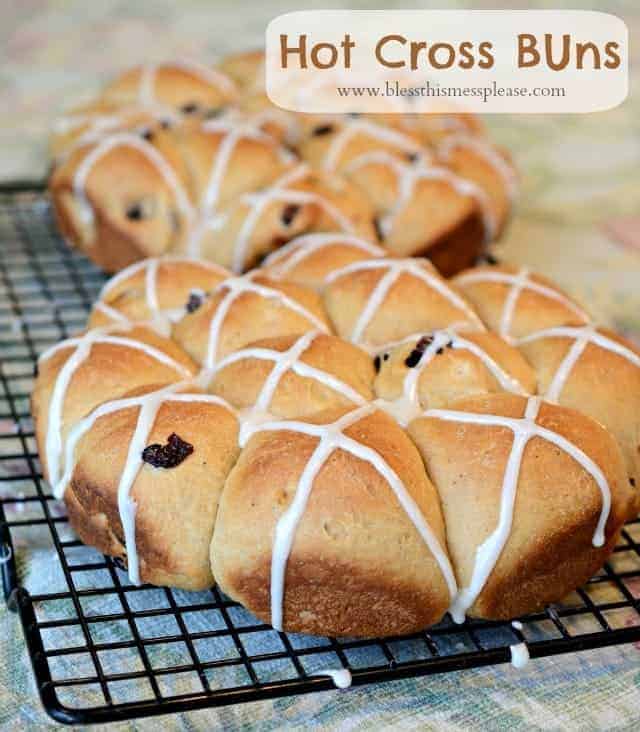 I'm so excited. We have another awesome giveaway today.
In January when I was contacting companies I love to see if we could work together, one of the very first emails I sent was to King Arthur Flour. My mom loves them (and my mom is never wrong), I won a giveaway from Bakeaholic Mama last year from King Arthur Flour which got me on their mailing list (the catalog that comes in the mail is the stuff my dreams are made of…), and I've been borrowing the King Arthur Flour Whole Grain Baking cookbook from the library for years. When they said they would love to work on a project together I knew just what I'd like to do – hook you all up with that awesome whole grain cookbook!
So they sent me two different kinds of whole wheat flour and their Whole Grain Baking book to work with and I have been in love. In the last three weeks I've made seven recipes from the book and they are all wonderful.
Remember how I love America's Test Kitchen because their cookbooks are like attending a cooking class? They are so full of great knowledge that really teach you why and how to do things. We'll America's Test Kitchen and King Arthur Flour are two peas in a pod. They really are BFF companies in real-life and a lady from America's Test Kitchen even wrote one of the chapters in the King Arthur book. Score! You'll feel so much smarter after reading the book and it is a must-have for anyone serious about understanding and getting good at baking with a variety of whole grains.
Now on to the recipe! I whipped up a batch of whole wheat hot cross buns the other day and this was definitely the best recipe I've tried. What are whole wheat hot cross buns you might ask?! Well it's a light sweet bread with fruit (in my case homemade dried cherries!) with a simple glaze on top. It's traditionally eaten after Lent and is very much a spring and Easter-time food. I plan to serve these with our Easter breakfast because they reheated very very well the second day. Think of them as a light and moist cousin of the cinnamon roll without all the fuss and with about a million less calories. You'll love them, I promise!
And don't get so excited about the buns that your forget to enter the giveaway at the bottom of the post! King Arthur Flour has generously agreed to give away a gorgeous hardback copy of King Arthur Flour Whole Grain Baking along with a coupon for a free 5 lb. bag of their flour! This book is a great resource that you will want on your shelf!
Now on to those whole wheat hot cross buns.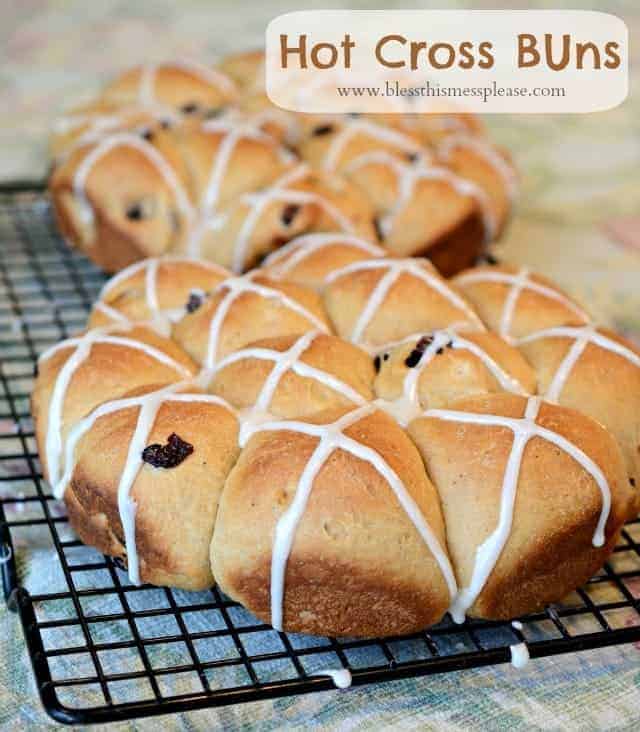 Print
Whole Wheat Hot Cross Buns
---
Yield:

Makes 2 dozen buns
Ingredients
1 cup raisins, dried cherries, or currants, softened in 1 T. of warm water or orange juice
2/3 cup lukewarm water
1/3 cup orange juice
2 large eggs
1/2 cup butter, softened
1/3 cup brown sugar
1/4 cup nonfat dry milk
1 1/2 tsp. salt
2 tsp. vanilla
1/4 tsp ground nutmeg
1/2 tsp. cinnamon
2 tsp. baking powder
2 1/4 tsp. yeast
2 1/4 cups whole wheat flout
2 1/2 cups all-purpose flour
For the icing:
1 1/2 cups powdered sugar
1 tsp. vanilla
pinch of salt
4 to 5 tsp. milk or cream
---
Instructions
In a small bowl combine the raisins and the water (or orange juice), stir to combine, and set aside.
In the bowl of your stand mixer combine the water, orange juice, eggs, butter, brown sugar, dry milk, salt, vanilla, nutmeg, cinnamon, baking powder and yeast. Stir to combine. Add all of the whole wheat flour and mix with the dough hook for 5 minutes. Add the white flour, 1/4 cup at a time, until a soft dough is formed. The dough should still stick to the bottom of of the bowl, but pull away from the sides. Turn the dough onto a lightly floured surface and knead by hand until smooth but still lightly tacky.
Shape the dough into a ball and place in a lightly greased bowl. Cover the bowl with plastic wrap and allow the dough to rise until doubled, about an hour.
Lightly grease two 9-inch round cake pans. Gently press the dough out on a clean work surface. Drain any extra water from the raisins and then add them to the dough. Gently knead the dough until the raisins are incorporated. Divide the dough into four pieces and then divide each piece into 6 (you'll have 24 pieces in the end). Roll each piece of dough into a round ball and place in the prepared pans, 12 per pan, evenly spaced. Cover the dough lightly and allow the buns to rise until puffy and touching each other, about one to 1 1/2 hours.
Towards the end of the rising time preheat the oven to 350 degrees. Bake the buns, uncovered, until they are light golden brown, about 25 minutes and then remove them from the oven.
To make the icing: Combine the powdered sugar with the vanilla, salt, and enough milk (or cream) to make a smooth icing. Don't make it too thin though.
Let the buns cool for at least 15 minutes before adding the icing or the icing will melt right off. Pipe the icing in the traditional cross pattern across the top of each bun and serve warm.
Notes
I had a lot of extra icing, so I just served it on the side and those who wanted to could spread a little extra on their bun as they liked.
I used homemade dried cherries and they were amazing.
These are delicious and warmed up very well the second day.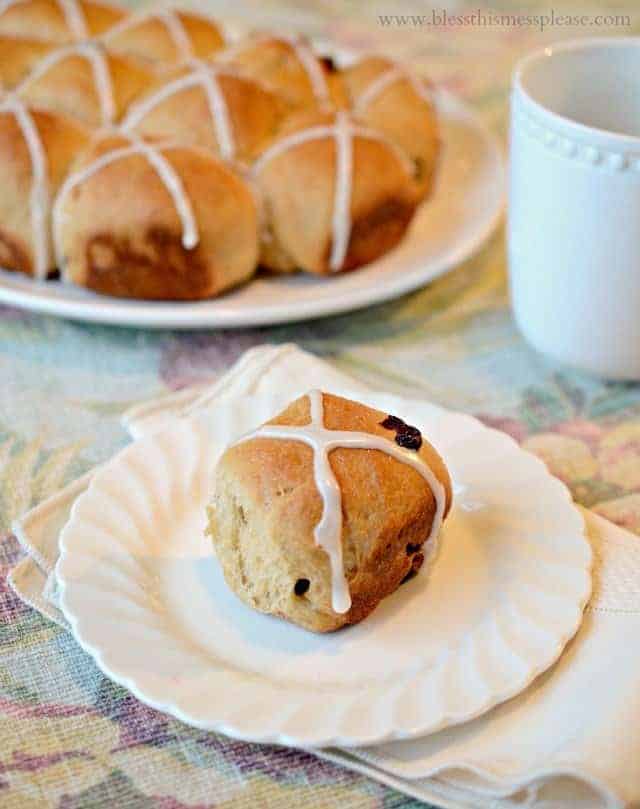 And now for the goods! Just use the gadget below to enter, it's very simple!
Good Luck and thanks so much for being here.
Disclosure: King Arthur Flour is providing the prize for the giveaway and doing the shipping. They sent me the book and 2 bags of flour in the mail to work on this post with. I wasn't paid to post or for my gushing, I just really like them, and you will too!