I didn't get this week's meal plan posted late last week like I planned, but I figured Monday was better than not at all. Week 3 meal plan to the planning rescue!
Here's what we are eating this week. (This is my third week doing my meal plans this year).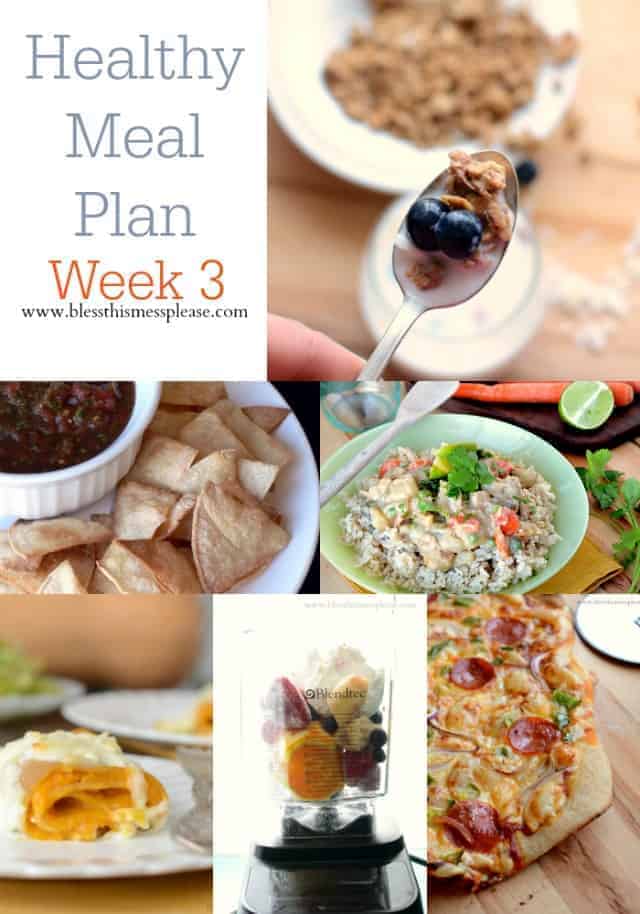 Breakfast:
Monday- Oatmeal
Tuesday- Eggs
Wednesday- Smoothie (+ toast for the kids)
Thursday- Oatmeal (probably steel-cut oats)
Friday- Eggs
Saturday- Whole Wheat Pancakes or Waffles
Sunday- Granola (cold cereal for the kids, we have early church this year so quick and easy is the go to!)
Note: I keep this the same every week for convenience but we are starting to get a little tired of oatmeal. What else could I do one day a week?
Lunch:
Leftovers
Open faced sandwiches with lots of veggies and spicy brown mustard
Easy Veggie Fajitas - I made these 3 days in a row last week and loved them! Just saute peppers and onions in salsa and sprinkle with a little Montreal Steak Seasoning (the flavor of your meat without actually having to cook any) chili powder and cumin. Once the peppers are cooked through, remove from the heat and squeeze a lime over the top. Serve in pan grilled corn tortillas with more salsa and some good sharp cheddar cheese (and hot sauce if you love it like me). I already had the peppers slices (thank you Meal Prep Monday!) so they literally take me less than 15 minutes to put together and they taste amazing. My husband would beg to differ, but I don't miss the meat at all! They are the perfect way to get in your veggies, especially if you are sick of salads 🙂
Dinner:
Monday: Butternut Squash Lasagna Roll-ups
These are one of my all time favorite meatless meals, get the recipe here! They are rich and creamy and so very satisfying. I love lasagna roll ups because they are a lot easier to count calories for than traditional lasagna in my opinion. You know you are one roll and x-amount of filling (per the recipe...), plus they are just cute and fun. My kids always eat lasagna roll-ups great. Serve this with a side salad or a steamed green vegetable and some fruit.
Tuesday: Beef Vegetable Soup
I just saute chunks of beef with a little oil, remove it from the pan. Saute lots of onion and garlic, add lots of tomatoes + juice, the beef, a little broth, and all the veggies you want. Season with a bay leaf and lots of salt and pepper. This is a great candidate for the slow cooker if you have the time. Just cook until the vegetables are soft and then keep it hot until dinner time. I'll serve this with a store bought loaf of whole grain crusty bread. Good veggies for this soup are potatoes, sweet potatoes, carrots, green beans, corn, brussel sprouts, and peas. Easy and delicious. I normally only use 1 pound of beef for a big old pot. It gets the flavor in there with less cost.
Wednesday: Grilled Kabobs
There are a million ways to make kabobs, so pick your favorite and run with it. My best tips are to marinate your meat of choice (that keeps it nice and moist), and keep your meat and vegetables seperate. I know it's more common to see all the vegetables and meat stacked together but more often than not you end up with burnt vegetables or undercooked chicken (#aintnobodygottimeforthat). When you put just meat and just vegetables on your skewers it makes it so much easier to properly cook both. That's just my two cents. I'll serve this with a delicious Mexican bean salad (I use canned corn in the winter) and homemade bakes corn tortilla chips.
Thursday: Thai Green Coconut Curry with Chicken
This is one of my very favorite meals ever, get the recipe here. I. Love. It! You can add just about any vegetable you like and once you make it a time or two you realize how easy and not scary making curry at home is. I'll serve this over rice for the family and roasted cauliflower for me. If you are looking for another meatless meal this week, this is a great one to leave the chicken out all together (I do it often, and again, I love it, Husband prefers his chicken).
Friday: Homemade Pizza Night
I wrote a whole post on my favorite 100% whole wheat dough as well as tips on making pizza healthy (with a bonus quick and easy sauce recipe you'll want to notice!), see the whole post here. Take a look at that and get excited. Everyone loves pizza night! Go thin on your crust, light on your cheese, and heavy on your veggies if you are Feelgreatin8ing with me!
Saturday: Ground Beef Tacos/Taco Salad
Easy-peasy and always a favorite. Just load up on the veggies, enjoy that hot sauce, and buy good cheese. I love Cabot's Seriously Sharp cheddar, they also have a great light cheddar and their Chipotle Cheddar, Jalapeno Cheddar (which also comes in light), and the Habenaro Cheddar will also change your taco life, just saying. It has a great flavor so you don't to use a whole bunch. It's a smart choice to choose lots of flavor when it comes to cheese! More bang for your caloric buck.
Sunday: Leftovers
All the cooking means that you probably have some leftovers to enjoy! I take Sunday's off and it's kind of a fend for yourself day. Cold cereal, jam sandwiches, grilled cheese, and popcorn are my other go-to's if the leftover pickin's are slim.
Thank you so much for stopping in!
What are YOU eating this week?!