Watermelon granita is made with only 3 ingredients: watermelon, lime juice, and some sugar. After that, all you have to do is freeze it for a bit! I know the term granita seems a bit fancy, but all you're making here is an icey! I really really good icey dessert that's full of fresh fruit flavors.
Fruit desserts are fun. Check these out too: Watermelon Cake with Whipped Cream, Orange Pineapple Banana Smoothie and Homemade Dark Chocolate Ice Cream.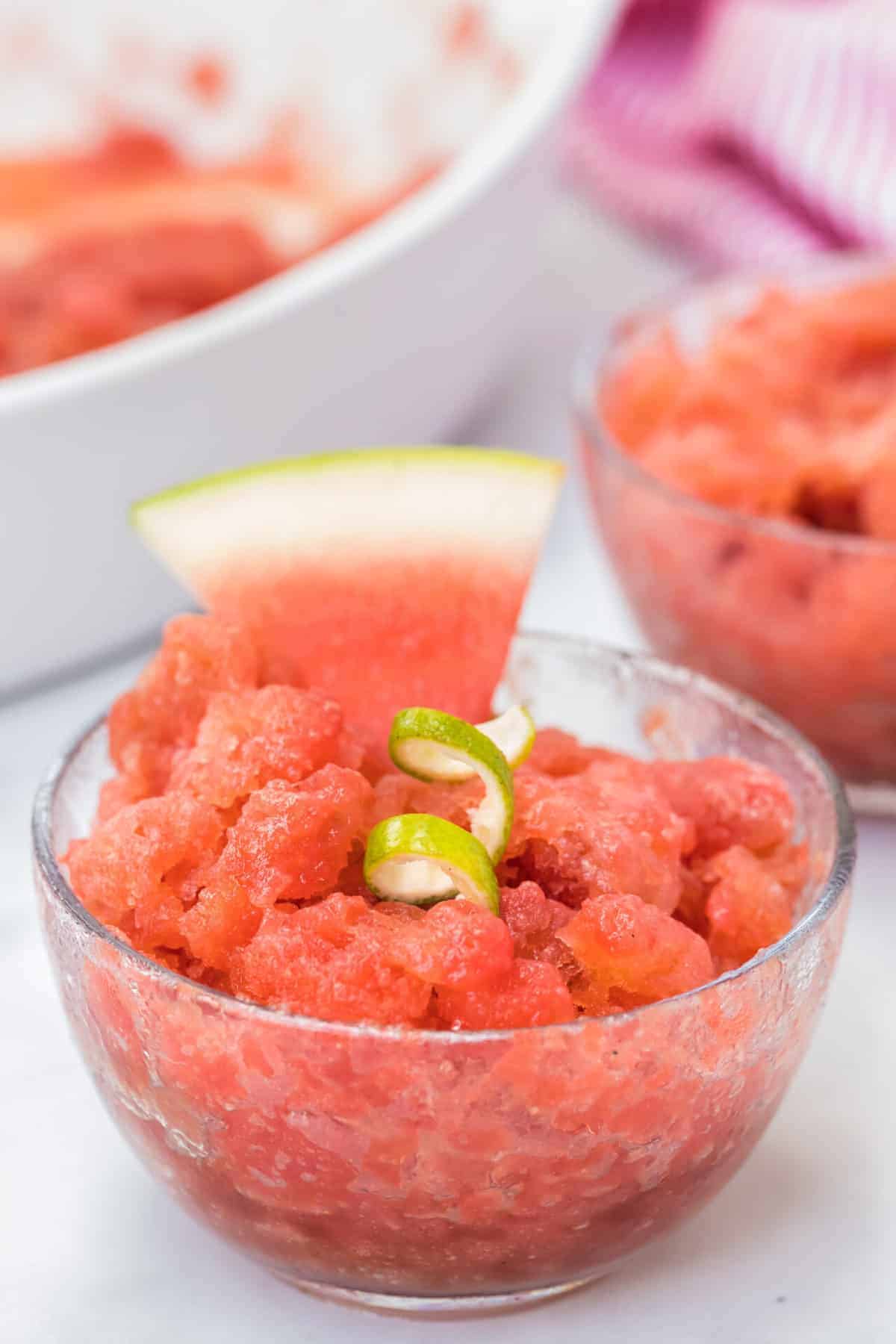 Easy 3 Ingredient Watermelon Granita
What could be more perfect in the heat of the summer than a simple 3 ingredient watermelon granita? Here's the best part -- not only is it easy to throw together, but you don't have to have any kind of special ice cream maker or churn for this recipe! All you need are three simple ingredients, a blender, and a freezer.
With a little time and a fork, you'll have yourself a simple icy treat that the whole family will love. This recipe is simple enough to make for an afternoon snack, but pretty enough to serve after dinner to guests. Watermelon lovers unite because this recipe is for you! Here's how this recipe works. You add the a bunch watermelon to a blender along with some lime juice and a little coconut sugar (or regular white sugar). The lime juice is the perfect tart balance to the sweetness of the fruit.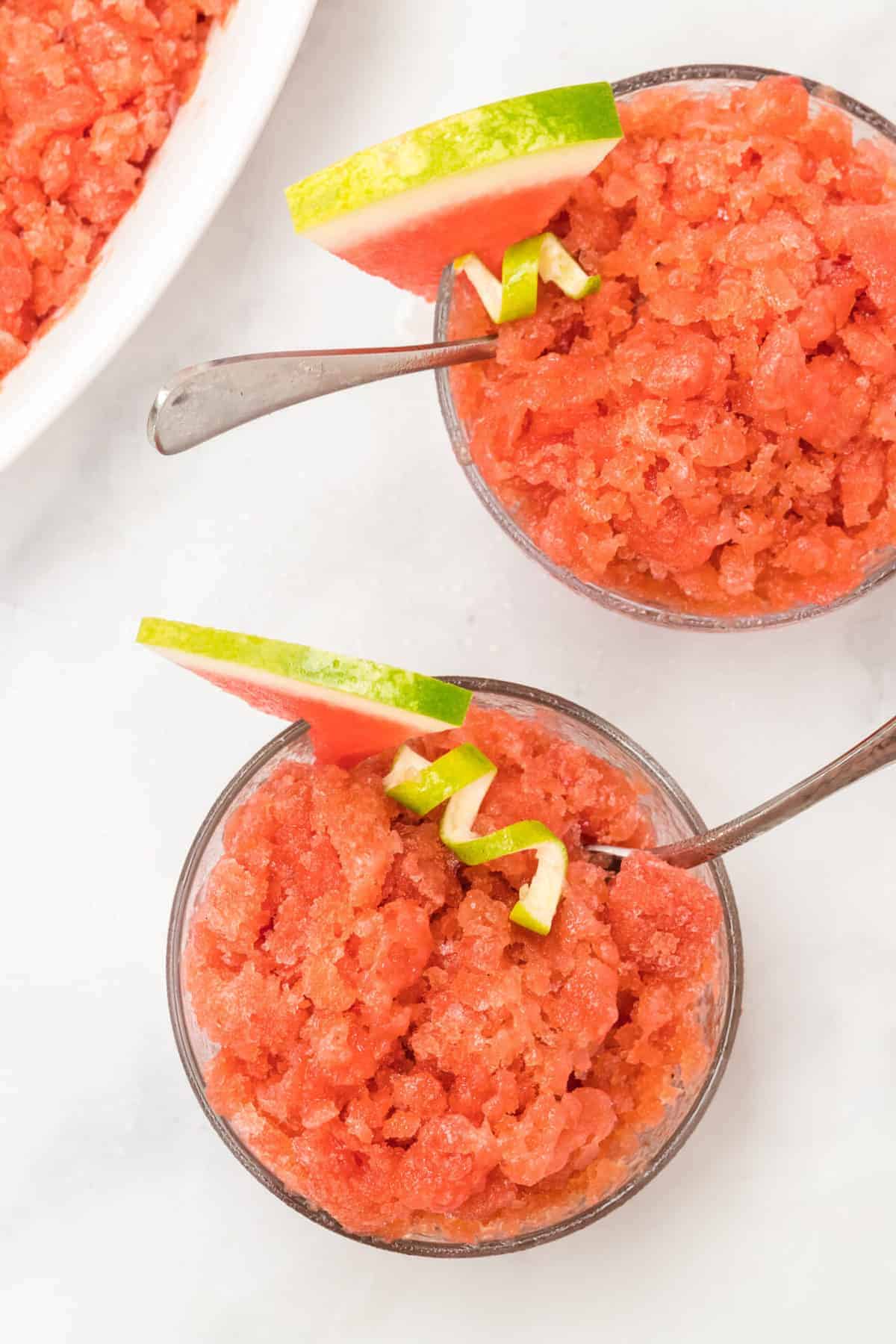 I like using coconut sugar in this recipe a lot; have you tried it? Coconut sugar is one of my very favorite granulated sugars. It's a beautiful light brown color and has some great things going for it, like lots of vitamins and minerals that other refined sugars don't have. It's surprisingly easy to find, and even my little middle-of-no-where grocer carries it! Toss it in the cart next time you see it, and try it in a few of your favorite recipes. You'll be pleasantly surprised at how easy it is to use!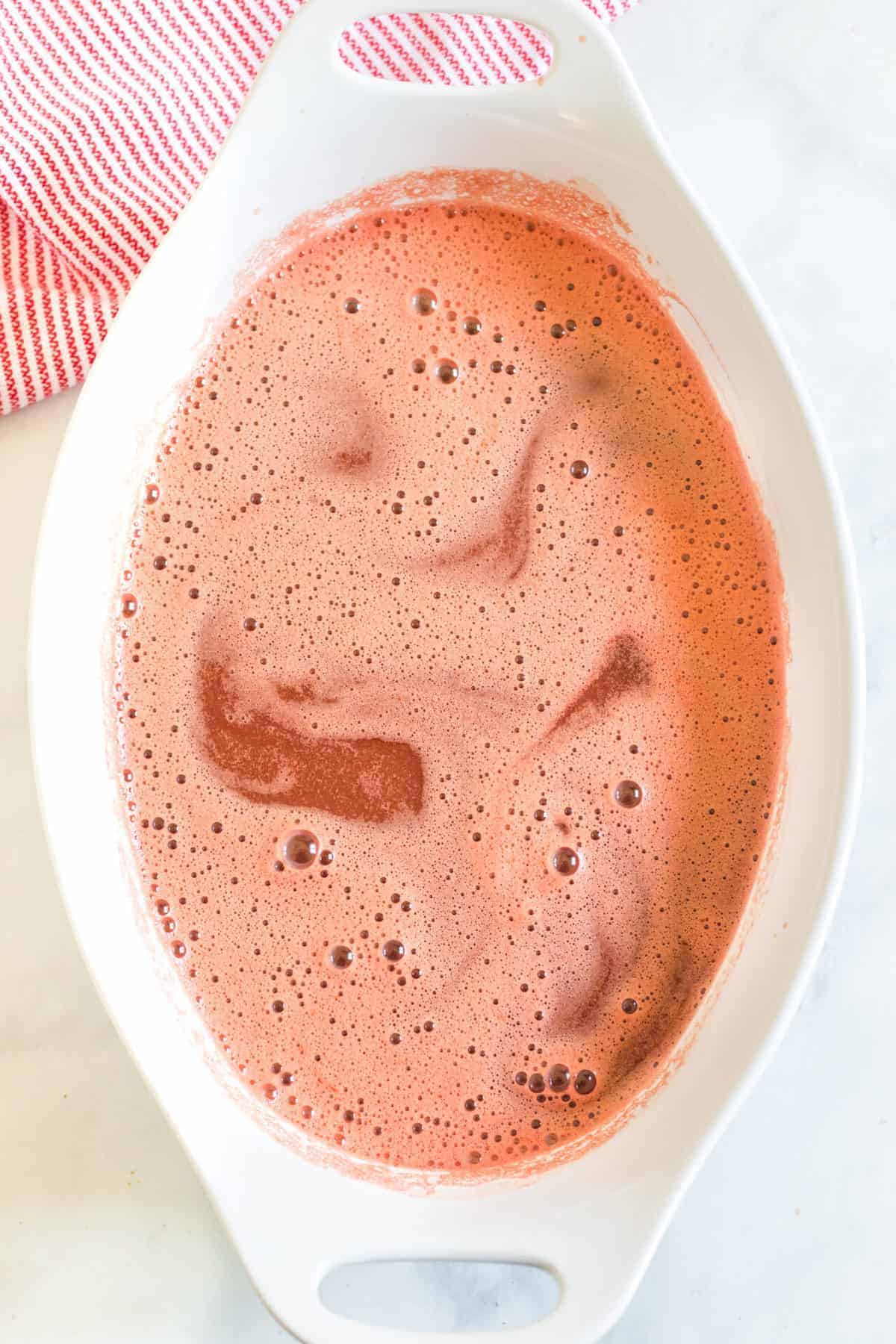 How long does it take to make watermelon granita?
Hands-on time for this recipe is only about 5 minutes to get the watermelon juice mixture ready, but it needs to freeze for several hours to get the perfect slushy consistency. It's great to blend up in the morning and throw in the freezer for an afternoon or evening treat! You just have to set a timer if you are prone to forgetting projects you just hid in the freezer. You need to get it out after an hour to scrape the slush, and then again after another two hours to scrape it again.
How do you get a good slushy consistency in watermelon granita?
The key to this recipe is scraping the blended watermelon juice mixture with a fork while it is at different stages of the freezing so that the ice crystals stay big and rough. If you let it just sit in the freezer for hours on end, it turns into one giant watermelon ice cube, but by scraping it a few times as it starts to freeze, you separate the ice crystals so they remain that way as it continues to freeze.
What if I don't have coconut sugar?
No coconut sugar on hand? A traditional granulated white sugar will work just fine.
What are other uses for watermelon?
I wrote a cool article about melons (who to store them + creative ways to use them) -- you might want to take a look!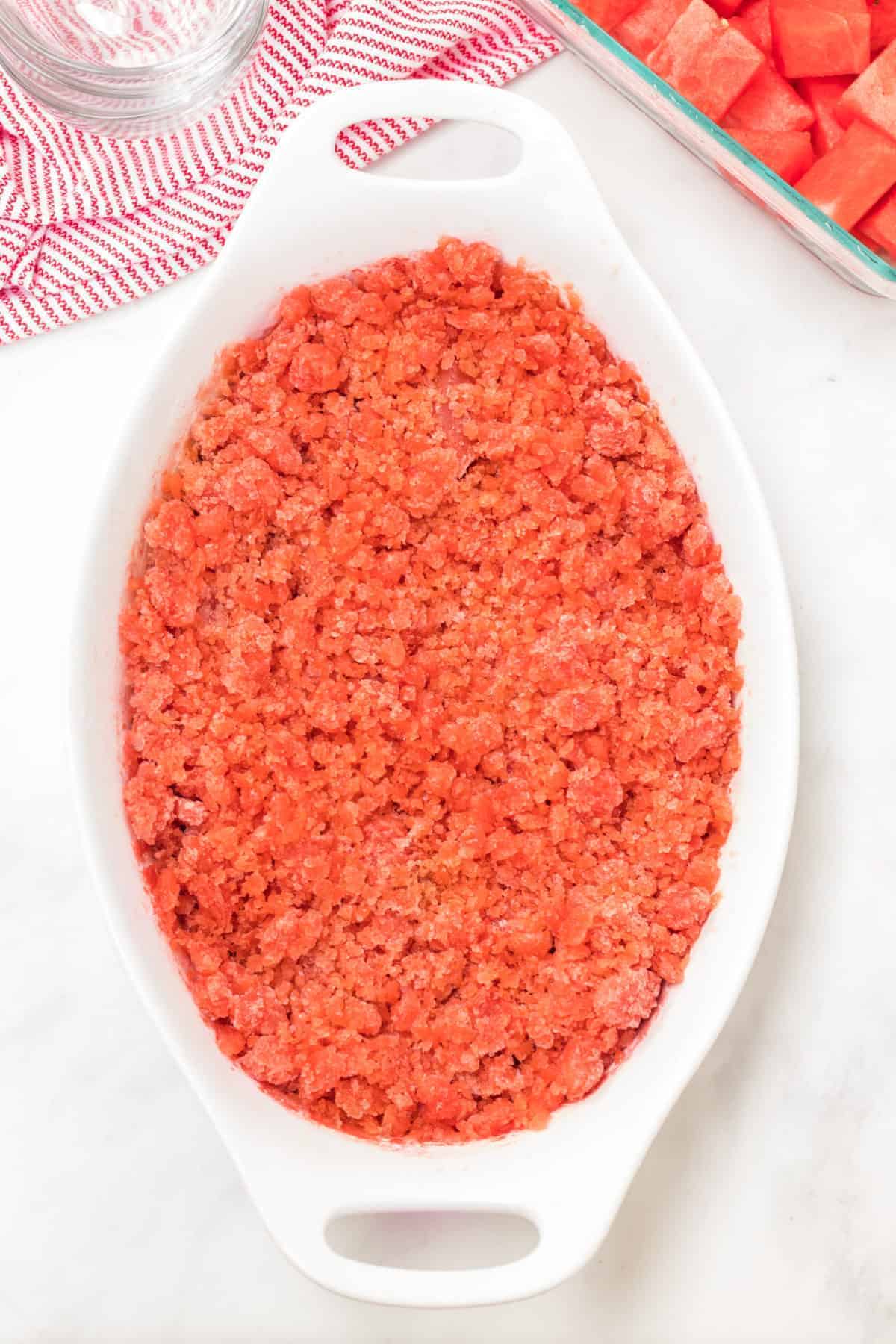 Print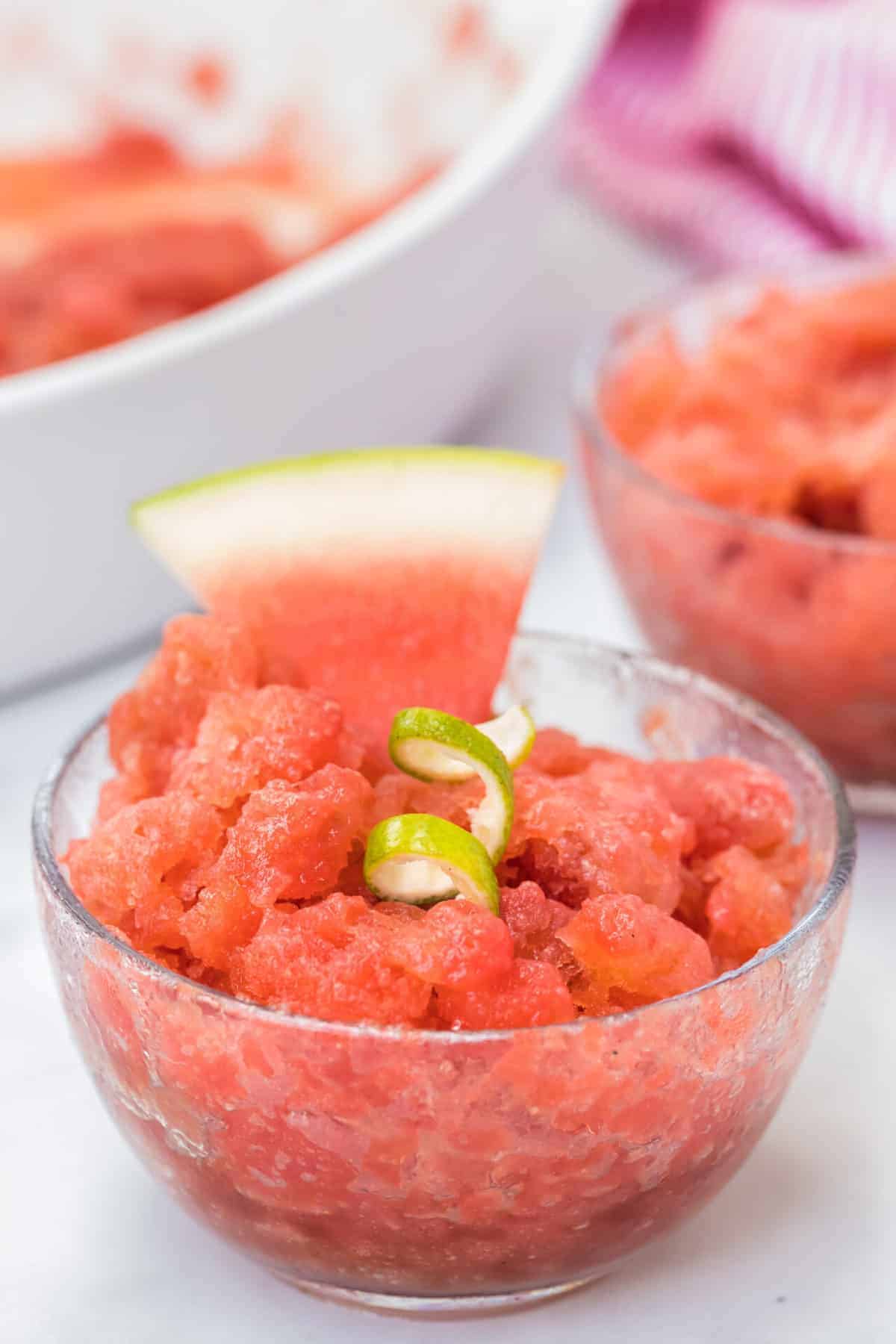 Watermelon Granita
---
Author:

Total Time:

3 hrs 5 mins

Yield:

Serves 6
Description
Watermelon granita is made with only 3 ingredients: watermelon, lime juice, and some sugar. After that, all you have to do is freeze it for a bit! You are going to love this simple and fruity dessert.
---
4 cups

cubed watermelon, seedless or seeds removed
Juice of

1

lime

½ cup

coconut sugar or granulated white sugar
---
Instructions
Add the watermelon, lime juice, and coconut sugar to the jar of a blender, and blend until smooth, about 1 minute.
Pour the liquid into a shallow, freezer-safe dish, cover, and place on level surface in the freezer.
After 1 hour, remove the watermelon mixture from the fridge, and use a fork to scrape any ice that has formed. Replace the lid, and return to the freezer.
After an additional 2 hours, remove the watermelon mixture from the fridge, and use a fork to scrape any ice that has formed. The slush should be done or just about done now (depending on your freezer and how thick the mixture was in the container).
Serve if everything is uniformly icy and slushy, or return to the freezer and scrape with a fork one final time after another hour before serving. You may need to let the mixture sit at room temperature for a few minutes before re-scraping and serving.
Notes
You can use traditional granulated sugar instead of the coconut sugar if you'd like.
Prep Time:

5 mins

Cook Time:

3 hrs

Category:

Dessert

Method:

Freezer

Cuisine:

American
Keywords: watermelon granita, how to make granita, low calorie summer desserts, summer desserts, granita, easy granita recipe, homemade granita recipe
In search of other healthy, simple desserts? Here are some of my favorites:
This post was originally published in 2016, and has been updated and rephotographed in September 2019.
Super simple, fruity, cold, and icy treats are my favorite in the summer, and you won't believe how easy this watermelon granita is to make.