Book reviews aren't my main bloggin' thing, but I love them! I love book recommendations and reviews from friends, so when the rare chance pops up for me to review a book on the blog I like to say yes, if I think it's something you might like too.
Today's book review is of Walking With the Women of the New Testament
by my friend Heather Farrell. Heather is a fellow blogger who writes about life and religious topics with a heavy emphasis on women in the scriptures. You can find her blog here. I've been reading her blog for at least 3 years and really really enjoy her perspective, research, and love of women in the scriptures. Did you know there are over 500 women in the scriptures!! Though they seem like small side characters, Heather has brought them to life.
She started writing this book a few years ago and I was shocked when she asked me to review it. I don't think I've ever commented on her blog, but friends find a way to connect. So here's my review of Walking With the Women of the New Testament.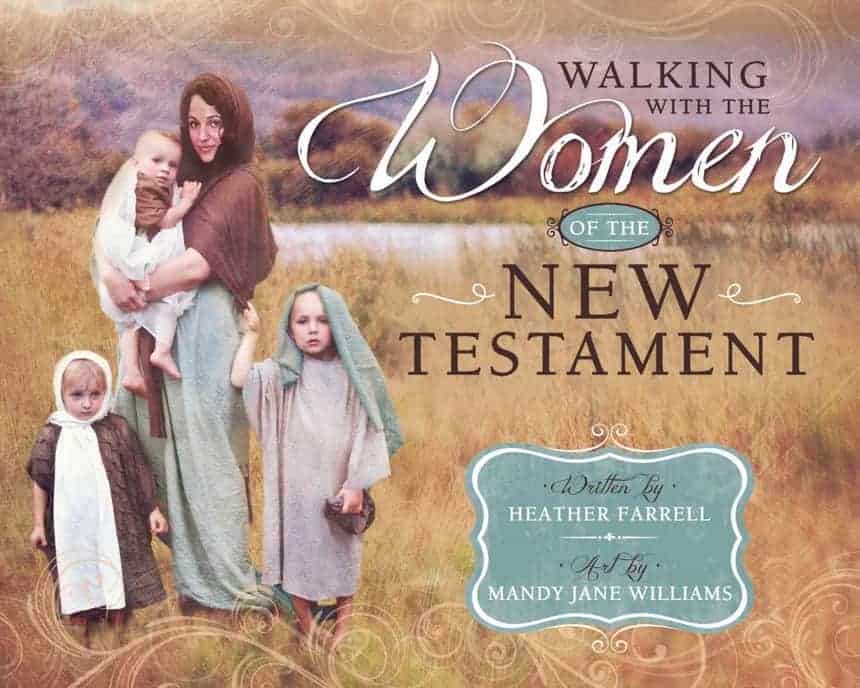 Here's the synopsis:
Mary. Elisabeth. Martha. Lydia.
Some we know by name. Some we know only by their legacy of faith.

The scriptures tell us of the many men who figured prominently in the Savior's life. Alongside the Apostles were also numerous valiant and virtuous women who worked and worshipped, petitioned and prayed. Discover their stories in this unique and uplifting book. Inside you'll find:

-Historical background information on the more than seventy women mentioned in the New Testament

-Beautiful artwork depicting the lives and values of these women of faith

-Charts and study tools to help you learn more

-Stunning photography that will take you back to the early days of the Savior's Church

Filled with stories that will inspire you in your own efforts to follow the Savior, this unique book is sure to become a treasure in your home for years to come.
Intriguing right!
Here's my book rating scale:
1- Avoid at all costs
2- Didn't like it, but had one redeeming quality (such as great illustrations)
3- Meh, just ok
4- Take it or Leave it
5- Check it out at the library for a one time read
6- Pretty Good
7- Good read with a few reservations
8- Great book, highly recommend
9- Love it and everyone should own it
10- Best. Book. Ever! Must give as a gift to everyone
My score for Walking With the Women of the New Testament: 8.5
I have loved having this book on my nightstand. If everyone in the world were Christian I would give it a 10 because it would make an excellent gift for any woman on your gift list this year. This is obviously a religious book, but almost every faith-center woman would love it. I do have to say, it is written by a woman who is of the Mormon faith (The Church of Jesus Christ of Latter Day Saints). And like most of us, our personal view on the world is evident in our writing. Her writings do come with an Latter-Day Saint perspective. I would still recommend the book to any Christian woman though because it's about the women in the New Testament. That's a book all Christian women enjoy.
The book is set up in short essay form. I loved this. It was great for me to sit down and read just one essay or short chapter at a time. I could also skip around to what sounded interesting or pertinent that day. I always feel pressed for time, but I definitely enjoyed taking a few minutes each day to better get to know the women in the scriptures.
There's a quote that says, "Women need Women". The older I get the more I find this to be true. This book was a way for me to get inspiration and love from other women daily without even leaving my home. It was also a good motivator for me to open my scriptures. There were lots of women that I couldn't place in the New Testament. I had to look them up, find their story, and read about them in the New Testament.
I really enjoyed Walking With the Women of the New Testament
. The author is heartfelt and sincere. The art is fabulous. The topics are timeless and inspiring.
I'm thinking about getting this for my Mother-in-law for Christmas. It would be an excellent gift.
Thanks for letting me tell you about the book and I hope you have a chance to see it for yourself, it's lovely. Have a great day friends.