Valentine's mailbox for the whole family to enjoy.
Disclosure: This post is sponsored by Target and you know I've been squealing with joy over the chance to work with them. It's TARGET! Thanks for supporting the companies that I choose to work with. You all are the best.
A few years ago I made a Valentine's Mailbox for my whole family to use. It was easy, fun, and has turned into a tradition that my kids start asking about as soon as Christmas is over.
The reason they love this mailbox so much is because it gives them a chance to serve and to show love in a nontraditional way. My kids spend many afternoons in the beginning of February making cards, writing love letters, and drawing pictures to family member to put inside the mailbox. They can't WAIT until that person notices there is new mail and they are often running off to tell them "You've got MAIL!" as soon as they drop their letter in. It's a really fun and easy way for them to show love.
On the other end of the spectrum it's really fun for me to fill up their little love tanks in an unusual way. We all need to know, be told, and be shown that we are loved. I spend hours tending to their needs via laundry, cooking, and cleaning, I spend evenings laying on their floors talking about the day, and I try to be a thoughtful and intentional parent. But this little mailbox gives me a new way to show them love and you can't believe how much they enjoy it. I write them letters, I'll make date, get out of a chore, and other fun coupons, and I'll give an occasional treat or small gift. It's so much fun. I think our favorite part is when Dad gets involved. He doesn't participate as heavily as the rest of us but the few days that he sticks in little notes and a surprise gift are magical. Being told you are loved is so powerful.
Showing a little extra love this month will be just the thing to get you and your family through the winter blues. I highly recommend trying something like this mailbox; it's only going to make you happy!
Target One Stop (you know, that dollar section right at the front of the store) made whipping up a mailbox and a million cards a piece of cake this year. My kids get as excited about new craft supplies as I do!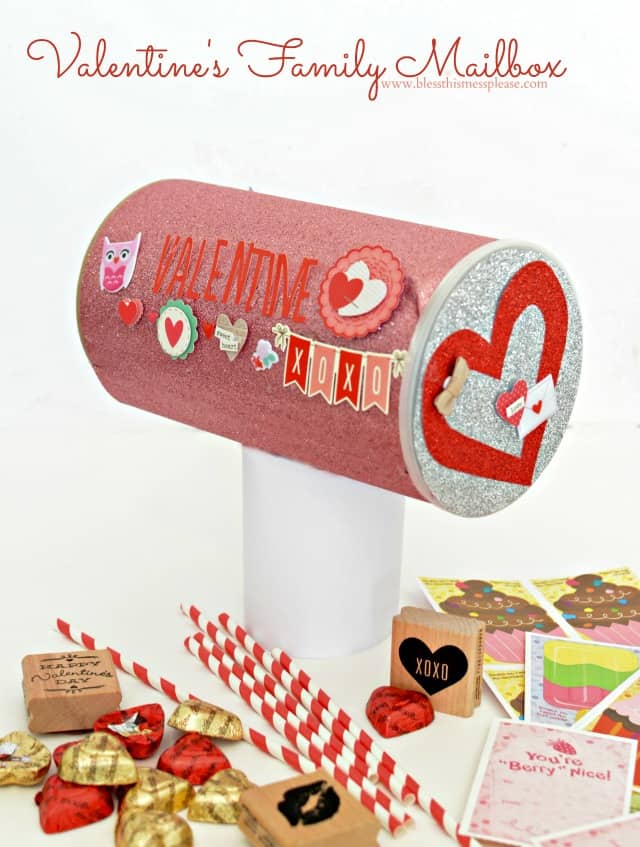 Here's the Target treasure that I used to put together my mailbox. And you know I picked up extra cute paper straws, cupcake toppers, and a too many things to fill the mailbox over the next few weeks too. You can't beat a section of Target where everything is $1 to $3! Gets me every time. Every. Time!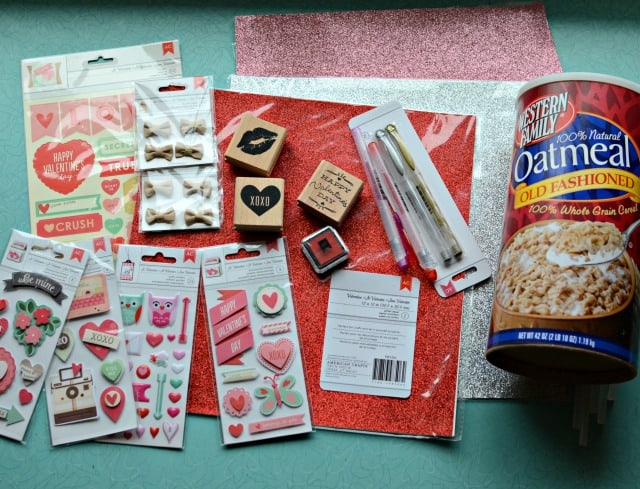 I wanted to cover a real mailbox and keep it from year to year but half the fun of this project is having the kids help me make a new one every year. I just used an empty oatmeal container as the body of my mailbox, easy!
Hot glue was my friend on this project. I hot glued on glitter paper and then we hot glued all the stickers on (the hot glue helps the stickers adhere to the glitter paper better). If I had more hands I would have taken a pictures of all the kids helping... stickers everywhere!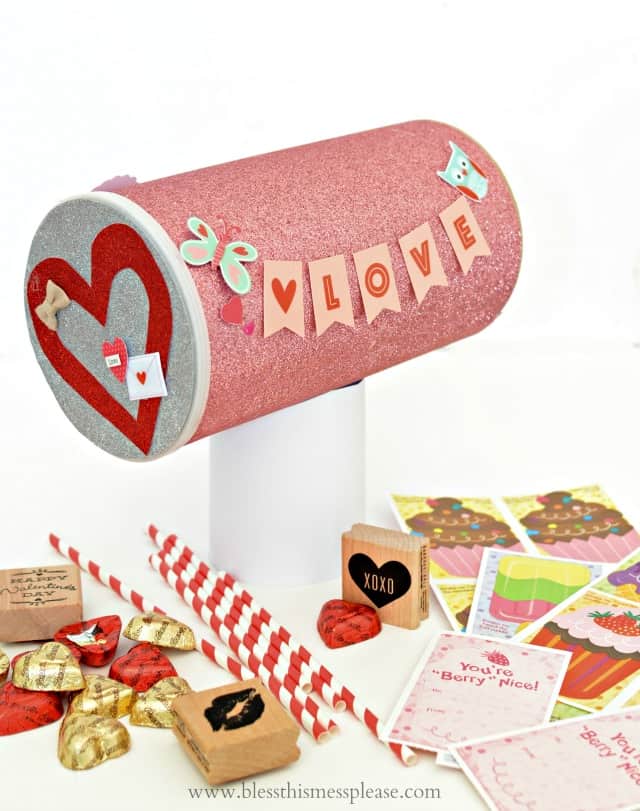 It took us maybe 20 minutes to make our mailbox and then they spent another 40 minutes making cards. That first round of cards will go in the mail to grandmas and family so I didn't take too many pictures of them. Of course they were cute with all those fun embellishments! One Spot actually has over 40 amazing products available ranging from cute Valentine's Day themed stickers and washi tape to kraft and chalkboard style basics. I know right. So much to love. And you know they sell out like lightning so if you are planning on making this cuteness or even just cards, I'd get to Target sooner than later!
We all need little burlap bows in our life!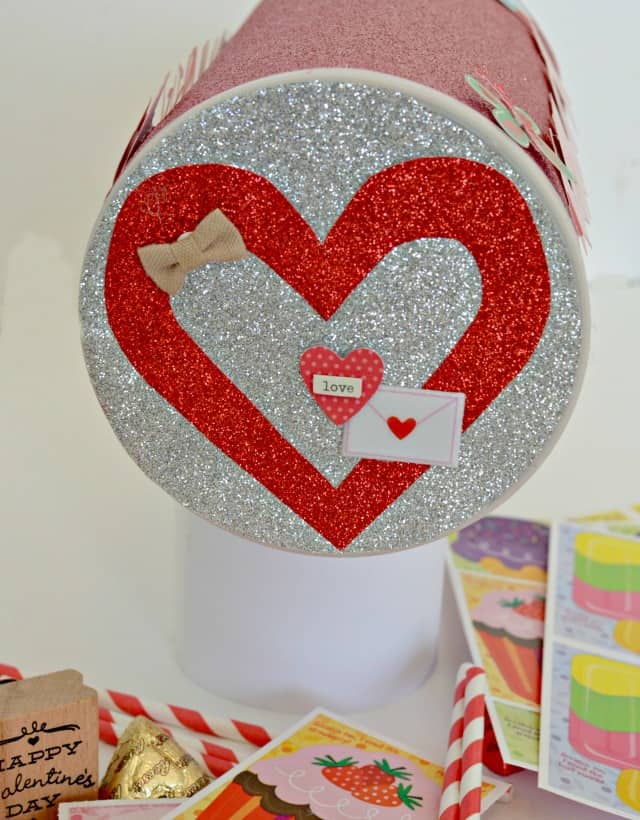 I just glued a little paper tube on this mailbox for it to stand on our piano but the kids were not impressed. They LOVED the big stand it had in years past so I'll probably find a wrapping paper roll to make it look like an official mailbox and not just a table top one. It also needs a little flag to put up when mail is in. I think I'm going to brad a paper straw on. They love putting the mail flag up.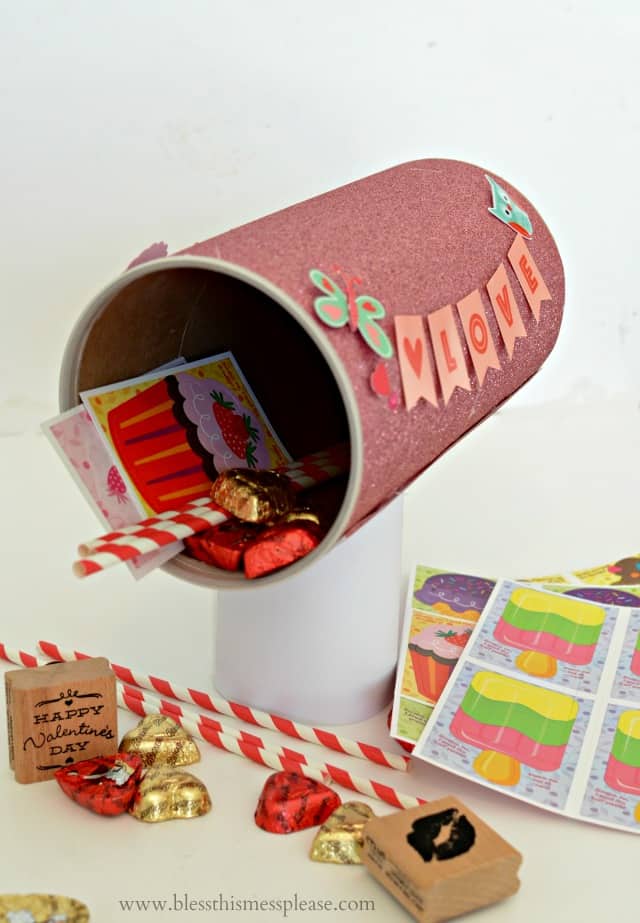 Then fill it up with love letters, pictures, and the occasional treat! Just be warned, once you start this tradition there is no going back; your family will love it and look forward to it every year.
Thanks so much for stopping in. Enjoy!