I've written TWO new cookbooks for you and they are READY for purchase!!!
The books go to print TOMORROW! And they'll go in the mail in about 10 days. So please expect to get your books around the second week of November.
SHIPPING IS FREE on all physical books and digital downloads come immediately (no waiting!) and you can print and bind them on your own if you'd like.
Sourdough Made Easy:
All of my pandemic sourdough baking instructions/lessons/and learning (you all taught me SO much through working with you, from making a starter to your first loaf) and I compiled all of that knowledge along with many amazing recipes into a book!
The first 25 pages are DETAILED - answering questions, FAQ's, troubleshooting, how to make your starter (with step by step pictures) and just imparting general knowledge. This book is amazing for beginners because of the heavy amount of teaching in the beginning of the book. It's much more than recipes!
It's also great for those confident in sourdough baking and will give you so many more recipes and ideas for using your starter!
Here's the table of contents from the sourdough book!
Introduction
What is Sourdough Bread?
The Sourdough Myth Dispelled
Sourdough Baking Tools
Sourdough Bread-Baking Ingredients
How to Make a Sourdough Starter from Scratch
Homemade Sourdough Starter FAQ and Troubleshooting
Troubleshooting Wild Yeast
Sourdough Starters | Step-by-Step
Sourdough Bread-Making FAQ and Troubleshooting
Making Your First Loaf of Sourdough Bread
Baking Sourdough Bread Using Your Intuition
How to Make Sourdough Bread | Step-by-Step
Traditional Round Loaves
Go-To Sourdough Crusty Loaf
Light Whole Wheat Loaf
Honey Oat Bread
Herb and Cheese Bread
Chocolate Chip Bread
Light Rye Loaf
Raisin Pecan Loaf
Roasted Garlic and Rosemary
Cranberry Orange Pecan Bread
Bread Pan Loaves
Simple Soft White Sandwich Loaf
Classic Soft Wheat Sandwich Bread
My Favorite Fruit and Nut Loaf
Cinnamon Swirl Bread
Honey Oat Sandwich Loaf
Everyday Extras
Pizzeria-Style Pepperoni Pizza
Simple Garlicky Pizza Sauce
Soft and Tender Dinner Rolls
Garlic Cheese Biscuits
Garlic Knots
Homemade Soft Pretzels
Long Rise Baguettes
Thick and Fluffy Focaccia
Quick and Buttery Sourdough Biscuits
Heavenly Sourdough Donuts
Light and Fluffy Cinnamon Rolls
Overnight Pecan Sticky Buns
Weekday Waffles
Fresh Blueberry Muffins
Double Chocolate Muffins
Thick and Fluffy Pancakes
Herb and Garlic Crackers
Cheesy Crackers
Applesauce Spice Cake
Double Chocolate Sourdough Brownies
Leftover Bread Creations
Sourdough French Toast
Leftover Bread Overnight Strata
Easy Tomato Bruschetta
Leftover Sourdough Croutons
Garlic Crostini
Summery Cucumber Sandwich
Sourdough Scoring
Acknowledgements
Book #2 - Family Dinner Made Easy: Fall Meal Plan
The second cookbook launching today is Family Dinner Made Easy: 8 Weeks of Fuss-Free Fall Recipes.
This is the second version of my meal plan cookbook (the first was a summer centered book).
It's formatted into 8 weeks and each week includes:
5 dinner recipes, 1 dessert recipe, 1 snack recipe
Shopping list for the week
What to prep ahead for the week
Nutrition info for each recipe
You can use it like a traditional cookbook full of family-friendly meals OR you can use it like a meal plan. And I bet you'll go back and forth between the two!
Here's what's in Family Dinner Made Easy: Fall
Introduction
How to Use this Book
Week 1 Shopping List
Week 1 Meal Prep
Slow Cooker Tortellini Vegetable Soup
Chicken BLT Salad
Magic Bacon Cheeseburger Pasta
Sheet-Pan Sausage and Peppers
Grilled Chicken and Broccoli in a Bag
Oven-Baked Dried Apple Chips
My Favorite Pumpkin Dump Cake
Week 2 Shopping List
Week 2 Meal Prep
Slow Cooker Sausage and Zucchini Pasta Sauce
Easy Ground Beef Tostadas
Weeknight Chicken Curry
Baked Pork and Parmesan Potatoes
Garden Vegetable Minestrone Soup
Healthy Blender Applesauce Muffins
Caramel Apple Nachos
Week 3 Shopping List
Week 3 Meal Prep
Slow Cooker Black Bean and Butternut Squash Chili
Chicken Pineapple Fried Rice
Crispy Burritos
Teriyaki Beef and Vegetables Stir-Fry
Garlic Butter Chicken and Potato Foil Packs
Perfect Pumpkin Bread
Monster Cookie Granola Bars
Week 4 Shopping List
Week 4 Meal Prep
Slow Cooker Cheesy Bean and Corn Enchiladas
Philly Cheese Steak Sloppy Joes
One-Pan Garlic Chicken Pasta
Mini Shepherd Pies
No-Chop Fast Chicken Noodle Soup
Apple Cinnamon Oatmeal Balls
Fresh Apple Crisp
Week 5 Shopping List
Week 5 Meal Prep
Slow Cooker Whole Chicken and Vegetables
Ham and Peas Mac and Cheese
One-Pot Potatoes, Ham, and Green Bean Dinner
Sheet-Pan Chicken Fajitas
Quick and Easy Broccoli Soup
Mix-and-Match Fruit Leather
Cowboy Cookies
Week 6 Shopping List
Week 6 Meal Prep
Slow Cooker Stuffed Bell Peppers
Taco Pasta Salad
Unstuffed Chicken Cordon Bleu
One-Pot Rice, Sausage, and Veggies
Creamy Tomato Soup
Pumpkin Snack Bars
Simple Apple Cake
Week 7 Shopping List
Week 7 Meal Prep
Slow Cooker Barbecue Chicken with Apple Slaw
Shrimp Stir-fry
Baked Cheesy Vegetable Pasta
Sheet-Pan Beef Nachos
Easy Weeknight Beef Chili
Quick and Easy Pumpkin Blender Muffins
Classic Chocolate Chip Cookie Bars
Week 8 Shopping List
Week 8 Meal Prep
Slow Cooker Veggie Lasagna
Crunchy Chicken Lettuce Wraps
Build-Your-Own Burrito Bowl with Cilantro Rice
Italian Dressing Chicken and Veggies with Rice
Cozy Bacon Corn Chowder
Dark Chocolate Cherry Oatmeal Balls
Chocolate Chip Cookie Pie
School Mornings Made Easier
25 Easy School Lunch Box Ideas
The Magic of the Veggie Box
Photos from Sourdough Made Easy:
Photos from Family Dinner Made Easy: Fall
Note about shipping!
The books go to print TOMORROW! And they'll go in the mail in about 10 days. So please expect to get your books around the second week of November.
SHIPPING IS FREE on all physical books and digital downloads come immediately (no waiting!) and you can print and bind them on your own if you'd like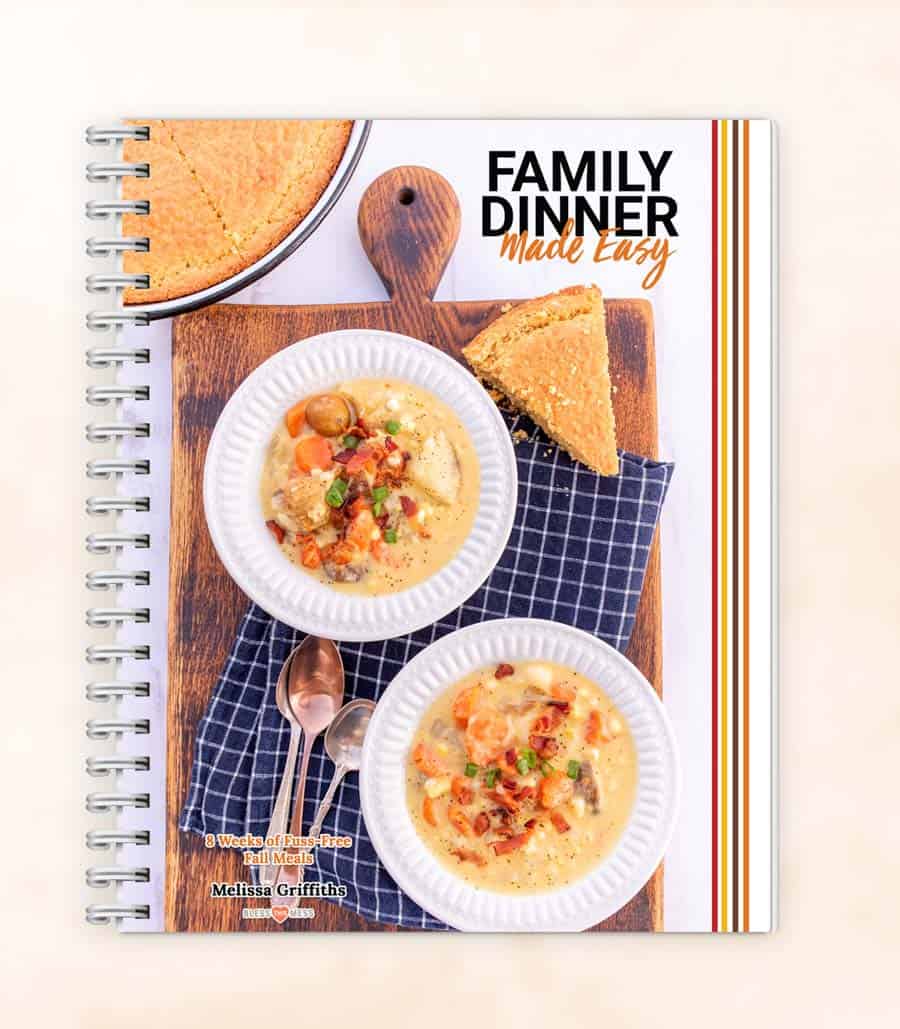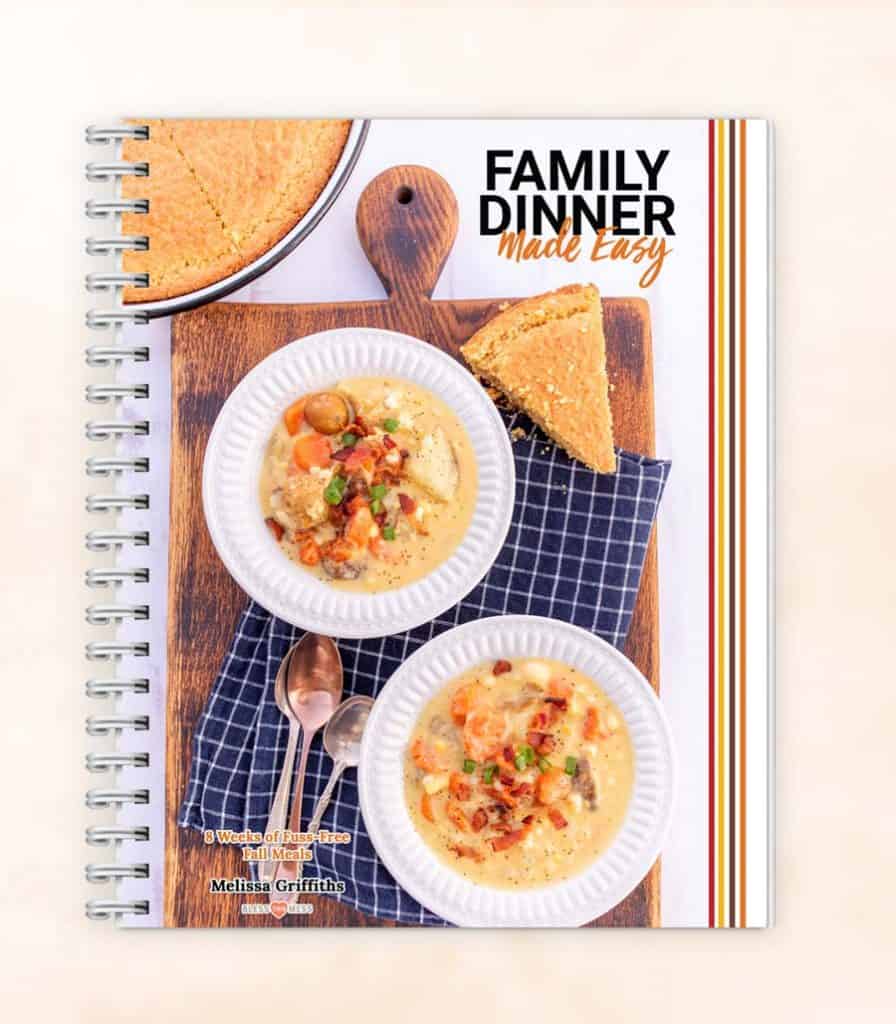 What other questions do you have? I'm happy to help.
Thank you for supporting me, loving the first book I put out, and making this dream possible. The books are printed in small batches in the USA (in Utah actually!) and you are supporting many families besides my own when you buy these books. THANK YOU!