Filled with roasted chickpeas, cucumbers, olives, and artichoke hearts, this Mediterranean Salad is sure to be a favorite.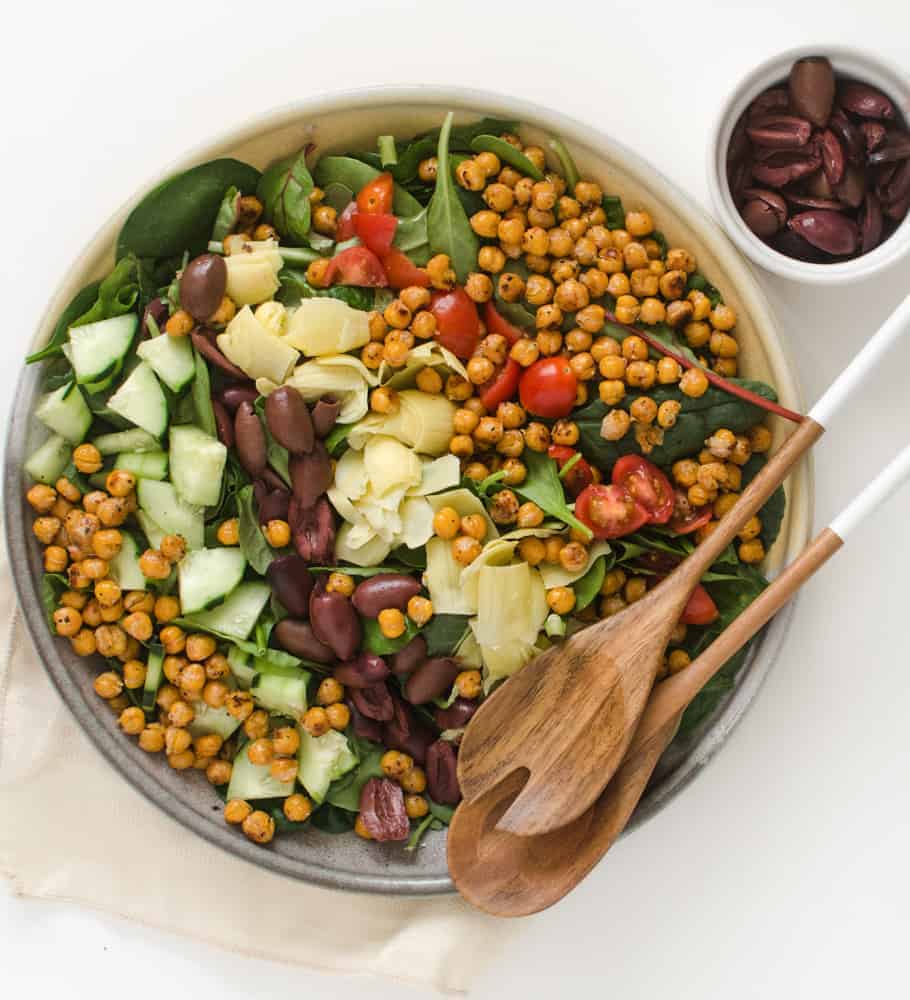 Spring is in the air, and salad for dinner is one of my favorite things to transition to this time of year. I LOVE all things Mediterranean in flavor, and this salad is one of my all-time favorites. The roasted chickpeas add enough fiber/protein that you can serve this as-is for a main dish (though the addition of some grilled chicken or shrimp would be delicious), which makes it one of my favorite meatless hearty salads. You can also serve this as a side dish. This would be great with any kind of grilled protein, fresh stone fruit, and maybe a warm couscous or rice dish to go along with it. No matter how you serve it, Mediterranean Salad with Roasted Chickpeas is going to be a favorite all spring/summer/year long.
Can we talk for 2 seconds that is the wonder known as roasted chickpeas? We've been obsessed with them all year long and there's no end in sight. You guys, they are so good warm right off the pan. Don't think you have to save them for a salad – you can eat them as soon as they come out of the oven for a snack. I love that they are inexpensive to make, they are quick to prepare (takes about a minute to get them into the oven), and when they come out of the oven, they are warm, crispy on the outside, creamy on the inside, and so delicious.  Plus, you can add whatever seasonings you like to them; you really could add anything that you like, want, or have on hand. It's very flexible!