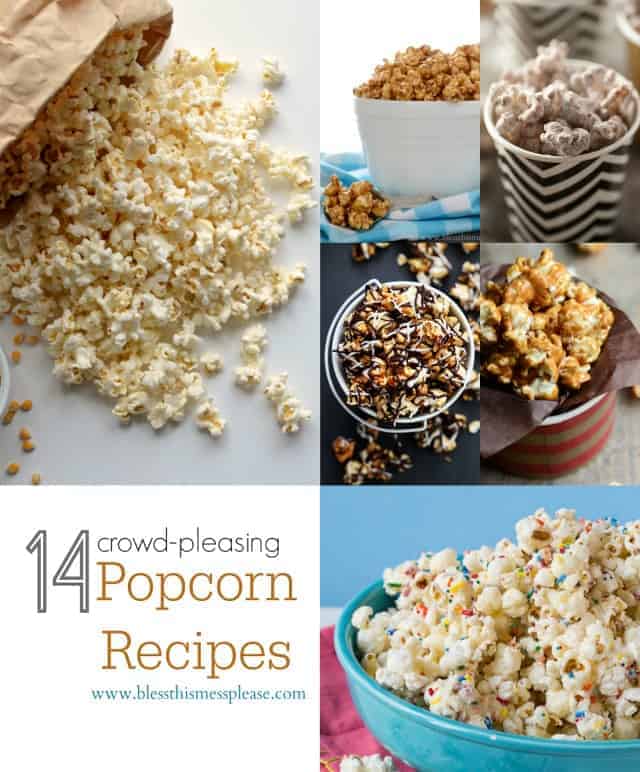 Popcorn! Did you know that the average American consumes 51 quarts of popcorn a year making the Nation's total popcorn consumption over 16 billion quarts of popcorn a year! That my friends, it a lot of popcorn! 70% of popcorn is eaten in the home (and I assume that most of the 30% eaten outside of the home is eaten in movie theaters).
It's no secret here that I love popcorn in all forms. I love it hot and buttery and sweet and sticky. In fact, I've never met a popcorn I didn't like. I thought it would be fun to do a round-up of sweet popcorn recipes for you today. Popcorn desserts are simple to make and fun to eat, and for some reason, I sure make them a lot more often in the fall. This list should give you some great ideas to up your popcorn consumption!
And because I love all things food trivia/history, here are a few more fun facts about popcorn:

During the Depression, popcorn at 5 or 10 cents a bag was one of the few luxuries down-and-out families could afford. While other businesses failed, the popcorn business thrived. An Oklahoma banker who went broke when his bank failed bought a popcorn machine and started a business in a small store near a theater. After a couple years, his popcorn business made enough money to buy back three of the farms he'd lost.
During World War II, sugar was sent overseas for U.S. troops, which meant there wasn't much sugar left in the States to make candy. Thanks to this unusual situation, Americans ate three times as much popcorn as usual.
Popcorn went into a slump during the early 1950s, when television became popular. Attendance at movie theaters dropped and, with it, popcorn consumption. When the public began eating popcorn at home, the new relationship between television and popcorn led to a resurge in popularity.
Microwave popcorn -- the very first use of microwave heating in the 1940s -- has already accounted for $240 million in annual U.S. popcorn sales in the 1990s.
These facts are from popcorn.org.
And now onto those recipes. Thanks so much for being here and enjoy!
1. Frutti Pebble Popcorn Balls from From Me To Vuu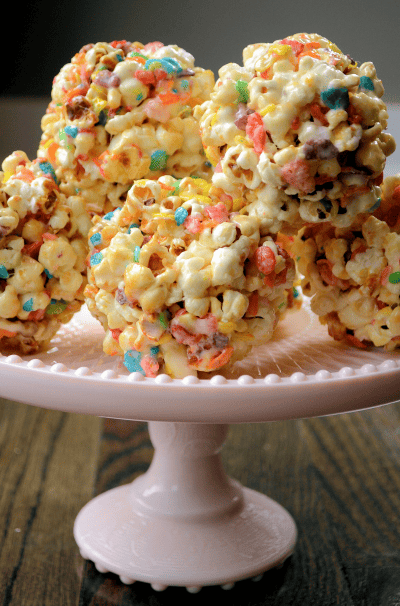 2. Zebra Caramel Corn from Creme De La Crumb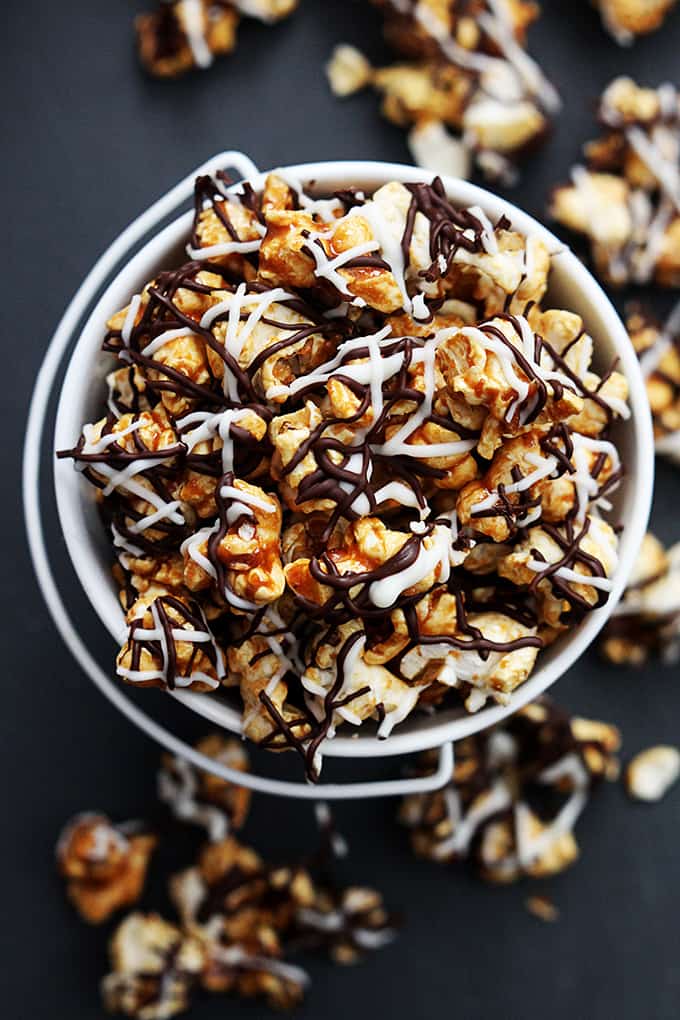 3. Reese's Krispies Popcorn from Oh Sweet Basil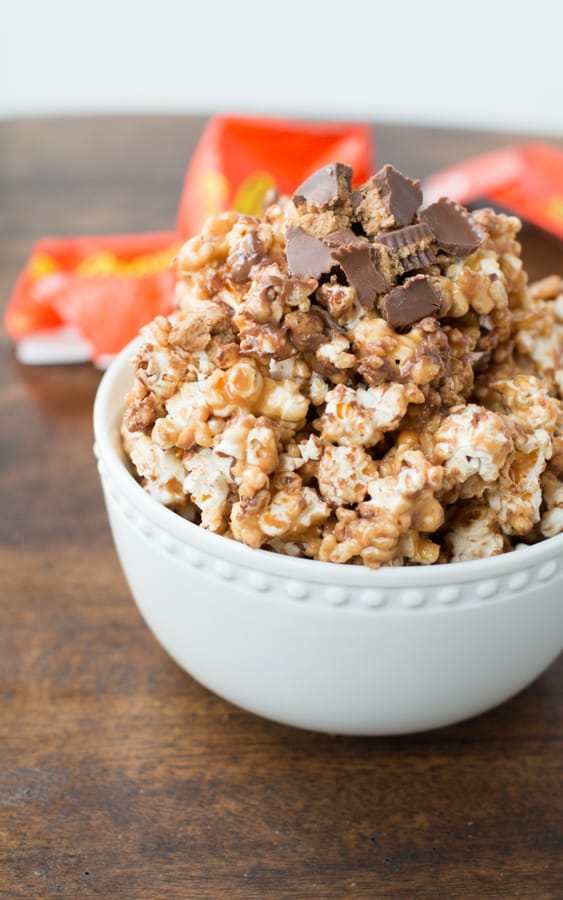 4. Dark Chocolate S'mores Popcorn from Caravan of Style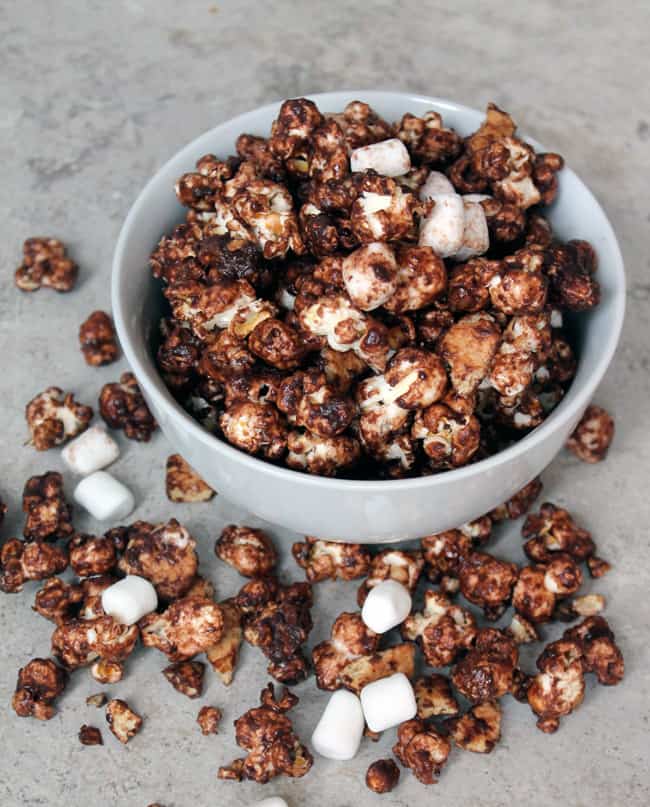 5. Cake Batter Popcorn from Spicy Southern Kitchen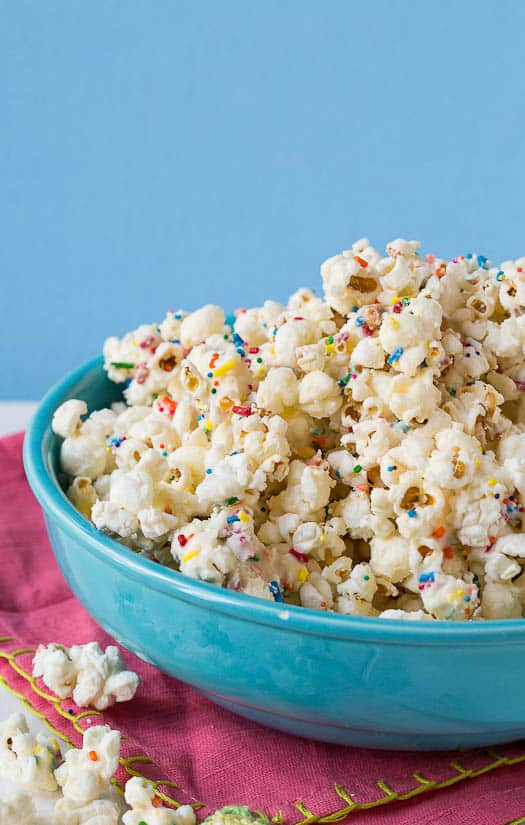 6. Peanut Butter White Chocolate Popcorn from The Girl in the Little Red Kitchen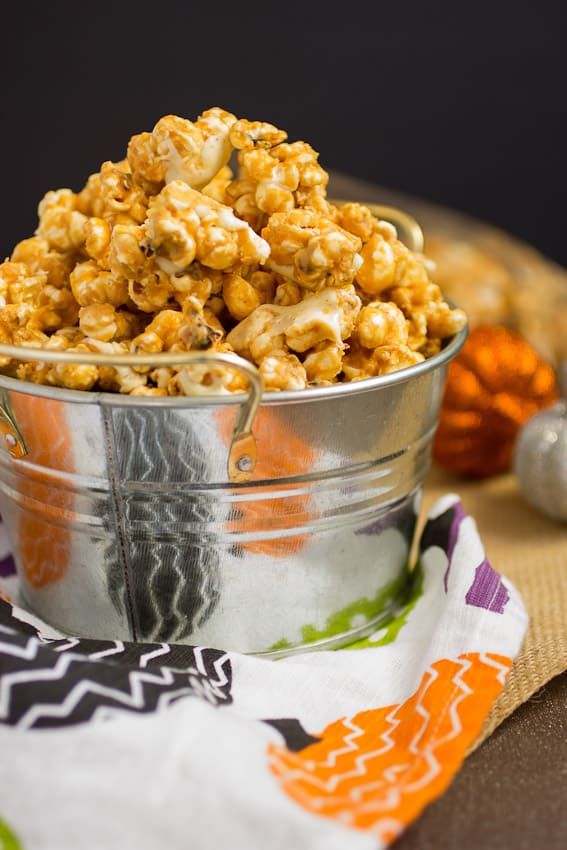 7. Butterfinger Candy Popcorn from Like Mother Like Daughter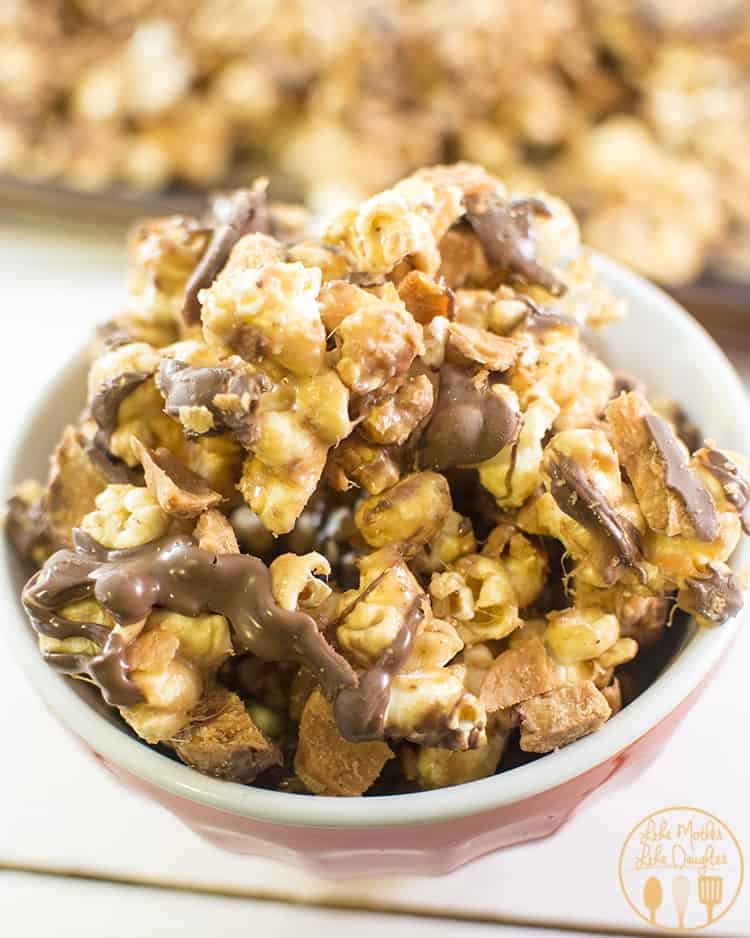 8. White Chocolate Popcorn with M&Ms from Tastes Better From Scratch
9. Homemade Salted Caramel Corn from Buttered Side Up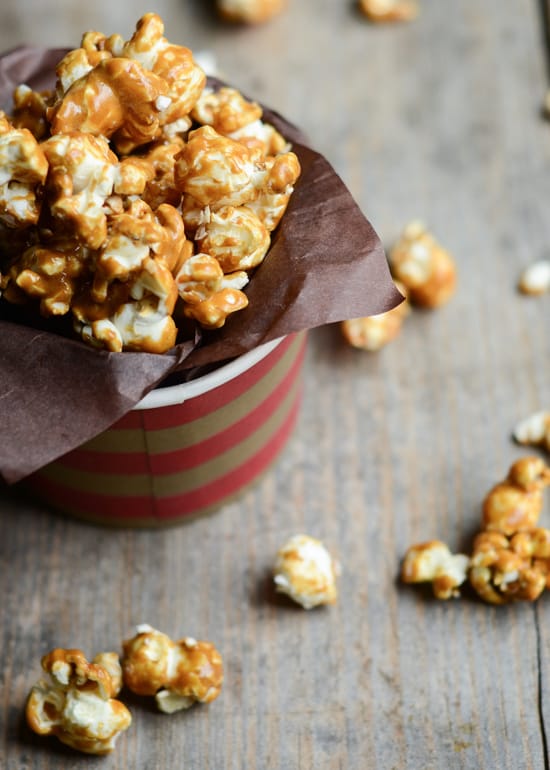 10. Puppy Chow Popcorn from Buns in my Oven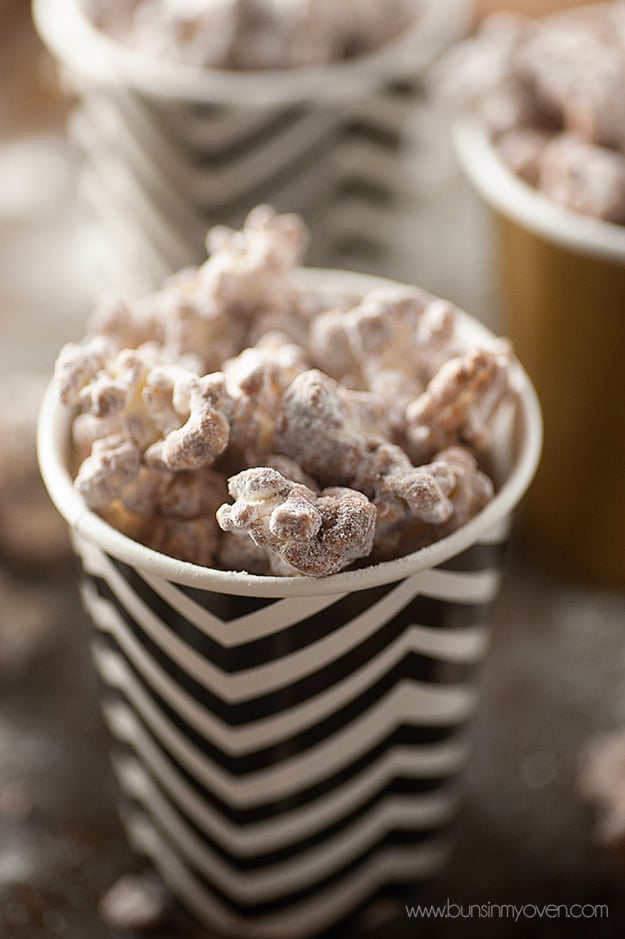 11. Samoas Popcorn from Something Swanky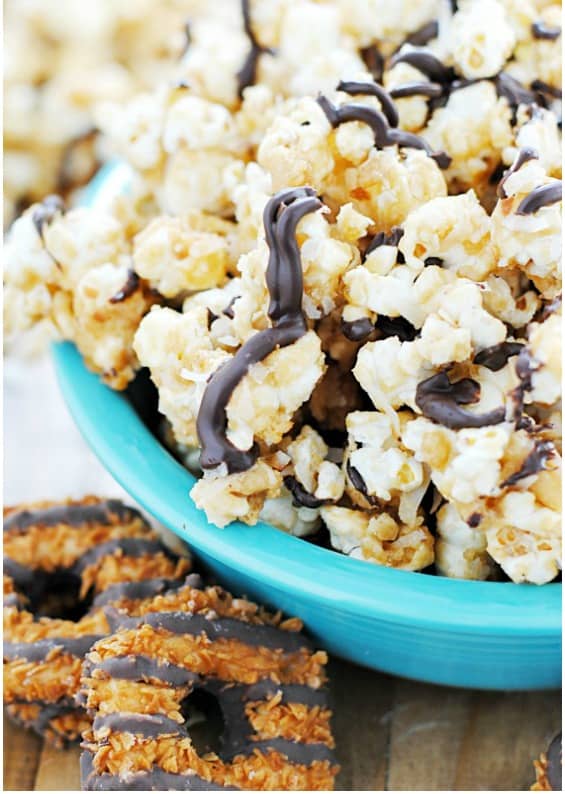 12. Toffee Butterscotch Popcorn from LeeleLicious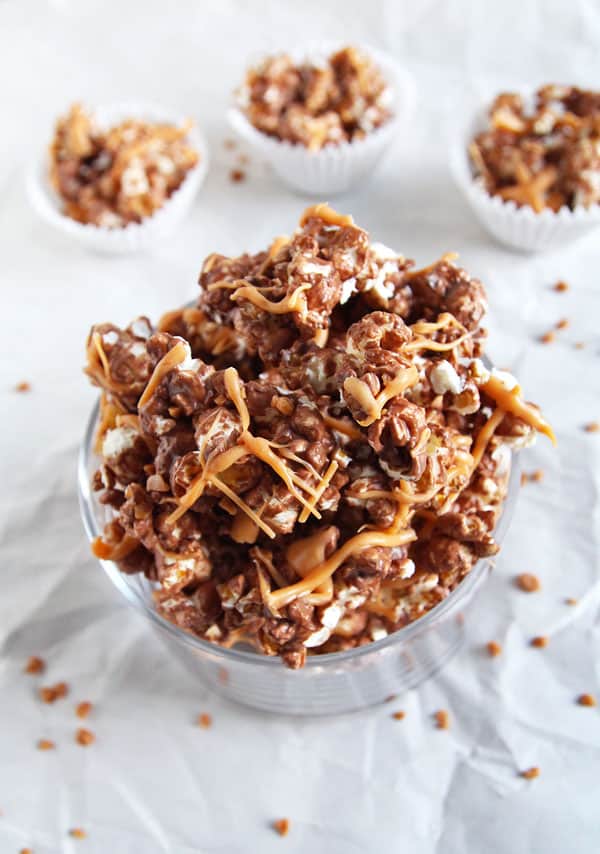 13. How to Pop Popcorn in a Brown Paper Bag in the Microwave from Bless this Mess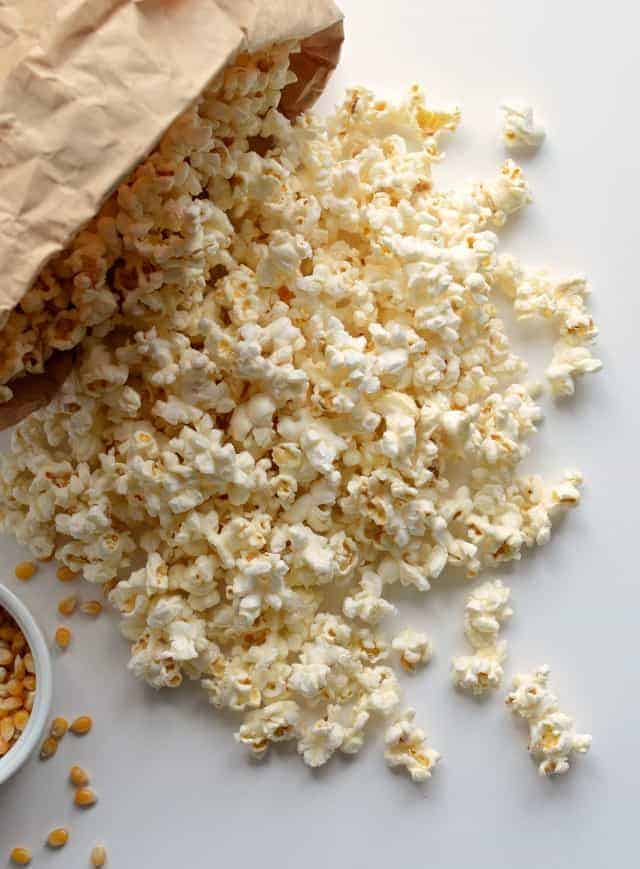 14. Mom's Famous Sticky Caramel Corn from Bless this Mess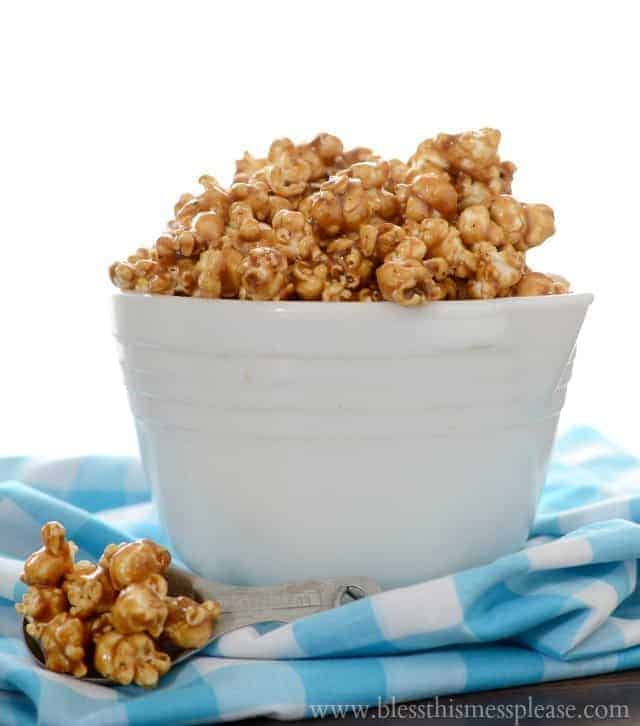 And if you actually are reading this, meaning you looked through the entire post, you rock! I meant to schedule this post to publish on its own but I didn't get that done. Now I'm sitting in the airport in Las Vegas waiting on a plane to Kansas City! I'm headed to a one day food blogging conference there and I can't wait to hear Pinch of Yum, Gimme Some Over, Tidy Mom, and Dine and Dish speak. I'm enjoying the trip but this momma bear struggles leaving the cubs. Wish me luck!