Everyone loves a dessert with fruit and bread/cake topping and filling! These Summer Fruit Desserts Explained discuss why a cobbler isn't a crisp or a buckle!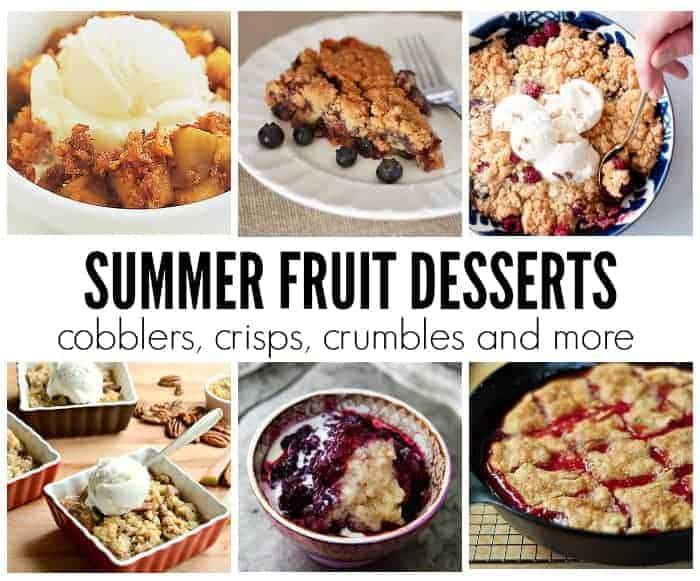 Summer Fruit Desserts Explained
Emily from One Lovely Life and I are teaming up in the coming months to work on some fun posts for you all. Here is the first collaboration and I love it! Emily is a ninja in the kitchen and she's here explaining the difference between all those delicious fruit desserts that make summer so tasty. You'll feel so knowledgeable and very hungry when you finish reading. Take it away, Emily!
Summertime is here, and delicious fresh produce is everywhere! Summer brings fruit of all kinds--nectarines, peaches, plums, and cherries to the markets. I'm always looking for yummy ways to use up everything we buy. And, I'll be honest, when peaches are ripe enough to have juice running down to my elbow when I eat them, I tend to...well...overbuy. And, when I can't get through our fruit fast enough (or I'm just looking for something delicious for dessert), I turn to crisps and cobblers.
While they're really not as show-stopping as a layer cake or as fancy as an intricate pie crust lattice, these easy desserts are as simple and homey as it gets. They're perfect for summer barbecues, slow Sunday evenings outside, or family dinners. You can mix everything up then pop them in the oven while everyone is eating dinner. They'll be warm and ready for big dollops of vanilla ice cream by the time everyone's finished eating and chatting.
And, because it's fun to talk about, here's a bit of a primer on the difference between a crisp, crumble, and a cobbler. Plus, you'll get to learn about a few others you might not have heard of, like the brown betty, slump, and pandowdy. Get your ice cream ready!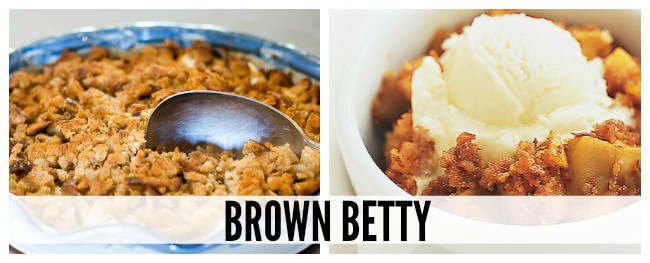 Brown Betty - A brown betty uses layers of a buttery breadcrumb streusel layered in with fruit filling. (Think: crumb streusel, fruit filling, crumb streusel). They're less common in the U.S., but they're sure tasty!
Recipes to Try:
Apple Brown Betty, by The Pioneer Woman
Skillet Apple Brown Betty, by America's Test Kitchen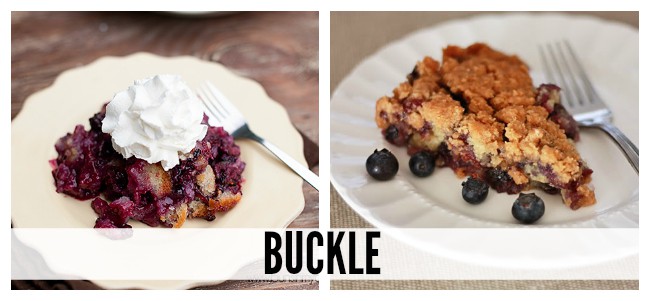 Buckle - Buckles are a bit more cake-like. Typically, you make a simple cake batter, stir or sprinkle over some fruit, then top the whole thing with a streusel topping. As the whole thing bakes, the cake "buckles" as the fruit sinks down into the batter and the streusel takes on a lumpy texture.
Recipes to Try:
Blueberry Buckle, by One Lovely Life
Blackberry Buckle, by Buns in My Oven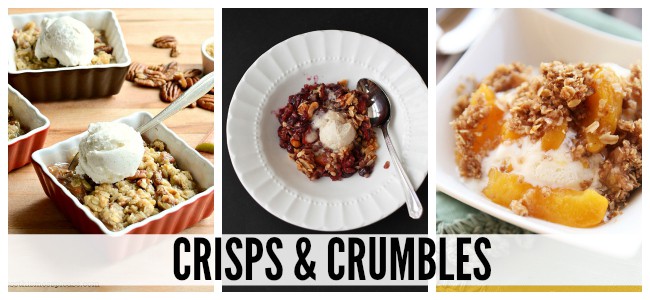 Crisps and Crumbles- A crisp or crumble is a warm fruit filling with a streusel topping. The streusel is usually some combination of butter, oats, brown sugar, and any flavorings, nuts, or spices you like. Some people are adamant that a crisp HAS to have oats, while a crumble doesn't. Others argue that it's the other way around. It's mostly semantics, or regional (sort of like the great "soda vs pop" debate).
Recipes to Try:
Rhubarb Crisp, by Bless This Mess
Peach Berry Crisp, by One Lovely Life (GF, Vegan)
Fresh Peach Crisp, by Our Best Bites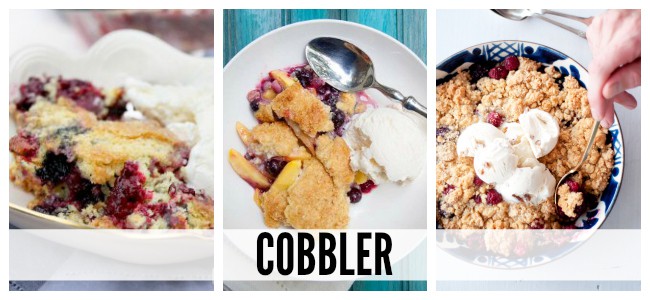 Cobbler - Cobblers are known for a biscuit topping. Often, but not always, you use drop biscuits, made from dropping spoonfuls of biscuit dough in little blobs instead of rolling and cutting out perfect little circles. The little drop biscuits lined up across the fruit filling look a bit like a cobblestone street, hence the name (who knew!?). You can make your favorite biscuit recipe (this is mine), or you can always get away with little cake batter "biscuits" by mixing up your favorite cake mix and dropping little spoonfuls over the top of the fruit in place of biscuit dough. Want to make it pretty? Make individual servings and cut your biscuit dough into pretty shapes (stars, hearts, etc) to put on top of the fruit filling.
Recipes to Try:
Berry Cobbler, by Our Best Bites
Peach and Blueberry Cornbread Cobbler, by Cassie of Wholefully
Blackberry Cobbler, by Marshalls Abroad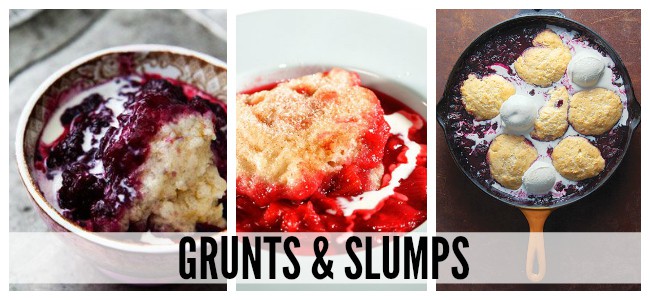 Grunt or Slump - Interchangeably used, a grunt or a slump is a cobbler that you cook on the stove in a skillet rather than baking. After dropping the biscuit dough onto the fruit filling, you cover the skillet so the biscuits steam rather than bake. Fun fact: grunts get their name from the little "grunting" sound of the air bubbles moving through the fruit filling and bursting in between the biscuits. Slumps got their name from the way this dessert doesn't hold its shape on the plate.
Recipes to Try:
Blackberry Slump, by Simply Recipes
Raspberry-Rhubarb Grunt, by Martha Stewart
Blueberry Slump, by Saveur Magazine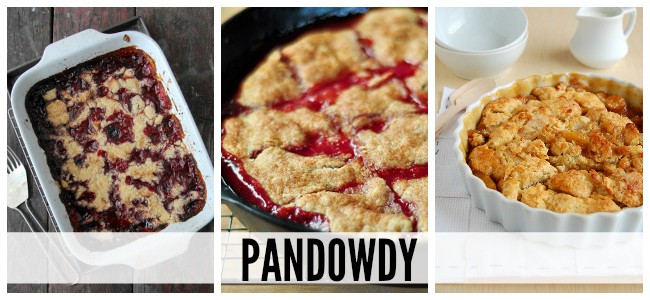 Pandowdy - I've never made a pandowdy before, but it kept coming up when I was researching some of the history of buckles, cobblers, and crisps. Most importantly, it's remarkably fun to say (Really, go on: pandowdy, pandowdy, pandowdy). Secondly, a pandowdy is basically a pie without a bottom crust. You pour your fruit filling into your pie dish or baking pan, spread a pie crust over the top, and bake it. When you pull it out of the oven, you'll puncture and break up the crust a bit so that some of it starts to soak up the juice from the filling. You end up with a sort of crispy, sort of soft topping and all the goodness that a pie crust brings without any of the intricacy of weaving or shaping the crust!
Recipes to Try:
Raspberry Pandowdy, by Boulder Locavore
Old Fashioned Apple Pandowdy, by Technicolor Kitchen
More Fruity Desserts to try:
This post was originally published in 2014 and has been updated in August 2019.
Summer Fruit Desserts Explained showcases some of the best ways you can eat fruit for dessert and outlines the differences between the different desserts like cobblers, crisps, and crumbles.