13 Strawberry Recipes including salads and cupcakes means there is a tasty recipe you'll love made with this delicious fruit.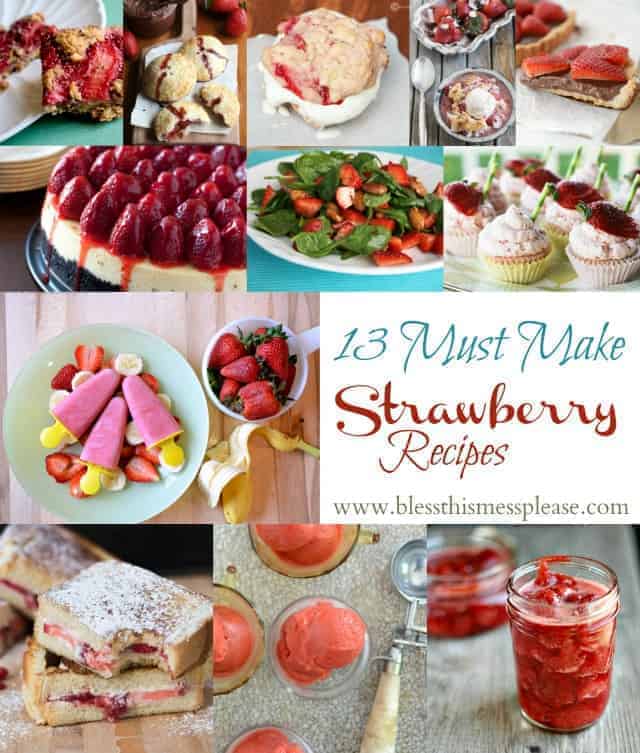 13 strawberry recipes
Strawberries!
My mom and dad have strawberries ripening at their house in Kentucky as we speak and my dad keeps texting me pictures of the perfectly red fruit before he picks them. Oh, the jealousy inside of me! At least he's not making videos of them eating Mom's strawberry shortcake. That might kill me slowly.
Since I don't have a berry patch of my own, yet, I'm settling on enjoying freshly picked strawberries vicariously. I also thought it would be fun to share the strawberry love today by highlighting some delicious looking recipes from some of my favorite bloggers. Whether you are picking your own, getting them from the farmer's market, or just using Costco, this post is sure to inspire.
If you have plans for this weekend you might want to take a long look at some of these strawberry recipes because they'd all be perfect for a picnic with friends. Enjoy and have a great day.
8. 10 Minute Strawberry Jam- Heather's French Press

More Fruity Recipes:
This post was originally published in 2014 and has been updated in August 2019.
These 13 Strawberry Recipes are must-makes for dinner and dessert, with plenty of options to find a favorite!