Strawberries are in season, have you noticed? I bought nine quarts this weekend and we just have a few left. I'm a traditionalist when it comes to strawberries. We eat them plain, on shortcake, on waffles, or in this lemonade. I always want to do something fun and unique with them but they just don't last that long.
I'm planning on getting more and making strawberry freezer jam. It's so easy and so delicious. When I was a kid we grew strawberries in our garden. Mom, how many plants did you have? In my mind we had around 300 plants. Strawberries come on at the end of May and last for a few weeks. During that time we would pick, sort, and sell berries. The money went into our vacation fund.
My mom would send us four older kids out to the strawberry patch in the dewy morning to pick berries before the weather got too hot and muggy. I'll be the first to admit that these mornings of berry-picking weren't exactly how I wanted to spend the first days of summer vacation; my siblings agreed. There were three long rows of berries to be picked. My older sister and I each had a row and my younger brother and sister worked on a row together. When our row was done we were free to go; the amount of time we spent picking berries largely depended on how motivated we were.
My older sister and I were fairly quick; we bit the bullet, got the job done, and were able to move on to something else. My younger brother and sister however didn't always go about the chore with this same mentality. Tyler and Sarah (the younger siblings) had a love-hate relationship when they were younger. They couldn't stand to be apart and they couldn't stand to be together most of the time, and berry-picking really brought out the worst in this relationship.
Sarah hates grasshoppers, and Indiana grows some of the biggest ones I've seen. Tyler would catch grasshoppers by the wings and throw them at Sarah while we were out picking berries. Just imagine, being bent over looking for glimpses of red hiding in all that green and having a giant bug bounce off your back. Every third throw would land one in her hair; those critters have seriously sticky legs. She would freak out, run screaming and sobbing into my mom, Mom would come out and yell at Tyler, Sarah would resume picking her end of the row, and then the whole process would start over. Tyler spent more time chasing grasshoppers than he did picking strawberries. Sarah was known to err on the side of dramatic and Tyler was relentless; a terrible combination.
Tyler and Sarah could take hours to finish their row. Hours. Tyler thought it was hilarious, Sarah still has bug issues, and I'm sure Mom was ready to pull her hair out and pick the strawberries herself most days. My older sister and I largely ignored the process. It wasn't our problem.
Strawberries will forever remind me of long hours in a berry batch, eating every fifth berry, listening to my sister scream and my brother laugh his head off. Isn't childhood great?
More great strawberry recipes:
Print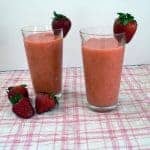 Strawberry Lemonade Slushie
---
½ cup

sugar

½ cup

hot water

2 cups

whole strawberries, washed and stems removed, about

1 quart

½ cup

lemon juice

3 cups

ice
---
Instructions
In the jar of your blender add your sugar and hot water. Place the lid on the blender and blend until the sugar is dissolved, about 1 minutes.
Add the strawberries and lemon juice, add the lid, and blend until very smooth.
Add the ice and ½ cup of water and blend until smooth. If the mixture is too thick, add another ½ cup of water or so to help things move around in the blender.
Pour into cups and enjoy right away.
Notes
I highly recommend using a high power blender for this recipe, it works much better.
Looking for some more fun and festive drinks? Try my Shirley Temple! It's sweet, tangy, and fizzy, with a signature pink color that's sure to add a pop of color to any occasion.