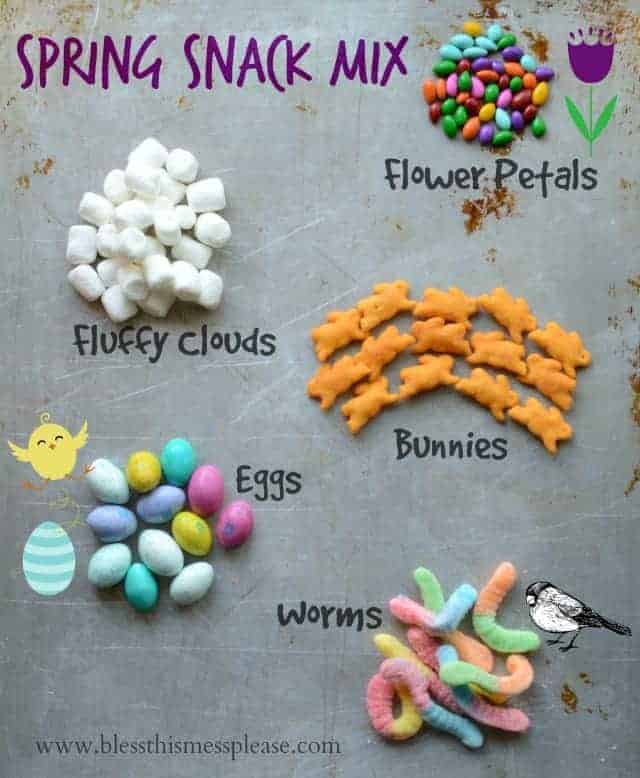 Spring has sprung! And I have a Spring Snack Mix that is going to put a little hop in your step (get it… hop, bunnies, spring!)
I'm so pleased to be participating in the 12 bloggers fun this month because the recipes look amazing and it's just in time for Easter and spring.
This group is 12 fun bloggers, sharing 12 recipes, 12 ingredients or less. Now that is a lot of joy in one post if you ask me.
My recipe isn't much of a recipe today, more of an idea, but I know you'll like it.
We aren't big candy eaters and we don't often sit down with a bowl of treats just for fun. If we have a treat we'll eat a few here and there. But twice a year, in the spring and in the fall, I make a fun snack mix and we all really enjoy it. This spring we gave all of the ingredient fun names. Why are fluffy clouds so much more tasty than boring old marshmallows?!
If you are Mormon I bet that you can guess the two times that we make snack mix. And if you aren't here's a hint.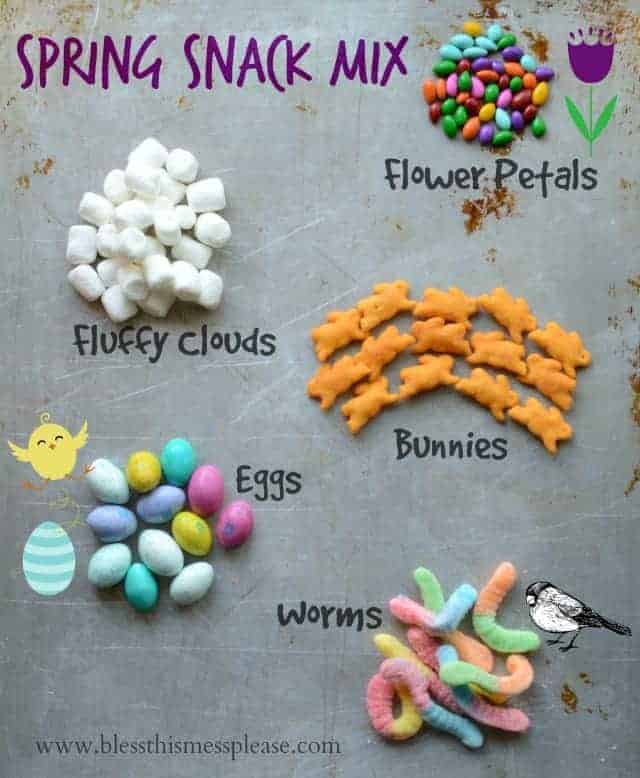 This would be a perfect treat to take on a spring or Easter scavenger hunt with the kids, on a kite flying trip, or to pack in a school lunch for a fun surprise.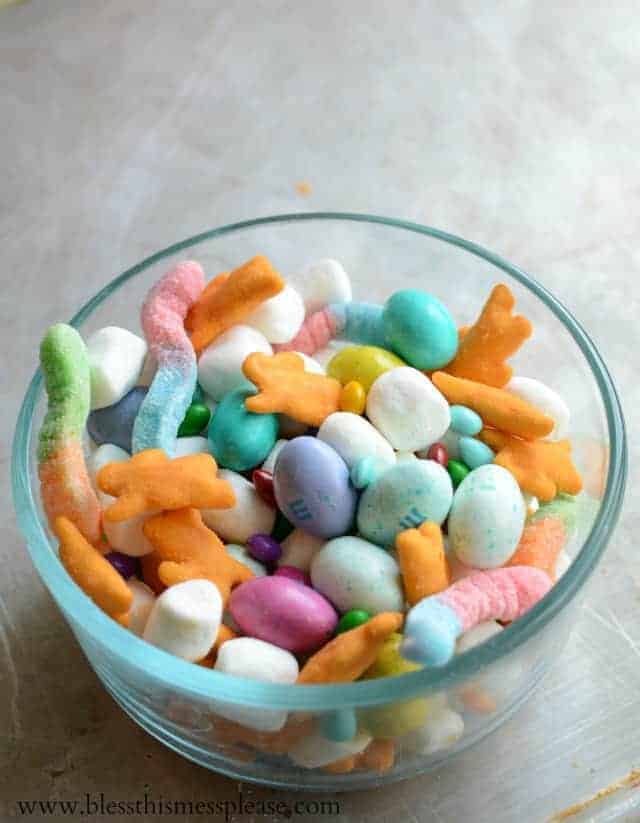 Print
Ingredients
Bunnies (Annie's Cheddar Bunnies – the extra cheese are awesome!)
Fluffy Clouds (Mini marshmallows)
Flower Petals (Chocolate covered sunflower seeds)
Worms (Gummy or sour worms)
Eggs (Speckled peanut butter M&M's, malted milk eggs, ect.)
---
Instructions
Toss everything in a bowl and enjoy!
Notes
This isn't much of a recipe, more of an idea. Just add what you like and how much of it you like. Eat in the spring sunshine for extra enjoyment.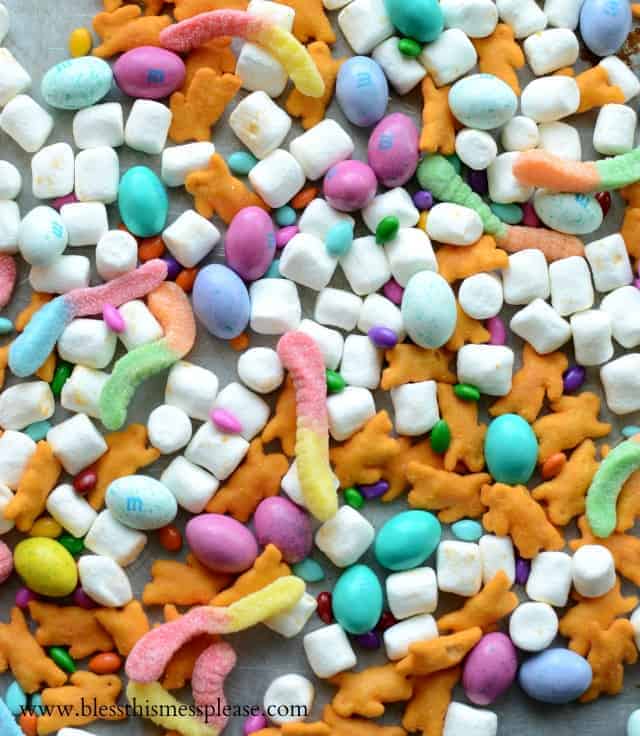 My kids were so excited about it, they couldn't keep their hands out 🙂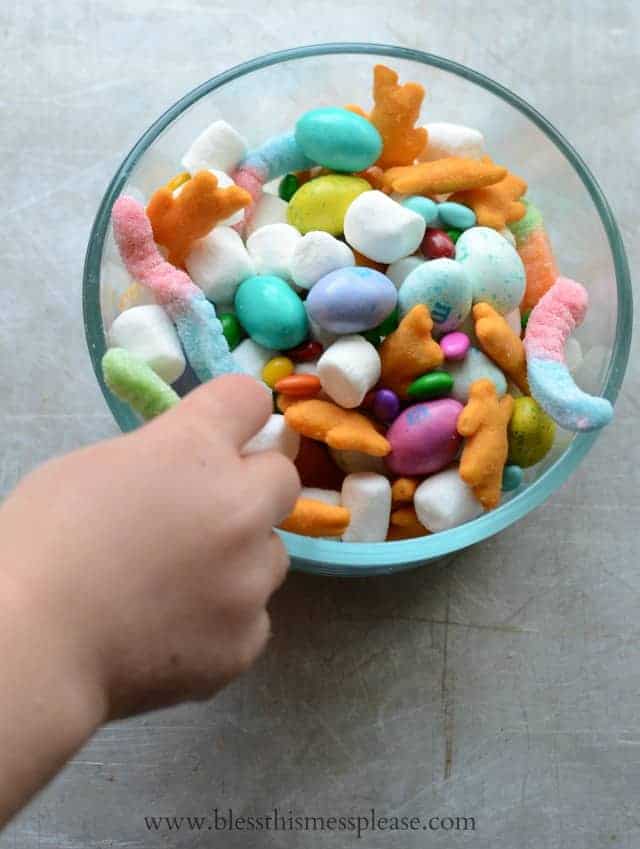 Here are all the pretty ladies I get to mingle with:

And here are all of their amazing recipes for the month.

Rhubarb Pichu Berry Crumb Bars from Betsy Life
Strawberry Sorbet from Home Cooking Memories
Lemon Pistachio Ice Box Pie from A Little Claireification
Springtime Blondie Bars from The Rebel Chick
Edible Flower Bouquet from A Million Moments
Spring Candy Bark from A Night Owl Blog
Spring Snack Mix from Bless This Mess Please
Pink Chocolate Covered Easter Egg Rice Krispie Treats from Mom Endeavors
Honey Pistachio Granola from Eat Your Heart Out
Fruit Salsa & Edible Butterfly Cinnamon Chips from See Vanessa Craft
Pineapple Coconut Gooey Cake from Around My Family Table
Strawberry Whip from Plugged In Family
Enjoy! Thanks for stopping in.