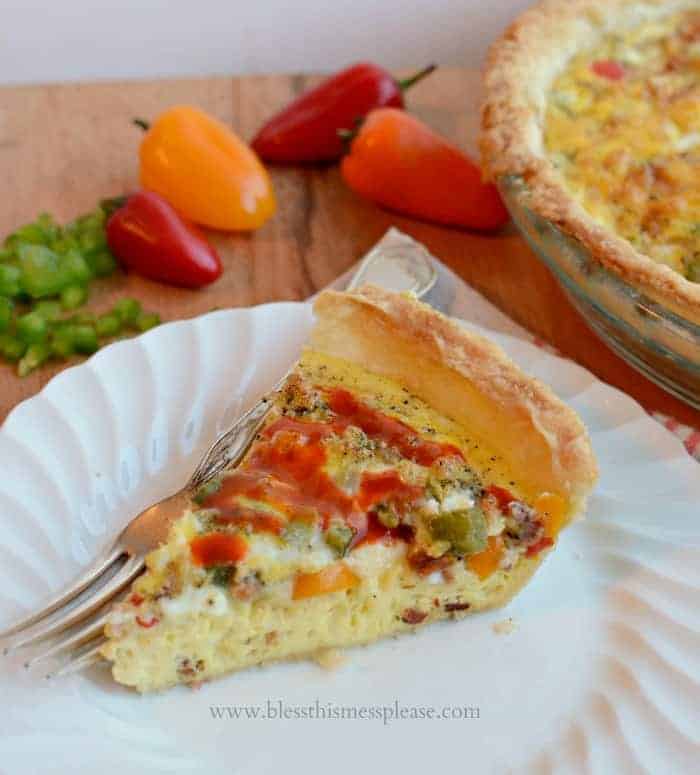 South of the Border Cheesy Bacon Quiche is just the dish that you need in your meal plan this coming week. I love making egg heavy dishes because owning backyard chickens means I always have eggs on hand and because they are delicious. Quiche used to really scare me and I would often make egg bakes (same idea just without a crust) because pie crust! Just thinking about making a pie crust sent shivers down my spine.
I have attempted so many different pie crusts it's not even funny. They always turn out weird. I need a pie crust cooking lesson because there's just something I'm missing. That being said, this summer I discovered a pie crust tutorial from Annalise at Completely Delicious. Her "Foolproof Flakey Pie Crust" changed my life. Here's where her tutorial is different from any other pie crust method I've seen - once you get the chilled butter cut into small pieces and then stirred into your flour you dump the mixture on your countertop and use a rolling pin to smash the butter into the flour. Normally you'd use a pastry blender or forks to combine the flour and butter, but she doesn't. This method works so very well for me. I highly recommend checking out her step-by-step picture heavy blog post if you too get a little nervous about pie crust.
My pie crusts are still very ugly for some reason (look at the pictures, it's just kind of blah even though it went into the oven with pretty scallopy-crimped edges), but my oh my do they taste good! And I didn't have to use any shortening either. I'm a big fan of the all-butter pie crust (insert heart-eye emoji here). Long live butter.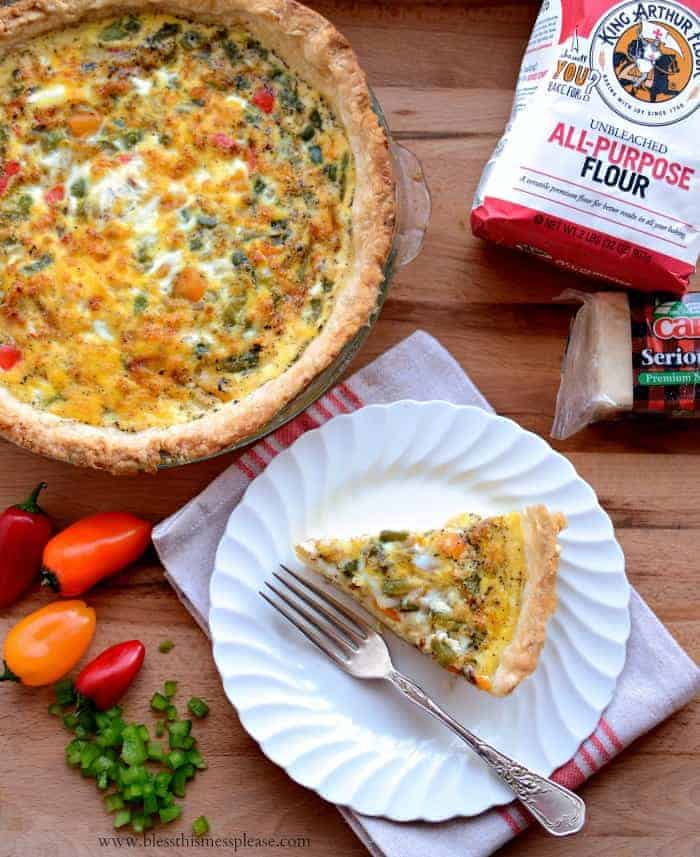 There's a whole lot of flavor in this quiche. A little bacon goes a long way because you sauté the vegetables in some of the rendered fat. Best. Idea. Ever. Then you add some perfect Cabot cheese and you have yourself one very delicious bacon quiche that is hearty, filling, and dinner approved. I topped mine with some hot sauce and sliced avocado and it was brinner (breakfast for dinner) perfection. Everything's better with these simple but bold South of the Border flavors.
King Arthur Flour and Cabot Cheese sent me some products to make my bacon quiche with and I'm enter this post into their #QuicheFeast contest. Crossing my fingers for a win!
If you try this recipe, let me know what you think! Leave a comment, pin it, and don't forget to tag a picture #blessthismesseat on Instagram. I love to see your kitchen skills in action!
Print
South of the Border Cheesy Bacon Quiche
---
A single pie crust, unbaked

3

-

6

strips bacon

½ cup

chopped onion

1 cup

chopped bell pepper, any colors

1 ½ cups

shredded Cabot Cheese (see notes)

8

eggs

½ cup

milk

½ teaspoon

salt

¼ teaspoon

ground black pepper

¼ teaspoon

cumin
Optional hot sauce and/or sliced avocados for serving
---
Instructions
In a medium skillet cook the bacon until very crispy. When the bacon is done, place the bacon on a paper towel. Pour most of the grease out of the skillet, but leave about a tablespoon in the bottom. Return the pan to medium high heat and add the onions and pepper. Saute until the vegetables are soft, 5-7 minutes.
Preheat the oven to 375.
Using a 9-inch pie plate, roll out the pie crust dough and place it in the pan, crimp the edges. Crumble the bacon and put it in the bottom of the pie crust, add the shredded cheese, and then add the cooked vegetables.
In a medium bowl whisk together to eggs, milk, salt, pepper, and cumin. Pour the egg mixture into the pie shell. Bake the quiche for 30 to 35 minutes until the center is set. Let the quiche rest for 5 minutes before serving. Serve with hot sauce and sliced avocado.
Notes
I tried this with both Cabot Seriously Sharp Cheddar as well as Cabot Alpine Cheddar, both were fabulous. You could also use Cabot Hot Habanero, Pepper Jack, or Smokey Bacon Cheddar. You can't really go wrong with Cabot cheese.
Nutrition
Serving Size:

Serves 6 to 8
For this recipe, I recommend:
[asa_collection btmp]pie[/asa_collection]
I have to say thank you to you all too. Thank you for your kind words, your prayers, and your support when I shared a lot in yesterday's post. I know you might feel like this is just a blog and this is just the internet, but this is a huge part of my life and you are my friends, just further away than others. You mean so very much to me.
Have a great day and eat pie.
Disclosure:
Cabot Cheese and King Arthur Flour sent me a goodie package to worth but I wasn't compensated for my time. I just love these companies and enjoy working with them. My opinions are my own.