Avocado Toast is all the rage right now. Have you tried it? It's about as hard as it sounds... mashed avocado with salt on top of toast. It took me forever to try it, but once I did I totally saw the light. It is super delicious, creamy, and filling. Thomas and I love it for breakfast. The problem for us though is, it is pretty hard to get a good ripe avocado at the store. I'm not sure why, but it just doesn't happen.
Grilled Corn and Avocado Salad, Avocado Egg Salad and Avocado Bruschetta are some awesome recipes that feature avocado.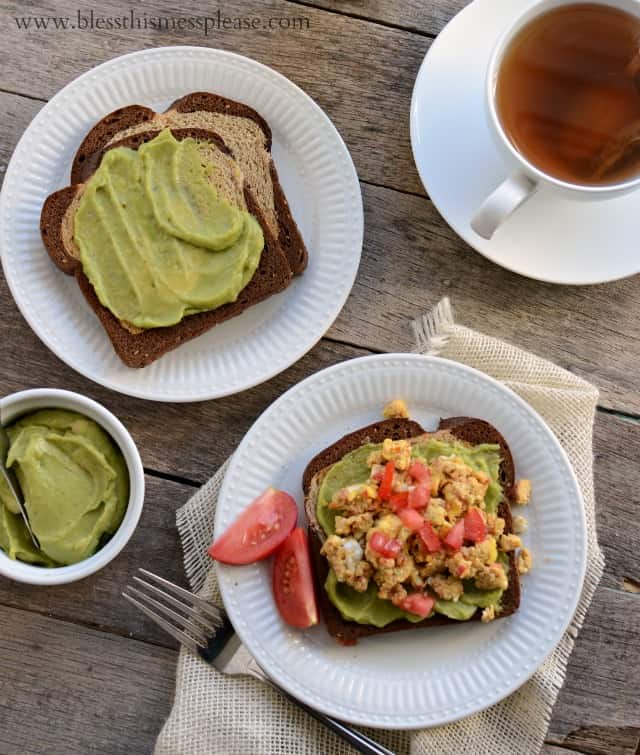 South of the Border Avocado Toast
South of the Boarder Avocado Toast combines my love for all things Tex-Mex with my adoration of avocado toast. You have yourself one flavorful breakfast packed with protein and healthy fat; it'll keep you full all morning. The best part is, you can just use store-bought guacamole and salsa if you have a hard time finding good avocados like I do. You can't beat breakfast that comes together in five minutes.
I used PeakFection salsa and guac (sold at Smith and Kroger) because they sent me some in the mail. It was delicious. Plus, I have a crazy story for you about how this company helped perform a very literal miracle in the lives of some of my family members.
First up, that recipe.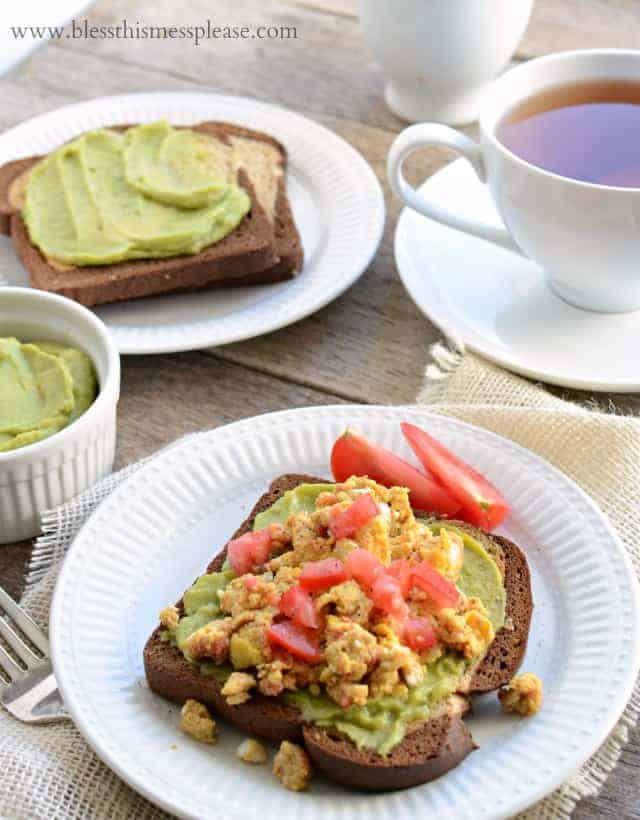 Print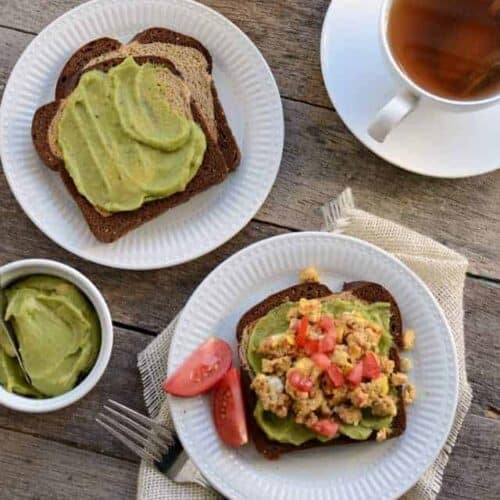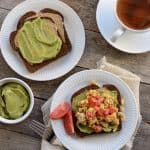 South of the Boarder Avocado Toast
---
Author:

Total Time:

5 minutes

Yield:

1
Description
South of the Boarder Avocado Toast combines my love for all things Tex-Mex with my adoration of avocado toast. You have yourself one flavorful breakfast packed with protein and healthy fat; it'll keep you full all morning.
---
1 tablespoon

salsa, I used PeakFection

1

large egg

1

piece of bread, toasted

2 tablespoons

guacamole, I used PeakFection
---
Instructions
In a small cast iron skillet (4 or 5 inch) heat the salsa over medium high heat until it starts to steam. Add the egg to the pan and beat it with a fork until it is well combined with the salsa. Continue cooking until the egg is cooked through. Remover from the heat.
Place the guacamole on the toast and spread it around. Add the cooked egg. Garnish with additional salsa or chopped fresh tomato if desired. Add salt and pepper to taste. Enjoy right away.
Cook Time:

5 minutes

Category:

Breakfast

Method:

Stove Top

Cuisine:

American
Nutrition
Calories:

268

Sugar:

2.6g

Sodium:

308.5mg

Fat:

16.3g

Carbohydrates:

21.5g

Protein:

10.3g

Cholesterol:

186mg
Keywords: Avocado Toast, Healthy Breakfast Options, Eggs, South of the Border
And here's the story.
So I got an email from the PR rep at Kroger asking if I wanted to try some new salsa and guacamole. It's made with fresh ingredients using a special cold processing method to help it stay fresh and contains no fake stuff or preservatives. It sounded right up my ally so I said sure. A little while later a really nice box came in the mail with a whole bunch of fun stuff to have a little chips and salsa party, including a gift card to Kroger (or Smith's here) to buy any extra groceries your party might need. Sweet! Kroger has an awesome PR person!
So I opened up the salsa right away and enjoyed most of the container in one sitting and stuck the guac in the fridge. I put away the contents of the box and stuck the gift card on my computer desk in the living room and I kind of forgot about the whole thing.
About two months ago my cousin's only daughter drown, (she was 2) and my aunt found out she has an aggressive lymphatic cancer and started daily chemo treatments. My aunt is the little girl's Grandma (and that sweet girl was her only grandchild). So the baby passed on a Thursday, her funeral was the following Monday, my aunt found out she had cancer on Thursday (a week later) and started chemo on Sunday. So in less than 2 week that family went gone through so so much. Like most of us, things are tight and all of this has really been hard on their family. Just the gas that my uncle is using to drive back and forth to the hospital to stay with my aunt is a small fortune. Plus so many other worries and stresses.
I'm in Utah and they are in Kentucky, so I've been wondering what to do to help. I read an article about how small hands can do great things and that motivated me to get my kids involved. I had them make cards and cookies one night and got everything ready to take their heartfelt treasures to the post office in the morning. As I was walking out the door to the post office with my box I saw the Kroger gift card sitting on my desk and had a strong impression to add it to the box. We had already added a bit of money, but who doesn't need a little more for groceries, so I dropped it in, mailed it off, and went about my day.
The next day I got an email from that PR person for Kroger asking when I was going to blog about the salsa and guacamole they had sent. This wasn't something we had talked about when I agreed to try their product (a few samples aren't something I'm willing to blog about unless it's a company I already really know, use, and love) so I sent her back my rates for a sponsored post. She then replied that the gift card was for $400, would I be able to accept that as payment.
You guys! Did you catch that? Someone magically sent me a gift card that I assumed was for $20 (because no one has ever sent a gift card for more than that, especially without mentioning it before hand!), I dropped it in a box to my family who really needed it, and it ended up being for much more than a few dollars.
I read her email and started to tear up. This whole seemingly odd series of events was no accident and I knew it in my heart. I witnessed a miracle that day. The Lord works in mysterious ways, but my does he provide when we need it most.
I wrote the PR woman back and told her this neat story and that I would indeed blog about their salsa, I owed them that much for their role in helping out my family. This post my friends, is my part of the bargain. And I have to tell you thank you to. That opportunity came to me because you take the time to read this and support me. So in a round-about way, you too took part in blessing the lives of others. Thank you for that.
If you are the praying type, please pray for my aunt, uncle, cousin, and their family. And because when it rains it pours, I also have a 6 year old cousin battling brain cancer for the second time in her life. She could use prayers too.
I love a good breakfast. Check these recipes out:
You all are so good to me. Thank you for being here. Now it's time for you to try South of the Boarder Avocado Toast.
Disclosure: Kroger sent me their PeakFection salsa and guacamole to try as well as a gift card. My opinions are my own as always. Thank you for supporting me so that together we can bless others in small ways that mean a lot when they are needed.