Hello all! While I'm enjoying the newest (and teeniest) member of our family, I have asked some of my very favorite blogging friends to share some of their absolute favorite posts with you. Today's post is brought to you from Vijay who is the mastermind behind the really fun website called NoshOn.It. They feature food bloggers from all across the web every day. You can sign up to get their emails and have the recipes sent right to your inbox... easy! And they always feature the coolest people, like me 🙂 Vijay was one of the very first people to reach out to me to share my recipes and I liked him ever since. Now we are great internet friends and I adore his site. Definitely something you should pop over and check out! He's here sharing an AMAZING looking soup that I can't wait to try for myself. Enjoy!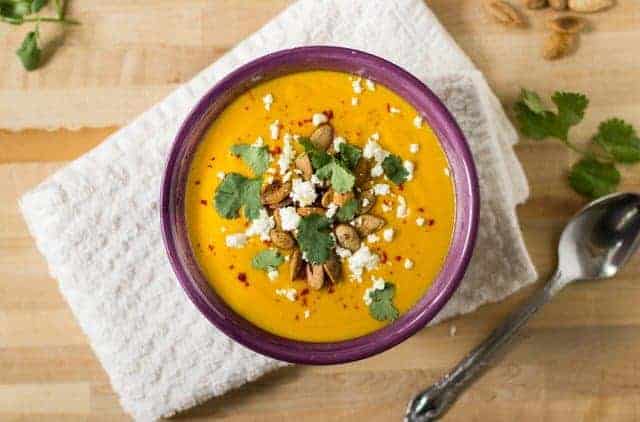 Hi Bless This Mess readers! Vijay from NoshOn.It here writing you from the City of Brotherly Love, Philadelphia. Thanks so much to Melissa for having me and congratulations to her and her family on their newest addition! It's such a pleasure to be sharing this soup recipe with you, especially with Fall in full swing and Thanksgiving just around the corner.
I'm not sure about you, but Thanksgiving is far and way my favorite holiday of the entire year. Perhaps it's because it's a day of indulgent eating (or, maybe better put: gorging) where you don't have to feel bad about any of it! Or maybe because no matter where I've lived in the country (and that's a lot of places over the past 10 years), I always make it a point to make it back home to celebrate Thanksgiving with friends and family.
Growing up in Houston, TX, in an Indian family, our Thanksgiving has always been what you might call a "fusion" event. Unlike many intimate family dinners that my friends have, our Thanksgiving dinner is more like a full-on potluck party with 40-50 hungry mouths of all ages filling our house into the wee hours of the night. Yes, that's right, 40-50! But the best part of all of this is that I get to eat the best of both worlds since our menu is half-Indian and half-traditional American (with turkey and all the fixins').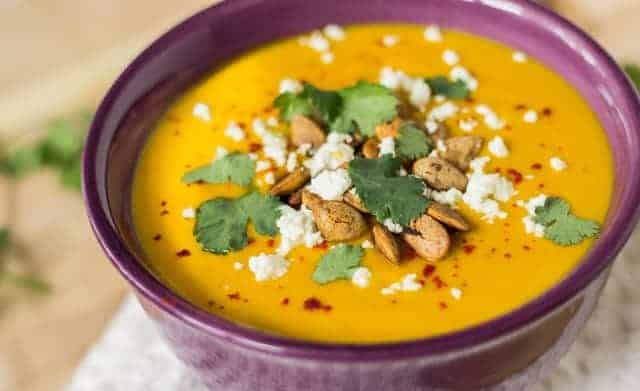 Well, that's a lie.
There's nothing "half" about any of it! In reality, there's a FULL menu of Indian dishes and a FULL set of traditional Thanksgiving dishes as well. That's a lot of food. (Pro tip: Eat in "rounds." Take a trip through, half-fill your plate, eat what you can, take a 20 minute break to let things digest then go back for round 2...or 3...ok, fine, even round 4 is fine!).
I'm usually responsible for much of the traditional Thanksgiving dishes and since we often have a number of vegetarians, I try to make as much as possible veggie-friendly with the bold spices that my family loves. Since the weather is starting to cool down at that time of year (yes, even Houston gets into "jacket weather"), I like to make a piping hot sippable soup as a starter, which we pass around in mugs so you don't even need a spoon. And every year, I can't seem to make enough. Our guests love it that much! Little do they know that usually I'm making it up on the fly...
So, I guess you could say that my soups have become a thing of legend. People walk in and ask, "what soup did you make this year?" Well, this recipe is going to be this year's creation. Surprise = gone.
In most smoky and spicy dishes, people use chipotle peppers in adobo sauce but for this soup, I busted out one of my favorite hidden gem spices - smoked paprika.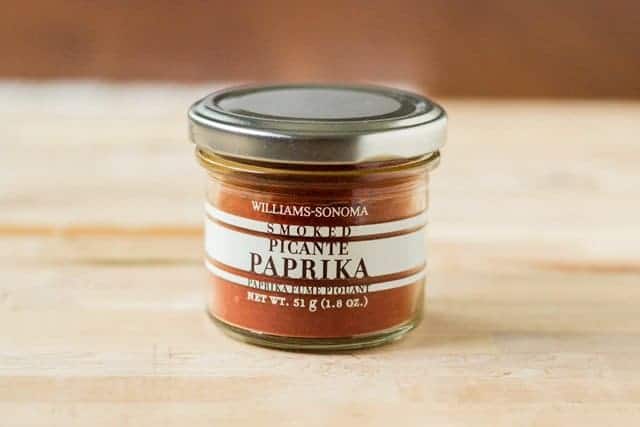 Earthy, mildly hot, and smoky, smoked paprika is a commonly used spice in Spanish cuisine. I found mine at Williams-Sonoma but you can get it online and at any store with a good spice selection. Paired with cumin, ginger, garlic, and onion, it's the perfect foundation for creamy sweet potatoes and tart Granny Smith apples in this soup. And to keep things even more vegetarian-friendly, I used coconut milk instead of cream to make this soup creamy, which means that it's actually completely vegan as well! Given the other exotic flavors in this, I actually think the coconut milk works really well.
On top, I toasted up some pumpkin seeds with a pinch of smoked paprika and cumin for a crunchy bite and sprinkled the entire thing with chopped cilantro and queso fresco (a crumbly Mexican cheese) for both color and freshness. The result is a sweet, smoky, and spicy soup that's complex in taste but actually really easy to make.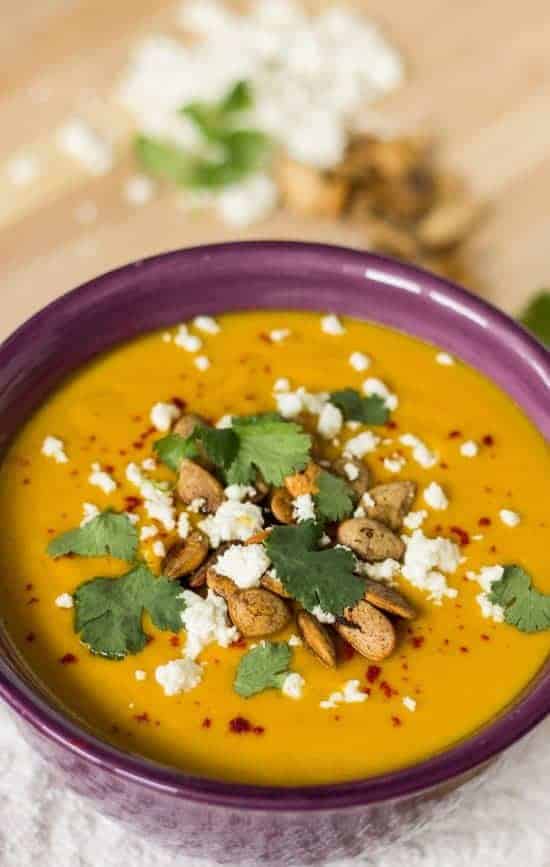 I hope you enjoy this soup - we've been eating it all week and it makes for delicious leftovers. Thanks again to Melissa for having me and please come check us out at NoshOn.It. Also, I'd love to know, what are some of your Thanksgiving traditions? Let me know in the comments or over on Facebook. Until then, happy noshin'!
Smoky Sweet Potato Apple Soup
---
2

pounds sweet potatoes, peeled and cut into large chunks

4 tablespoons

vegetable oil, divided

1 teaspoon

smoked paprika, divided (preferably the hot kind)

2 cups

chopped yellow onion

1 tablespoon

minced garlic

2 tablespoons

minced fresh ginger

2

Granny Smith apples, peeled, cored, and chopped into big chunks

1 ½ teaspoons

cumin powder

1 quart

vegetable broth

1 cup

coconut milk

¼ cup

pumpkin seeds (pepitas), preferably without salt
Cilantro, for garnish
Queso fresco or feta cheese, for garnish
Salt and pepper, to taste
---
Instructions
Preheat oven to 400 degrees F. In a bowl, toss the cut sweet potatoes with 2 tablespoons of vegetable oil, ½ teaspoon of the smoked paprika, and salt and pepper. Spread evenly in a single layer on a rimmed baking sheet and bake until soft and lightly charred, about 25-30 minutes. Remove from the oven and hold but leave the oven on.
Heat the remaining 2 tablespoons oil in a large pot on the stove over medium-high heat. Add the onion and stir for 3-4 minutes until lightly browned. Add the garlic and ginger and stir for another 30 seconds until fragrant. Add the apples and saute for 5-6 minutes, until the apples start to soften. Add the remaining ½ teaspoon smoked paprika and the cumin powder, reserving a pinch of each for the pumpkin seed garnish. Stir frequently for 1-2 minutes to cook the raw flavor out of the spices. Add the sweet potatoes and stir to combine.
Add the vegetable broth, bring to a boil, and reduce to a simmer. Cover and cook for 20 minutes. Remove from the heat and allow to cool slightly.
Once cooled enough to handle, puree the soup in the batches, adding the coconut milk directly to the blender. Return the pureed soup to the pot on the stove and keep warm.
In a small bowl, combine the pumpkin seeds, a small drizzle of oil, and a pinch each of salt, smoked paprika, and cumin. On the same baking sheet that you roasted the sweet potatoes, spread out the spiced pumpkin seeds and toast in the oven for 6-7 minutes until lightly browned.
Serve the soup with cilantro, the toasted spiced pumpkin seeds, and crumbles of cheese.
------------------
Here's a little more about the man behind the recipe: Vijay Nathan is the Co-Founder, Editor, and Chief Nosher of NoshOn.It, a daily recipe newsletter and website that helps you discover recipes you'll crave from new food bloggers you'll love. He is passionate about helping people realize that anyone can be a great cook with just a little bit on inspiration and education. And he'll fight you for that last piece of bacon. Send him a high-five on Twitter!