Oh blessed Thursday you are finally here! I've been saving this skinny macaroni and cheese recipe for days and sweet relief it's time to share (finally!).
I posted a lightened up chocolate cupcake recipe on Tuesday and announced an awesome giveaway of America's Test Kitchen's newest book – Comfort Food Makeovers. I also filled you in on how awesome the book is and why you'll love it as much as I know I will. So to avoid sounding like a broken record I suggest you pop over to Tuesday's post and see what I'm talking about, definitely worth the one click.
As I also mentioned in Tuesday's post, I was allowed to pick 6 recipes from the book and the good people over at ATK emailed me the recipes (the book comes out tomorrow!). I've had my hands on those 6 recipes for less than I week and I've already made 4 of them. Amazing stuff. It's making me super excited to get the rest of the book too.
One of the recipes I picked out was called Everyday Macaroni and Cheese. I'm already a huge fan of ATK's Creamy Stove-top Mac-n-cheese from their Family Cookbook; it's my go-to recipe for macaroni and cheese and we love it. I was really curious what they could change to make it lighter and if we would like it since we're already are in love with the other recipe. Ladies and gents, we were not disappointed. And if I can save over 300 calories per serving than I'm an even bigger fan.
The creamy stove-top mac-n-cheese used whole eggs and butter in addition to canned milk and cheese. It is rich, smooth, creamy pasta perfection. This skinny macaroni and cheese is equally as delicious, slightly less rich, but still just as smooth and creamy. The magic comes from getting rid of the eggs and butter and subbing in corn starch as the thickener. Who would have thought?! Only America's Test Kitchen I tell you.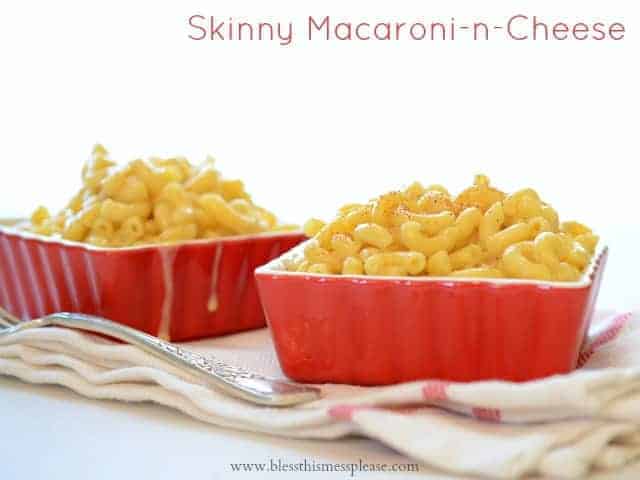 Print
Skinny Macaroni and Cheese
---
Yield:

Serves 5
Ingredients
8 ounces (2 cups) elbow macaroni
Salt and pepper
1 (12- ounce) can 2 percent low- fat evaporated milk
3/4 cup 2 percent low- fat milk
1/4 teaspoon dry mustard
1/8 teaspoon garlic powder
Pinch cayenne pepper
2 teaspoons cornstarch
8 ounces 50 percent light cheddar cheese, shredded (2 cups)
---
Instructions
In a large saucepan bring 2 1/2 quarts of water to a boil. Add the macaroni noodles and 1 1/2 teaspoons of salt and cook until the noodles are al dente. Drain the pasta and set it aside.
In your now empty pan add the evaporated milk, half of the 2% milk, dry mustard, garlic powder, and cayenne. Whisk to combine. Bring the mixture up to a simmer. Add the corn starch to the remaining half of the 2% milk, stir to combine, and then add the milk/corn starch mixture to the pan. Whisk to combine. Bring the milk mixture back up to a simmer and cook for 2 minutes, stirring often, until the mixture starts to thicken.
Remove the milk from the heat and add the cheese. Stir until the cheese is melted. Stir in the macaroni noodles and salt and pepper to taste. Let the mixture sit, off the heat, for 3 to 5 minutes untill it thickens slightly and then serve hot.
Notes
The batch I made was pretty soupy, so I just served it in bowls instead of on a plate. I'm not sure if that was something I did or just a peril of high altitude cooking. I may add a additional teaspoon of corn starch next time I make this.
I added a little extra cayenne on top of mine 🙂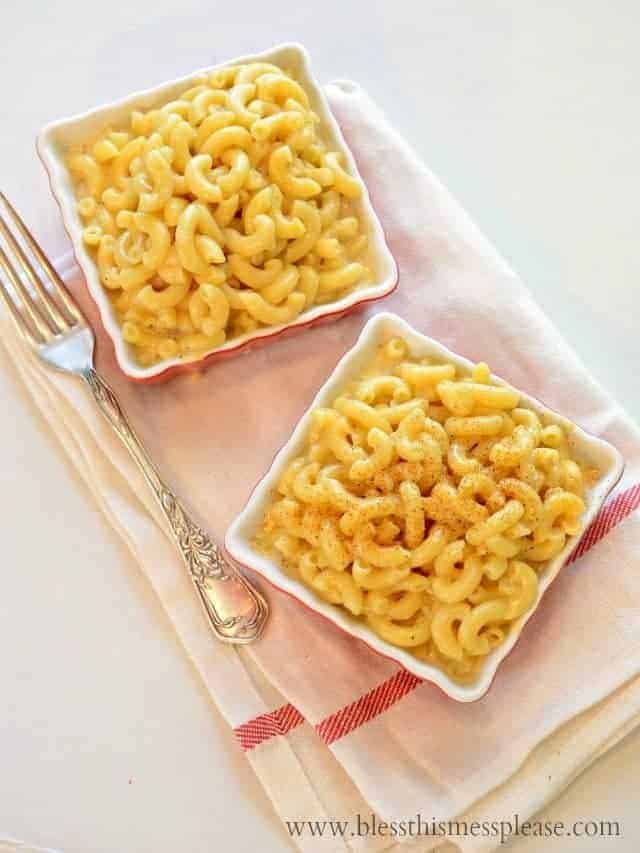 Here's the quick stats that came with the recipe (compared to traditional macaroni and cheese). Mind. Blown.


Let's take another peek at the cookbook shall we? Lightened up classics… dreams do come true.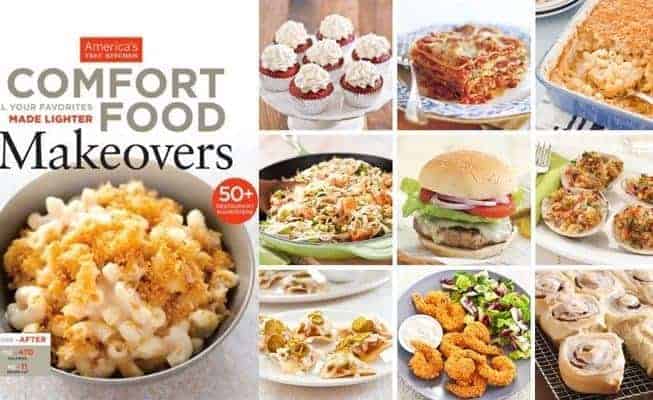 Just like the post on Tuesday, you have a chance to win a copy of the cookbook America's Test Kitchen Comfort Food Makeovers. This is the same program to enter the giveaway as Tuesday, just pasted here, so if you've already entered it won't let you enter again. But you can pre-order your copy from Amazon.
Good luck and thanks for being here.
Disclosure: I emailed America's Test Kitchen to see if they would work on a project with me. The were more than willing to supply the cookbook for this giveaway and are even doing the shipping. I'm also going to get a copy of the cookbook out of the deal (score!). I was not paid for this post/the opinions are my own because I was the one begging them to do let me do it 🙂