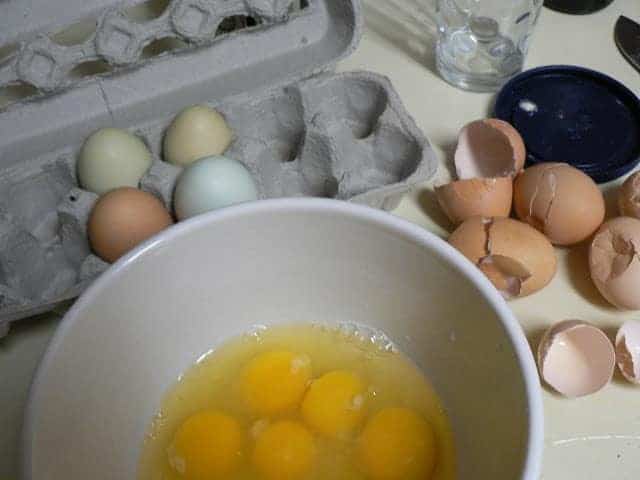 Teflon- the stuff that is on any kind of "nonstick" cookware, and even in Gore-tex clothing. I read a whole book about Teflon, how it's made, where it's made, and all of the crazy things that we KNOW it does to people.  I won't go into that, but trust you me, you don't want it anywhere near you or your kids.
Did you know that a Teflon pan heated in a small room with a canary in it will kill the bird.  The gas that it emits kills things.  Yuck. One of the very first things I did when making our "whole foods" changes, was to throw away all of my nonstick cookware. I'm not kidding.  I walked over to my pots and pans and literally threw all of the nonstick ones away.  I've never regretted it or thought twice about doing it.
So go throw out all your nonstick and use those nice stainless steel skillets you got for your wedding.
My biggest beef with not using nonstick things was eggs- any form of cooking.  I would end up with at least an eggs worth of goods stuck to the bottom of my skillet and then I had to let it soak and scrape it off.
Then I learned the tricks of the trade, which I will now share with you.
Scrambled eggs without a nonstick skillet-
Your favorite local free-range eggs (better than large chain organic any day)
salt and pepper to taste
1 T. fat of your choosing (butter or bacon drippings)
large stainless steel skillet
Place your skillet with your favorite fat in it on a burner over medium hear.  In a medium bowl break as many eggs as your family wants to eat.  Add salt and pepper and whisk with a fork.
Hint #1: Don't add the eggs until your pan has had time to completely heat up
Hint #2:  Make sure you have a nice layer of grease between your eggs and the pan
When the pan is hot, pick up the handle and give the grease a swirl to evenly coat the whole pan.  Add eggs and allow to sit until the eggs begin to bubble.
You want the eggs to start to cook before you stir. Then…
Hint #3 stir eggs with a metal spatula – you want to remove the egg from the pan not just smear it around.
Cook eggs, stirring occasionally until no longer glossy.  Enjoy!
Those hints lead to the perfect eggs without all that burnt mess on the bottom of the pan.  The rules also apply to pancakes…  now, go throw your Teflon out!