Hey all!
A few weeks ago a friend of mine asked if I wanted some product samples and details on the Rock the Lunch Box campaign he was working on. After looking at the products I had no problem saying yes. Plus May just started Kindergarten (all day in our neck of the woods!) which means I've just started packing school lunch. Perfect timing indeed. And then he mentioned I could host a giveaway too. Double win! So keep reading... it's fun for you too.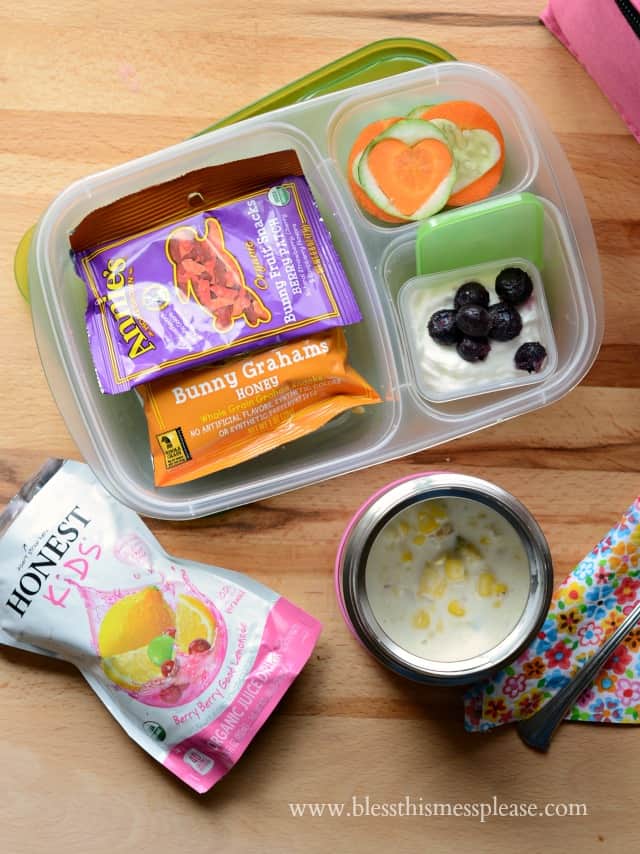 Rock the Lunch Box
A few fun brands teamed up to get Mommas excited to start packing lunches again. They created a really fun website called "Rock the Lunch Box". You can pop on and get fun lunch ideas (lots are that cute bento-style which is so popular right now) and you can even submit your own pictures of your lunch box creations. When you submit you are entered to win some big prize-packs and you'll also get coupons emailed to you (never a bad thing...).
What are the brands you might be thinking? Well they the awesome Honest Kids, Organic Valley, Stonyfield Farms, and Annie's Organic. I already buy lots of Annie's products (Cheddar Bunnies and their shells-n-cheese are our favorites) and I've heard good things about the other companies too. They sent me some products that I hadn't tried before and are a bit more on the "convenience food" side of life. When you are used to making so much of your food from scratch you forget how wonderful a little convenience is! Yes, I can make homemade graham crackers, but it sure is nice to have some Annie's Organic graham cracker bunnies to throw in the lunch box at 7 am... and with a baby due next month I was hoping to find a few foods like this to make lunch packing easier.
So pop over to Rock the Lunch Box, see what people are making, and submit your own awesome lunches.
Here are the three lunches I'm submitting!
The Left-Overs: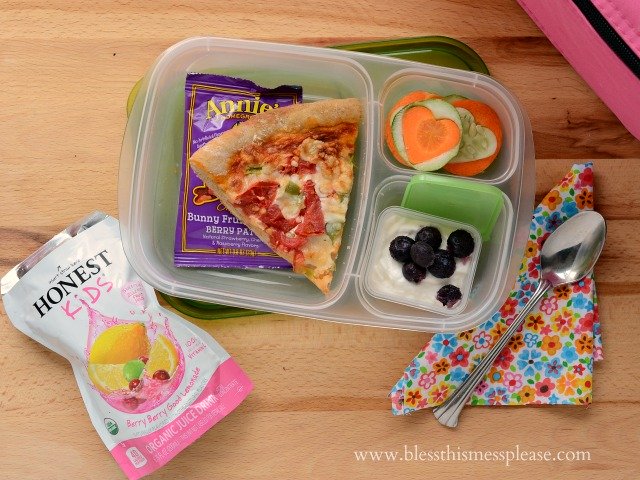 I cook tons. I generally have two weeks worth of meals planned out (here's my favorite 2 week meal plan that is all "clean meals" BTW!) and so I have lots of leftovers. A slice of 100% whole wheat pizza with peppers and tomatoes on top is the perfect start to lunch, and it's good cold! Throw in some fancy veggies, Stonyfield Farms yogurt with blueberries, an Honest Kids Berry Berry Good Lemonade (100% organic juice in a cute pouch), and some Annie's Organic bunny fruit snacks for a treat and you are all set. If you have an older kid or a big eater, throw on another piece of pizza.
Warm and Cozy: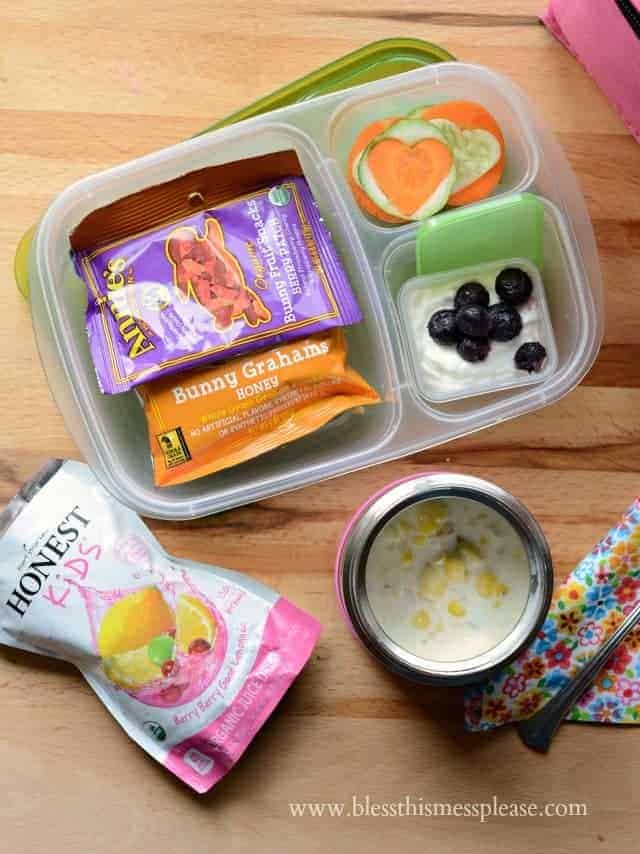 As we head into winter I'm sending more and more soups. I have leftovers in the fridge or I'll freeze 1 or 1 ½ cup portions to pull out and heat up in the mornings. This is a creamy corn and bacon chowder that I heated up and put in a stainless steel thermos. Again, send some fancy veggies, Stonyfield Farms yogurt with blueberries, an Honest Kids Berry Berry Good Lemonade, and some Annie's Organic bunny fruit snacks for a treat. This time add a package of those yummy Annie's Organic bunny grahams for a few more whole grains.
The Classic: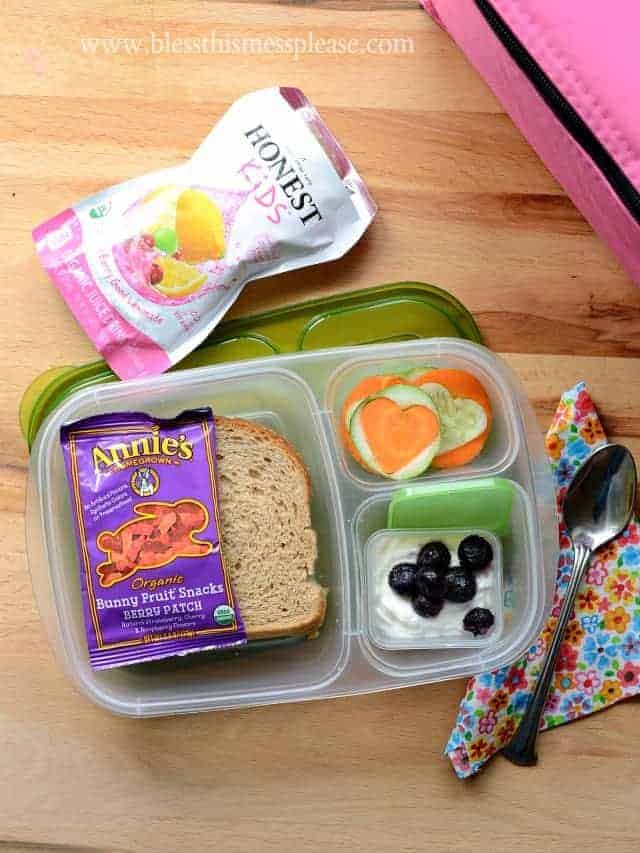 You can't go wrong with a PB&J. Natural peanut butter, homemade jam, and homemade 100% whole wheat bread - what's not to love? This is what I send at least 2 days a week because it's something that May loves. Keep the sides the same - veggies, Stonyfield Farms yogurt, an Honest Kids Berry Berry Good Lemonade, and some Annie's Organic bunny fruit snacks.
I wanted to have more than one idea for you all so I made these three lunches even though two stayed at home for the little brothers to enjoy. They sure didn't mind getting to use May's lunch containers for a change 🙂
P.S. Here's how to make those fun carrot and cucumbers with hearts: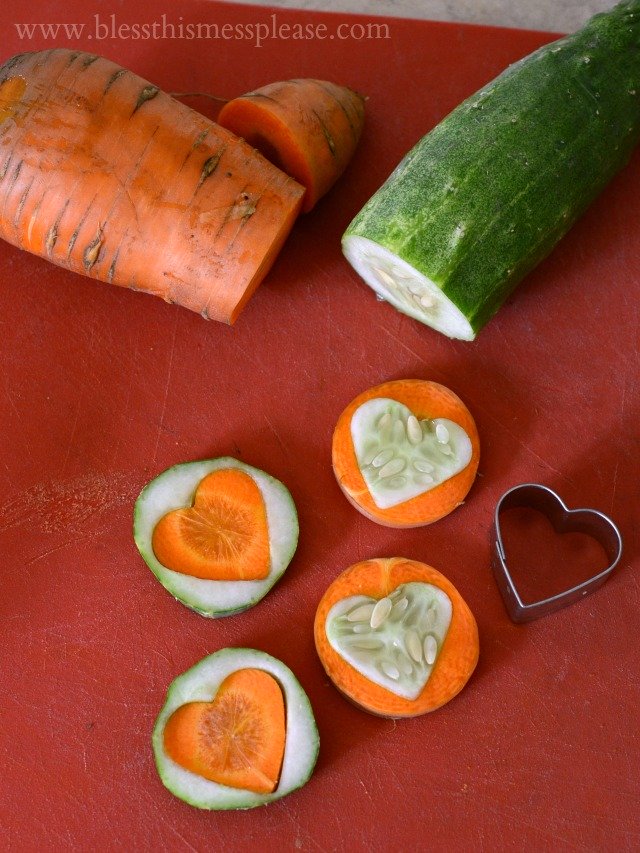 Normally things like that are on my "Ain't Nobody Got Time for That" list, but I thought I'd get fancy for the pictures. Well friends, fancy sells at this house. My kids LOVED them and when May got home from school she asked to make more. She hand-crafted a whole cucumber and carrots worth (with all different shapes in the middle) and they gobbled them up. If they are going to eat garden veggies for a snack because they got to play with them first then it's totally worth the effort. (And don't I grow a mean carrot! Those bad boys are SO fun to pluck out of the ground.)
Now let's chat about that juice.
Honest Kids is a pretty fun company that makes a mean juice pouch. We've only been in school for about three weeks and I've already realized that I can't beat that sugary chocolate milk in a cute little carton. Even if May is packing a lunch she asks to buy a milk: that stuff is liquid candy and she knows it! I don't mind letting her get it, but if I can convince her into a different option that's a bit better for her then I'm going to take it.
Let me introduce you to my trump card: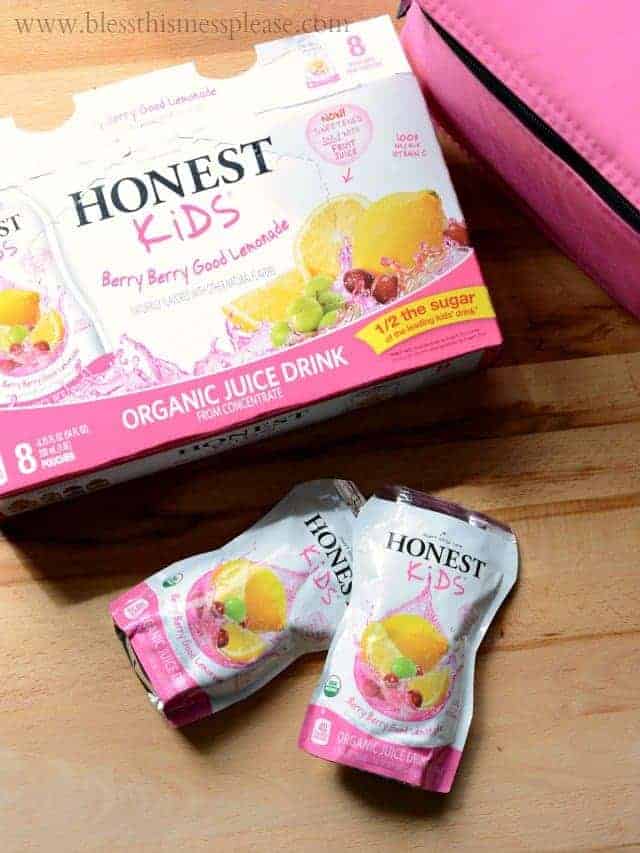 We've really been liking this juice and she's chosen juice over milk every day we've had it. The pouches are completely fruit juice sweetened but have half as much sugar as other juice boxes. They are sweet but not so sweet that the drink doesn't wash down a peanut butter sandwich. And who doesn't like something in a pouch.
Here's the best part. Honest Kids is sponsoring a giveaway!
Enter below for a chance to win a 30 day supply of Honest Kids PLUS an assortment of coupons for the other products I used from Organic Valley, Stonyfield Farms, and Annie's Organic. Now you really can rock the lunch box!
Here's where to enter:
Good luck!
This post was really fun for me to write and I hope got you excited for lunch.
Here's to feeding our kids well and enjoying the process! Thanks so much for stopping in.
Disclaimer: My friends over at the NoshOnIt Publisher Partner Program sent me some product to try from the brands that I mentioned above and Honest Tea is providing the goodies for the giveaway. I was not compensated for writing the post and as always all opinions are 100% my own. Fun products are worth sharing!