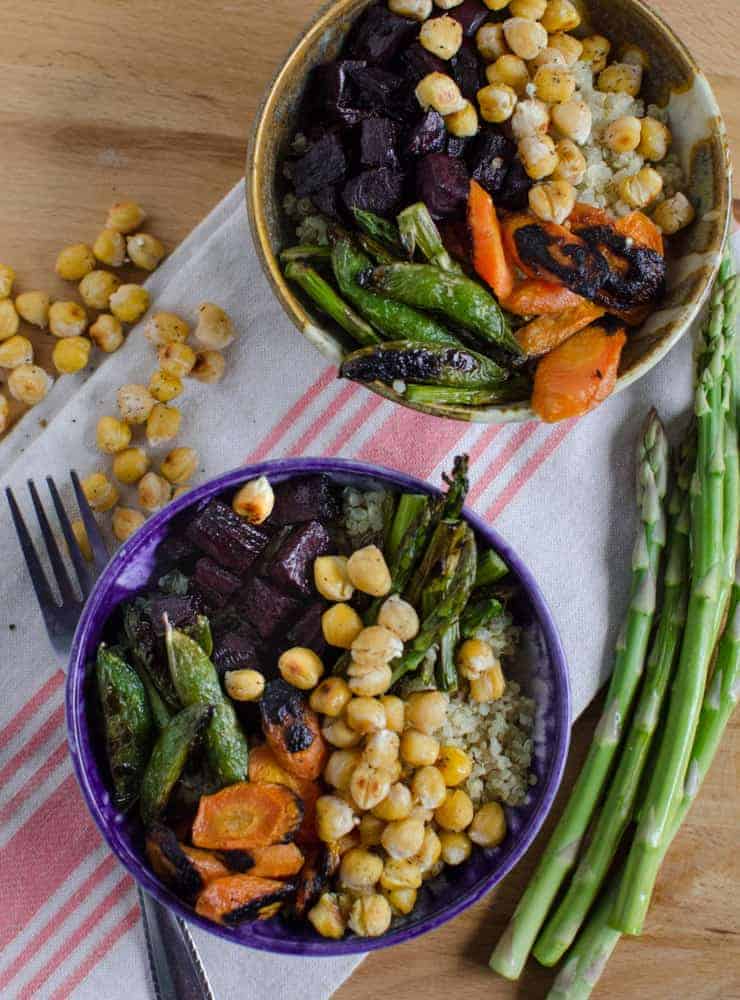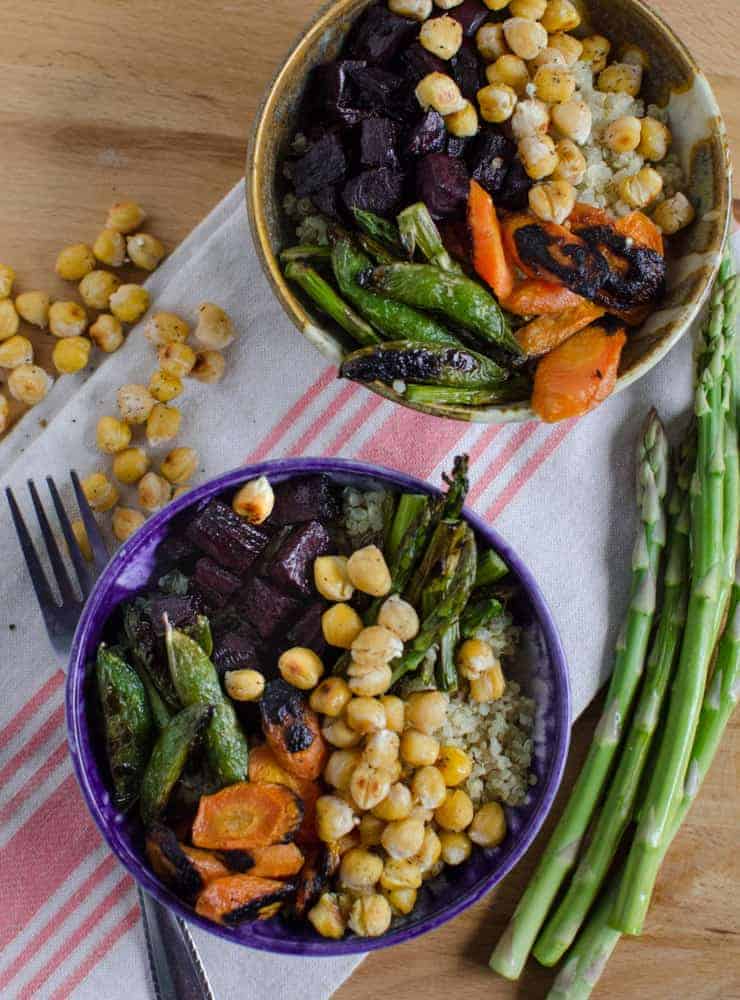 Have you heard of dinner "bowls" lately? Well if you haven't I'm here to let you in on the secret and share this simple and healthy Roasted Chickpea and Vegetable Quinoa Bowl recipe with you today. This dish is one of my favorite meatless meals and it comes together in a flash. You are going to love it!
I first started making bowls a few years ago in the form of "burrito" bowls which are essential rice topped with all the delicious things you find in tacos/burritos. They are easy to put together and very customizable. Recently I have seen a million recipes for roasted vegetable bowls and I have been making different varieties of these bowls over and over again. I think the idea behind the "bowl" meal is that it isn't fussy because you are just adding everything to a bowl, it's easy to eat, it's simple but filling, and you can't really ruin it. You end up with a little bite of everything once things gets all mixed around in the bowl and it's delicious. I'm a big fan.
My kids don't really like this meal, so I'll make the recipe as I have it written. I'll eat one serving for lunch the day I make it and then I'll divide up the rest into individual containers and reheat them later in the week for lunch. I love cooking once and eating a lot of different times. I like having some of these "bowl" options for lunch because having a simple, vegetable-based meal on hand and ready to go is awesome and helps me to eat well, but it also breaks up the salad in a jar rut that I get in often.
Have you ever roasted chickpeas? I don't love chickpeas normally (unless they are in hummus). I feel like the centers are a little too chalky for me, but when you roast them something magical happens. They get a little crispy on the outside and the insides get creamy and wonderful. I love them in this recipes. You can use just about any vegetables that you like, this was a good spring-time variety that I had on hand (this is also a great way to roast and use up leftover from your veggie box). And don't be shy with the lemon juice and salt and pepper, they are your only seasonings so you need to have enough of them.
You are going to love trying this simple dish! Feel free to make a bunch and divide it out for multiple lunches that week. It reheats very well!

Print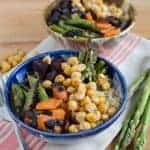 Roasted Chickpea and Vegetable Quinoa Bowls (Meatless/GF)
---
Author:

Prep Time:

5 mins

Cook Time:

20 mins

Total Time:

25 minutes

Yield:

4
Ingredients
1 can chickpeas (garbonzo beans), drained and rinsed
1 cup chopped carrots, peeled and cut on the bias
1 cup chopped beets, peeled
1 cup sugar snap peas
1 cup asparagus
1 cup sweet potatoes, peeled and cubed
Olive oil
Kosher salt and pepper
Cooked quinoa
Fresh lemon
---
Instructions
Preheat the oven to 425 degrees.
Place the chickpeas and the vegetables on a rimmed baking sheet. Drizzle with olive oil and then sprinkle well with salt and pepper. Roast in a hot oven until the beets and sweet potatoes are fork tender (about 20 minutes).
Serve the roasted vegetables and chickpeas over hot cooked quinoa. Adjust the salt and pepper to taste and add plenty of fresh lemon juice before serving. It's also delicious with a little hot sauce.
Notes
I didn't love quinoa until I started buying the prewashed kind and then cooked it in chicken stock. It tastes a million times better when those two things happen.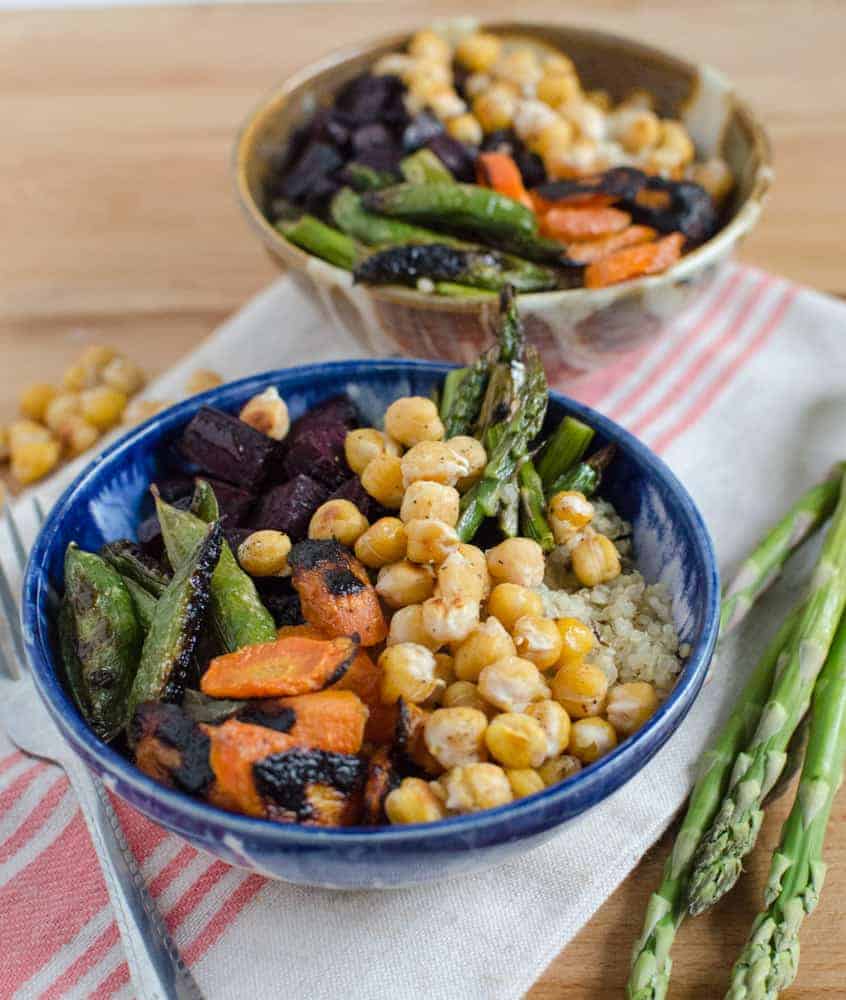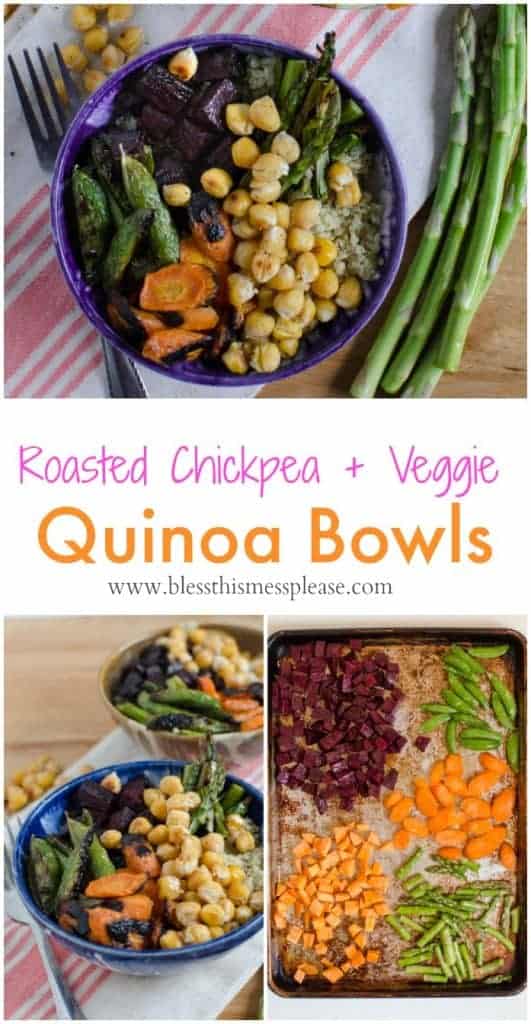 How easy is that? You really can't go wrong with something so simple, healthy, and filling.
You might also love these bowl recipes:
Cauliflower and Quinoa Power Bowl from Wholefully
Mediterranean Quinoa Bowls with Roasted Red Pepper Sauce from Pinch of Yum
Chicken Quinoa Burrito Bowls from Gimme Some Oven