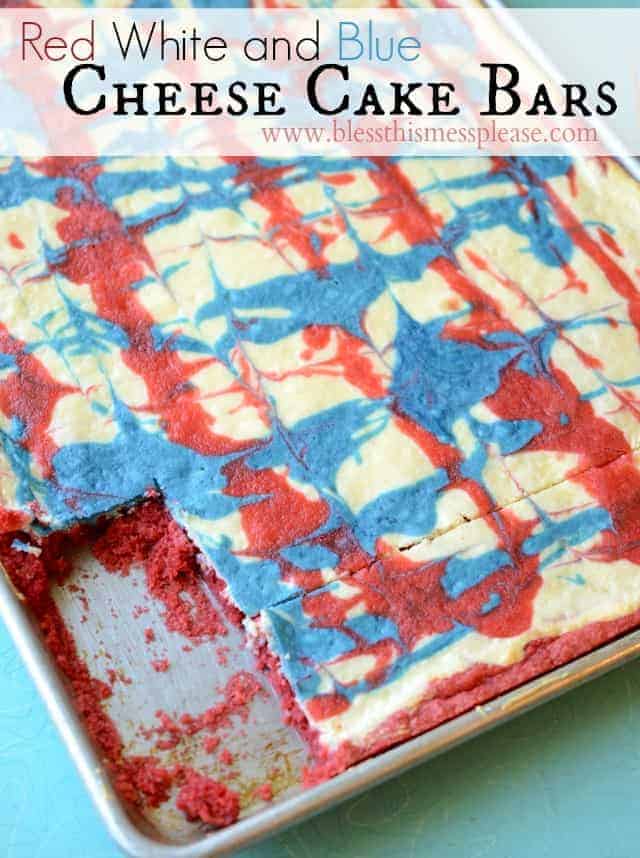 I spent all weekend with my mom, dad, and 3 of my 5 siblings! It was awesome. Most of the time we drive to Kentucky to see them but I thoroughly enjoyed the rare event of them coming to see me! One sister is living with us this summer and Mom and Dad just dropped off my brother to live with us too. It's going to be a really fun summer that I hope we all remember for a long time. Our poor baby sister is now the only child at home and I don't think her or Mom are going to know what to do with themselves.
The weekend was awesome and then I sat down this morning to catch up on emails and was shocked at the date. The end of June already?! That means the 4th of July is just around the corner. I'm sure that if you are like me, that means lots of family reunions, parties, and chances to eat. Oh, how I love a holiday that is celebrated with good food. These red white and blue cheesecake bars are just what you'll need to take. They make a bunch, travel well, and can be made the day before! You can't beat that, plus they are cute and taste great.
If you are new to the blog you know I love these bars. I've made similar red velvet cheesecake bars and brownie cheesecake bars, all of which are party worthy. The addition of blue to the top just makes this batch perfect for an Independence Day party!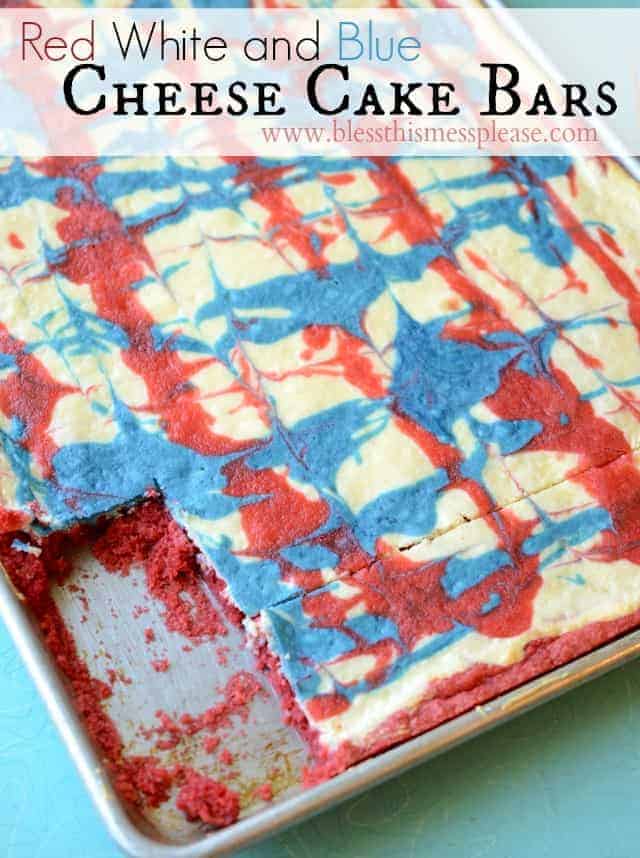 Pssst. Don't forget to grease the pan or your's will stick a bit like mine did in the above picture… oops! They still tasted good.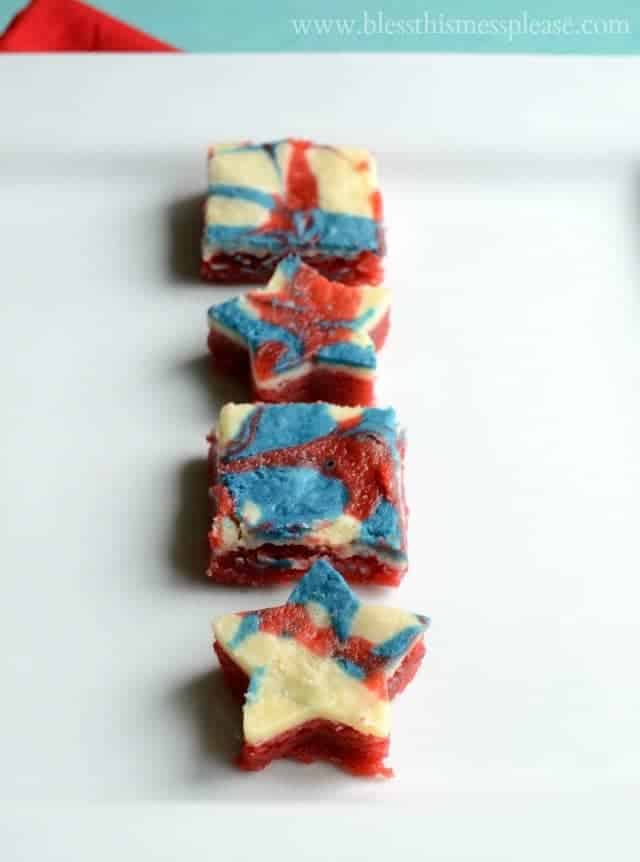 Print
Red White and Blue Cheese Cake Bars
---
Yield:

Makes

36

to

40

bars

1

x
Scale
Ingredients
Red Velvet Layer:
3 1/4 cup

s flour

2 1/4 cup

s granulated sugar

3 tablespoon

s cocoa powder

1 teaspoon

salt

1/2 teaspoon

baking powder

3

large eggs

1 cup

vegetable oil

4 tablespoon

s milk, divided

1 tablespoon

vanilla extract

1 tablespoon

red food coloring

2 teaspoon

s white vinegar
Cheesecake Layer:
2

8-ounce packages cream cheese, softened

3/4 cup

granulated sugar

2

large eggs

2 teaspoon

s vanilla
Few drops blue food coloring
---
Instructions
Preheat the oven to 350 degrees. Grease with butter or cooking spray a 13×18 jelly roll pan and set aside.
In a large bowl, or the bowl of your stand mixer, add the flour, sugar, cocoa powder, salt, and baking powder. Stir to combine. In a small bowl add the eggs, oil, 2 tablespoons of milk, vanilla, food coloring, and white vinegar. Whisk the wet ingredient to combine. Make a well in the center of the dry ingredient and pour the wet ingredients into the center. Mix until well combine or with the cookie paddle attached, mix on medium-low speed until well combined. The batter will be very thick.
Remove about 3/4 of a cup of the batter and put it in a small bowl (or the bowl the wet ingredients just came out of) and set aside. Spread the rest of the batter in the bottom of the jelly roll pan.
To make the cheesecake layer combine the cream cheese and sugar in the bowl of your stand mixer and beat on medium speed until well combined and fluffy, about 3 minutes. Add the eggs and vanilla and beat another minute until well combined. Remove a half a cup of the cheese cake layer and set aside. Spread the remaining cheesecake layer evenly on top of the red velvet layer in the pan.
Add the remaining 2 tablespoons of milk to the red velvet batter that you saved in the small bowl. Use a fork to whisk and combine it well. Drop the now thinned batter by small spoonfuls over the cheesecake layer. Add a few drops of blue food coloring to the cream cheese layer and stir to combine, thin with 1 tablespoon of milk if needed. Drop the blue batter by small spoonfuls over the red and white layer.
Use a toothpick to marble the cheesecake and colored batters together. You just pull the toothpick across the top of the dessert with a bit of a swirling motion. Do this until it is marbled as much as you like but take care not to mix the red and blue so much that you get a purple.
Bake the bars for 28-30 minutes, rotating the pan half way through baking. Let the bars cool in the pan for 20 minutes before cutting. Store leftovers in an air-tight container in the fridge.
---
Notes
This is a really sturdy dessert bar when cool and a great candidate for cookie cutters! Bring on the stars.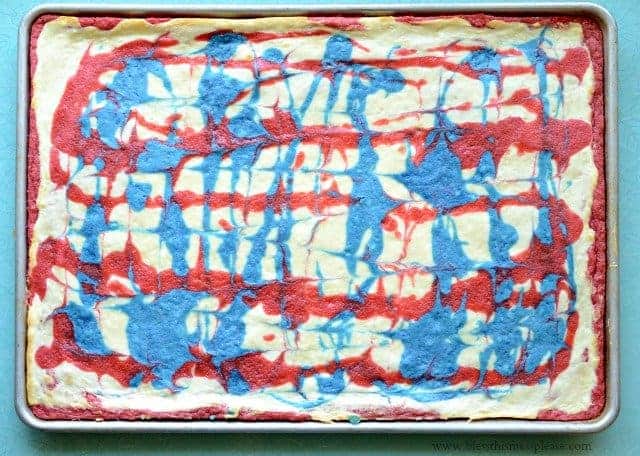 If I were you'd I'd make a test batch of these just to make sure they are perfect for your party 😉
It's just a suggestion.
Thanks so much for reading.