Hey friends! Life is so crazy right now. We are literally a day or two away from opening the hardware store that we've been working on for almost 2 years. We are waiting for the building inspector to come one last time and issue our occupancy permit. While we are knee-deep in the final stages of cleaning and general business I have my friend Emily here to share a great recipe for Ranch Chicken Bake (no ranch packet included! Yay!). By the end of the week I should have a post on the hardware store for you as well as one other super exciting announcement. Stay tuned! It's also the last day to enter to win some fun lunch box gear, details here. Have a great Labor Day!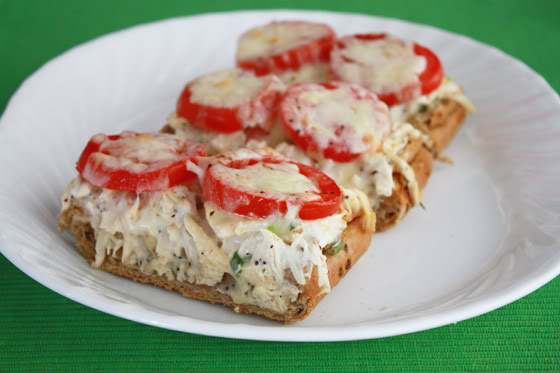 Hello Bless This Mess friends! Glad to be here! Are you surviving this summer?
This time of year, I have a few important goals:
1. Eat many popsicles. Like, a lot lot lot of popsicles.
2. Squeeze the last few fun moments of summer in (movie nights, playing in the water, etc.)
3. Try not to heat up my house. In any way.
This usually means lots of quickly cobbled together dinners. Thankfully, my family is okay with something like smoothies and eggs and bacon for dinner on the days it's just really TOO hot to cook much. But for days where you're looking for something more substantial or want to change things up a bit, this is a great recipe.
Simple, but flavorful, this is an easy open-faced sandwich that you can pair with salad or fruit and call it done. It's easy to throw together after a long day and very customizable. You can use homemade ranch dressing or your favorite store-bought kind, swap the cheese for any that strikes your fancy, or (our favorite variation) add a little crumbled bacon!
So, next movie night (or hot night, or busy day) give this recipe a try. You might even have room for a few popsicles after!
Note: A few homemade ranch dressing recipes you might want to try...
Print
½

large loaf French bread (cut the whole loaf in half lengthwise and save the other half for another time)

1

lb. chicken, cooked and shredded

1

-

1 ½

cups grated mozzarella or Monterrey Jack cheese

1

-

2

tomatoes, sliced or diced (diced is easier for little ones to manage)

2

green onions, sliced
Ranch dressing (see recipes above)
optional: 1-2 slices bacon, cooked & crumbled
---
Instructions
Preheat broiler, or bring oven to 400.
In a small bowl, combine chicken, green onions, and enough ranch dressing to make a chicken salad (some people like very little, others prefer more dressing). Scoop and spread onto bread.
Top with tomato and sprinkle with cheese. Bake just until cheese is bubbly and golden.
Cut into slices and serve.
Notes
Recipe by : One Lovely Life