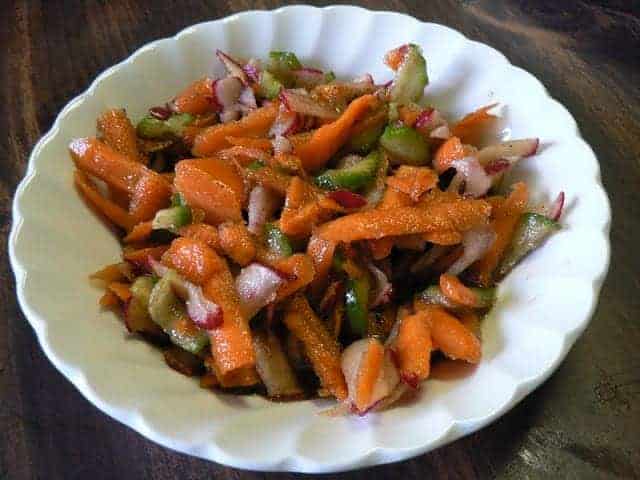 I love getting Bountiful Baskets because it gives me a whole bunch of fruits and veggies that I feel obligated to use!  I can't let something go to waste, so we eat a lot more fresh things this time of year than we might otherwise.  A bunch of radishes came this week.  I've stuck them in salad and eaten some with salt, but thought I'd try them in a slaw/salad mix.  We had this with a noodle dish and cantaloupe!  So summery…
Radish, carrot, and cucumber Slaw
8-10 medium sized radishes
2 medium carrots, peeled
1/2 cucumber
Olive oil, around 1 T.
Basalmic vinegar, around 1/2 T.
kosher salt, around 1/2 t.
pepper, to taste
sugar, or your favorite sweetener, around 1/2 t.
This isn't really a recipe, it's a method… just run with it!
Wash and grate all of your veggies on your biggest holes.  Throw them into a bowl and add the oil, vinegar, salt, pepper, and sugar to taste.  Serve right away or it gets mushy!