Quick and easy pumpkin macaroni and cheese is such a delicious classic meal with a fun (and easy to hide) twist to infuse a healthy veggie into this forever favorite family dish!
Any mac and cheese devotees out there? I think pretty much any of us with kids are making and eating this staple at least once a month, so here are some fun recipes to mix it up: Creamy Baked Macaroni and Cheese with Bacon, Easy Homemade Mac and Cheese, and Butternut Squash Macaroni and Cheese (a similar one to this recipe!).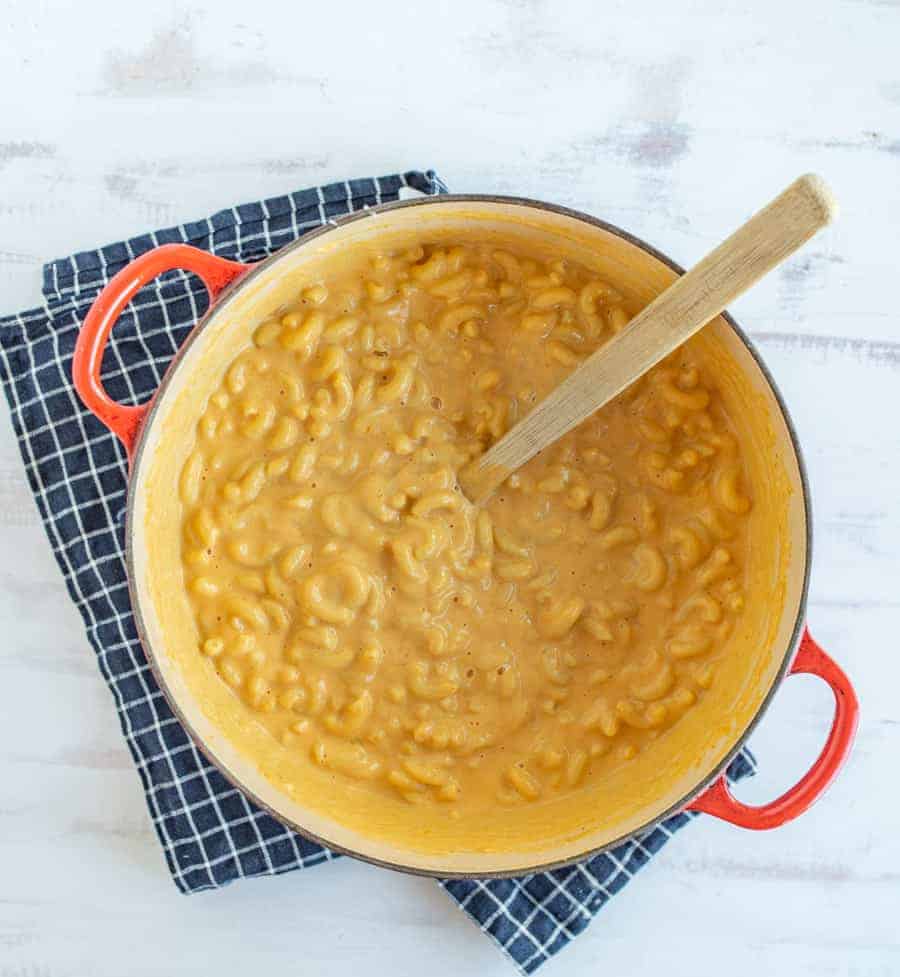 Pumpkin Macaroni and Cheese Recipe
Does it get any better than a big bowl of steamy, hot mac and cheese? I think it might be one of my favorite comfort foods of all time, and I'm completely convinced that anyone who doesn't like mac and cheese has a few loose screws, if you know what I mean! I just adore this pumpkin rendition -- it adds a little squashy, sweet flavor while bringing something creamy to the consistency!
If I add a full can of pumpkin puree to the dish, my kids can tell it's not the old-school version, and they aren't necessarily crazy about all the squashiness (although, I loved it). So, I made this recipe with just a cup of the puree and think it's a perfect balance of noodles, cheese, and pumpkin goodness. Be careful not to under-salt it, either, or else the full potential of delicious flavors won't totally come out! This is a perfect, easy homemade dish for extra-chilly nights when you just need something warm and comforting!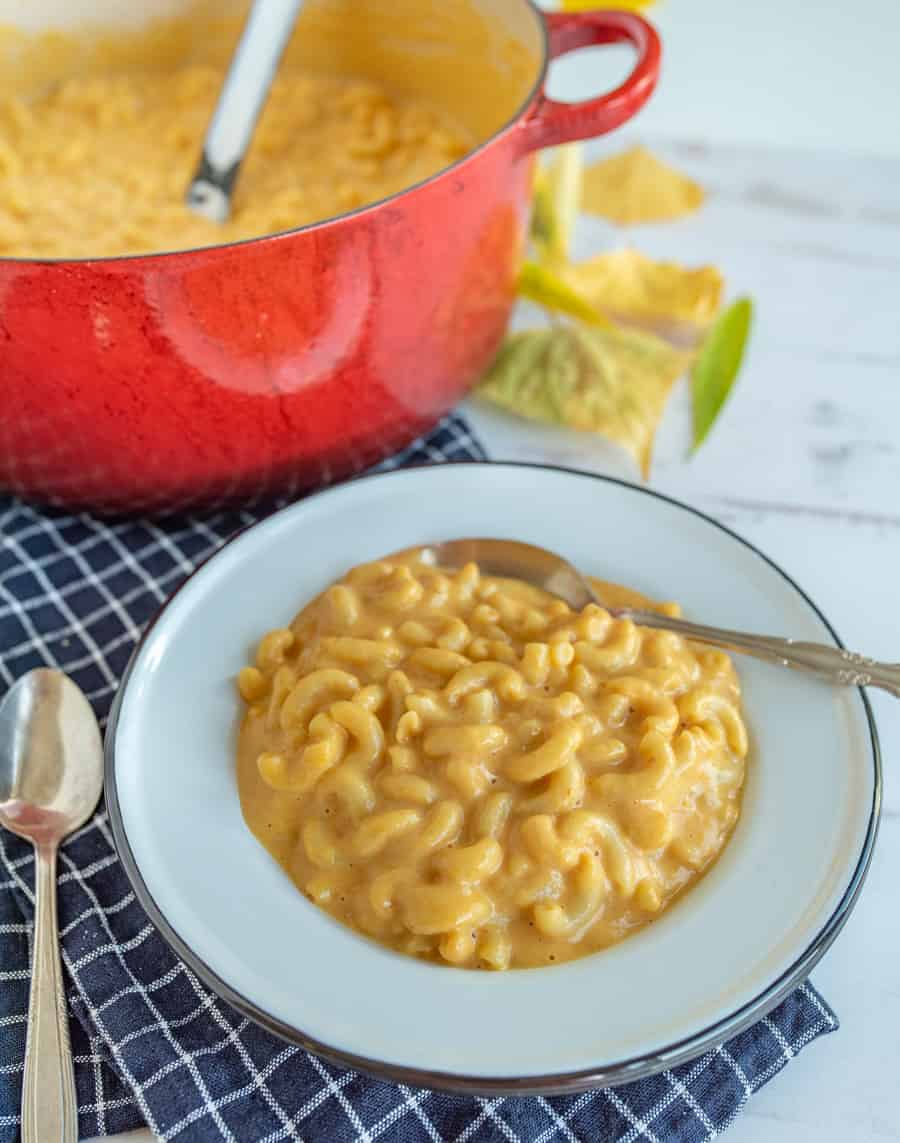 What kind of cheese is best for mac and cheese?
Something fun about homemade mac and cheese is that you can really get creative and use what you like! Some of the best cheeses for mac and cheese are cheddar, fontina, gruyere, parmesan, and pecorino. In this recipe, I happen to think cheddar and a little parmesan mix best with the pumpkin puree, but certainly experiment with what you like and have!
How do you make macaroni and cheese on the stove?
It's actually so simple to make mac and cheese on the stove, even from scratch! Cook your noodles according to the package, but pull them off the stove a minute earlier than advised on the package. Drain the noodles, reserving one cup of pasta water. For this recipe, you'll want to whisk up the evaporated milk, pumpkin puree, eggs, and seasonings in a bowl while the noodles cook.
After draining the noodles, add them back to the pot over low to medium-low heat. Stir in the butter until incorporated, and then the pumpkin mix until incorporated, and then half of the cheese until incorporated, followed by the rest of the cheese, and finally a few splashes of pasta water (or milk) until it reaches the creamy consistency you like, about a ½ cup! Add plenty of salt and pepper to taste, and serve warm!
What goes good with mac and cheese?
In my opinion (and in the opinion of my kids), mac and cheese is a perfectly acceptable main dish! You could serve it with roasted broccoli, a side salad, or a crunchy slaw on the side for a little bit of green and freshness.
What is the best pasta for mac and cheese?
The trick to picking mac and cheese pasta is you want something with grooves and pockets to catch and hold onto the cheese sauce. (My stomach is grumbling just typing this!) I recommend traditional macaroni noodles because their hollow interior is the perfect catcher of cheese, or medium shells because they're just fun!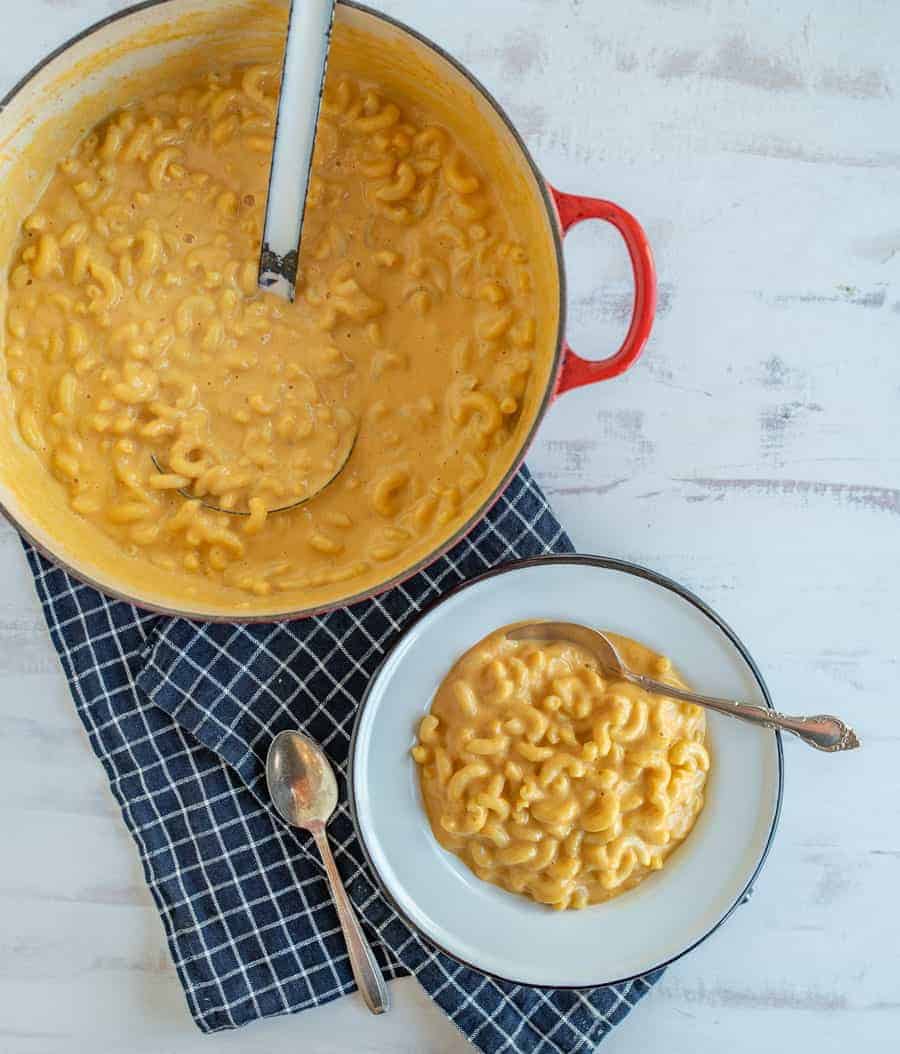 Oh pumpkin everything, how I love you. This is party of PUMPKIN WEEK! My favorite week of the year on the blog and today my friend Alli at Longbourn Farm is sharing a delicious pumpkin cinnamon roll recipe. I can't wait to make that to go along with this easy dinner!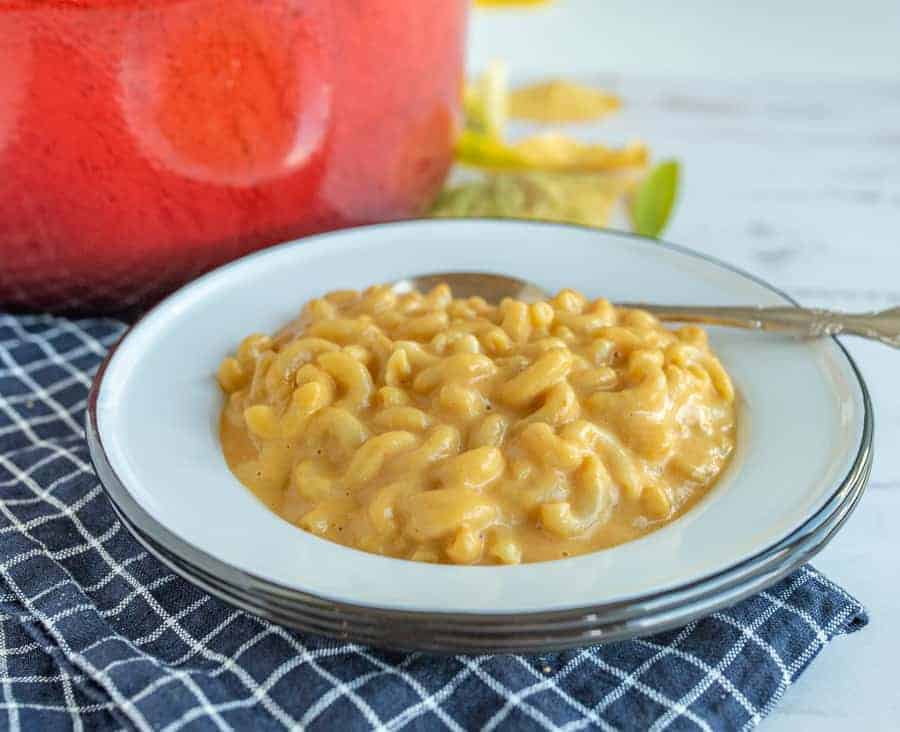 Print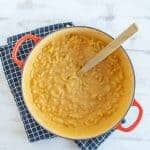 Quick and Easy Pumpkin Macaroni and Cheese
---
Author:

Total Time:

25 minutes

Yield:

Serves 8
Description
Quick and easy pumpkin macaroni and cheese is such a delicious classic meal with a fun (and easy to hide) twist to infuse a healthy veggie into this forever favorite dish!
---
1

pound macaroni or medium shells

1

can evaporated milk (

12 ounces

)

1 cup

pumpkin puree

2

eggs

1 teaspoon

garlic powder

1 teaspoon

dry mustard powder

1

pinch nutmeg

¼ teaspoon

cayenne, optional

1 teaspoon

salt

2 tablespoons

butter

3 cups

freshly grated sharp cheddar cheese, about

¾

pound

1 cup

freshly grated parmesan, about

2 ounces

Additional salt and pepper, to taste

1 cup

reserved pasta water (water the pasta cooked in) or 1 cup milk
---
Instructions
Bring a large pot of water to boil. When the water is boiling, add the pasta and cook 1 minute short of the time indicated on the package, about 10 minutes.
While the pasta is cooking, add the evaporated milk, pumpkin puree, eggs, garlic powder, mustard powder, nutmeg, cayenne if using, and 1 teaspoon of salt to a medium bowl. Whisk well to combine.
When the pasta is done cooking, drain off the water (reserving 1 cup of the cooking liquid) and return the pasta to the pot it cooked in.
Return the pot to the stove, and put it over medium to medium-low heat.
Add the butter, and stir until melted.
Add the pumpkin mixture, and stir to combine.
Add half of the cheese, and stir well.
Add the other half of the cheese, and stir until melted.
If the mixture is very thick, add a little bit of the pasta water or a splash of milk, a little at a time, until the desired texture is achieved. It should be creamy but not globby. I added about a ½ cup of pasta water.
Add salt and pepper to taste.
Serve right away.
Notes
I tried this recipe using a full 15 ounce can of pumpkin. I liked it, but my kids knew that it was, indeed, not real mac and cheese. If you like squashy things, you can add more pumpkin.
Don't under-salt this dish -- it's important to have enough to bring out the other flavors.
Prep Time:

10 min

Cook Time:

15 min

Category:

main dish

Method:

stove top

Cuisine:

American
Keywords: macaroni and cheese, mach and cheese, pumpkin, pasta, healthy, easy dinner
Love mac and cheese? You might also love these recipes:
I can't get enough of this quick and easy pumpkin macaroni and cheese made on the stovetop in less than a half-hour with all the cheesy goodness of the classic comfort food dish, plus a savory touch of pumpkin flavor, too!