Quick and Easy Peach Pineapple Popsicles have 2 ingredients and take a full 2 minutes to throw together. The only hard part is waiting for them to freeze.
My Easy Healthy Rainbow Popsicles and Strawberry Banana Popsicles recipes are two more very easy and delicious popsicles that use real fruit and make the perfect treat for a hot, summer day.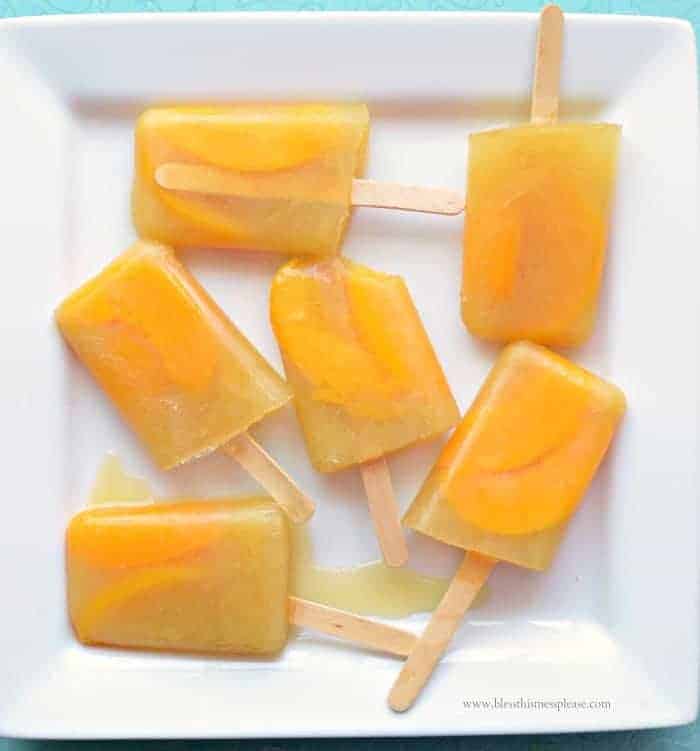 Quick and Easy Peach Pineapple Popsicles
Today is our very first Monday of summer break and we are celebrating in style. The house is scattered with building blocks, we plan on going to the little local pool after lunch, our summer reading point charts are ready to be marked, and homemade popsicles are pretty much the only thing my kids want to eat. These Quick and Easy Peach Pineapple Popsicles are just as great as the name sounds! They have 2 ingredients and take a full 2 minutes to throw together. The only hard part is waiting for them to freeze. I often will make popsicles at night when my kids are in bed so that they aren't asking me all day long if they are frozen yet. Kids have the memory of elephant when it comes to popsicles, I tell you! They just can't forget when there are popsicles in the freezer. Too bad this phenomena doesn't apply to where they left their shoes…
I love making popsicles with all kinds of fruit, covered in fruit juice. It's incredibly simple but it's also full of fiber and looks gorgeous. It's also a really easy "recipe" for your kids or grandkids to make on their own. My other favorite trick… enjoy your favorite smoothie with the kids for afternoon snack but plan on making extra. Throw the rest of the smoothie in your popsicle molds and they'll be ready in the morning. Easy! I do own about 5 different popsicle molds and I'm thinking about writing a post on them. Stay tuned.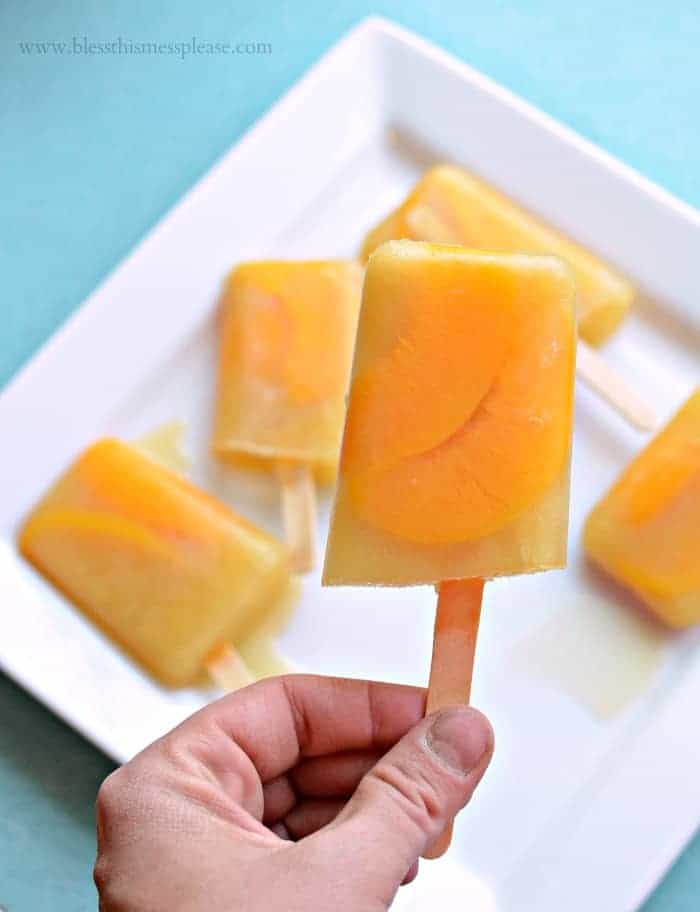 How do I make popsicles without a mold?
Instead of popsicle molds you can use plastic or paper cups with popsicle sticks! Fill the cup with the fruit and juice, then cover the cup with plastic wrap. Poke the popsicle sticks through the plastic wrap and into the juice. The plastic wrap holds the popsicle stick in place! Then pop them out when they are frozen and ready to eat.
How do I store homemade popsicles?
You can store the homemade popsicles in their molds or in an airtight container or bag in the freezer. If you layer the popsicles on top of each other, then separate the layers with plastic wrap or wax paper to keep them from freezing together.
Can I use other fruit/juice combinations?
Absolutely! You can do a true peach with peach juice, use pineapple chunks instead of peach chunks, or throw in other fruits and juices! Do whatever sounds yummy to you, just remove and skins or peels from the fruits.
Print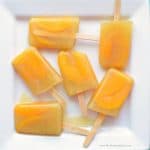 Quick and Easy Peach Pineapple Popsicles
---
Author:

Prep Time:

5 minutes

Total Time:

8 hours

Yield:

6 popsicles
Description
Easy Peach Pineapple Popsicles are 2 ingredients and take a full 2 minutes to throw together. The only hard part is waiting for them to freeze.
---
Ingredients
Fresh, frozen or canned sliced peaches
Pineapple juice
---
Instructions
In your favorite popsicle molds add a few slices of peach and fill the mold with pineapple juice. Add your sticks and freeze until solid (at least 8 hours but plan on overnight).
To remove easily run the outside of the mold under warm water and then pop the popsicle out. Enjoy right away.
---
Category:

snacks

Method:

frozen

Cuisine:

American
Keywords: popsicles, homemade popsicles, peach, pineapple, pineapple juice, how to make popsicles, quick and easy
Want To Save This Recipe?
More Cold Treats to try:
This post was originally published in 2015 and has been updated in September 2019.
Homemade Peach and Pineapple Freezer Pops are so quick and easy to make, using fresh fruit and juice for a delicious cold treat!