Hello you! I mentioned in my Confessions post last week that Lil Luna wasn't the only fancy blog that I am a contributor for this year. We'll it's time to let you all in on the secret. I'm also working with I Heart Nap Time! Many of you know and read Jamielyn's blog (it's amazing) and I'm so excited to be a part of it. It's a really big opportunity for me and I hope that it helps me to grow, grow, grow. It's so much fun sharing recipes and food love and now I have access to an even wider audience! It's a blogging dream come true.
Today I'm sharing a really easy recipe for Pulled Barbecue Pork Quesadillas at I Heart Nap Time, just in time for Super Bowl parties. And if you aren't into football they'd make a great lunch or dinner with a side of sweet potato fries. You can find the recipe the them here.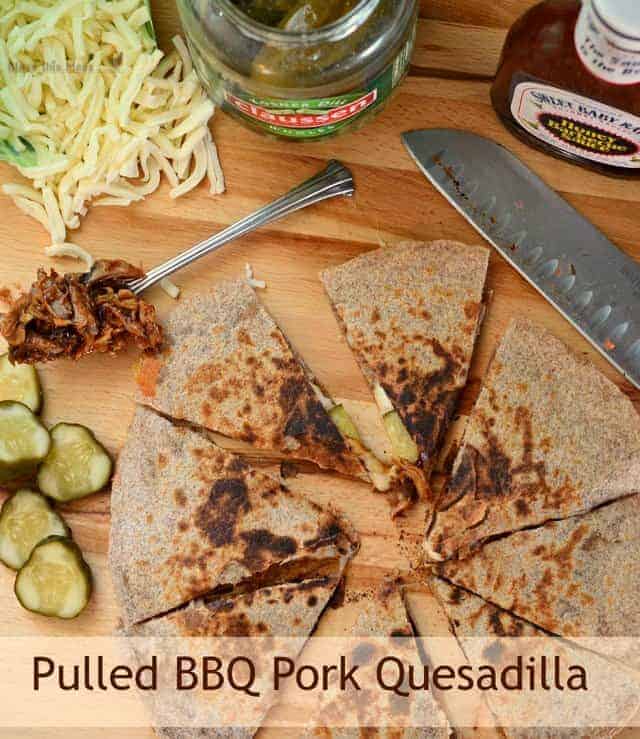 I applied in December to both I Heart Nap Time and Lil Luna to be a contributor. When word came back that I had been accepted for both I was shocked and excited; I had hoped for one, but never expected both. And then I got an email from burlap+blue asking me if I'd be a contributor there too. I did lots of thinking and worrying about this. If I said yes to all three then that would put me at 2-3 guest post per month which means you all would have to go to someone else's blog for the recipe that often. It was something I decided that I wanted to do, but I worried what you would think. Would you be annoyed? Is it unfair to you to be writing for so many other people? I voiced some of this concern to my mom and she thought if I had something else fun to share on guest post days then I would still be true to my readers and my own blog.
So a few times a month expect a recipe somewhere else plus a fun little side note. Last week I showed you my hutch decorated for Valentine's Day along with my Orange Dreamsicle Popcorn on Lil Luna and today I thought I'd share some fun thrift store finds from this week. I probably wouldn't have posted about those things on their own, but they are a fun little addition to a recipe on someone else's blog.
What do you think? Is that a fair middle for us both?
Now on to the thrift store treasure! Moving to the middle of no where really put a damper on my thrifting. There is one small DI in town and there's just a lot less people feeding their things into it. I still love it, but the treasures seem fewer and farther between. That being said I had a great day on Saturday. I took the baby and the oldest with me (which is way easier then all three kids) and so I had a little more time to look, which also helps.
This is what I came home with, plus a cute little robot that moves and a purple Care Bear that May added to her growing collection. I was just a hair over $20 on the whole lot.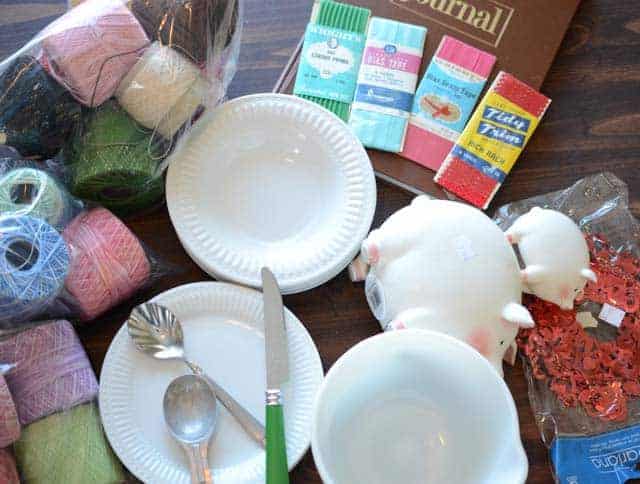 Now let's take a closer look: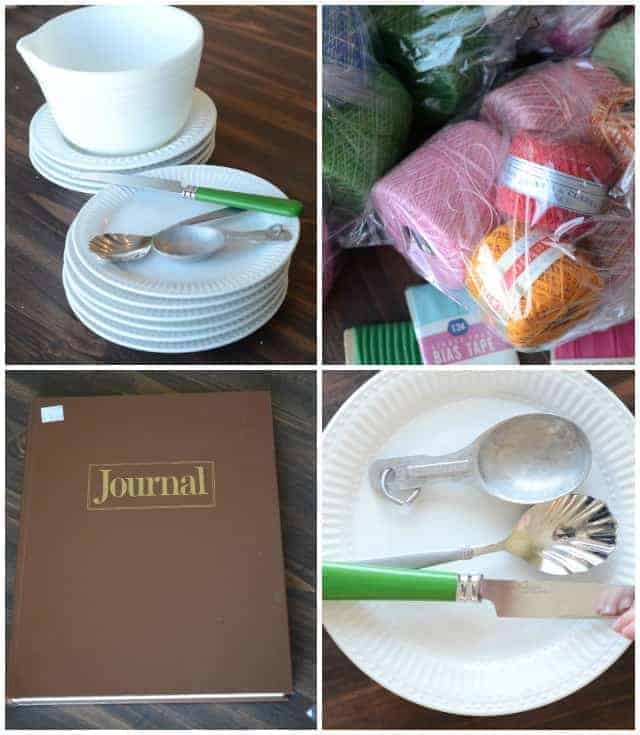 I love white dishes. I have a hodge-podge of 4 or 5 different sets, but it works because they are all white. I love real dishes but my kids are kind of hard on them. We were in need of some more bowls and little plates and I really liked the ones I picked up. Plus I think they'll do well for food pictures. The random spoons and green knife are purely for food styling 🙂 Collecting food props is a hobby really.
The white bowl is gorgeous and I wish you could see it better. It is old school Pyrex and has a milk glass look to it. Plus is is oven and microwave safe, which I needed. So pretty and a $2 well spent.
The journal is in great shape and has no writing in it. I thought it would be fun to cover in fabric or something. That's still to be decided.
The old sting/yarn/twine I thought I could use in place of baker's twine in food styling plus future crafting endeavors. At $.75 a bag it is much cheaper than baker's twine.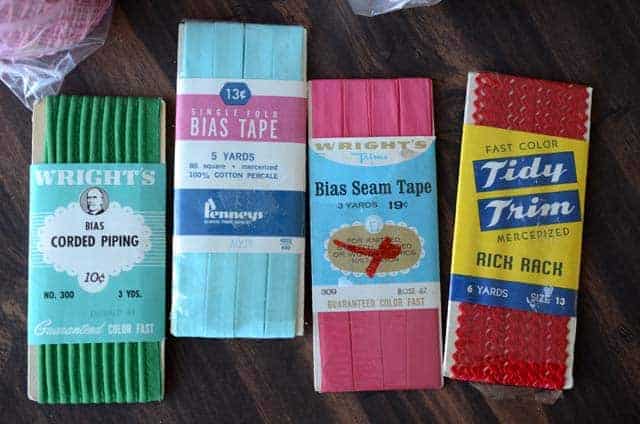 Someone must have just cleaned out their grandmother's sewing stash because there were tons of vintage sewing notions, and I bet all that twine came from the same place. I think I can use most of this but they are also pretty. Can you see where is says how much they cost? Adorable right? There were at least a dozen more there and if I had a sewing room I would have snatched them up and framed them for wall art. Ok, now I'm regretting not getting more.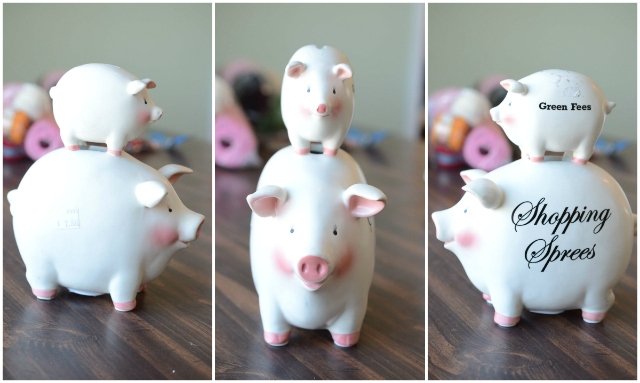 Random double piggy bank... I've seen lots of people getting animals, deer heads, and the like and spray painting them and then using them for decor. That's the plan with this guy (or gals). I'm thinking a yellow or green. Plus, I really could use some where to put my change. It's kind of cute on the hutch in the mean time too.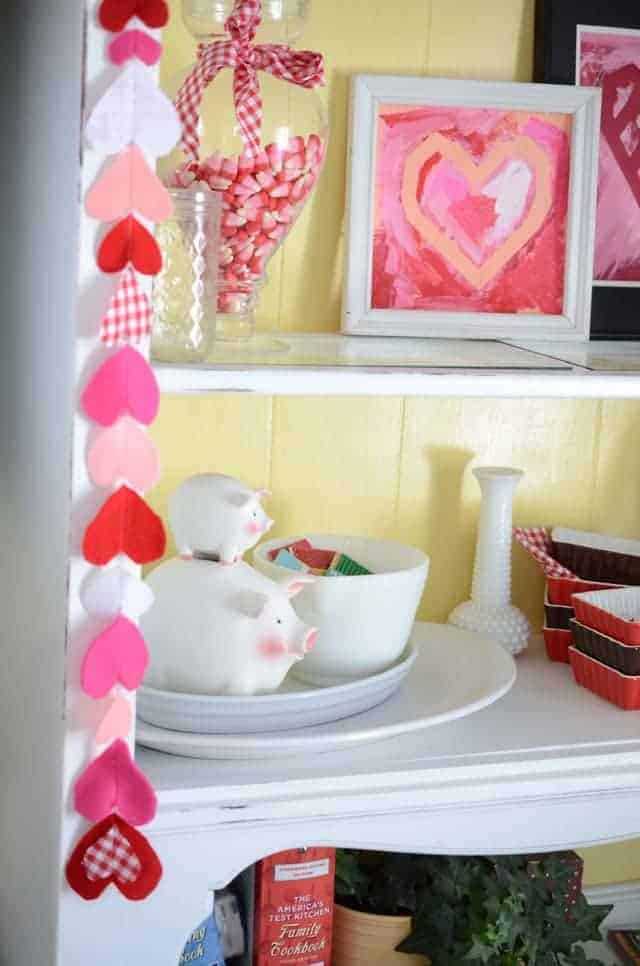 There you have it. A more random but fun post so that you don't feel slighted and I don't feel like I'm short-changing you on a guest post day.
PS John and Sherry are having a funny thrift store link party today and this post was perfect. More link love here!