How is our goal of ponderizing and not yelling going for you?
The no yelling bit is going really well still for me. That fact that I'm going to tell you about it is super motivating, but more than that is I've felt very lifted up in your kind words, emails, and messages to me. I am not alone in this struggle and if you've gotten into the habit of yelling, you aren't alone either. Thank you for helping me to not feel alone, there's so much power in support.
I wanted to ask you all another question. How can I teach my kids service, how to love people who are different from them, and how to be grateful? My friend Ashley at Lil Blue Boo (we met at a conference once and she is an amazing woman), posted a picture of her daughter and her husband serving at a soup kitchen in their area. She said that it is their weekly date to go and do this together. I melted! That sounds like the perfect one on one time with a child. It teaches them so many things like service, to be grateful for the things they do have, and to love people who are different from them, plus daddy daughter relationship are huge. Way to go
I'd like to think that we would be doing those kinds of things with our kids if they were available but the closest soup kitchen is hours and hours away. We thought about doing "Thanksgiving in a bag" to some members of our community, but we worried they wouldn't actually know how or want to cook a whole turkey. We do little things like take a plate of supper over to an older man we know a few times a week or deliver treats and goodies to people, but it just doesn't feel like enough.
I adore where we have chosen to raise our children; we were very intentional about settling here. It's a tiny community with a huge heart and I like to think that we take care of each other. That being said, I feel like my children lead a pretty sheltered life (that's wonderful most of the time!). How do I teach them to love people who aren't like them when who they come into contact with are very much like them. I want to travel with them and show them more of the big wide world while holding their hands but man alive is that hard to do when you have a bunch of tiny kids and own a few businesses.
How do I teach them to be grateful? Christmas is just around the corner and though our Christmas' tend to be more conservative than the average, the kids still tend to get a case of the "gimme gimmes" this time of year.
I've talked to Thomas a lot about these things and we are both still looking for answers to these questions, that work best for our family. The thing that we keep coming back to again and again is our example. Are we modeling gratitude, love, and service? Are we the kind of people we want our kids to grow up to be? Is my example enough. What more can I be doing to in turn be helping them?
I think this all circles back to the no yelling thing. I feel like this has to be a major change in my heart and not just a one month challenge so that I can be the example and mom that they need me to be. It's so much more than just yelling, its teaching a future generation how to live, parent, interact.
Am I doing enough?
I'd love thoughts on how you are teaching your kids, things that worked (or didn't work) if you have grown babies, and things you would or wouldn't repeat if you could. Seriously, you all are the smartest, most helpful, and knowledge filled folks I know. Thank you for being so willing to share.
The scripture that I'm pondering this week is 1 King 19: 11-12. A friend of mine shared it with me early in the month and I just keep thinking about it. It's the one I'm going to read and try to memorize this week.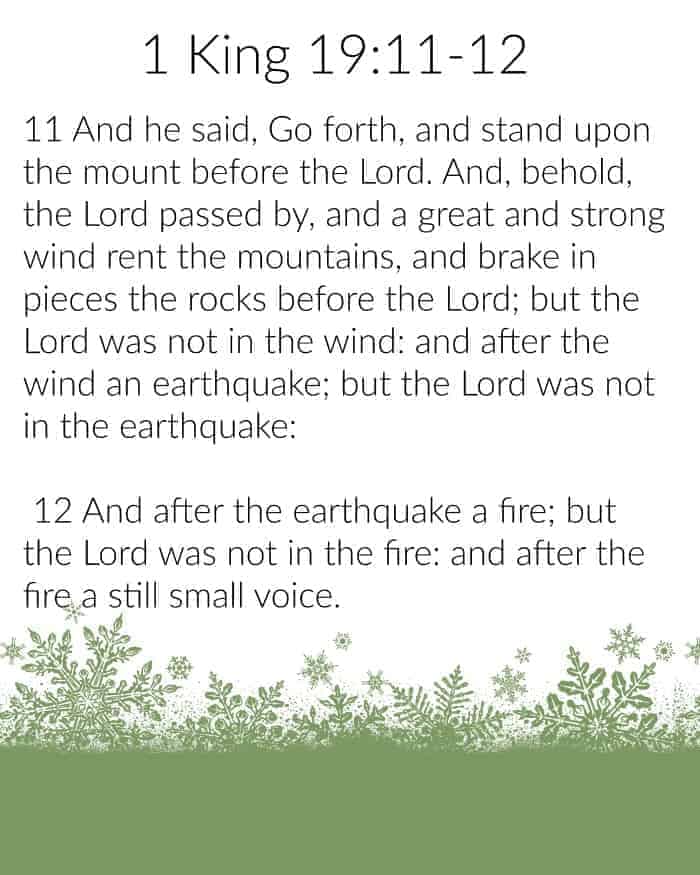 I"m so looking forward to hearing from you.