Pirate Buried Treasure in a Bottle Game that your kids will love!
Rrrrrrrrrrr you a pirate loving family?!
We sure are. I go on lots of adventures with my little boys during the day. We run away from dinosaurs and cheetahs, we are good ninjas who fight "meanie bad guys", we jump over hot lava, and we are excellent treasure hunting pirates.
Grandma gave all of my kids a little bag of gold chocolate coins for St. Patrick's Day and I'm pretty sure my kids don't know that there is chocolate hiding inside! We have been using them as pirate treasure all week instead of eating them. I have the kids stay in the kitchen while I hide the gold coins around the living room and then they come and find them. They can do this a 50 times in row and never get tired of it. Ever.
I got to thinking about different ways that they could hunt for treasure. I popped on Pinterest to see if there were any fun ideas and I got distracted by those calming glitter bottles. Have you seen them?! So fun! And then I got to thinking that it would be fun if there were things to spot and find in the glitter and what if the glitter was sand. All this pin-spiration lead to lots of research, lots of trial and error, and in the end, a really fun Pirate buried treasure in a bottle game.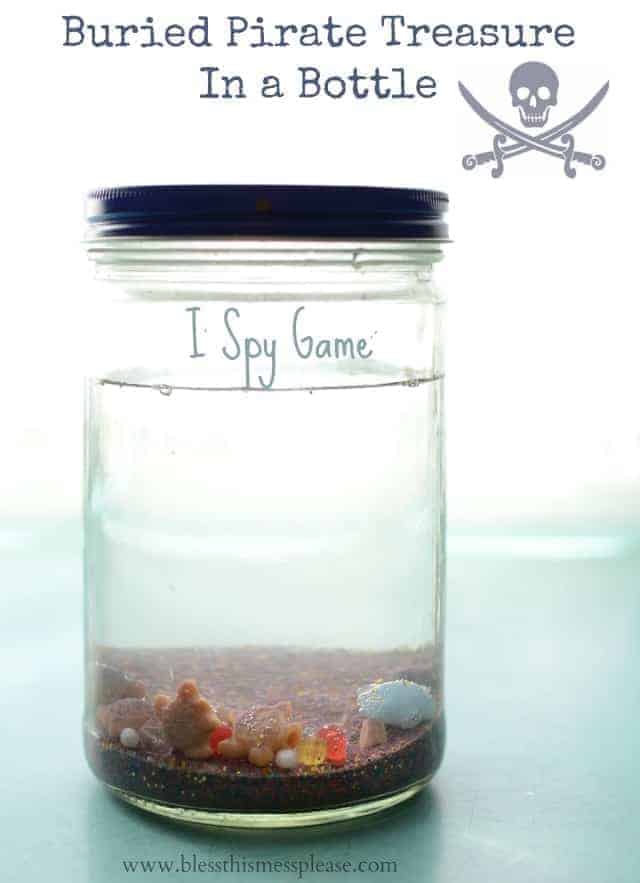 So in my jar I have sand, glitter, and pirate treasure. You shake, roll, and manipulate the bottle so that you can spy different pirate treasure. Some things float, some sink fast, and the money was always buried in a flash. Something new happens with every move you make. My kids loved this! They shook and shook and rolled and shook. In between all the shaking they just watched it, ooohed and aaaahed, and played "I spy" with each other. Best game ever!
Here's what you'll need to make your own:
Jar or bottle (I have no problem letting my kids handle a glass canning jar, they do often and know that it's glass. A water bottle or plastic mayo jar would work well too.)
Pirate treasure - beads (jewels and pearls), coins, sea shells, etc. Craft sand (not normal outside sand)
Normal, fine, and super fine glitter
Water
Hot glue gun and sticks
Clean the jar and remove any labels. Add enough sand so that if fills the bottle 1 to 2 inches. Add your pirate treasure. Add the glitter (we liked gold!), about 1 tablespoon of each kind. Little hands can help with all the filling and a funnel might make that easier if you are using a water bottle.
Fill the bottle with water, leaving one inch head space. Add a bead of hot glue to the top of the bottle and then screw on the lid. The hot glue will keep the lid from being removed. You might want to screw on the lid and give it a test run or two before any glue is added. That way you can see if you need more treasure or glitter.
Notes: Normal sand doesn't work. I tried! The sand from our sand box was too dusty and dirty and just made the water murky. The outdoor sand was also too fine. It didn't sink to the bottom very quickly at all. Having different sizes of glitter works well because they sink at different rates. The normal glitter falls really quick but the fine and super fine float in the water a lot longer. They really made the bottle pretty! Treasure was easy to find. We just searched around the house until we found things that we liked.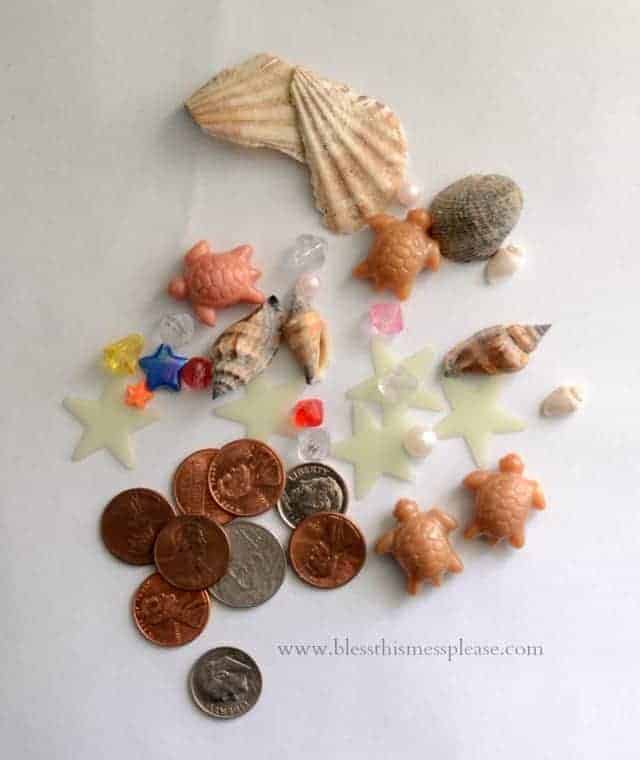 And speaking of pirates, my little pirates are getting excited so for the new The Pirate Fairy Movie to come out too. The great thing about this movie is my girl and boys want to watch it. Fairies and pirates all mixed together are sure to please. Have you heard much about it yet? It's coming out on Blu-ray and Digital HD April 1! Just in time for an Easter Bunny to pick up for baskets 😉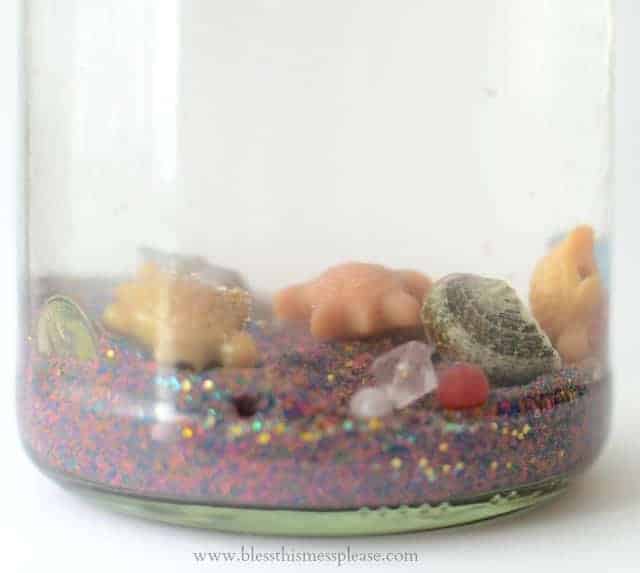 Enjoy this fun little crafty busy game and embrace your inner pirate. Who doesn't love a little treasure hunting? I know we sure do!