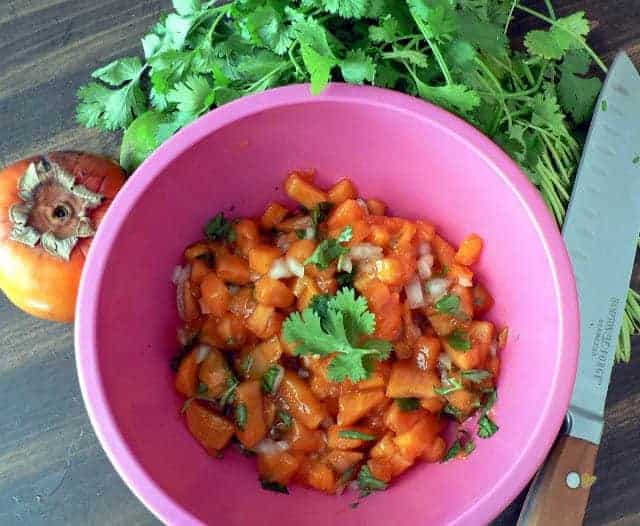 I had a dozen or so of fresh persimmons a little while ago and they just weren't amazing. They were OK, but not great. We didn't really want to eat them plain, so I decided to use them in salsa. This turned out surprisingly good! It came together just like a peach or mango salsa. I like fruit salsas with chicken or seafood tacos.
If I would have had a little red bell pepper I would have added that! It would be super pretty with a touch of red.
Persimmon Salsa
4-5 persimmons, skin removed and chopped
1/4 cup chopped cilantro
1 lime, juiced
1/3 cup finely chopped onion
1/2 bell pepper, chopped (red pepper would be beautiful if you have it!)
1/4 of a jalapeno, seeded, and finely diced
1 clove garlic, minced
salt and pepper, to taste
Mix everything in a bowl together.  Taste with a chip and add salt and pepper to taste.  If you have time, make this first and let everything merry at room temperature until you are ready to serve.