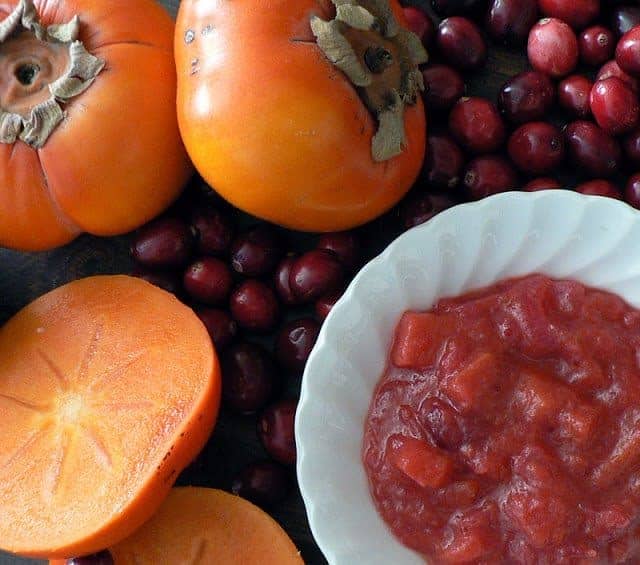 I love to cook with seasonal ingredients.  Fresh persimmons and cranberries are delicious this time of year!
For anyone who does not know what chutney is, let me explain.  Chutney is a condiment.  It is a fruit-based sauce that can be smooth or chunky, contains an acid, spices, and sugar and can be mild to very spicy.  The key though is that it's a condiment, traditionally served on top of a piece of meat. 
This chutney is meant to be an accompaniment to pork.  I served pork chops with this but a nice loin would be delicious too.  Chutney will impress just about anyone.  Try it next time you are planning on serving pork to guests.  They will think you are fancy!  If persimmons aren't in season, peaches or mangoes would be great substitutes.
Persimmon and Cranberry Chutney
4 T. butter
1 small onion diced
4 persimmons, peeled and chopped (about 2 cups)
6 ounces whole fresh cranberries (half a normal-sized package)
1 lime, juiced
1/4 cup maple syrup
3 T. sugar
1-2 t. fresh grated ginger
1/2 jalapeno, seeded and diced, optional 
1/2-1 cup apple juice
salt and pepper to taste
In a medium sauce pan over medium low heat melt the butter and then add the onions.  Cook until onion is translucent, about 10  minutes.  Add persimmons, cranberries, lime juice, maple syrup, sugar, ginger, jalapeno, and 1/2 cup of the apple juice.  Bring mixture to a simmer and allow to simmer slowly for 20 minutes.  The cranberries will pop while simmering.  Stir occasionally and if the chutney is too thick or starting to stick to the bottom of the pan, add the rest of the apple juice.  Serve warm with hot pork chop.
The flavor only improves with time.  Feel free to make a day in advance, store in the fridge, and reheat before serving.