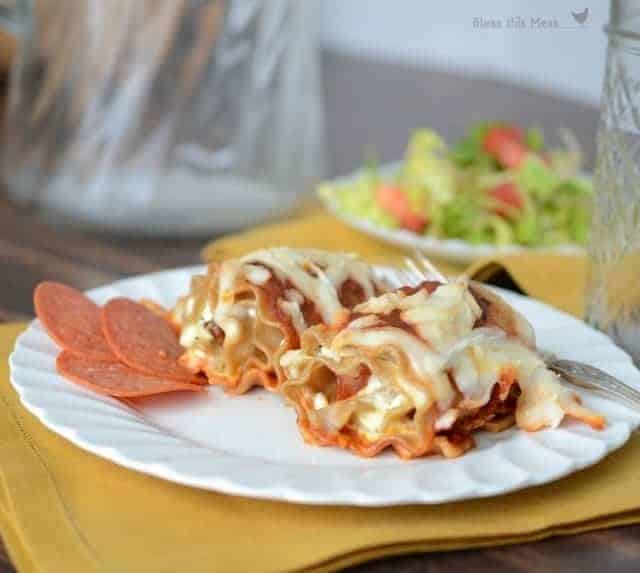 I have thousands and thousand of pictures on my computer that I have never printed out. THOUSANDS! One of my goals for the year was to make photo books for all the of years 2005 to 2013 as well as a book for our wedding and two trips to Australia. I've made a big dent in the project and it has been so much fun. I cannot wait for my kids to see them. I'm going to give them to my family for Christmas and I know they are going to love to look at all of their pictures. The crazy thing is, the kids have seen very very few of their childhood photos. My kids are never online where I keep them, so this is going to be a blast for them.
While I've been searching through photos to upload I've come across some pictures of recipes that I forgot I took and never posted here. This recipe today is one of those finds. I took these pictures early 2012 and they are just now making it to the blog. Pepperoni Pizza Lasagna Roll-ups are quick and easy and perfect for a busy weeknight meal. If you have 15 minutes and 4 ingredients you are good to go. Serve it with a salad and some fresh fruit and you have a well rounded meal with minimal effort. Monday night never looked so tasty!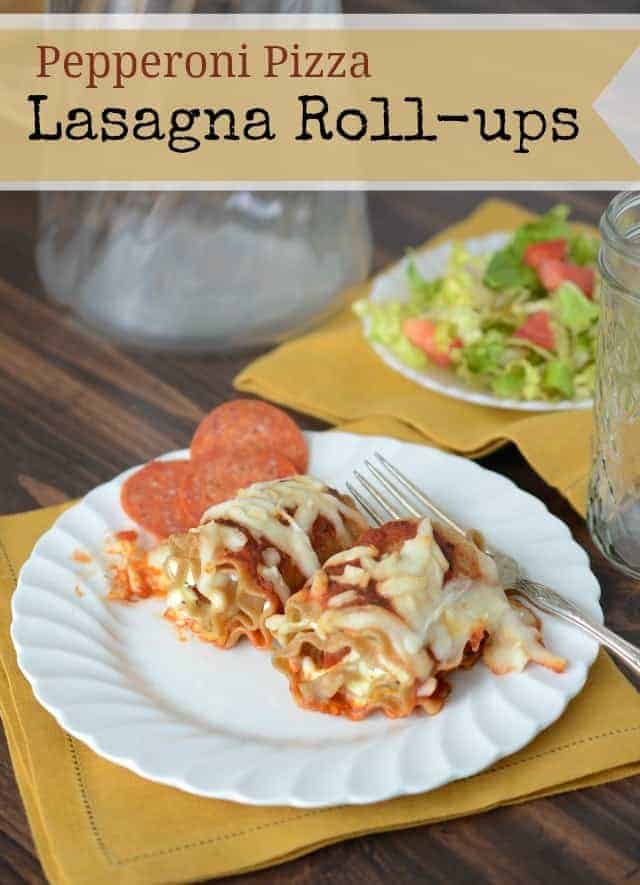 Print
Pepperoni Pizza Lasagna Roll-ups
---
Scale
Ingredients
1

jar pasta sauce

12

lasagna noodles, cooked according to the package directions
pepperoni, about 48 slices

2 cup

s shredded mozzarella cheese
---
Instructions
Preheat your oven to 375 degrees and spread a small amount of pasta sauce in the bottom of a baking dish (pie plate, cake pan… doesn't matter).
Lay all of your lasagna noodles out on your cutting board or counter top. Spread around 2 tablespoons of sauce on each noodle, all over one side. Repeat with the other noodles. Sprinkle half the cheese on top of the sauce. Place four pepperonis on each noodle, on top of the cheese.
Starting at one end of the noodle roll it up like a cinnamon roll or jelly roll. Place the rolled noodle in the baking dish with the end of the noodle on the bottom so they don't flap open. Repeat with remaining noodles.
Once all of the noodles are rolled up, use the rest of the sauce to cover the noodles. Top with the remaining cheese and bake for 20 to 25 minutes until everything is hot and bubble and the cheese is melted. Let the dish cool for 3-5 minutes before serving hot.
---
Notes
Take this dish up a notch in the healthy category by using whole wheat noodles, nitrate-free pepperoni, and homemade sauce. Here's my favorite quick and easy sauce recipe.
2 tablespoons olive oil, 2 cloves garlic, 1 (28-ounce) can crushed tomatoes (extra points if you home can them) – In a small sauce pan cook the oil and garlic together over medium heat until the garlic starts to smell good. Add the tomatoes and simmer until it thickens a bit, about 15 minutes. Season with salt and pepper to taste. DONE! Really. Three ingredients and it tastes amazing! You can also toss in a big handful of baby spinach at the end of the cooking time for added goodness.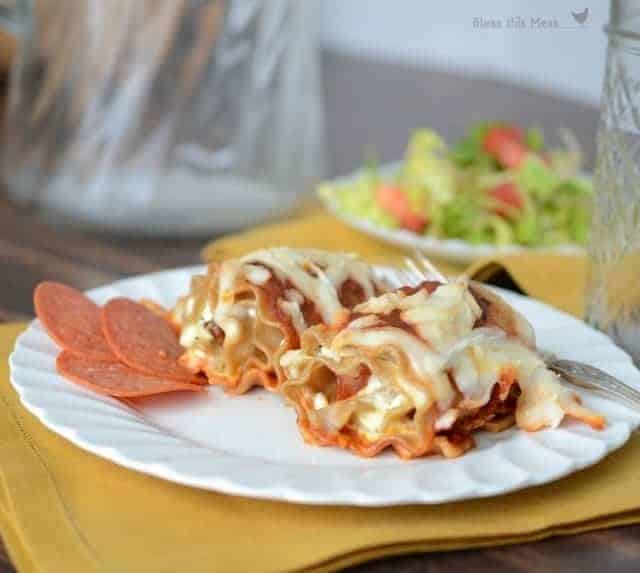 I love to hear how people are preserving their memories! What are you doing?! Do you print pictures? Scrapbook? I'm always looking for great ideas.
And if you need a few more quick and easy dinner ideas I'd start here:
Roasted Veggie and Black Bean Rice Bowls from Wholefully
Cornbread Waffles and Chili from Bless this Mess
Chicken Lettuce Wraps from One Lovely Life
Linguine Rosa with Shrimp from Bless this Mess
Smokey Black Bean Soup from Cafe Johnsonia