This fresh, traditional pasta salad recipe is The Best Pasta Salad for a Party! It'll have all your guests coming back for seconds!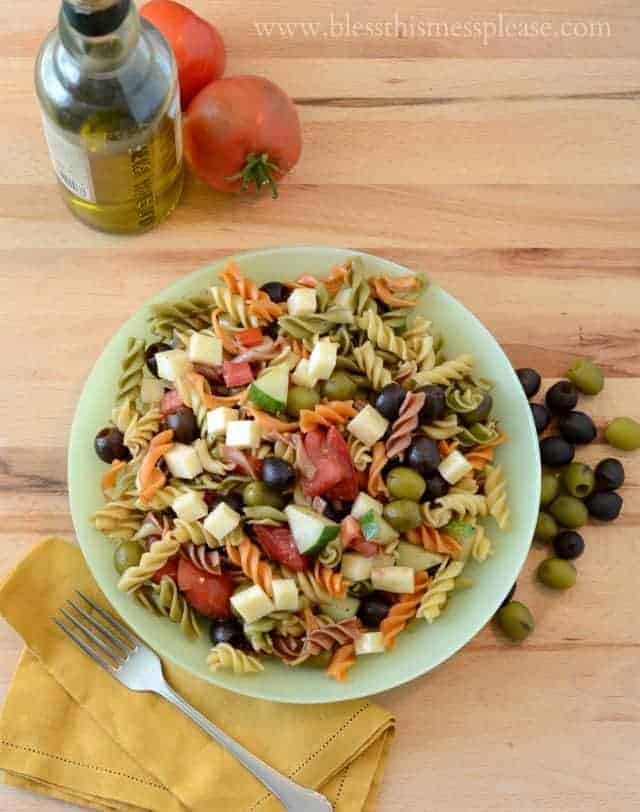 The Best Pasta Salad for a Party
If you're looking for more fresh sides for a party you should also check out Creamy 6 Cup Ambrosia Fruit Salad, Deli-Style Broccoli Salad, and Classic Macaroni Salad because they all taste fresh and have fruits and vegetables for making a complete and delicious party or barbecue.
We are big fans of the Fancy Nancy books at our house. Fancy Nancy is a little girl who loves new adventures and using extra fancy words in her books. In a few of the books Fancy Nancy and her family eat "al fresco, which is fancy for outdoors." Somewhere along the way, my kids picked up the term "al fresco" and now it's part of their normal vocabulary. On many warm afternoons they ask if we can eat dinner al fresco and on more nights than not I indulge. I love eating outside as much as I love hearing my son say "al fresco" in his little three-year-old voice.
We have a ratty little patch of concrete on the side of the house that is cracked and growing grass, but you know what, we love it! It's shaded in the evening, and in Southern Utah, there are very few bugs to ruin a meal. It's a great place to gather for a meal. The kids are always more motivated to help set the table when we eat outside and the mess is cut in half because the birds clean up the spilled food at the end of the evening instead of me. When we build our forever home we are for sure going to plan on some great outdoor dining and entertaining areas.
If you are a fellow al fresco eater then this pasta salad recipe is just perfect for an evening meal on the back porch. It's light but filling, comes together in a flash, and highlights some of summer's gifts - garden veggies and fresh herbs. This could be the main dish or a nice side to pork chops or grilled chicken. Add some fresh sweet cherries or watermelon to the meal and a rhubarb crisp for dessert, and you have yourself a real feast.
This also a great pasta salad for a party, gathering, or barbecue. There are tips for traveling and prepping ahead at the end of the recipe.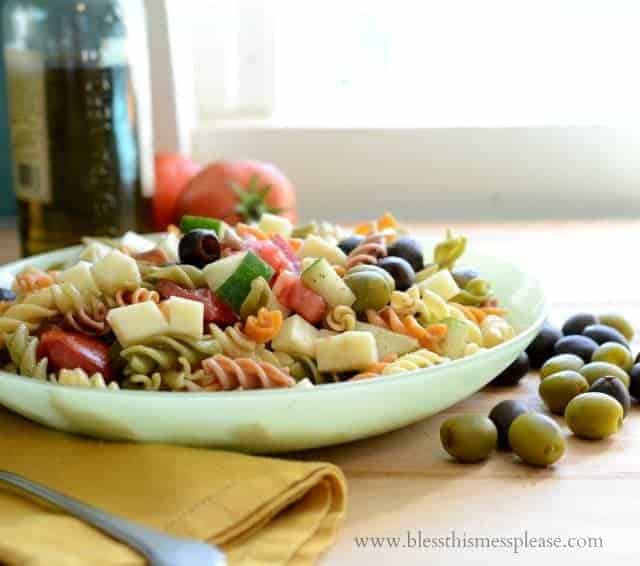 How Long Does Pasta Salad Last?
Pasta salad can last up to 5 days in the fridge if you store it in an airtight container.
What Other Noodles Can I Use?
Noodles that are short and have lots of folds or holes work well because they pick up the sauce and are easy to eat. Rotini, farfalle, penne, and fusilli are great noodle choices for a pasta salad.
How Can I Keep Pasta Salad from Getting Soggy?
If you plan to serve your pasta salad at a party and have to transport it there, you don't want it to get soggy before everyone starts eating! I keep my noodles at the right texture by making my sauce and keeping it in a jar until it is time to serve, then you can add the sauce to the salad and mix it together without giving the noodles time to turn too soft.
Print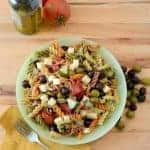 The Best Pasta Salad for a Party
---
Author:

Total Time:

25 minutes

Yield:

8

servings

1

x
Description
This fresh, traditional pasta salad recipe is The Best Pasta Salad for a Party! It'll have all your guests coming back for seconds!
---
1

pound garden Rotini pasta, cooked al dente

1

can black olive

1

can ripe green olives (not the salty brined kind...Lindsey's brand is great)

1

large tomato, diced

1

large cucumber, diced

1

pound Cabot Garlic and Herb Cheese or mozzarella cheese, cut into

1

inch cubes

2

-

3

tablespoons chopped fresh basil

½ cup

extra virgin olive oil

¼ cup

balsamic vinegar
Lots of salt and freshly ground pepper to taste
---
Instructions
Combine the pasta, olives, tomato, cucumber, and cheese in a large bowl and stir to combine. In a small mason jar add the basil, olive oil, vinegar, and a heavy hand of salt and pepper. Put a lid on the jar and shake well to combine. Pour the mixture over the pasta and stir to combine. Taste and add more salt and pepper to taste (don't under salt, the pasta and veggies really need it to taste their best). Serve at room temperature right away.
To make ahead, mix together the pasta through cheese and make the dressing in the mason jar, but keep pasta and dressing separate until you are ready to serve. Mix together just before serving.
Store extras in the fridge in an air-tight container.
Prep Time:

25 minutes

Cook Time:

0 minutes

Category:

Side Dish

Method:

Large Bowl

Cuisine:

American
Keywords: best pasta salad recipe, best pasta salad, easy pasta salad, easy pasta salad recipe, homemade pasta salad, how to make pasta salad, healthy side dish
Other Perfect Party Foods
This post was originally published in 2014 and has been updated in August 2019.