Remember when I showed you my cute hutch decorated for Valentines? Well I mentioned that my kids did the art work at the top. I thought I'd show you how in case you wanted to make something similar. This would be a fun thing to do for a decoration, with a class or preschool group, or to make a big card to send to grandma.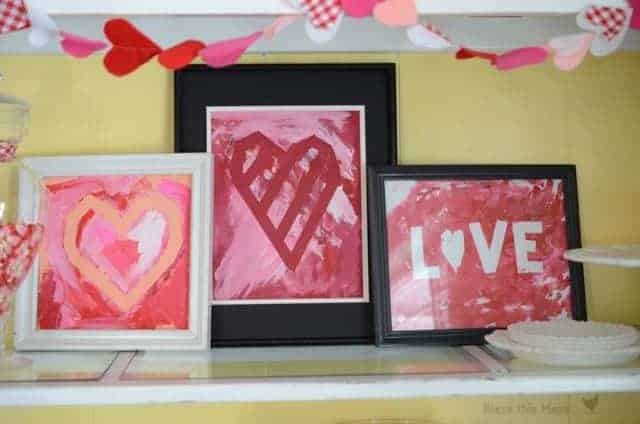 Painted Heart Valentine's Craft for Kids
What you'll need:
Heavy card stock or cardboard
Washi tape or painter's tape
Paint (we used acrylic but tempra or water color on white paper would probably work well too)
Paint brushes
Paper plates
The color of the cardboard or cardstock will be the color of the heart or design in the end, so choose one you like. Create a design in the center of the cardboard using the tape. We did a heart, heart with stripes, and a basic L(heart)VE. Squirt some paint onto the paper plate, hand the kids the brushes and let them do to town painting the card board, even painting over and on top of the tape. I wanted certain colors (white, red, pinks) so those were the only paints I made available and that works well when creating art you want to display. Too many colors end up mixing into brown with little kids.
While the paint is still tacky, pull the tape carefully off the card stock. If you let the paint dry it will peel up really easily with the tape. Let the art dry before adding embellishments (every kid loves glitter), writing, or other details.
Pretty easy huh!
Here it is in picture... tape off the design you want to show through in the end.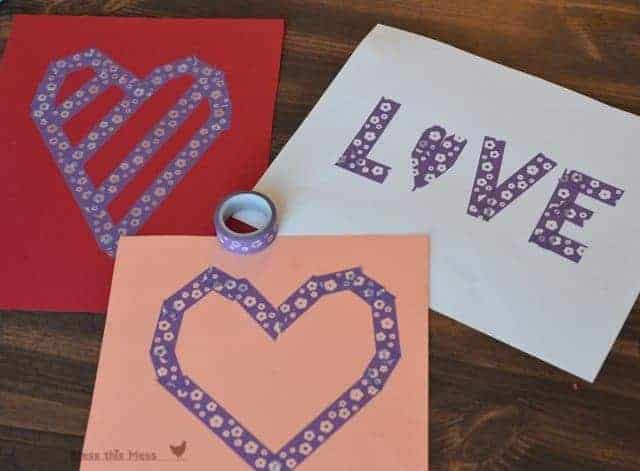 Let the kids go at it. His tongue is in his cheek which means he's really working hard on this 🙂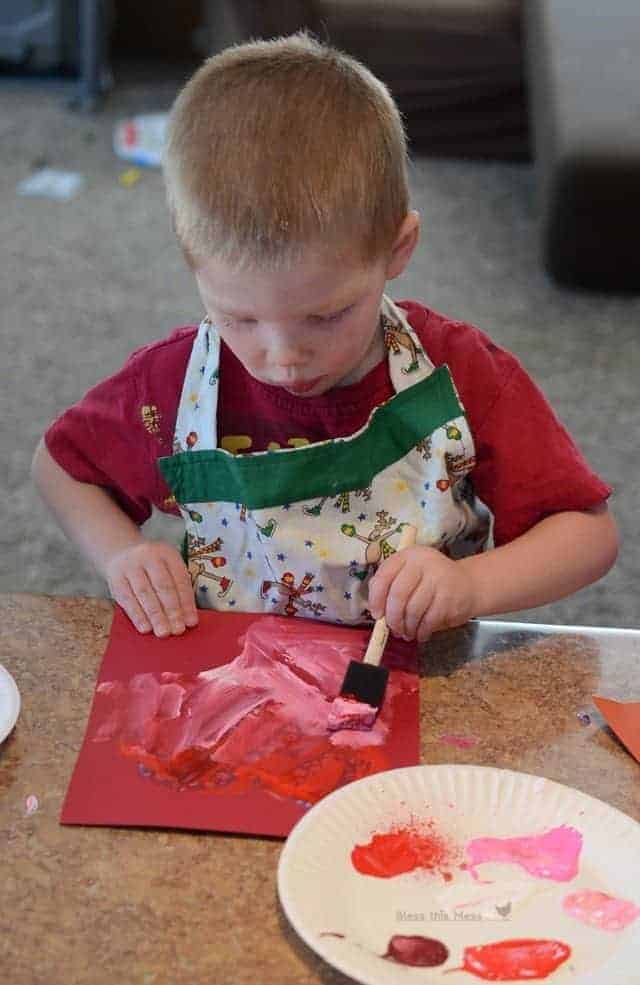 Carefully peel of the tape while the paint is still tacky.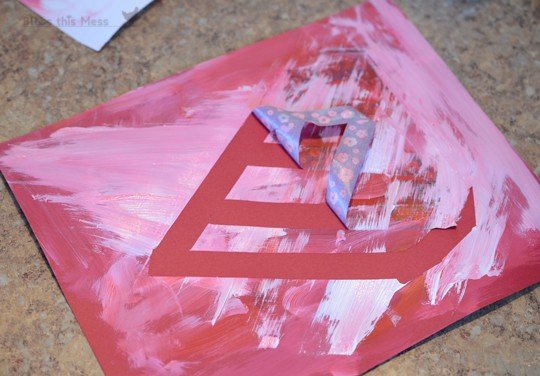 Let everything dry and then embellish as you'd like. The baby (who is 18 months) did the top one. He ended up ditching the brush and finger painting instead. See, even really young kids can do this with some help.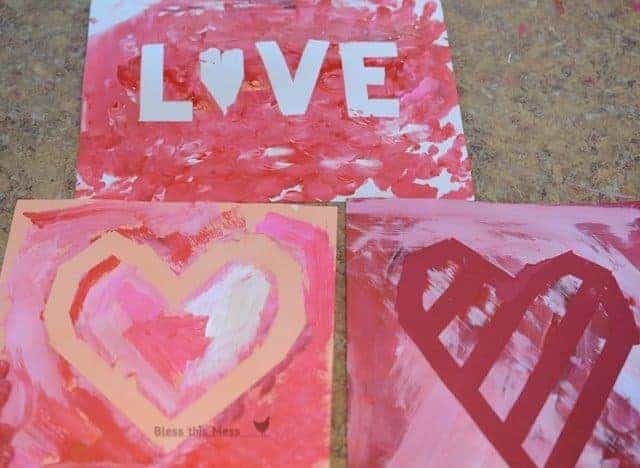 Then frame and display, give away, or mail to grandma!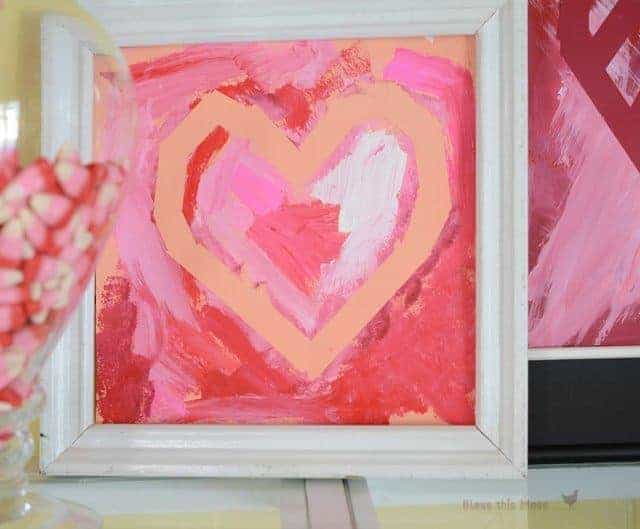 Here's how they looked on the hutch with the felt heart garland that I made. Low-key but really fun, and the kids love to see their handy work displayed and make a point to show anyone who comes into the kitchen.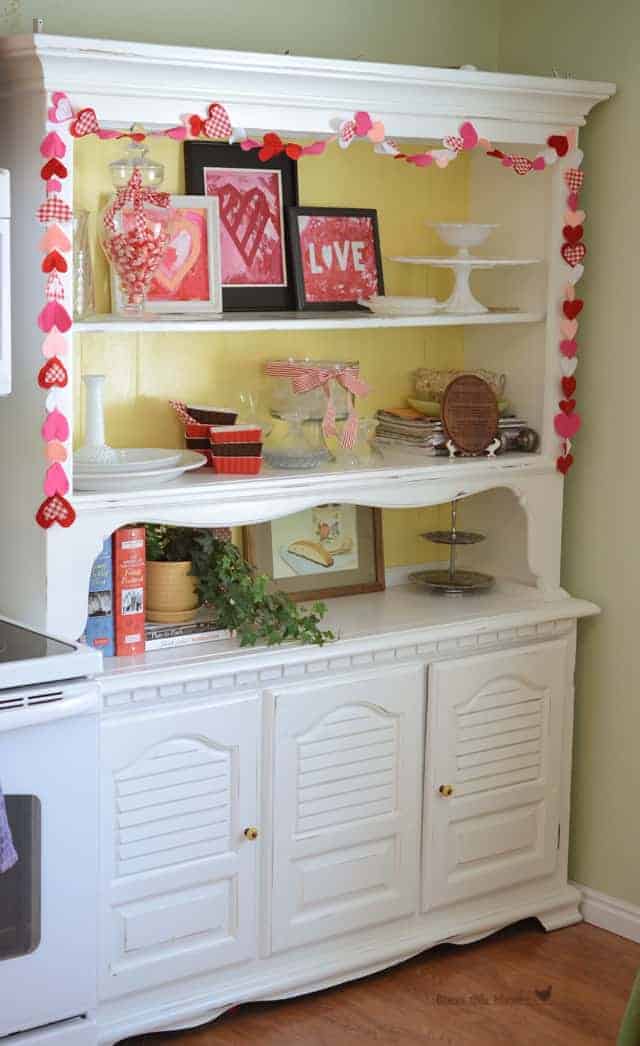 There you have it, one easy Valentine's craft for kids. Do you think you'll make some?