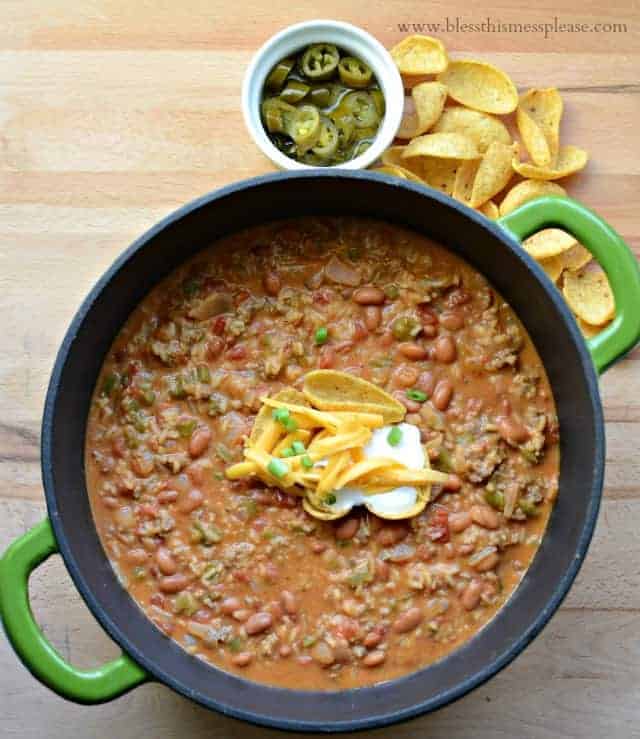 Monday! One of my favorite days of the week indeed. After taking a bit of a break from house work and computer work over the weekend I'm always excited and motivated to get a bunch done on Mondays. And because I'm getting a bunch done I try not to make myself too many more additional messes. That's where soup comes in. Soup/stews/chilis are my favorite one pot meals to make on a busy Monday night because they don't make many dishes, I can make them when I have a minute and they are fine to sit on the stove and keep hot (generally), and I love a whole meal in a bowl.
This Loaded Nacho Supreme Chili is awesome! Sausage, beans, rice, cheese, and all kinds of other goodness all in one bowl served with chips and your favorite nacho toppings. It's like eating nachos with a spoon.
Thomas' sister and our brother-in-law just moved in next door to us. The day they were busy moving in I invited them and their helpers over for dinner and served this soup. It was just the thing they needed after a long day of packing furniture and I got rave reviews. The recipe makes a bunch, so feel free to cut it in half OR you can roll up the leftover chili in tortillas, top with green enchilada sauce and cheese, and bake until hot. You'll have yourself some amazing enchiladas with practically no work. I love getting two meals for the effort of one.
If you are looking for a mighty tasty chili that is just a little different from your usual look no more. This recipe is for you. Enjoy!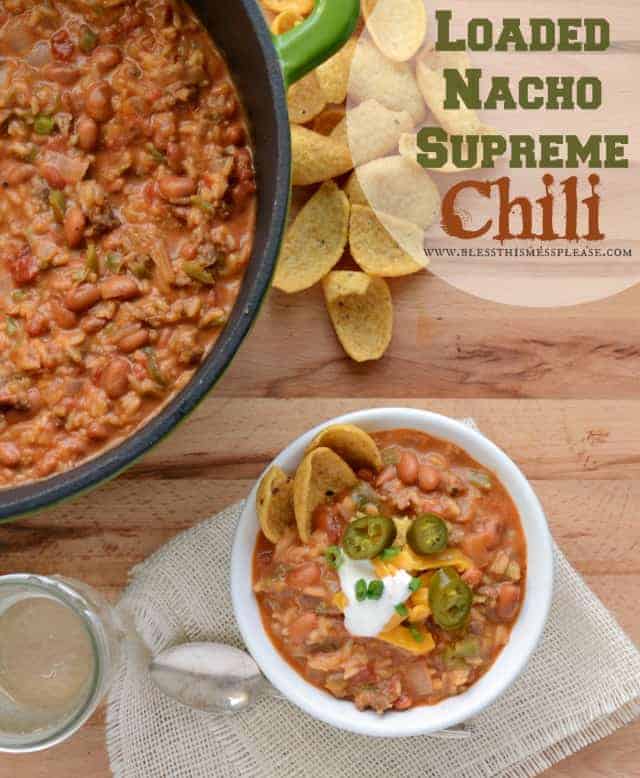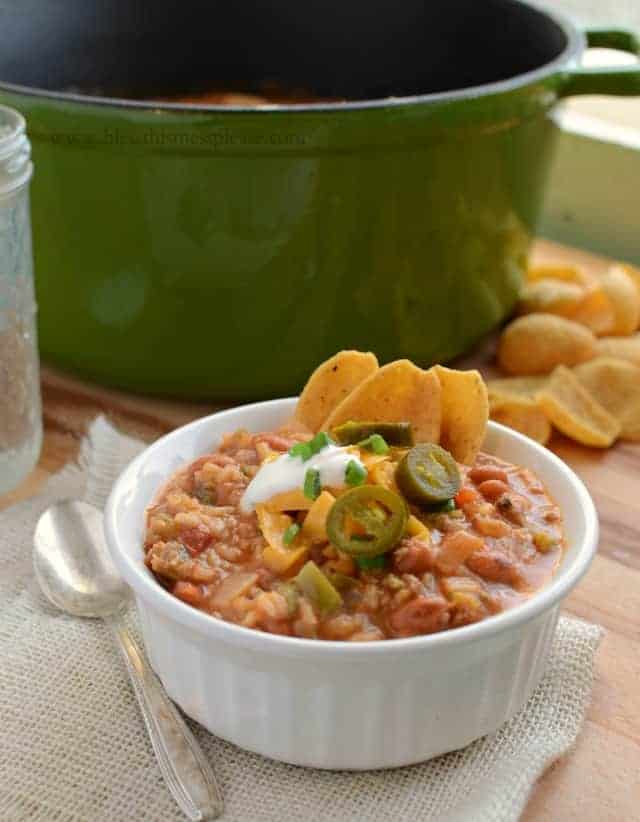 Print
Ingredients
2 large onions, diced
2 bell peppers (any color), diced
1 pound ground sausage
1 cup rice
4 cups water
1 15-ounce can diced tomatoes with green chilis, undrained
1 15-ounce can diced tomatoes with cilantro and lime juice, undrained
2 15-ounce cans pinto beans, washed and rinsed
2 tablespoon chili powder
2 teaspoons cumin
1 teaspoon garlic powder
1 teaspoon salt
8 ounces sharp cheddar cheese, grated
Tortilla chips
Optional for serving: sour cream, pickled jalapenos, chopped green onions, additional shredded cheese, avacado
---
Instructions
In a large stock pot add the onions, bell peppers, and sausage. Cook over medium high heat until the sausage is cooked through and the peppers and onions are soft, about 10 minutes. Add the rice and saute for an additional 1 minute.
Add the water and tomatoes and stir to combine. Reduce the heat to medium-low and cook, stirring often, until the rice is cooked through, about 20 minutes. Add the beans and spices and stir to combine. Remove the pan from the heat and stir in the cheese until melted.
Serve with chips and anything else you might like.
Notes
This makes a big batch, so feel free to cut it in half. The left overs make excellent filling for burritos and enchiladas FYI. Store any leftover in an airtight container in the fridge.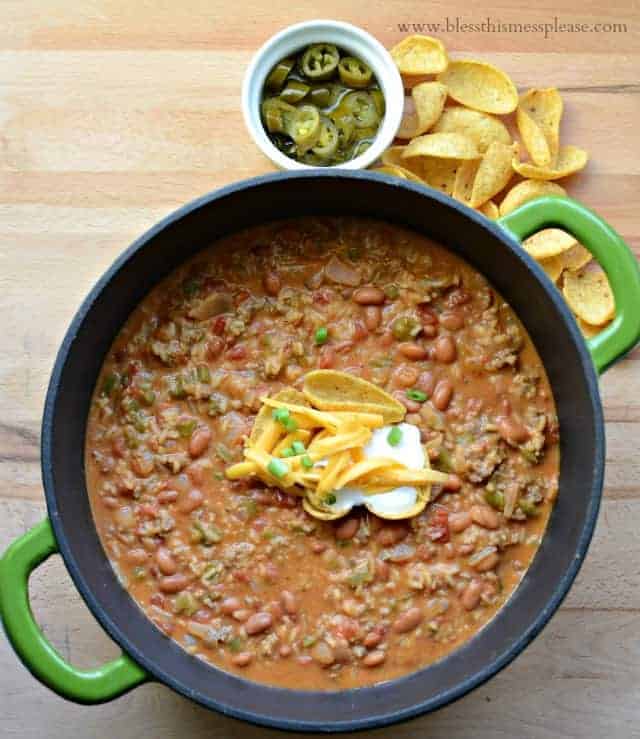 And if Loaded Nacho Supreme Chili is looking good, you might also like these:
White Chicken Chili – lightened up
Quick and Easy Chicken Enchilada Soup
Slow Cooker Stuffed Bell Peppers with Corn, Beans, and Quinoa
Ski Soup from Mountain Mama Cooks