I'm so beyond excited to announce that today is the launch of my very first print cookbook: Family Dinner Made Easy: 8 Weeks of Fuss-Free Summer Meals.
I have worked for months to write and prepare this for you, and it has taken a small army of people to help it come together. I'm so beyond proud of the book.
I'm not proud just because it's beautiful and the recipes are amazing -- that's it -- but I'm so proud because it's so useful to YOU.
I sat down and worked on a book that isn't just recipes; it's also a meal plan. There are 8 weeks of summer recipes that are all done for you! Each week includes 5 dinners with sides suggestions, 1 snack, and 1 dessert. And on top of that, each week has a list of what you can do to prep recipes ahead of time to make cooking night quicker, and a complete shopping list for the week!
I took all the thinking out of "what's for dinner," and I know for me, that's generally the hardest part of getting it on the table!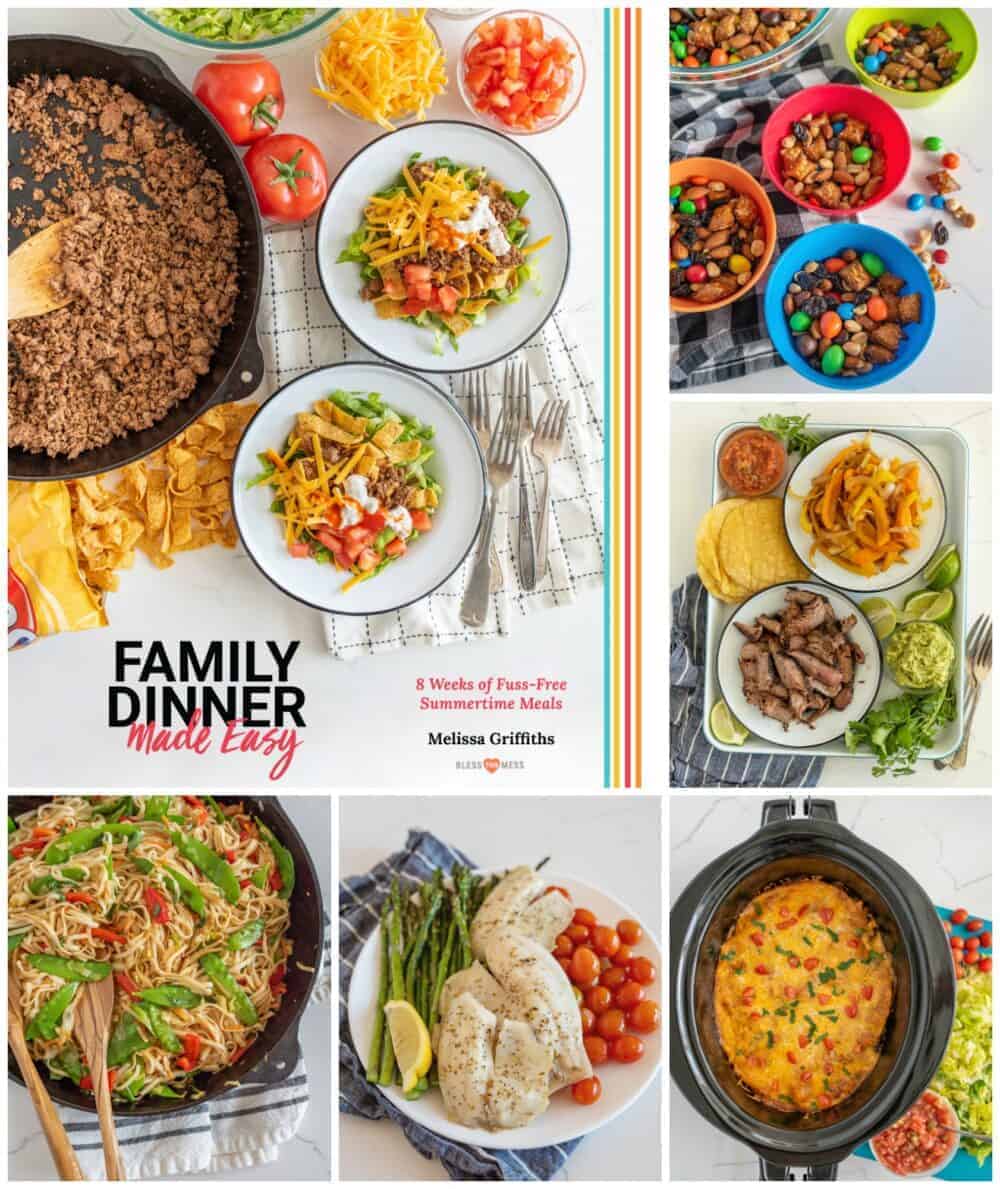 You can buy a printed hard cover flat-lay copy of the book here. We are pre-selling the book now, and it will go to print and start shipping mid-June!
You can buy the digital PDF version of the book here. The PDF files will delivered to you right away.
And if you want both, you can get the PDF ebook file right away and get your print copy mid-June. So many great options.
I love that this cookbook is seasonal! The 5 recipes in the week are in the category of: grilling, quick and easy, comfort, skillet/sheet pan meals, and slow cooker (and not just any slow cooker recipes either, they are SUMMER slow cooker recipes!). There's only a handful of nights the whole 8 weeks you'll even need to turn on the oven.
I think the best thing I did for this book was to have 50 to 60 of my friends, family, and internet friends test the recipes. Every recipe was tested 2 to 3 times by "normal people" who are busy moms like you. Their input was invaluable. Recipes were rewritten, adjusted, and edited to be as clear and straightforward as possible to ensure success in your own kitchen. It would not be the book it is today without all their help and insight.
I can't wait to see you cook from the book in your own kitchen. ENJOY!!!