Today I'm sharing two beautiful vintage quilts - one old and one a recreation of the past. You'll love this Mosaic Rose Quilt Top.
If you've been reading the blog for very long you know that I quite like my mom, who I call Momma (really). She's a wonderfully genuine woman who taught me how to appreciate what I've been given, make do or do without, and if you don't know how to do it - figure it out. She's thrifty, smart, and a true ninja when it comes to the sewing machine.
She's been working on a big project for a few months now and asked if I would share it here with you all. She was so sincere when she asked. She even told me that she wanted it on Pinterest so that other people could enjoy it too, but she didn't know "how to get it on there". Isn't that cute. Of course I said yes! And now all of her hard work is here with some great stories from the past.
Enjoy some quilting inspiration and feel free to "pin" anything you like. I'd love to see this out and about on Pinterest for her.
Mosaic Rose Quilt Top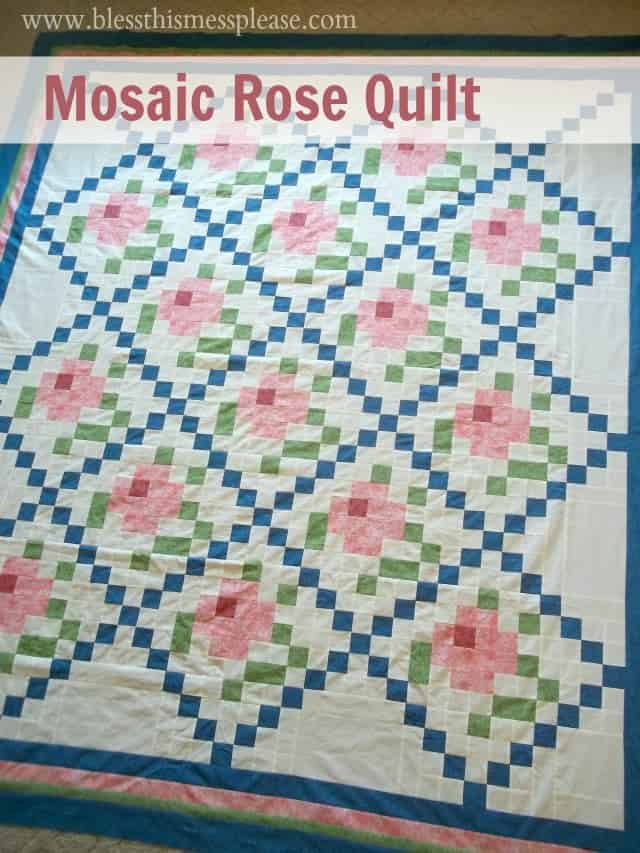 My mom was given a quilt from her grandma as a gift a long long time ago. My mom has always loved that quilt not only because it is beautiful, but also because it's a heritage piece for her. It means something to her. Here is the original quilt that my mom's grandma (so my great-grandma) made specifically for my mom. Mom said that the green faded with the first wash and the green nearly disappeared. I've put a few arrows on the picture so that you can try to see the green. I also left it a bit dark because any brighter and you totally lose the green.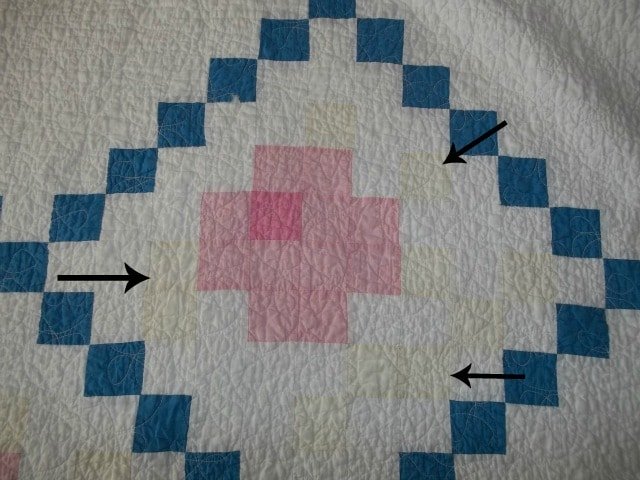 Mom wanted to recreate the quilt so she went in search of a pattern and came up with some really neat information on the quilt.
Here's what she found, in her words:
"It is called a mosaic rose quilt pattern and it originated with a woman named Anne Orr who worked for the magazine Ladies Home Journal in the 1930s. She was featured in the magazine along with pictures of her quilts. The pattern was never published but the pattern was turned into a kit and sold with fabrics. They may have been pre-cut squares. I am certain that my grandma never bought the kit but probably cut the picture from the magazine for her to recreate."
So no pattern that mom could find, so what would a sewing ninja do with no patter?! Make one up of course. My mom "figured" the quilt out and made one herself!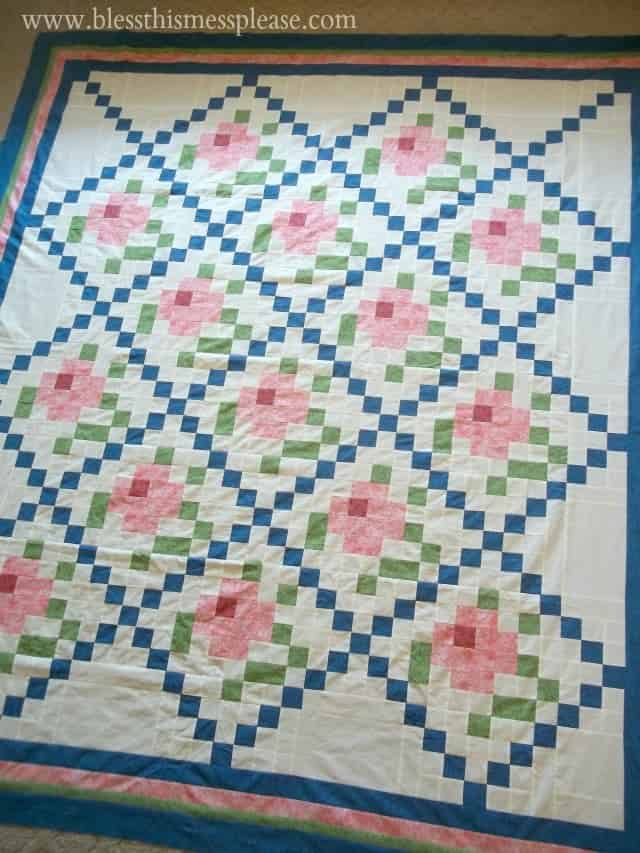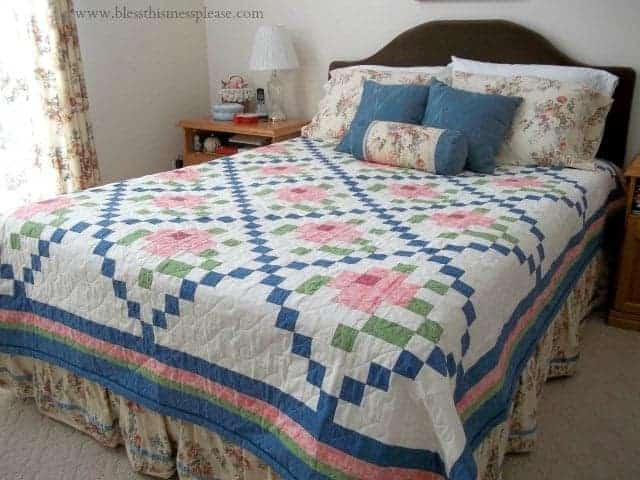 Isn't her copy of the original amazing?! And that green really makes the roses stand out.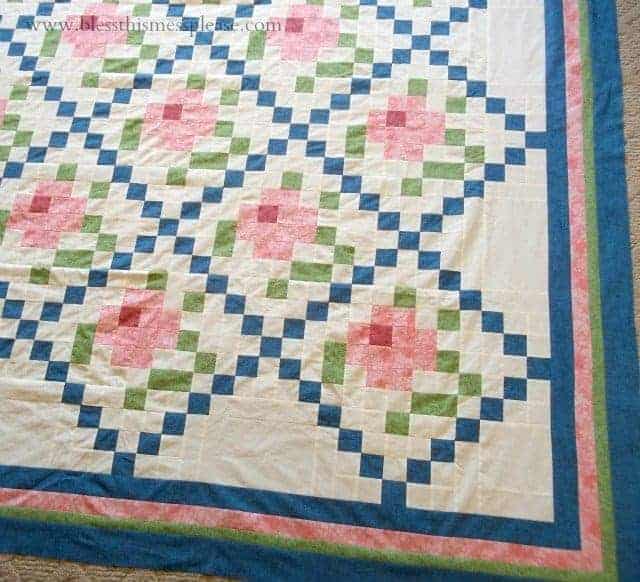 And while she was on a quilting kick, she finished a second quilt top that was her grandma's. Her grandma pieced this quilt top, mom added the boarders around the edge (to make it bigger), and then had it quilted. So instead of having an unfinished project from her grandma, their combined efforts have made something beautiful and useful.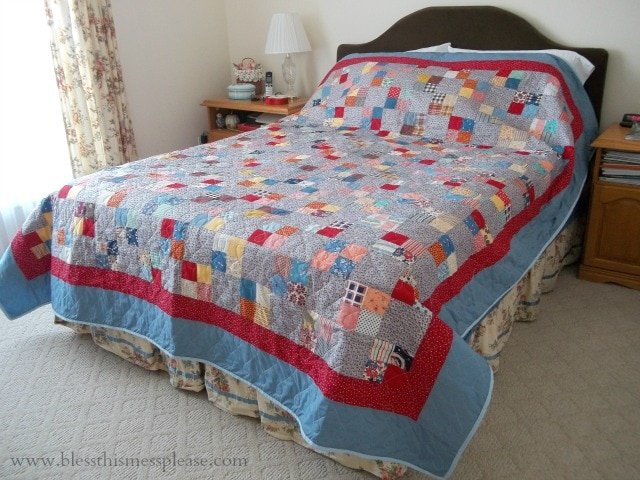 Here's what Mom had to say about this second quilt:
"The blue quilt top was also made by my grandma around the 1940's and uses a 4 patch design made of scraps from clothing, sack cloth, etc. then set with calico blocks. I added the borders and had it quilted."
Her grandma's hands sewed all this together... you just feel so connected to people when you have things that they created, don't you?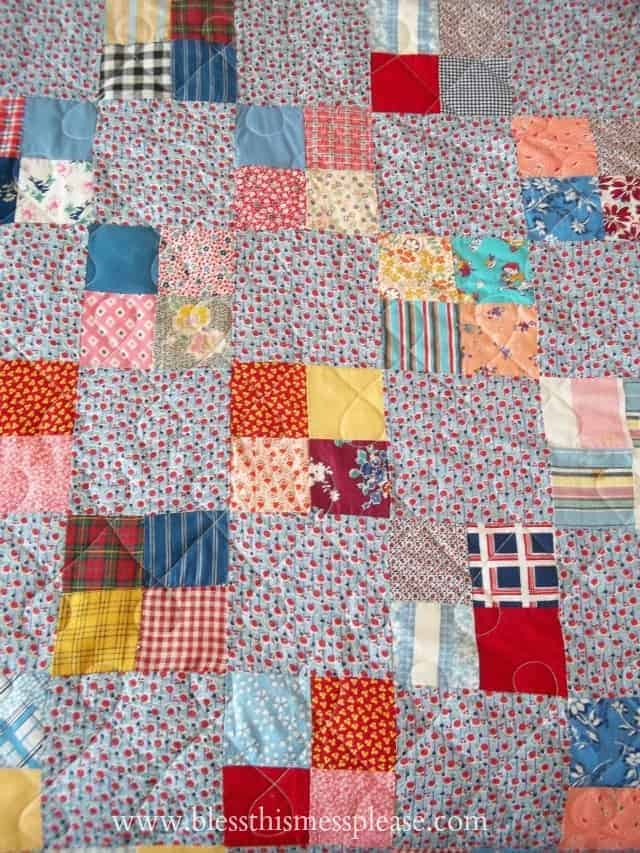 I'm so proud of you for getting all this done Mom. Put me on the list for inheriting these 😉
And thank you for letting me share these beauties with you! When my kids are a little bigger I'm totally going to make a quilt. Any other quilters or quilt lovers out there?!