After getting a whopping 18 inches of snow this weekend it officially feels like Christmas. Snow makes everything so clean, bright, and well, just plain Christmas-like. I've gotten most of my shopping done for my family, minus the stocking stuffers, and now it's time for me to turn my attention to friends and neighbor gifts.
I love, love, LOVE to make cookie/goodie plates every year and I love to get them out to friends as early as I can. I try to beat the cookie burn-out by being the first one to have my treats in their kitchens. I start planning, creating, and testing recipes weeks in advance (no on in my house minds!).
This year I was very pregnant when recipe development commenced, and I was also craving mint and chocolate. That craving turned out to be a very very good thing because it led to the creation of these amazing mint dipped double chocolate cookies. They are PHENOMENAL. I loved them, they are delicious, and they are gorgeous. If you are looking for a "wow" cookie to take to a party, cookie exchange, or to impress the neighbors, look no more.
I started with a great chocolate cookie dough recipe, added chopped Andes Mints (yum!) and then really brought it up a notch by dipping the bottom of the cookie in melted mint chips. After the cookies sit overnight and the flavors have time to marry and blend, you end up with the most delicious mint chocolate cookie ever. The texture is so pleasant too. That mint dipped bottom is awesome.
I know you see lots of recipes here but this is one that you have got to try. You will not be disappointed! And any one you gift a few of these beauties too will adore you always. And that's not a bad thing either.
ENJOY! And let me know when you make them. I can't wait to hear how much you loved them 🙂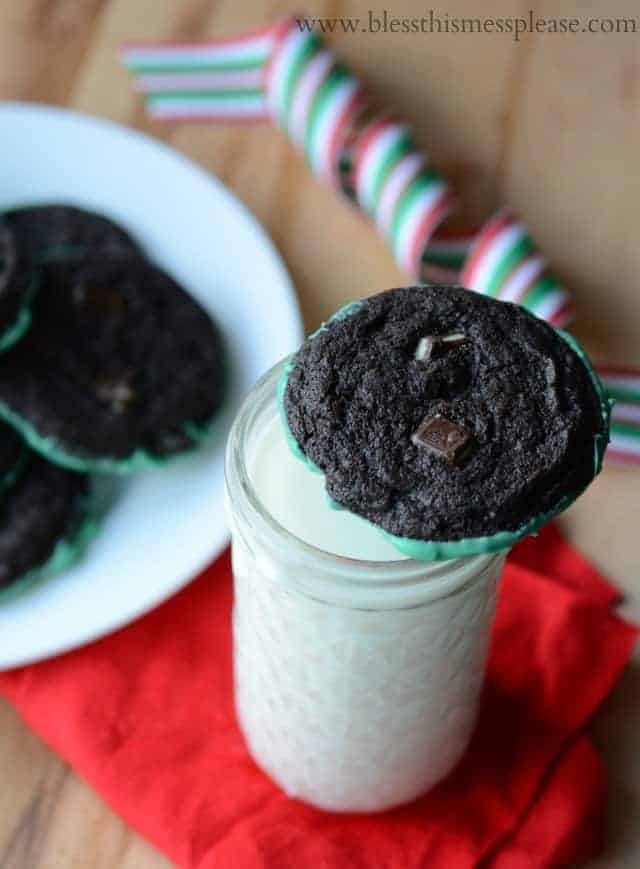 Print
Mint Dipped Double Chocolate Cookies
---
Yield:

3

dozen cookies

1

x
1 cup

butter, softened

1 cup

granulated sugar

½ cup

brown sugar

1 teaspoon

vanilla extract

2

eggs

2 ¼ cups

flour

⅔ cups

cocoa

1 teaspoon

baking soda

¼ teaspoon

salt

1 ½ cups

chopped Ande's mints or Ande's mint baking pieces

2 cups

green mint chips (Guittard brand is best)
---
Instructions
Preheat the oven to 350 degrees and line a baking sheet with parchment paper or a baking mat.
In a large bowl or the bowl of your stand mixer beat together the butter and sugars until light and fluffy, about 3 minutes. Add the vanilla and eggs and beat to combine well. Add the flour, cocoa, soda, and salt and stir to combine. Fold in the Ande's mint pieces.
Scoop on to the sheet in rounded 1 tablespoon scoops. If you'd like a few more Ande's mint pieces to be seen, poke them on the top of the cookie dough ball by hand. This isn't necessary but it makes them prettier. Bake for 9 to 11 minutes until the centers are set. Let the cookies cool on the pan for 2 or 3 minutes and then let them finish cooling on a wire rack. Cool completely.
Melt the mint chips in a bowl large enough to dip the bottom of the cookies in. I just held onto the cookies and dipped the bottom in. Make sure the chocolate isn't too hot or you'll burn your fingers. Place the dipped cookies on a sheet of waxed paper until the mint sets.
Store extra cookies in an air-tight container.
Notes
The cookies are better after they sit overnight. This give the mint time to mingle with the cookies. I recommend serving them the day after you make them.
It's a little hard to tell when these dark cookies are done, so set a timer!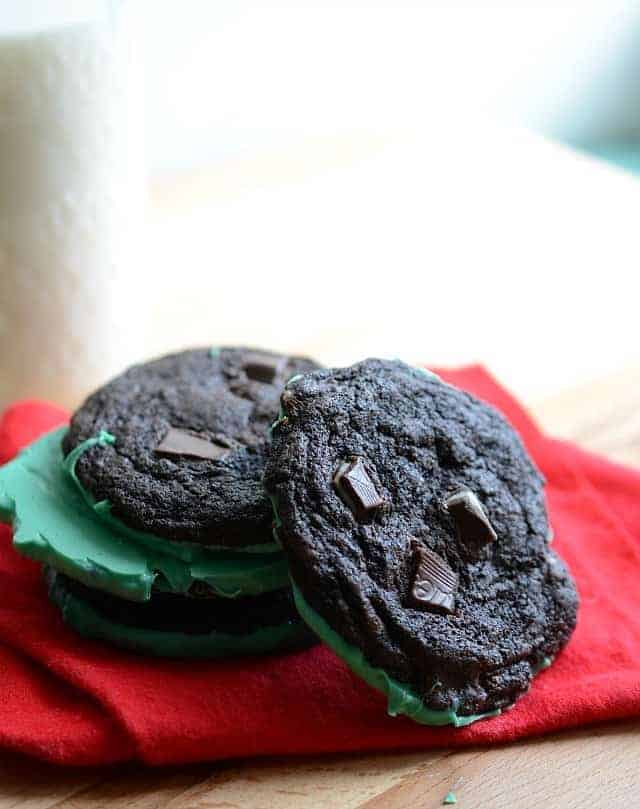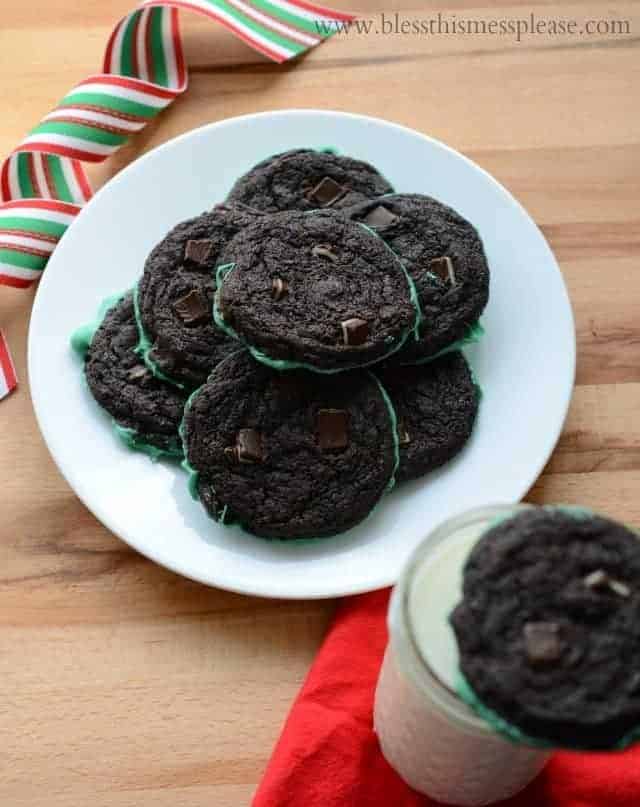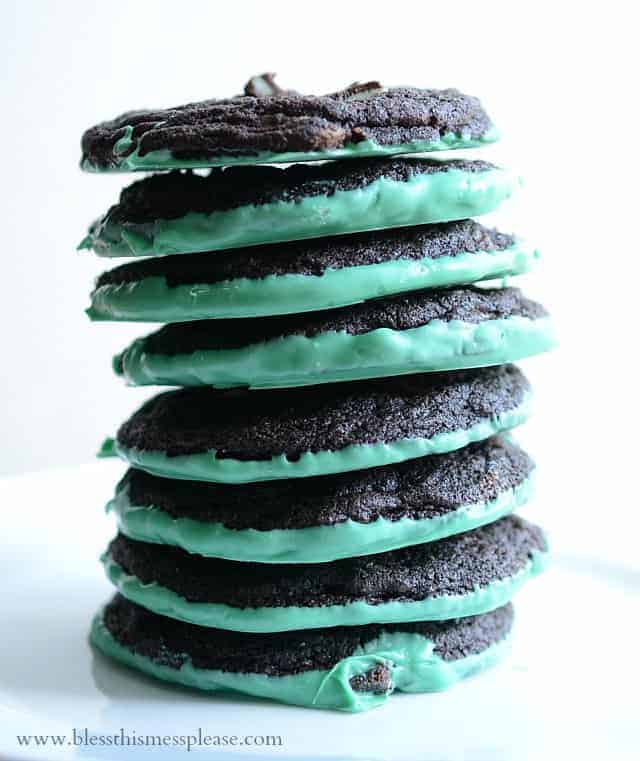 If you are looking for more recipes for mint chocolate cookies you might also like my:
Homemade Oreos with a Mint Candy Cane Filling
Double Dark Candy Cane Crunch Cookies
Homemade Thin Mint Cookies
Homemade Peppermint Patties
I'm always looking for new and fun ideas for my goodie plates!
What are you putting on yours this year?!
Mmmm. Now this is an awesome way to start a week off.
Thanks so much for reading and go make some cookies!